NorthStar, Chatham Form $1.3 Billion Joint Venture for 51-Hotel Portfolio


David Hamamoto

NEW YORK CITY AND PALM BEACH, FLA. -- Two real estate investment trusts, NorthStar Realty Finance (NYSE: NRF) and Chatham Lodging Trust (NYSE: CLDT), have formed a $1.3 billion joint venture for 51 hotels known as the Innkeepers portfolio.
NorthStar purchased a 89.7 percent stake in the joint venture from Chatham's previous joint venture partner, Cerberus Capital Management. NorthStar and Chatham will co-own 47 of the 51 hotels, which total about 6,100 rooms. Approximately 83 percent of the hotels are affiliated with the Marriott and Hilton brands and are located mostly on the East and West coasts.
Chatham will pay approximately $341.5 million to Cerberus for the four remaining hotels: four Residence Inn hotels in Silicon Valley that total 751 rooms. Chatham plans to invest $59 million to redevelop the hotels, which will include new lobby and public spaces in each hotel. Chatham will also expand the hotels' room counts by 272 rooms combined.
"The Cerberus/Chatham joint venture has been a great partnership and has proven to be a highly successful investment, turning our initial $37 million investment into distributions of approximately $114 million and profits of approximately $77 million, or $2.90 per share, in less than three years," says Dennis Craven, chief financial officer of Chatham Lodging Trust.
The joint venture has retained Inland Hospitality to manage the Innkeepers portfolio.
To read John Nelson's full report, click here.

First Columbia to Begin Construction
on 30,000 SF Office Building in Latham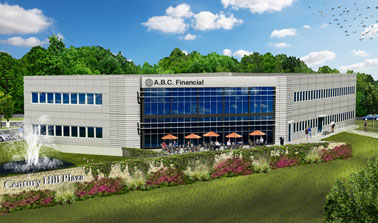 The 30,000-square-foot office building will be located at
40 Century Hill Dr. in Latham, N.Y.

LATHAM, N.Y. -- First Columbia will break ground on a two-story office building in Century Hill Plaza business park in Latham this month. Located at 40 Century Hill Dr., the 30,000-square-foot building will be the seventh of eleven approved buildings within the 625,000-square-foot office park. Each floor of the building will consist of 15,000 square feet of professional, high-tech space. The building will fulfill demand for Tier 1 properties in the area.
Byron Place Associates to Break Ground on 149-Unit Condo Building

LARCHMONT, N.Y. -- Byron Place Associates plans to start construction this month on The Cambium, a multifamily development in Larchmont. Located at 10 Bryon Place, the property will feature 149 one- and two-bedroom apartment units and a three-level parking garage with more than 270 spaces. The apartments feature custom flooring, gourmet kitchens with stainless steel appliances, and bathrooms with marble and limestone. Community amenities include a 24-hour doorman and onsite concierge, courtyard, fitness center, clubroom and a two-story lobby. Ceres Realty Group will manage the property, which is slated for completion in 2015.
Pennrose Opens $14 Million Senior Apartment Community in Connecticut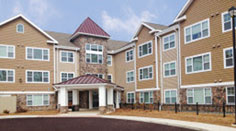 The Jefferson offers 70, age-restricted affordable apartment units
in New Britain, Conn.
NEW BRITAIN, CONN. -- Pennrose has opened The Jefferson, a $14 million affordable senior apartment complex in New Britain. The three-story building offers 70 units featuring spacious floor plans, oversized windows and wall-to-wall carpeting in the bedrooms. Additionally, eight of the units are handicapped-accessible and all units have 24-hour emergency call systems in the bedrooms and bathrooms. The age-restricted community also features a community room, fitness center, outdoor patio with picnic area and on-site laundry facilities. Pennrose Properties LLC developed the property in partnership with The Housing Authority of the City of New Britain, and Pennrose Management Company manages the community.
iPic Entertainment Breaks Ground
on Eight-Screen Theater in Philadelphia

PHILADELPHIA -- iPic Entertainment has started construction on iPic Theaters at The Boyd, a movie theater in downtown Philadelphia. Located at 1910 Chestnut St., the theater will feature eight screens and 744 seats, as well as Tanzy Express, an in-theater dining concept. The eight auditoriums will vary in size, offering seating for between 60 to 120 customers. The dine-in restaurant, Tanzy, will serve Italian cuisine with contemporary style and a full-service bar. The theater is slated for completion in 2015.
FF Realty II Acquires 28-Acre Apartment Development Site in Marlborough

MARLBOROUGH, MASS. -- FF Realty II LLC, an affiliate of Fairfield Residential, has acquired a 28-acre development site located on Ames Street in Marlborough for an undisclosed price. The buyer plans to develop the land into a 225-unit luxury apartment community of four multi-level buildings. The complex will offer 117 one-bedroom units, 96 two-bedroom units and 12 three-bedroom units. Additionally, the community will feature a clubhouse with pool. Construction is expected to begin later this year. Simon Butler and Biria St. John of CBRE/New England's capital markets team represented the seller, Marlborough/Northborough Realty Trust, an affiliate of The Gutierrez Company, and the buyer in the transaction.

CBRE Brokers $16.85 Million,
Two-Property Multifamily Sale in Boston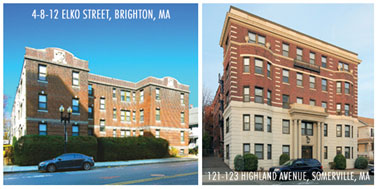 The two-property, 74-unit multifamily portfolio sold for $16.85 million
in Somerville and Boston, Mass.

BOSTON AND SOMERVILLE, MASS. -- CBRE/New England's Capital Markets team has brokered the sale of The Brickview Portfolio, a two-property, 74-unit multifamily portfolio. The portfolio includes 121-123 Highland Avenue, a 35-unit apartment community in Somerville, and 4-8-12 Elko Street, a 39-unit community in Boston's Brighton neighborhood. The Second Avenue Group LLC, an affiliate of True North Capital Partners, purchased the properties for $16.85 million. The seller was Prospectus Apartments LLC, an affiliate of Prospectus LLC. The Somerville property features an apartment mix of four studios, 22 one-bedroom units and nine two-bedroom apartments with an average unit size of 646 square feet. The Brighton property was originally built in the 1920s and offers 23 one-bedroom and 16 two-bedroom units with an average unit size of 655 square feet. Simon Butler and Biria St. John represented both parties in the transaction.
Sitex Acquires Five Industrial Buildings in Meadowlands Submarket

CARLSTADT, N.J. -- Sitex has purchased five industrial buildings located on Barell Avenue in Carlstadt for an undisclosed price. The buyer plans to modernize and reposition the buildings to attract companies seeking space in the Meadowlands submarket. Two of the five buildings are currently occupied. Jeffrey DeMagistris, Thomas Vetter and Nicholas Herrick of NAI Hanson represented the seller, R.J. Purcell Associates, in the transaction. Additionally, NAI Hanson has been retained to oversee leasing of the facilities, which range in size from 23,400 to 39,832 square feet.
72-Unit Multifamily Property Sells
in Crown Heights for $15.4 Million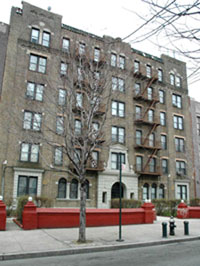 Bernard Miller of EPark LLC currently occupies the property, which sold to a local investor for $15.4 million.
NEW YORK CITY -- An undisclosed local investor has acquired a six-story multifamily property in Brooklyn's Crown Heights section for $15.4 million. Located at 410 Eastern Parkway, the 72-unit, 58,200-square-foot building was constructed in 1928. The building remains fully occupied by the previous owner, Bernard Miller of EPark LLC. Alex Freund of Eastern Union Funding brokered a $9.4 million acquisition loan from Customers Bank on behalf of the buyer. The loan features a 3.38 percent interest rate on a five-year term without recourse. Erik Yankelovich of GFI Realty Services represented the seller, and Shawn Sadaghati also of GFI represented the buyer.
Empire State Realty Brokers 25,000 SF Leases at Empire State Building

NEW YORK CITY -- Empire State Realty Trust (NYSE: ESRT) has brokered six leases for a total of 25,000 square feet at the Empire State Building in New York City. Glenn Markman and Joseph Cirone of Cushman & Wakefield represented Qatar Airways in its 6,152-square-foot lease; Jeff Hersch of Prime Manhattan Realty arranged a 3,778-square-foot lease for Taurasi Capital Management; and Ethan Silverstein and Brian Zoubek of Cushman & Wakefield brokered a 3,272-square-foot lease on behalf of RKY Services (USA).
Additionally, Esther Zar of MHP Commercial Brokerage Services and Lior Politi of The Corcoran Group arranged a 2,879-square-foot lease for BioSynthema Inc.; Jonathan Anapol of Prime Manhattan Realty brokered a 5,192-square-foot lease for Moses & Ziegelman; and Erik Alberti of EFA Realty LLC represented Community Options Inc. in its 3,617-square-foot expansion. Ryan Kass and Fred Posniak of Empire State Realty Trust and William Cohen, Jon Tootell and Shanae Ursini of Newmark Grubb Knight Frank represented the landlord in the six transactions.
GFI Brokers $3 Million Apartment Building Sale in Harlem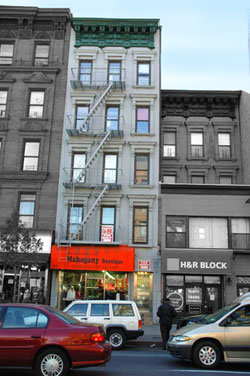 The five-story, walk-up building offers eight apartment units and a ground-level commercial unit in Harlem.
NEW YORK CITY -- GFI Realty Services has brokered the sale of 18 West 125th Street in the Central Harlem South section of Manhattan. The five-story, walk-up building offers eight apartment units and a ground-level commercial unit. A local investor bought the property for $3 million, or $375,000 per unit. The property was constructed in 1909 and is within close proximity to the 125th Street subway stations. Jonathan Burland of GFI represented the seller, a local investor, and Ohad Babo, also of GFI, represented the buyer.
NYC-based Keystone Group Renamed to
Itzhaki Acquisitions

NEW YORK CITY -- Developer Erez Itzhaki has renamed Keystone Group, a New York-based real estate development firm, to Itzhaki Acquisitions. The firm primarily focuses on high-end condo and rental buildings. Additionally, the name change reinforces that Itzhaki is no longer part of EPIC Commercial Realty, formerly Itzhaki Properties.
Thor Equities, Rockwood Capital Buy Upper West Side Apartment Building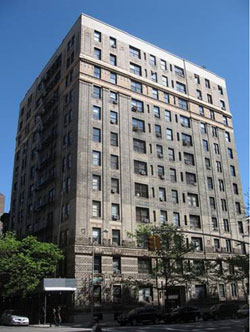 The 108,000-square-foot property features 70 multifamily units in New York's Upper West Side.
NEW YORK CITY --
The residential division of Thor Equities and Rockwood Capital have acquired an apartment building at 838 West End Ave. in New York's Upper West Side. Built in 1913, the 108,000-square-foot property features 70 units and a lobby with 20-foot ceilings. Steven Vegh of Westwood Realty Associates brokered the transaction. A private family sold the property for an undisclosed price.
The Goldstein Group Promotes
Jesse Finkelstein to Director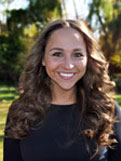 Jesse Finkelstein

PARAMUS, N.J. -- Chuck Lanyard, president of The Goldstein Group, has promoted Jesse Finkelstein to director at the firm. Since joining the firm, Finkelstein has completed numerous sales and lease transactions for both landlords and tenants, including Vornado Realty Trust, Wells Fargo, Onyx Equities, Planet Fitness and US Realty.
ARA's New England Brokerage Team Joins Marcus & Millichap's IPA

BOSTON -- Institutional Property Advisors (IPA), a division of Marcus & Millichap, has added the former New England team of Apartment Realty Advisors to its IPA Boston team. The new team includes Richard Robinson, Philip Lamere, Jennifer Athas, Brandan Reilly, James Chang and Kaitlyn Fox. The IPA team specializes in serving institutional and major private investors.
Honest Buildings RE Innovations

Overview: Keynote speakers are Jared Kushner and Bill Rudin.

When: Thursday, May 15; 7:30am - 5:00pm
Where: New York Academy of Sciences, 250 Greenwich St.

, NYC
New Development Showcase

Overview: The Real Deal and Luxury Listings NYC host the New Development Showcase.

When: Thursday, May 15; 11:00am - 6:00pm
Where: Altman Building, 135 West 18th Street, Chelsea

, NYC
RE Opportunity & Private Funding Investing Forum

Overview: The 15th annual U.S. Real Estate Opportunity & Private Fund Investing Forum.

When: June 12-13; 11:00am - 6:00pm
Where: Marriott Marquis, 1535 Broadway,

NYC
Contact us
Matt Valley, Editorial Director
Northeast Real Estate Business
France Media, Inc.
404-832-8262
404-832-8260