TERWILLIGER PAPPAS BREAKS GROUND ON SOLIS DILWORTH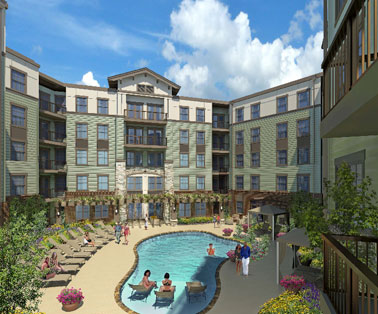 Located in Charlotte, the 184-unit Solis Dilworth will feature a central courtyard with a resort-style saltwater pool and cabana.
CHARLOTTE, N.C. -- Terwilliger Pappas Multifamily Partners has begun construction on Solis Dilworth, a 184-unit luxury apartment community in Charlotte. The multifamily property will be located on Morehead Street at Kenilworth Avenue, near the Carolina Medical Center, Uptown Charlotte, the Little Sugar Creek Greenway and the merchants and eateries lining East Boulevard. The property will feature a central courtyard with a resort-style saltwater pool and cabana. Other amenities will include a lounge and game room, fitness center, yoga room and pet exercise/grooming facilities. The project team for the development includes architect Rule Joy Trammell + Rubio, landscape architect Cole Jenest Stone and general contractor Adolfson & Peterson Construction.
CONCORD HOSPITALITY SELLS
13-HOTEL PORTFOLIO FOR $240M

RALEIGH, N.C. -- Concord Hospitality Enterprises has sold a portfolio of 13 hotels in an all-cash transaction to companies owned by an unnamed global investment fund for approximately $240 million. The portfolio is comprised of 1,650 rooms representing 11 Marriott and two Hilton-branded hotels.
"This sale is a continuation of our ongoing plan to strategically sell stabilized assets while retaining management," says Mark Laport, president and CEO of Concord Hospitality. "This gives our investors an attractive return on their development investment while providing long-term, sustainable growth opportunities for the companies that buy these assets."
Concord Hospitality will continue to operate the hotels under a long-term management agreement. Mark Elliott of Hodges Ward Elliott was the lead broker in the transaction.
To read John Nelson's full report, click here.
TRINITY CAPITAL ADVISORS PLANS
TO DEVELOP INDUSTRIAL PROPERTY

The 277,253-square-foot industrial property is being designed by Merriman Schmitt Architects.
CONCORD, N.C. -- Trinity Capital Advisors plans to develop a 277,253-square-foot industrial property located at 215 International Drive in Concord. The design team includes architect Merriman Schmitt Architects and general contractor Myers & Chapman. Construction will begin this month and wrap up in December. Terry Brennan of Trinity Partners is handling the marketing and leasing of the Class A, speculative industrial property.
HILL PARTNERS ACQUIRES SOUTHPARK SHOPPING CENTER

CHARLOTTE, N.C. -- Hill Partners and an unnamed institutional partner have acquired Specialty Shops on the Park, an open-air shopping center in Charlotte's SouthPark submarket. The property, originally built in 1979, is located across from SouthPark Mall and is surrounded by affluent neighborhoods such as Myers Park, Barclay Downs, Quail Hollow and Foxcroft. The shopping center's tenants include Talbots, Williams-Sonoma, Brick Top's, Elizabeth Bruns Jewelers and Toscana Ristorante. The purchase price was not disclosed.
INVESTMENT FUND BUYS ANSLEY FALLS APARTMENTS IN CHARLOTTE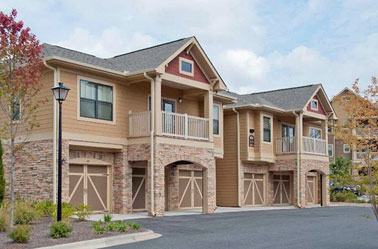 The apartment community was purchased by a joint venture between Banner Essex Strategic Apartment Fund II and a The Hartford affiliate.
CHARLOTTE, N.C. -- Banner Essex Strategic Apartment Fund II has purchased the 274-unit Ansley Falls Apartments, an apartment property built in 2010 in Charlotte's Pineville submarket, for an undisclosed price. The investment fund purchased the Class A asset in a joint venture with an affiliate of The Hartford. The seller was an affiliate of Sherman Residential. Dean Smith and John Heimburger of ARA brokered the transaction.
MORGAN PROPERTY GROUP ACQUIRES TWO SITES FOR 7-ELEVEN STORES

CHARLOTTE, N.C. -- Morgan Property Group LLC (MPG) has acquired two sites in Charlotte for the development of new freestanding 7-Eleven stores. One site is located at the northwest corner of North Tryon Street and West Craighead Road and the other is located at the northwest corner of Freedom Drive and Thrift Road. MPG purchased the first site through its affiliate SDC X Tryon LLC from Dream Properties Co. 7-Eleven Inc. signed a 2,490-square-foot lease at the site for a 15-year term. MPG purchased the second site through SDC IX Freedom LLC from E.C. Griffith Co. 7-Eleven will occupy a 2,630-square-foot store upon completion. Construction for both stores is expected to begin in the second quarter and wrap up in the fourth quarter of this year.


NC-CCIM CRE Negotiations: May 12

CCIM North Carolina's Commercial Real Estate Negotiations class.

Monday, May 12; 8:30am - 5:30pm
UNC Charlotte - Center City Campus
Belk School of Business
InterFace Healthcare RE Carolinas: June 11

InterFace Conference Group's 4th Annual Healthcare Real Estate Carolinas Conference.

Wednesday, June 11; 2:15 - 6:15pm
Hilton Charlotte City Center
InterFace Carolinas: June 11

InterFace Conference Group's 5th Annual Carolinas Commercial Real Estate Conference.

Wednesday, June 11; 8:00am - 1:30pm
Hilton Charlotte City Center
Do you have an upcoming event you would like to see listed here? Send an email to ccp@francemediainc.com.

Contact Us
Carolinas Commercial Properties
France Media, Inc.