With the advent of easy distribution via social media sites like Vine and YouTube, and the fact that anyone with a smart phone can record a video and share it with the touch of a button, sharing brief moments of readerly enthusiasm seems like a natural way to bring readers together around their favorite books. So the Southern Independent Booksellers Alliance has created "Parapalooza!" -- a YouTube channel devoted to people reading favorite selections from favorite books -- as a way to foster avid readers' enthusiasm for great writing. YOU are invited to submit your own short videos to the channel by sending them to parapalooza@sibaweb.com. Click here for more information, and read on for a chance to discover a book that makes you want to share it out loud!
August Events
Award-winning South Carolina artist, author, and cartoonist Kate Salley Palmer has been writing and illustrating picture books since 1991. Her latest picture book, First South Carolinians (Warbranch Press, paperback, $14.95), is about the culture of the native people of South Carolina. The book was co-written by Kate's husband, Jim, and illustrated by their son, James Palmer, Jr. Tickets can be purchased online at www.bookyourlunch.com or by calling us at 864-675-0540.
Kids going into grades K-2, 3-5, and 6-8 who read six books over the summer, including at least three from our suggested list, and turn in their tracking form by August 1st (tracking form doubles as a bookmark and can be picked up at Fiction Addiction) are eligible to join us for a Blueberry Frog fro-yo party at Fiction Addiction on August 10th, where prizes will be awarded -- including a $5 Fiction Addiction gift certificate for participants who read all six books on our suggested list!
Fiction Addiction's Cookbook Clubs currently meet the second week of every month. (*Note: The Fiction Addiction club will begin meeting on the third Monday starting in September.
) On Monday at Upcountry Provisions in Travelers Rest (102 S. Poinsett Hwy.), we will be preparing recipes from and discussing The Smitten Kitchen Cookbook by Deb Perelman (Alfred A. Knopf, hardcover, $35.00) from July through September. On Thursday at Fiction Addiction, we will be using Jerusalem by Yotam Ottolenghi (Ten Speed Press, hardcover, $35.00).
If you're interested in joining either of our cookbook clubs, please email us at info@fiction-addiction.com or call us at 864-675-0540 for more information or to sign up. You can preview the club agreement here.
South Carolina artist Phil Garrett will be signing copies of his new instructional book, Inside Acrylics: Studio Secrets from Today's Top Artists (F&W Media, hardcover, $29.99), at his launch party at Fiction Addiction. Packed with expert advice from nine of today's top acrylic artists, this book will help beginning and intermediate artists make the most of both traditional acrylics and their new, slow-drying cousins. This event is free and open to the public.
Join us for the launch of the second book in South Carolina author Susan Boyer's Agatha Award-winning Liz Talbot series, Lowcountry Bombshell (Henery Press, paperback, $15.95, on sale 9/3/13), at Fiction Addiction. Refreshments will be served. After Marilyn Monroe look-alike Calista McQueen's life coach is executed and suspicious characters swarm around her like mosquitoes, P.I. Liz Talbot must race to uncover a diabolical murder plot in time to save not only Calista's life, but also her own, while fighting of a series of personal distractions. This event is free and open to the public.
Book Your Lunch with Kate Tierney: Tuesday, September 10th, 12pm @ Twigs Tempietto, $55*
Kate Tierney, the owner of Twigs Tempietto, will discuss and demonstrate the art of flower arranging, using The Flower Recipe Book by Alethea Harampolis and Jill Rizzo (Artisan, hardcover, $24.95) as her reference. *Note: The $55 ticket price admits one and includes one copy of the featured book. We also have an $80 ticket, which admits two and includes one copy of the featured book. Tickets can be purchased online at www.bookyourlunch.com or by calling us at 864-675-0540.
Ann Hite, author of The Storycatcher (Gallery Books, paperback, $16.00, on sale 9/10/13), and Karen Spears Zacharias, author of Mother of Rain (Mercer University Press, paperback, $17.00, on sale 9/2013), have put together an event they call
"A Conversation with Mountain Women," in which they interview each other's characters, which leads to much laughter and great storytelling. Tickets can be purchased online at www.bookyourlunch.com or by calling us at 864-675-0540.
Join us for storytime every Thursday morning at 10:30am. We will be reading the following titles during August:
August Volunteer Picks
Nancy M. recommends:
A Tap on the Window by Linwood Barclay (NAL, hardcover, $25.95, on sale 8/6/13)
Ex-cop and current PI Cal Weaver knows he shouldn't give a ride to a teenage girl late at night. But it is raining, and when she taps on his window and tells him she was a friend of his dead son, he can't turn her down. From the first sentence, Barclay takes you on a thrilling and chilling ride packed with explosive action. This book is so well written that you won't skip one word of it. Probably Barclay's best yet, and I've loved them all!
Jackie W. recommends:
Letters from Skye by Jessica Brockmole (Ballantine Books, hardcover, $25.00)
This is both a heart-warming and heart-breaking story about American college student and ambulance driver Davey and 26-year-old Scottish poet Elspeth Dunn, whose correspondence starts out as a fan letter from Davey to Elspeth but which becomes the center of both of their lives. After reading this book, you will have an utterly changed view of pen pals.
-Seconded by Melissa Oates, store employee
Adam M. recommends:
The Darwin Elevator by Jason M. Hough (Del Rey, paperback, $9.99)
A fresh take on alien invasion. Action, characterization, and great world building. A great sci fi read.
Volunteer picks now in paperback:
August Staff Picks
Jill Hendrix, store owner, recommends:
After Iris by Natasha Farrant (Dial, hardcover, $16.99)
After Iris takes the classic hijinks at the heart of The Great Brain or Cheaper by the Dozen and updates them for a new generation by introducing us to the wildly dysfunctional Gadsby family. It's a perfect tween book for strong readers who have outgrown middle-grade but aren't quite ready for the raciness of teen fiction. It could also make a great family read-aloud.
The Never List by Koethi Zan (Pamela Dorman Books, hardcover, $27.95)
This will make a great beach book because it is so creepy you'll want to read it in full sunlight and somewhere where you can see everyone coming. Be warned that this addictive read is not for the faint of heart!
The Thinking Woman's Guide to Real Magic by Emily Croy Barker (Pamela Dorman Books, hardcover, $27.95)
I can see this becoming a cult classic with women who've grown up on fantasy but also love the romance of Pride and Prejudice. Don't let the heft fool you -- this was a very fast read and what I hope will be the first of a series.
Melissa Oates, store employee, recommends:
Belladonna by Fiona Paul (Philomel, hardcover, $17.99)
Cass's fiance Luca has been arrested for heresy, falsely accused after threatening the powerful Joseph Dubois with the Book of the Eternal Rose. While Luca is imprisoned, it falls to Cass to go to Florence and attempt to locate the elusive book and the secrets it contains about Dubois and everyone in the Order of the Eternal Rose, while battling widespread fear of vampires and the reappearance of artist Falco, who already claimed a piece of Cass's heart in Venice. The setting is very real, and the mystery and romance will keep you turning the pages.
Hollow Earth by John Barrowman & Carole E. Barrowman (Aladdin, paperback, $6.99)
Twins Matt and Em are Animare, people who can animate their drawings into physical manifestations. When their powers become unexpectedly strong, their mom is forced to move them to the protection of their paternal grandfather's estate. Unfortunately, the people who want control of Matt and Em won't be put off so easily, and the twins must find their family secrets in order to be able to protect themselves. Fans of Rick Riordan's Percy Jackson series will be thrilled to discover this action-packed and magical adventure.
Starglass by Phoebe North (Simon & Schuster Books for Young Readers, hardcover, $17.99)
Terra has spent her entire life on the space ship Asherah, headed for a new planet. The people are ruled by captain and Council, but there are those on the ship who think the citizens should be free to make their own choices, and Terra agrees. But even a relatively small space ship can have its share of big secrets, and when Terra uncovers those secrets, she no longer knows where to put her faith and trust. With romance, adventure, and moral ambiguity galore, Beth Revis fans will love this and won't be able to wait patiently for the sequel.
Collateral by Ellen Hopkins (Atria Books, paperback, $15.00)
Another great one by Ellen Hopkins, the master of storytelling through poetry. Ashley is a college student in California when she meets Cole, a new Marine recruit about to head out on his first deployment. While being a military wife is never what she imagined for herself, she can no longer see a future without Cole in it, and over the next five years and four deployments, she has to do some soul searching and decide whether the future she wants with Cole is a forever one -- or even realistic. Will appeal most especially to military wives who have "been there, done that," so to speak.
Of Beast and Beauty by Stacey Jay (Delacorte Press, hardcover, $17.99)
Blind Isra has become queen, and as such, she knows that she will one day be required to give her life in the ultimate sacrifice to strengthen her city against the outside world, where death and mutant beasts run rampant. But when she meets Gem, one of the Monstrous, she learns about his own people's struggles, and they both begin to believe that maybe they can build something better than the hate they've both been brought up with. A magical story in a sci-fi world, with fantasy and romance to make it a fairy tale worth reading.
Kathleen Perry, store employee, recommends:
Buddhist Boot Camp by Timber Hawkeye (HarperOne, hardcover, $12.99)
An inspiring little book full of
powerful messages about gratitude, forgiveness, and love that I keep on my desk
at home. The chapters are short and easy to understand, and the author does not promote
any dogma or try to convert the reader to Buddhism, for as the
Dalai Lama says, "Don't try to use what you learn from Buddhism to be a Buddhist;
use it to be a better whatever-you-already-are." If you aspire to be a "better whatever-
you-already are," you will like this book too. Click here to hear the author
speak at a TedX Conference.
Nancy Rechtman, store employee, recommends:
The Day the Crayons Quit by Drew Daywalt (Philomel, hardcover, $17.99)
A fun and imaginative story with wonderful illustrations by Oliver Jeffers, about a young boy named Duncan who opens his crayon box and finds letters from all of his crayons with complaints about how he has used them. Yellow and orange are bickering about which one gets to color the sun, black and white feel unappreciated, pink feels ignored by him, and peach made me laugh out loud -- but green is thrilled with Duncan's "coloring things green career." This is a book that will immediately appeal to adults as well as young children, who will want to read it over and over again.
Sarah Cooke, store employee, recommends:
Someday, Someday, Maybe by Lauren Graham (Ballantine Books, hardcover, $26.00)
A struggling actress/waitress in New York City... Who hasn't heard that before? Lauren Graham puts her unique and witty spin on the classic "artist trying to find herself" novel. Complete with drawings and dates, the main character Franny discovers her conviction in the cutthroat world of theater.
Staff picks now in paperback:
Upcoming Releases
Please email us at info@fiction-addiction.com if you would like to reserve a copy of any of the following:
Regional Nonfiction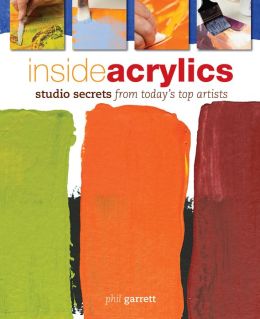 Inside Acrylics by Phil Garrett (F&W Media, hardcover, $29.99)
Acrylics are an astoundingly versatile medium, as evidenced by the diversity of work emerging from studios around the country. This book takes you inside the studios and creative minds of 9 of today's top acrylic artists, including Greenville artist and author Phil Garrett, as they share favorite techniques, distinctive approaches, and examples of their best work. Packed with expert advice, Inside Acrylics will help beginning and intermediate artists make the most of both traditional acrylics and their new, slow-drying cousins. Meet the author at our in-store launch party on August 22nd!
Nonfiction
Kentucky Traveler by Ricky Skaggs (It Books, hardcover, $25.99, on sale 8/13/13, *Signed First Editions Available*)
2011 marks Ricky Skaggs's 40th year as a professional musician. In his widely anticipated memoir, Skaggs opens up to tell the story of a life come full circle -- from his first memories of music in Kentucky, through his meteoric rise in the mainstream music industry, to his ultimate return back to the bluegrass music that he knew best. Skaggs tells the intimate stories of his successful career, profiles his musical heroes and influences, and paints a unique insider look at the evolution of bluegrass, as well as offering inspirational sections.
Regional Fiction
Love and Lament by John Milliken Thompson (Other Press, paperback, $15.95, on sale 8/6/13)
Mary Bet, the youngest of nine children, was born the same year that the first railroad arrived in their county. As she matures, against the backdrop of Reconstruction and rapid industrialization, she must learn to deal with the deaths of her mother and siblings, a deaf and damaged older brother, and her father's growing insanity and rejection of God. In the rich tradition of Southern gothic literature, Thompson transports readers back in time to explore what it means to be a woman charting her own destiny in a rapidly evolving world dominated by men.
General Fiction
The Casual Vacancy by J.K. Rowling (Back Bay Books, paperback, $18.00)
When Barry Fairweather dies unexpectedly in his early 40s, the little town of Pagford is left in shock. Pagford is, seemingly, an English idyll, but what lies behind the pretty fašade is a town at war. Rich at war with poor, teenagers at war with their parents, wives at war with their husbands, teachers at war with their pupils. And the empty seat left by Barry on the town's council soon becomes the catalyst for the biggest war the town has yet seen. Who will triumph in an election fraught with passion, duplicity and unexpected revelations?
The Good Dream by Donna VanLiere (St. Martin's Griffin, paperback, $14.99)
1950 Tennessee. In her early 30s, Ivorie Walker is considered an old maid by the town, and she takes that label with good humor and a grain of salt. Ever since her parents passed away, she has hidden her loneliness behind a fierce independence. But underneath, Ivorie wonders if she will be alone forever. When she realizes that a boy has been stealing vegetables from her garden, something about him haunts Ivorie. But what she truly can't imagine is what the boy faces, each day and night, in the filthy lean-to hut miles up in the hills.
Mystery & Suspense
Kind of Cruel by Sophie Hannah (Putnam, hardcover, $26.95, on sale 8/6/13)
Amber Hewerdine suffers from chronic insomnia. As a last resort, she visits a hypnotherapist, doubtful that anything will really change. Under hypnosis, Amber hears herself saying, "Kind, cruel, kind of cruel." The words awaken a vague memory, but she dismisses the whole episode as nonsense. But two hours later, Amber is arrested for the brutal murder of a woman she's never heard of, and the only way she can clear her name is by remembering exactly where she's seen those words.
Romance & Paranormal Romance
Rise of the Gryphon by Sherrilyn Kenyon & Dianna Love (Pocket Books, paperback, $7.99)
As an Alterant, Evalle has lived as an outcast among the Beladors, but can now change all that. The answers to her origins, as well as a traitor, hide within the Medb coven, an enemy poised to destroy the mortal world. While Evalle's best friends Tzader and Quinn want to help, they have their own conflicts and face unthinkable choices in their romantic relationships. With time ticking down on a decision that will compel allies to become deadly enemies, Evalle turns to Storm and takes a major step that only complicates matters more when the witchdoctor he's been hunting now stalks Evalle.
Children's & Young Adult
The Pout-Pout Fish by Deborah Diesen (Farrar, Straus, & Giroux, board book, $7.99, on sale 8/6/13)
The beloved
New York Times
bestseller -- now in board book format for the first time!
Swim along with the pout-pout fish as he discovers that being glum and spreading "dreary-wearies" isn't really his destiny. Bright ocean colors and playful rhyme come together in this fun fish story that's sure to turn even the poutiest of frowns upside down.
Bully by Laura Vaccaro Seeger (Roaring Brook Press, hardcover, $16.99)
What will it take for a little bull to realize he's being a big bully?
Bully doesn't have a kind word for any of his friends. When the other animals ask him to play, he responds in the way he's been taught: Chicken! Slow poke! You stink!
Laura Vaccaro Seeger's bold, graphic artwork, along with her spare but powerful words, make for a tender, hilarious, and thoughtful tale.
Of Witches and Wind by Shelby Bach (Simon & Schuster Books for Young Readers, hardcover, $15.99)
After taking part in a successful real-life fairy tale, Rory Landon is now an Ever After School veteran. She has better friends than she's ever had, and she's stronger, more confident, and ready to take on whatever comes next.

Or so she thought. When a nefarious plan from The Snow Queen threatens the entire Ever After School program, it is up to Rory and Chase to save everyone. Between this new adventure and what is happening at home -- where a potential stepmom has entered the picture -- Rory wonders if she really has what it takes to come to the rescue.
Thanks for your continued patronage!
Sincerely,
Jill Hendrix, Owner
Fiction Addiction
1175 Woods Crossing Rd. #5
Greenville, SC 29607
864-675-0540
(More info coming soon)
*Additional ticket options available for select events. See event details for more information.
August 9th is Art Appreciation Day
On TV
starting August 10th
Saturdays @ 8pm
on Starz
Calling All Book Mavens!
Are you the one who tends to pick the books for your bookclub? Do you buy several copies of your favorite book and give them as gifts to friends and family? If so, we would like to invite you to join a special Fiction Addiction bookclub. Club members would be given copies of books that our staff are extremely excited about before those books are available in stores. At club meetings we would discuss whether you liked the book as much as we did, who the perfect audience for it is, how to best describe the book to others, etc. Please e
mail
jill@fiction-addiction.com
desc

ribing your book maven qualifications and what meeting days/times would work best for you. Spots are limited and preference will be given to those with the biggest spheres of influence. Please forward this notice to anyone you think might qualify. We will consider forming a separate children's club if enough teachers and media specialists are interested.
Shelf Awareness
Email Newsletter
Would you like to learn about even more great books and book-related news? Shelf Awareness sends out a twice-weekly email newsletter filled with book reviews, book lists, author interviews, and more. Click here to see the latest Shelf Awareness newsletter. If you're interested in subscribing to the Shelf Awareness email list, please email us at info@fiction-addiction.com.
FREE Book Opportunity!
Spend $50 in one transaction on in-stock merchandise (event tickets excluded), and pick a FREE "advance reading copy" from our selection!
Volunteers Welcome
We love to have volunteers help out at the store! Our volunteers receive a free "advance reading copy" for every three hours worked, and a 20% discount on all merchandise. If you're interested in volunteering at Fiction Addiction, please email Jill at
info@fiction-addiction.com or call 864-675-0540.