Upcoming Workshops & Events

Monday, April 15th, 2013
12:00pm - 1:00pm
Reinsch Library Boardroom
Apps to Enhance Your Career!
The modern-day job search involves a lot more than scanning the job boards and submitting a resume online - it involves staying current with what is going on in your industry, actively seeking out new opportunities and connections, and presenting an exceptional attention to detail when it comes to your professional documents and knowledge about potential employers
.
Good thing, there are apps for that!
LinkedIn -
The premier online social networking platform for business professionals is an absolute must for all job hunters. LinkedIn is the only social network that truly connects employers and recruiters with job applicants.
LunchMeet
- This networking app connects to your
LinkedIn
account and uses geo-targeting to find industry-specific contacts who may be open to networking. Just connect through LunchMeet, grab lunch or coffee and discuss your industry or career opportunities. If you're looking to expand your business circle, this could be the app for you. It's also a great way to find a mentor or discover a hidden job lead.
Interview Prep Questions
- Are you freaking out because you have a big interview coming up? Turn on your phone and start practicing. This app offers a wide range of practice questions and will even suggest answers if you're stumped. You can then take those answers and personalize them so they fit your unique qualifications and background. Preparation is the name of the game when it comes to interviewing, and this app helps you prepare on the go.
Jobs You'll Love
- Wish job boards could read your mind? This app is like
Pandora
for the job seeker: it uses your job preferences to help you find the perfect position.
Every job viewed by a user can be saved, shared or even disliked. Based on these preferences, the app will recommend other great jobs for you. So the more you use the app, the more it gets to know you - it's like getting great job advice from a friend you keep in your pocket.
JobJuice - This app is a great learning tool for job seekers looking to incorporate social media into the hunt for great opportunities. The app aims to help job seekers take advantage of social media to build their personal brand, research and target key companies, and reach out to hiring managers without breaching online etiquette.
Evernote - This app is like a Post-It Note made electronic and Internet- savvy. It allows users to "capture everything" via typed note of text, a pic, or a screenshot. So next time you see something interesting on-the-go and are reminded of someone you want to share it with or an idea you want to research further, you can easily document it! Very nifty, and very recommended for staying organized and full of interesting information.
Start making the most of your phone and your time by downloading the practical, career-focused applications above because if you aren't already using technology to help you be more productive, organized, and successful in your job search, you're behind the curve!!
Looking for a
SUMMER
internship?
Whether you are doing an internship for credit or just seeking additional experience to strengthen your resume,
NOW
is the time to start applying!
Stop by our office for help with your search TODAY!
Student Employment
While most spring campus employment positions have already been filled, there are a few positions that are currently hiring and new positions for summer employment being posted in the next couple of weeks!
Log on to
Jobs4Saints
and search student employment by position type to see the opportunities available to you!
Questions/Concerns? Call us at 703-284-5960.
CHECK OUT OUR INTERNSHIP BLOG
!!
Have an internship experience you want to share? Let our career ambassadors know by emailing career.ambassadors@marymount.edu. Who knows, you may be our next feature!

Upcoming Career Development Events


ATTENTION HUMAN RESOURCE MANAGEMENT STUDENTS!!
Dr. Jacquie Hamp, Senior Director of Leadership Development at Goodwill Industries International, will be at Marymount's Ballston Campus on April 9th to tell the
fascinating story of how Goodwill Industries navigated the "permanent whitewaters" of change. Dr. Hamp will share the tale of leading culture change in a long standing, traditional social services organization and how it transformed itself into a revolutionary learning organization encompassing new learning and leadership practices. She will address where Goodwill Industries is today and where it plans to be in the future.
Don't miss out on this great opportunity to network and learn more about this successful organization!
PREPARING FOR A CAREER IN EDUCATION?!
Come learn more at this upcoming on-campus event with speakers from Fairfax County Schools, International Baccalaureate, National Association of Independent Schools (NAIS), and Catholic Diocese of Arlington! This event is open to all majors with special emphasis for school counselors, teachers, principals, HR, and all positions related to the education field. The panel discussion will take place on Wednesday, April 10th, 2013 in the Truland Auditorium on Ballston Campus. Registration for the event and a Networking Reception will begin at 5:45pm and the program will begin promptly at 6:15pm.
Check out the evite for more information about the speakers and to register
Wednesday, April 10th, 2013, 5:45pm
NETWORKING EVENT FOR ART HISTORY BUFFS!!

Dr. Jason Rosenfeld is the Distinguished Chair & Professor of Art History at Marymount Manhattan, and co-curator of "Pre-Raphaelites: Victorian Art and Design," on display at the National Gallery of Art to May 19. MU is the only college in the DC area where he will speak during this exhibition, and we are quite lucky to have him.
Friday, April 19th, 2013
6.30-8.00 (welcoming reception at 6.00)
CONSIDERING A CAREER IN MEDICINE??
The National Hispanic Medical Association (NHMA) will be hosting their 17th Annual Medical & Health Professional School Recruitment Event on Saturday April 27, 2013 from 9am-1:30pm at the Marriott Wardman Park Hotel in Washington, DC. This event provides students with the opportunity to meet with recruiters from top medical and health professional schools from across the country and to learn how to apply for medical school and related financial aid. The fair is open to
all
college students interested in pursuing a medical or health professional career as well as their parents and school counselors.
To learn more and register, visit their site!
Saturday, April 27th, 2013, 9:00am - 1:30pm
Busy schedule making it difficult to see us on Main Campus?
We've got
Ballston Hours!!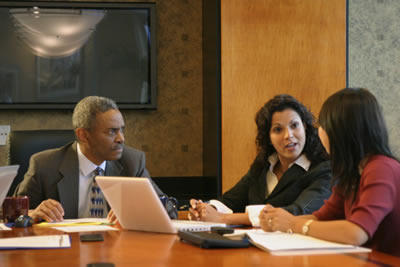 Monday, Tuesday, and Wednesday Evenings
Walk-in Hours

:
5:30pm - 7:00pm
Appointment Hours

**

:
7:00pm - 9:00pm


Located in the "Green Room", 1st Floor

j

**

To schedule an appointment at Ballston, call our office at 703-284-5960
Career Services is excited to announce a great new online resource called JOBipedia. JOBipedia is an informational interviewing resource where students and recent graduates can ask career-related questions and receive answers directly from experienced recruiting professionals at America's top employers including IBM, American Express, AT&T, Gap, Accenture, General Mills and MetLife. Whether you have a specific question in mind or simply want to search the site's database of questions and answers, JOBipedia is a helpful way to complement the job market knowledge you are gaining from your in-person networking and hands-on learning experiences. Meet with a Career Coach today to learn more about how this resource can help you!
***

WORKSHOP
***
SERIES for
INTERNATIONAL STUDENTS


Career Services will be hosting three workshops designed specifically to meet the internship and job search needs of international students here at MU


All of the workshops below will take place from 7:00pm-8:00pm in BALLSTON Room 403




Job Search Strategies & Resources

Tuesday, April 9th



The Tailored Resume

Tuesday, April 16th




Effective Interviewing Skills

Tuesday, April 23rd
by coming to our
upcoming career workshops!
We will be awarding a variety of gift cards from Panera, iTunes, and Regal Cinemas at random workshops throughout the rest of the semester, so don't miss out on winning some FREE stuff!

Increased Career Preparedness + the chance to win cool gift cards = AWESOME IDEA

Keep it Professional

Your Bi-Weekly Tip to Making a
Positive Impression


Want to make a memorable impression on the next person you meet? Tell them an AUTHENTIC story about WHY you are studying what you are studying here at Marymount and WHY you are pursuing your career of choice! All too often, employers and seasoned professionals hear potential candidates describing WHAT they are doing and HOW they are accomplishing it, but rarely hear WHY an individual is doing what they are doing. The WHY is what really matters! Take a few minutes to reflect on this point for yourself - WHY are you here at Marymount studying your major subject of choice? THIS story is the story that employers want to hear and THIS is the type of information that will make a lasting impression and help you build an authentic and meaningful professional network!!


Career
How Social Media is revolutionizing YOU and YOUR LIFE
Connector Career Byte
Looking to boost your resume with globally relevant, in-demand skills for FREE?
Coursera is a social entrepreneurship company that partners with the top universities in the world to offer courses online for anyone to take, all for FREE. Courses fall along a huge spectrum of topics and can be taken at whatever pace your schedule allows. With the help of technology, Coursera strives to empower people with education that will improve their lives, the lives of their families, and the communities they live in.
and meet with a Career Coach to discuss which courses could provide a relevant supplement to your current academic pursuits and help you stand out in the job search!
1005 Rowley Hall

Main Campus

Questions? Concerns? Suggestions?