New Tangle: schway
Rick writes:
During my high school years, I worked at a summer camp in Maine. While there, I also learned to make silver jewelry.

One of the pieces I made was a necklace pendant with a design that looked like . . .
I don't remember if it was my idea or if I saw it someplace, but its metaphor was appealing - put enough arrows in one direction and you create an arrow going in the opposite direction.


A couple weeks ago I thought about that piece and wondered if there might be a tangle in there.
There was!
We call it . . .

This tangle can be stark and minimalist . . .
. . . or its inner sections can be textured. Here I'm playing around, exploring possibilities: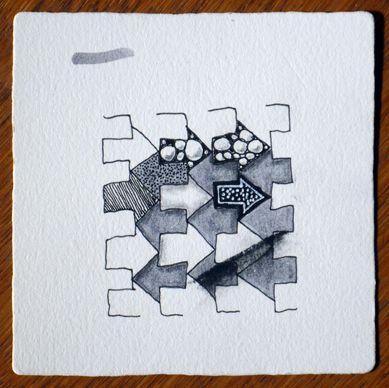 Some of the grey is pencil, some is a grey Fabrico™ marker. That black shading slash is charcoal. On this series, I experimented with a charcoal pencil for shading. It's less reflective than graphite and I thought it might make photographing the tiles easier.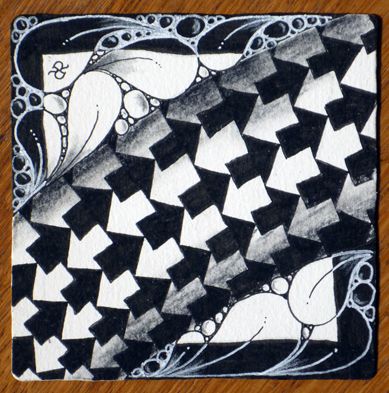 I didn't like it at all. It was blunt and imprecise. It was difficult and unpleasant to smudge . . . back to pencil!
In this next tile, instead of using right angles in my initial lines, I used a more acute angle to create a
dovetail
effect.
Here's one from Molly. I love how she morphed that top edge of
schway
into
betweed
.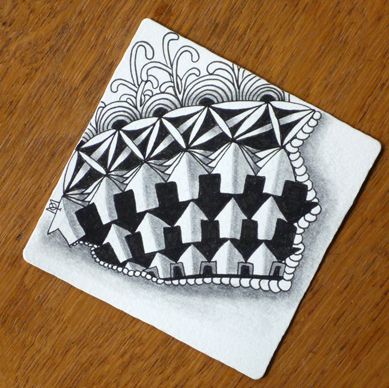 You can also use
schway
as a border.
Its name is derived from the different sounds that are created when words are run together in our English language. Just as "Did you eat?" turns into "Jeet?"; we turned "Which way?" (with a bit of artistic stretching) into
schway.
Maria pointed out that it's also pronounced as many people in this part of our country pronounce "shui" in "Feng Shui." Feng Shui, a Chinese developed study that addresses, in part, physical layouts of buildings and furnishings, literally means "wind - water."
The character to the above left is "feng" or "wind" and the character below is "shui" or "water."
In an interesting coincidence that character for "shui" (water) includes two arrows going in opposite directions.
Schway is also an example of tiling and it provides a good entry point for exploring tiling and tessellation. Another example of a Zentangle created tessellation can be seen on this blog post.
We look forward to seeing what you create with schway.
Enjoy!