The Book of Zentangle

We are thrilled with the feedback we're receiving on our book because those comments suggest that this book is communicating those messages and ideas we wanted to convey.
Here's a small sampling:
The more I look at/read
The Book of Zentangle
, the more I feel the book itself as a Zentangle. I savor the pages, finding something new I hadn't seen before, listening to what it might be asking me to do or see. This beautiful book is more than a story, it's the feeling of Zentangle as only Rick and Maria could express. This book is a
gift
to all who already love this art form, and a gift awaiting anyone who still hasn't discovered it.
-
Carole Ohl, CZT
This wonderful behind-the-scenes look at Zentangle includes the story of its origins, a description of the tools and the method, a discussion of the practice of Zentangle with exercises and projects, and fascinating stories and comments from Rick and Maria themselves. More than that, of course, it is filled with pages and pages of wonderful artwork for us all to be inspired by and aspire to. - Linda Farmer, CZT
You have produced a gorgeous, inspiring, wonderful book!!! - RP
Your new Zentangle book is amazing. It is such an inviting book to pick up, read, or browse through. -Sue
I just received my copy of your book and loved every word, every illustration. I gobbled up every page at once and know I will read it again and again. I am so happy you created this marvelous collection of art and philosophy. Thank you for the hours of relaxed attention I enjoy while tangling. -D
Dear Rick and Maria! My first book arrived a couple of days ago and I love it so much that I just have to do my Christmas shopping now! :) It's so beautiful that it brought tears to my eyes and not just once...The writing is crystal clear, precise and poetic! I felt like you were talking to me in my living room and the artwork is incredibly gorgeous! BRAVO! Thank you, -A
Thank you so much for writing 'The Book of Zentangle.' I've read it from cover to cover and again from cover to cover. What really blows me away is how you create an extraordinary connection between the reader and the content of the book. Rick's inspiring words make all the images come to life. And Maria's amazing artwork adds so much 'voice' to the written words. In other words: you don't read this book, you experience it. - Jella Vrelst, CZT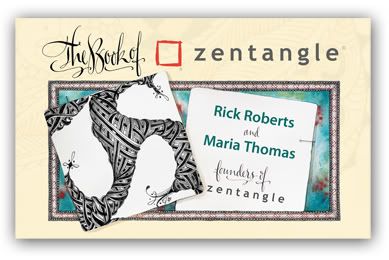 Hardcover, 146 pages, 6 x 9.5 inches (150 x 240 mm), f
ull color, with bibliography and index.
$39.95
You can comment and ask questions on
this blog entry
that we've set up to discuss our book. This blog entry also has more and larger images as well as additional information about our book.
-----+-----
If you know of a bookstore in your community that you think might enjoy carrying our book, please invite them to email us at rickandmaria@zentangle.com for terms and pricing.
If you know of someone who might like to review
The Book of Zentangle
,
please invite them also to email us.