JAC spent this week in Washington. We were honored to join Rabbi David Saperstein for his Swearing-In as Ambassador-At-Large for International Religious Freedom. We also met with elected officials on Capitol Hill.
l to r: Dana Gordon, Senator Michael Bennet (D-CO) and
JAC Executive Director Marcia Balonick.


l to r: Marcia Balonick, Senator Susan Collins (R-ME),
and Dana Gordon
l to r: Dana Gordon, Senator Richard Blumenthal (D-CT),
Marcia Balonick
l to r: Reed Adamson, Marcia Balonick,
Congressman Raul Ruiz (D-CA), Dana Gordon
l to r: Linda Rae Sher, Gidi Grinstein of Reut Institute,
Marcia Balonick, Dana Gordon,
Matt Nosanchuk - White House Jewish Liaison
| | |
| --- | --- |
| | |
MEET THE MEMBERS

Sen. Susan Collins (R-ME)
As a Republican, Collins has worked hard throughout her Senate career to build bi-partisan support on important JAC issues. JAC can count on Collins when it comes to strengthening the relationship between the U.S. and Israel; she has co-sponsored the U.S.-Israel Strategic Partnership Act and supported increased funding for the Iron Dome Defense System. She has long been a strong proponent of women's reproductive rights, earning 100 percent approval rating from NARAL Pro-Choice America. She has earned support from Americans for Responsible Solutions on her vote to expand background checks for gun purchases. During her tenure in the U.S. Senate, she has never missed a roll call vote, casting more than 5,700 consecutive votes - and counting.


Palm Beach, FL
Talking Points with Mona Reis
Founder & CEO of
Presidential Women's Center

in West Palm Beach

Wednesday, March 4
4 - 5:30 pm

Home of Merle and Jim Styer
Talking Points with
Rep. Raul Ruiz (D-CA)

Thursday, March 12
4 - 5:30 pm
Details to come


Highland Park, IL

Talking Points with Rep. Mike Quigley
(D-IL)

Monday, April 20

Details to come


Lincolnwood, IL

5th Annual Power of Women Luncheon

featuring
International Correspondent Amy Kellogg
honoring
Barbara Bluhm-Kaul
Leslie Bluhm & Meredith Bluhm-Wolf

Monday, June 1st


_________________

Want to host a JAC event in your area?

Contact the JAC office.


Chicago
Breakfast with Senator Tim Kaine (D-VA)
Monday, March 2
8:30 - 9:30 am

Clayco in Chicago

Call the JAC office for more details or to RSVP
[email protected]
_________________
The Week in Legislation

Department of Homeland Security Funding -

PASSED SENATE/FAILED HOUSE.
A bill for funding DHS was passed in the Senate. The House version included language to undo President Obama's immigration directives. The House bill failed and DHS is scheduled to partially shutdown until funding is approved by Congress.
Keystone XL Pipeline -

VETOED

.
If enacted, this bill would allow construction of a petroleum pipeline extension from Canada to Nebraska. President Obama has vetoed this bill.
David Saperstein
Ambassador-At-Large for International Religious Freedom
Marcia Balonick, JAC Executive Director, and Linda Rae Sher, JAC Director of Special Projects, were invited to attend the State Department's swearing in of Rabbi David Saperstein, Ambassador-at-Large for International Religious Freedom. Secretary of State John Kerry said that Saperstein's "voice has been heard on behalf of freedom and justice, been a tireless spokesperson for policies that respect the fundamental dignity and human rights of every single human being. Now, we are pleased that his eloquent voice is going to be given a larger platform which to proclaim the message, a universal message of religious liberty, and that is what makes this a good day for freedom and a great day for all of us."
Saperstein is a long-respected leader, scholar, and activist in the Jewish community. JAC has enjoyed a long and close relationship with Rabbi Saperstein. He has been a speaker at JAC events throughout the years and he has been a strong advocate for our issues. We are proud of his numerous accomplishments on behalf of the Jewish community. JAC is confident that he will bring that same passion to his new position.
"To the religiously oppressed in every land who live in fear, afraid to speak of their beliefs; who worship in underground churches, mosques, or temples, lest authorities discover and punish their devotion to an authority higher than the state who languish in prisons, simply because they love God in their own way; who question the existence of God; who feel so desperate that they flee their homes to avoid persecution, indeed, as we have seen so often to avoid simply being killed because of their faith -- to all of them, together, you and I here, the State Department, this Administration, the Congress, together our nation can be, must be, will be a beacon of light and hope." Saperstein said at his swearing-in.
l to r: Linda Rae Sher, Ambassador David Saperstein,

Marcia Balonick, Carole Boron
Tell Congress to PASS
The Campus Accountability & Safety Act (CASA).
202.224.3121
This act will ensure schools take proactive steps to protect their students from sexual assault.
41 percent of colleges and universities recently surveyed had not conducted a single investigation of sexual violence on their campus in the past five years.
90-95 percent of rapes on college campuses are committed by fewer than 5 percent of male students.
Take action today to help end this epidemic on our college campuses.




202.224.3121
Our students are counting on you.
JAC's 5th Annual Power of Women Luncheon

June 1st - Mark Your Calendars Today!
This week's issue highlights these key developments here
and in the Middle East... and some others that you may have missed.

For the latest news, visit us at
www.jacpac.org
or
Good friends must find ways to iron out differences, by Roey Gilad
I am writing this short column from Jefferson City, Missouri, where I addressed the Missouri House of Representatives and spoke with members of the Missouri Senate. In my post as Consul General, I represent the interests of the state of Israel in the Midwest. I appreciated the honor of speaking with members of the legislative branch in Illinois' neighboring state, Missouri, as I always do whenever I speak throughout the 11-state region under my responsibility. It is one of the reasons I value my position, one of the reasons I chose the Midwest, because people in the Midwest are open and friendly and willing to listen, even if they may disagree.
Mitch McConnell, Harry Reid will meet with Bibi
Israeli Prime Minister Benjamin Netanyahu will hold a bipartisan meeting with Senate leaders Mitch McConnell and Harry Reid the same day as his controversial address to Congress on Tuesday, McConnell's office announced Thursday.
Kerry Cautions Critics of Nuclear Talks with Iran
Secretary of State
John Kerry
sought Tuesday to rebut critics of a potential nuclear deal with
Iran
, making his case on Capitol Hill just a week before Prime Minister
Benjamin Netanyahu
of
Israel
is scheduled to deliver his broadside against the emerging accord in an address to Congress.
Israel snaps up 14 F-35 stealth fighters
Israel has signed a deal to purchase 14 F-35 Joint Strike Fighters from the US, with the option of another 17, the Defense Ministry announced on Sunday. In an agreement inked over the weekend, Israel will obtain the aircraft as part of a total $2.82-billion package that began with the purchase of 19 of the fighters in 2010.
Historic US terror verdict charges Palestinian Authority with over $655m. in damages
A US jury on Monday handed down an historic verdict against the Palestinian Authority for involvement in six terrorist attacks from the time of the second intifada, pummeling it with a $655.5 million judgment in wrongful death damages.
Courtroom sketch of U.S. terror trial. (Photo credit: Reuters)
Netanyahu declines Democrats' invitation for meeting during visit
Israeli Prime Minister Benjamin Netanyahu declined on Tuesday an invitation to meet with U.S. Senate Democrats during his trip to Washington next week. "Though I greatly appreciate your kind invitation to meet with Democratic Senators, I believe that doing so at this time could compound the misperception of partisanship regarding my upcoming visit," Netanyahu wrote in a letter to Senators Richard Durbin and Dianne Feinstein obtained by Reuters. Durbin and Feinstein, two senior Senate Democrats, invited Netanyahu to a closed-door meeting with Democratic senators in a letter on Monday, warning that making U.S.-Israeli relations a partisan political issue could have "lasting repercussions."
Read Full Article
Marginalizing extremists is a priority as religions envoy, David Saperstein says
Rabbi David Saperstein, the new U.S. envoy for religious freedoms, said one priority will be to identify moderates in religious communities who could marginalize extremists. Speaking Friday at his
swearing-in
at the State Department, Saperstein said he would work with U.S. civil society groups "in shaping policies that contribute to isolating and delegitimizing extremist religious voices."
UC Berkley Student Government Unanimously Passes Bill Condemning Antisemitism
Associated Students of the University of California (ASUC), the student government at University of California (UC), Berkeley, on Wednesday passed a bill condemning antisemitism in a unanimous 20-0 vote
.
Read Full Article
Survey: More Than Half of Jewish College Students Report Antisemitism on Campus
More than half of Jewish college students surveyed in a new national study said they have been subjected to or have witnessed antisemitism on their campuses.
The National Demographic Survey of American Jewish College Students
-jointly conducted by Trinity College and the Louis D. Brandeis Center for Human Rights Under Law (LDB)-found that among 1,157 self-identified Jewish students at 55 campuses nationwide, 54 percent reported instances of antisemitism on campus during the first six months of the 2013-2014 academic year.
House Republicans Slip Anti-Abortion Language Into Education Bill
House Republicans attached language to a major education bill Wednesday night that would financially penalize school districts that allow school-based health centers to provide information about abortion to pregnant high school students. The amendment to the Student Success Act, a GOP overhaul of No Child Left Behind, would withhold federal funding from school districts that contract with health centers unless the center certifies that it will not provide abortions or give students any information about abortion, including directions to the nearest abortion provider. (School-based health centers already do not provide abortion services.).
Read Full Article
Pricing American Women Out of Abortion, One Restriction At a Time
Last summer, when arguing in court in favor of Senate Bill 206, a harsh law that would force at least one of Wisconsin's abortion clinics to close its doors, a state official compared ending a pregnancy to buying a fancy car. Reproductive rights proponents retorted that basic women's health care is hardly a luxury good. But for many of the pregnant women who struggle to navigate a maze of state laws that make it increasingly burdensome and expensive to get an abortion, it might as well be.
How the expanding reach of Catholic health systems is restricting access to care
Religious doctrine can trump medical standards and interfere with patients' rights to make their own decisions. If you want to be sure you and the people you love have access to the complete spectrum of healthcare services, you'd better know who owns your hospital.
Read Full Article
We Must Close the Military Sex-Offender Loophole, by Reps. Jackie Speier and Mike Coffman
Most Americans would find it chilling if a convicted sex offender were dropped into their neighborhood without warning, free to pick new victims at will. But apparently - according to a recent report - that's exactly what the United States military has allowed to happen in our communities. These are among 242 identified cases where the military punished sex offenders, but released them without placing them in any local or FBI registry, as all civilian state prisons in the United States are required to do.
Read Full Article
Separation of Religion & State

The Supreme Court will hear arguments Wednesday in a case that could help define the limits of religious freedom in the workplace. The case, known as Equal Employment Opportunity Commission (EEOC) v. Abercrombie, centers on Samantha Elauf, a practicing Muslim who applied for a position as a model at the Abercrombie Kids store in Tulsa, Okla., in 2008. She was denied employment because she was wearing a black headscarf, known as hijab, during her interview.
Republican Party candidates like to say that America is a Christian nation. It turns out most Republicans are willing to make that official. Fifty-seven percent of Republicans support establishing Christianity as the national religion of the United States, according to a new Public Policy Polling survey. Thirty percent oppose the idea while 13 percent are not sure.
President Obama vetoed a bill Tuesday that would have approved the Keystone XL pipeline, making good on a threat to reject a proposal embraced by Republicans as a jobs measure but opposed by environmentalists as contributing to climate change.
Read Full Article
"Where there are more guns, more women die:" Harvard Report
The New York Times
reported last week
that 10 states are currently considering measures to allow people to carry firearms on college campuses. In Nevada, the Republican assemblywoman who sponsored the bill has argued that arming students amounts to a kind of rape prevention. "If these young, hot little girls on campus have a firearm, I wonder how many men will want to assault them," Assemblywoman Michele Fiore told the Times. "The sexual assaults that are occurring would go down once these sexual predators get a bullet in their head."
Doctors, lawyers declare gun injuries a public health emergency
Seven medical specialty societies, the American Bar Association and the American Public Health Association on Monday joined forces to declare gun-related injuries, which annually kill an average of 32,000 Americans and harm nearly twice that number, "a public health crisis" that should be studied and solved "free of political influence or restriction."
Move to Ban a Bullet Adds to Its Appeal
President Obama's administration has proposed banning the manufacture and sale of one of the most popular bullets used in AR-15 semiautomatic rifles, a move that has enraged gun-rights advocates and caused a run on the ammunition at gun shops across the country.

Inhofe hurls snowball on Senate floor
Sen. Jim Inhofe (R-Okla.) threw a snowball on the Senate floor Thursday in an effort to disprove what he sees as alarmist conclusions about man-made climate change.
It is hard to believe that critics of the president's language actually want for him or other administration officials to immerse themselves into the issues of religious commentary and interpretation. If Islam is the problem - and not extremist behavior of a disaffected few in the name of Islam - than a war with Islam is inevitable, and the U.S. government will have put itself into the business of assessing, and then reforming, religions.
Read Full Article
Scott Walker's Political Record of Lies, Deceit, Corruption & Revenge
"More Nixonian than Nixon" is the dead-on description of Wisconsin Gov. Scott Walker, now viewed as a serious contender for the 2016 Republican nomination, in the eyes of former Nixon aide John Dean.
Read Full Article
The most sloppily dressed Congresses of the 21st century, ranked
On Wednesday, House Speaker John Boehner had to offer a subtle reminder to his wards. "Members should wear appropriate attire during all sittings of the House, however brief their appearances on the floor may be," he told the members, adding, "You know who you are." And everyone laughed at whoever was being called out.
Read Full Article
The resurrection of Eric Cantor
Eight months ago, Eric Cantor was forced out of office amid charges that he had lost touch with his Virginia constituents, derailing the political career of the man who was in line to be the first Jewish speaker of the House. Now he's back.
Read Full Article
In Challenger, a Chastening for Emanuel
Without actually winning the popular vote, Mr. Garcia, a county commissioner who is known as Chuy, gained a stunning victory Tuesday night in the first round of Chicago's mayoral election by denying Mr. Emanuel more than 50 percent of the vote, and thus forcing a runoff April 7.
Read Full Article
Who Pays for America's Biggest Conservative Gathering?
The story of how the Conservative Political Action Conference, or CPAC, mushroomed from a small, informal gathering of the right into a multimillion-dollar can't-miss pageant for the Republican Party is reflected in its corporate sponsors. It's underwritten by the National Rifle Association, the Heritage Foundation, the Trump Organization Inc. and the Motion Picture Association of America in addition to much more modestly moneyed religious and small-government interest groups.
Read Full Article
Source: Bloomberg News
Returned Nazi-looted art donated to Boston Museum of Fine Arts

Millions of dollars worth of prized art and objects once stolen by the Nazis and later forcibly relinquished to the Austrian government was donated to the Museum of Fine Arts in Boston. The donation of 186 objects from the original collection of Alphonse and Clarice de Rothschild of Vienna of the famed Jewish banking dynasty was made by Bettina Burr, a granddaughter of the baron and baroness. Many of the works were seized in 1938 following the Anschluss, or annexation of Austria to Nazi Germany, according to the museum.
Read Full Article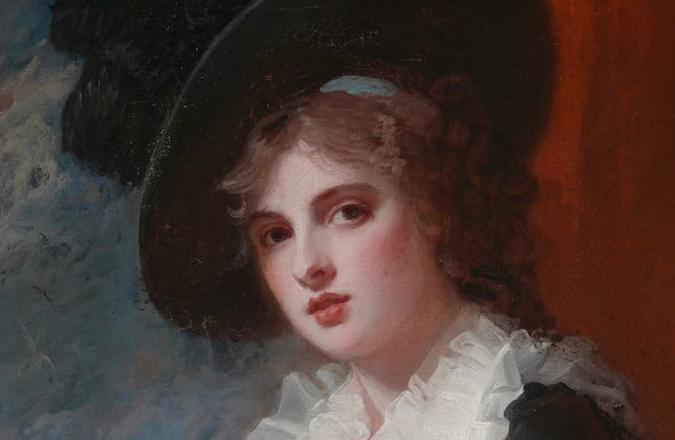 "Portrait of Emma Hart," by George Romney was among works donated by the Rothschild family to the Museum of Fine Arts in Boston.
Our members count on JACPAC to provide information on current events, candidates, and elections. JACPAC depends on membership support to make this possible.
If you have not renewed your membership, please consider doing so today, to help us pursue a strong US-Israel relationship, reproductive rights, and separation of religion and state. Together we can make this a better world!
Sincerely,

Janna Berk, President
Marcia Balonick, Executive Director
Joy Malkus, Research Director