Dear Florida Climate Center Friends,
We'd like to present you with the June 2015 edition of our newsletter. In this newsletter, you'll find our monthly climate summary, a list of special events that our staff attended, some pictures, and more. If you have any questions, please email us at

[email protected]

.
Thanks,
The Staff of the Florida Climate Center
David Zierden


State Climatologist

James O'Brien


Professor Emeritus

Melissa Griffin


Asst. State Climatologist
May Climate Summary for Florida


The Florida Climate Center's May 2015 Florida Climate Summary is now available. The summary provides an analysis of temperature and precipitation trends across the state, along with data on hazardous weather, drought, the impacts of the weather, and any records tied or broken for the month. During April, average temperatures were above normal and rainfall totals were either at or below normal for most of Florida. ENSO-neutral conditions are continuing in the equatorial Pacific. The Climate Prediction Center (CPC) predicts above normal temperatures and precipitation for the state through August 2015. Past summaries are archived here.




May average temperatures and departures from normal (°F) for select cities.

May precipitation totals and departures from normal (inches) for select cities.

A graphical depiction of the monthly rainfall departure from normal (inches) for May (courtesy of NOAA, NWS).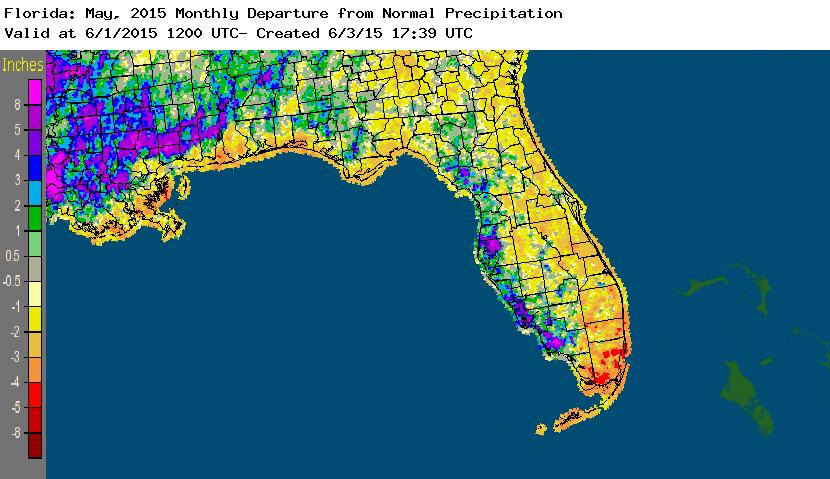 2015 Hurricane Season
Last year, the east coast of the state was impacted by high surf from Hurricane Arthur as it moved north of the coast of Titusville before brushing the Outer Banks. Beyond that, 2014 was another quiet year for Florida. It's been a 10 years since Dennis, Katrina, Rita and Wilma rattled an already reeling state from the 2004 Hurricane season. We've enjoyed a rather quiet time since 2005, but Florida is always at risk during each hurricane season. It is important that you and your family have a hurricane kit and hurricane plan, so that when an impending hurricane threatens your area you are ready to act.
Here are some links to get you started:
Florida Department of Emergency Management (EM) :
Get A Plan
Information on Shelters and Evacuations Zones :
County EM Offices

Forecasters have issued their predictions for the upcoming season, calling for a below average hurricane season. Regardless of the forecast, residents of Florida should take the time to prepare as June 1st marked the beginning of the year's Hurricane Season, which runs until November 30th.
Girls Investigating Science Day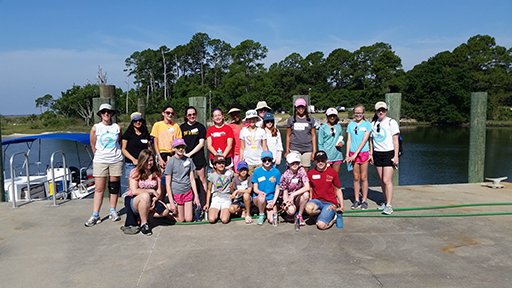 The objective of the Girls Investigating Science (G.I.S) Day was to increase interest in STEM for young girls and to expose them to the fun and wonders of these fields. The purpose of G.I.S Day was to give local area 6th, 7th, and 8th grade girls the opportunity to learn about science through interactive and hands-on science activities. The one-day event was held at the FSU Coastal and Marine Lab in St. Teresa, FL and included friendly educational experiences to deepen the students' understanding of meteorology and marine science. Participants investigated how the ocean and atmosphere interact by collecting and analyzing data using scientific instruments on a boat and in the lab, all while working alongside female scientists
Southeast Climate Extension Project Enters Fifth Year
Team members for the USDA National Institute of Food and Agriculture (NIFA) sponsored Southeast Climate Extension project met in Quincy, Florida on May 11th and 12th to plan the activities for the final year grant. The project partners researchers at FSU, University of Florida, University of Georgia, Clemson University and Auburn University with Extension professionals to inform the agricultural community on climate variability and to promote new technologies for more sustainable agriculture in the Southeast. Highlights for the coming year include an Agriculture Solutions Day to be held at Orange Beach, Alabama on August 10th, where many of these adaptation technologies will be demonstrated for area farmers and Extension. The Florida Climate Center has been a key partner in the project throughout the past 4 years and the lead on climate science.
Florida 4-H Weather and Climate Toolkit Training in Georgia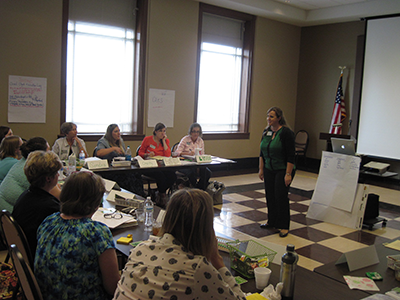 Last year, Assistant State Climatologist Melissa Griffin and Northwest Regional Specialist 4-H Agent Ms. Heather Kent released a toolkit that will help 4-H agents and volunteers across the state of Florida teach the basics of weather and climate to middle school youth. This collaborative effort, under the USDA/NIFA Climate Education through Extension Grant, was highlighted in a workshop with University of Georgia (UGA) 4-H Agents in Perry, GA on May 15th. Joined by Pam Knox, an Agricultural Climatologist with UGA, Ms. Griffin and Ms. Kent spent time discussing the goals of each unit of the toolkit and demonstrated a variety of the hands on activities geared to teach about the importance of weather and climate. The lessons within the toolkit are being explored for adaptation within the Georgia 4-H curriculum.
Community Outreach Activities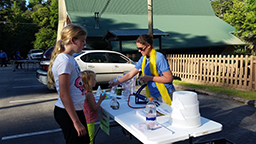 Assistant State Climatologist Melissa Griffin finished out her outreach and education efforts for the 2014-2015 school year by taking part in a Late Night Library event at a local area elementary school. The after school event in May was focused on science in action, and Ms. Griffin was on hand talking about Hurricane Preparedness, demonstrating the power of wind, and explaining how clouds form.
Climatologists Provide Information to Local Grower
After meeting at a community event back in 2014, Assistant State Climatologist Melissa Griffin, along with University of Georgia Agricultural Climatologist Pam Knox, have been in contact with a citrus grower, providing him with climate information on freeze probabilities for locations in the Florida Big Bend and Southwest Georgia. Thankful for the continued data support and communication, both climatologists were invited out to tour his satsuma fields outside of Bainbridge, GA and see how the trees faired during the 2014-2015 winter.
Upcoming Events
June 23-26, 2015:
Annual Meeting of the American Association of State Climatologists in Cape May, NJ
August 10, 2015:
Agriculture Solutions Day in Orange Beach, AL
About Us
The Florida Climate Center is part of a three-tiered system of national, regional, and state climate offices, including NOAA's National Climatic Data Center and the Southeast Regional Climate Center. The Florida State Climatologist and other staff at the Florida Climate Center provide the following information and services to the people of Florida:
· Climate Data:
Historical weather observations for weather stations throughout the state of Florida. We are able to provide data for most stations from 1948-present.
· Climate Information:
Long-term historical averages for various stations, climate divisions, and the entire state.
· Extreme Event Records:
Information and analyses on extreme events such as freezes, droughts, floods and hurricanes.
· Special Analysis:
With their vast knowledge of El Niņo, La Niņa and climate variability, the State Climatologist and staff can offer expert insight into Florida's climate trends.
· Outreach:
Activities, presentations, and workshops that inform and educate the people of Florida about current and emerging climate issues. We also coordinate volunteers for the Community Collaborative Rain, Hail & Snow Network (CoCoRaHS).