Dear Florida Climate Center Friends,
We'd like to present you with the September 2013 edition of our newsletter. In this newsletter, you'll find our monthly climate summary, a list of special events that our staff attended, and more. If you have any questions, please email us at climate@coaps.fsu.edu.

Thanks,
The Staff of the Florida Climate Center
David Zierden


State Climatologist

James O'Brien


Professor Emeritus

Melissa Griffin


Asst. State Climatologist
August Climate Summary for Florida


The Florida Climate Center's August 2013 Florida Climate Summary is now available. The summary provides an analysis of temperature and precipitation trends across the state, along with data on hazardous weather, drought, the impacts of the weather and any records tied or broken for the month. During August, average temperatures and rainfall totals varied across Florida. ENSO-neutral conditions continue to be reported for the equatorial Pacific. The Climate Prediction Center (CPC) predicts normal temperatures and precipitation for Florida through November. Past summaries are archived here.

July average temperatures and departures from normal (° F) for select cities.

August precipitation totals and departures from normal (inches) for select cities.

A graphical depiction of the monthly rainfall departure from normal (inches) for August (courtesy of NOAA, NWS).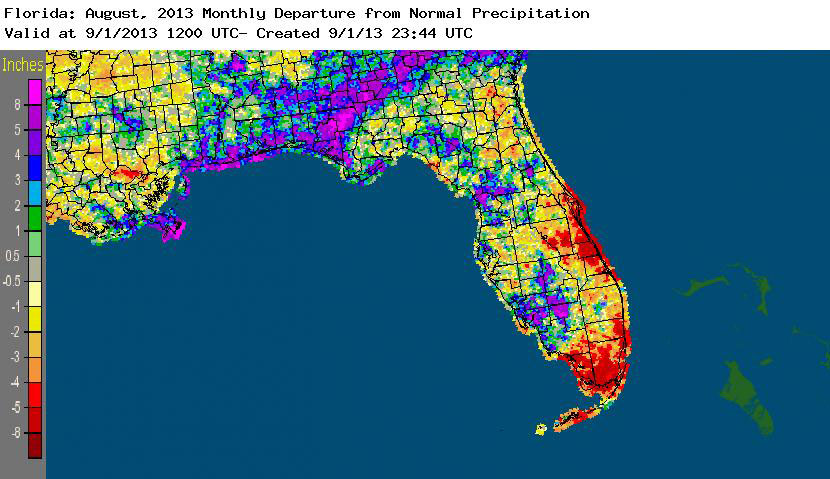 Soggy Southeast
So you think it's been rainy...
The official statewide averages of rainfall and temperature were not available in time for inclusion in last month's newsletter, so here is a wrap-up of where we ranked for our summer rainfall.
The final numbers are in, and for the State of Florida as a whole, this has been the wettest July on record since 1895. July 2013 had a statewide rainfall average of 12.38", which beat out the previous record by more than an inch (11.26" in 1909). Georgia (9.10") and Alabama (9.25") were the 4th wettest.
For the three-month period of May through July, Florida (25.68") was the 2nd wettest. The same three-month period was the wettest on record for South Carolina (23.34"), 2nd wettest for North Carolina (22.38") and the 3rd wettest ever for Georgia (21.24").
For the last 6 months of February through July, Georgia (40.61") and South Carolina (38.01") were the wettest ever.
Another remarkable facet of these summer rains is how widespread they have been. This summer ranks among the wettest ever across the entire eastern United States from south Florida to Maine.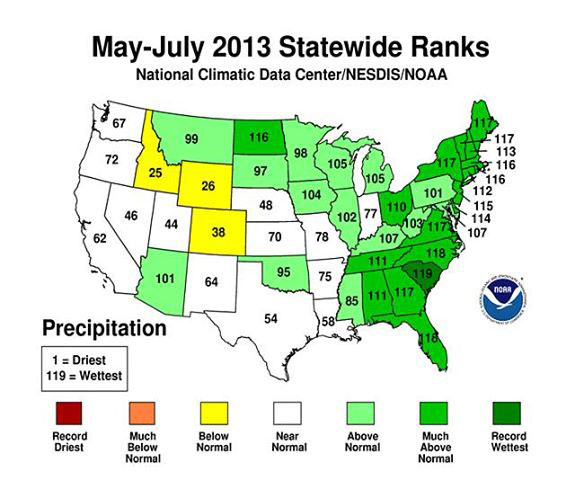 ENSO Discussion
Based on current observations, the Pacific Ocean is likely to remain Neutral through the Fall 2013 and into the Winter 2013-2014. What does this mean for Florida?
To learn more, check out our special Climate Phase Forecast.
State Climatologists Working with Regional Growers
The Tri-state Climate Working Group for Row Crop Agriculture met for the 8th time in the last four years in Camilla, Georgia on August 9th of this year. The working group was put together under research grants from NOAA and USDA and is focused on using climate information and forecasts to make better management decisions in the production of row crops. The group is composed of researchers, Extension specialists and county agents, and farmers from the north Florida, south Georgia, and south Alabama region. Florida State Climatologist David Zierden has been a key member of this group since its inception and is the lead on climate science.
The meeting this august focused on extreme events, mostly extreme rainfall events and extended dry periods. Mr. Zierden presented information on the climate forecast from last winter and how accurate it was. The Pacific Ocean was in the neutral phase at the last February meeting, so the forecast was for more variable weather conditions in the spring and early summer with no predisposition for wetter, drier, warmer, or cooler conditions. In actuality, the May-July three-month season turned out to be one of the wettest on record throughout the Southeast with many weather stations setting seasonal and monthly records. Much of the meeting was focused on how farmers were responding to the overabundance of water this growing season.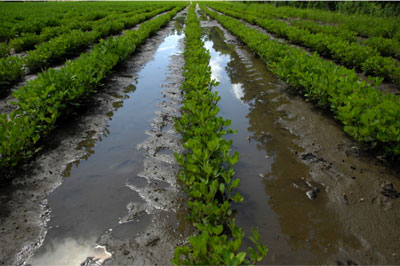 Picture courtesy of Rome Etheridge, UGA Extension Seminole County, GA
FSU Undergraduate Returns from Research Trip
Ms. Lauren Zuromski, an undergraduate research assistant at the Florida Climate Center, returned from her Research Experiences for Undergraduates (REU) opportunity at Washington State University in Pullman, WA. Funded by the National Science Foundation (NSF), the REU supports active research participation by undergraduate students in ongoing research programs or those that are specifically designed by the REU program. Working closely with advisors Dr. Joshua Vaughan and Dr. Heping Liu, Ms. Zuromski's work focused on examining the accuracy of the Planetary Boundary Layer produced by the Weather Research and Forecasting (WRF) model. Ms. Zuromski plans to present her work at the Annual Meeting of the American Meteorological Society in Atlanta, GA, this February.
Upcoming Events
November 12-15, 2013:
Southeast Climate Consortium Fall Planning Meeting in Gainesville, FL
December 10, 2013:
Extension Winter Weather School in Tavares, FL
January 13-17, 2014:
4-H Youth Development Institute Conference in Ocala, FL
February 2-6, 2014:
94th Annual Meeting of the American Meteorological Society in Atlanta, GA
Example Data Request
Weather observations are the backbone of the fields of meteorology and climatology. Some of the most famous people in the history of the United States were weather observers, including George Washington, Thomas Jefferson and Benjamin Franklin, who kept personal weather journals. Taking weather observations became part of the job duties for the Army surgeons at various forts and military installations as Western expansion took place in the early 1800s. It wasn't until November 1870 that the Signal Service began the path of official observations that would lead to the development of the Weather Bureau (now the National Weather Service) in the early 20th century. Historical observations of temperature and precipitation are available from Fort St. Marks and St. Augustine, Florida, that date back to the early 1820's. There are some large gaps with this data, but the data still provides an interesting perspective.
In August, the Florida Climate Center was contacted by the National Weather Service in Miami to see if we could help them acquire the original observation forms from the official observing station in Miami, FL, as far back as we had available to complete what they had on file. With some careful help from Ms. Lauren Zuromski, the original forms were scanned back to Dec 1900 and sent along to the NWS office.
About Us
The Florida Climate Center is part of a three-tiered system of national, regional, and state climate offices, including NOAA's National Climatic Data Center and the Southeast Regional Climate Center. The Florida State Climatologist and other staff at the Florida Climate Center provide the following information and services to the people of Florida:
· Climate Data:
Historical weather observations for weather stations throughout the state of Florida. We are able to provide data for most stations from 1948-present.
· Climate Information:
Long-term historical averages for various stations, climate divisions, and the entire state.
· Extreme Event Records:
Information and analyses on extreme events such as freezes, droughts, floods and hurricanes.
· Special Analysis:
With their vast knowledge of El Niņo, La Niņa and climate variability, the State Climatologist and staff can offer expert insight into Florida's climate trends.
· Outreach:
Activities, presentations, and workshops that inform and educate the people of Florida about current and emerging climate issues. We also coordinate volunteers for the Community Collaborative Rain, Hail & Snow Network (CoCoRaHS).