Dear Florida Climate Center Friends,
We'd like to present you with the August 2013 edition of our newsletter. In this newsletter, you'll find our monthly climate summary, a list of special events that our staff attended, an example of a data request made to the office, and more. If you have any questions, please email us at climate@coaps.fsu.edu.

Thanks,
The Staff of the Florida Climate Center
David Zierden


State Climatologist

James O'Brien


Professor Emeritus

Melissa Griffin


Asst. State Climatologist
Special Report - July Rainfall Impacts


State Climatologist David Zierden highlights statewide and regional impacts of the above normal rainfall during July 2013 in this special report.
July Climate Summary for Florida


The Florida Climate Center's July 2013 Florida Climate Summary is now available. The summary provides an analysis of temperature and precipitation trends across the state, along with data on hazardous weather, drought, the impacts of the weather and any records tied or broken for the month. During July, average temperatures and rainfall totals varied across Florida. ENSO-neutral conditions continue to be reported for the equatorial Pacific. The Climate Prediction Center (CPC) predicts above normal temperatures and precipitation for Florida through October. Past summaries are archived here.

July average temperatures and departures from normal (° F) for select cities.

July precipitation totals and departures from normal (inches) for select cities.

A graphical depiction of the monthly rainfall departure from normal (inches) for July (courtesy of NOAA, NWS).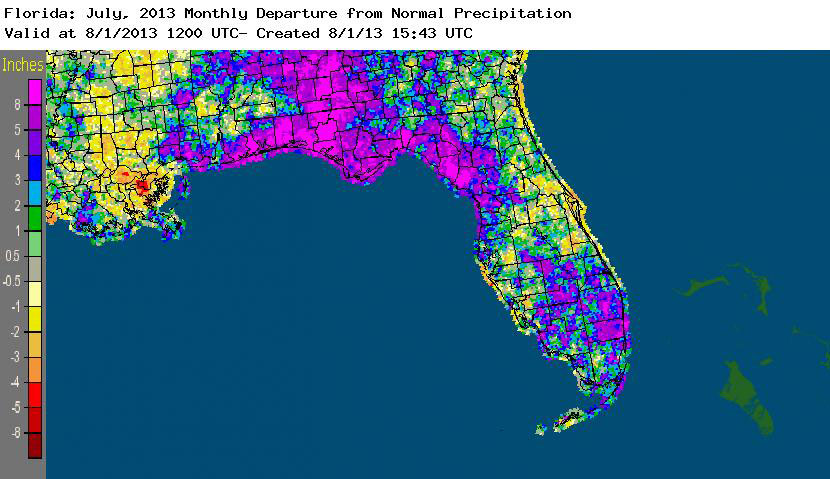 New Location
At the beginning of August, the Florida Climate Center relocated to new offices within one of the FSU Research Foundation Buildings. The transition to the new location caused only a couple of minor disruptions in services and we appreciate everyone's patience during the move. The main fax number, along with phone numbers and email addresses for the climate center staff have remained the same. The only change is the mailing address, so if needed, please update our new address to:
The Florida Climate Center
The Florida State University
2000 Levy Avenue, Building A
Suite 241
Tallahassee, FL 32310
State Climatologists Meet in St. Louis, MO
State Climatologist David Zierden (right) and Assistant State Climatologist Melissa Griffin attended the 38th annual meeting of the American Association of State Climatologist at St. Louis, MO on July 8-11, 2013. The American Association of State Climatologist (AASC) is a professional organization composed of State Climatologists, with assistants, and staff as well as as federal and regional partners as associate members. The meeting highlights include overviews of various state climate offices, technical and scientific presentations on climate data, analysis and tools, and presentations from federal and regional partners. The meeting concluded with a business meeting where the future direction of AASC was the hot topic. Also attending was former Florida State Climatologist Kevin Kloesel who is now director of the Oklahoma Climate Survey. Last year's meeting at Destin, Florida was attended by current State Climatologist David Zierden, and former State Climatologists Dr. Kevin Kloesel, and Dr. Jim O'Brien all participating.
Upcoming Events
August 8, 2013:
NIFA Row Crop Working Group Meeting in Camilla, GA
November 12-15, 2013:
Southeast Climate Consortium Fall Planning Meeting in Gainesville, FL
December 10, 2013:
Extension Winter Weather School in Tavares, FL
January 13-17, 2014:
4-H Youth Development Institute Conference in Ocala, FL
February 2-6, 2014:
94th Annual Meeting of the American Meteorological Society in Atlanta, GA
Peak of Hurricane Season
Even though Hurricane Season started on June 1st, we are now starting the upward climb toward the peak of the season. From August to October, more tropical storms and hurricanes are reported in the Atlantic Basin. Now would be a great time to review your hurricane plans and to make sure that everything is in order with your hurricane kits.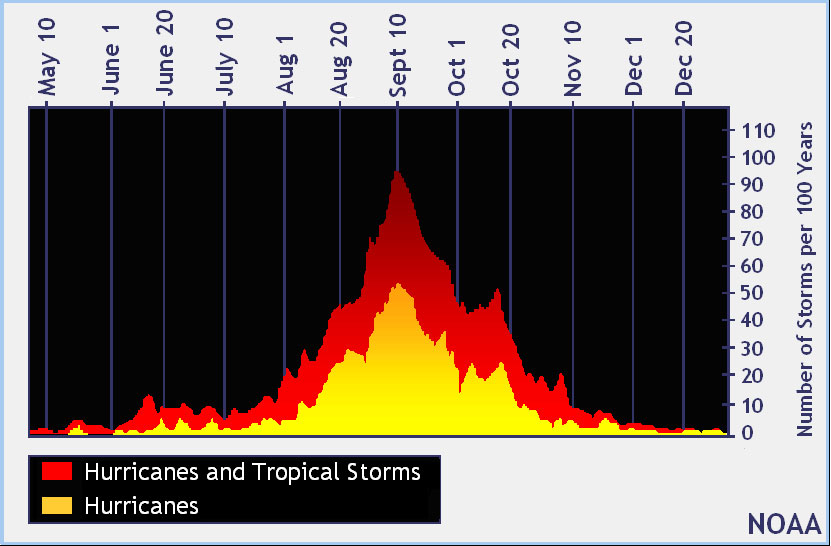 Notable August Florida Hurricanes:
Andrew 1992 (Category 5)
Charley 2004 (Category 4)
Dennis 2004 (Category 3)
Katrina 2005 (Category 3)
You can find more information on the current hurricane season at the following websites:
National Hurricane Center:
Florida Emergency Management:
http://www.floridadisaster.org/EMTOOLS/Severe/hurricanes.htm
About Us
The Florida Climate Center is part of a three-tiered system of national, regional, and state climate offices, including NOAA's National Climatic Data Center and the Southeast Regional Climate Center. The Florida State Climatologist and other staff at the Florida Climate Center provide the following information and services to the people of Florida:
· Climate Data:
Historical weather observations for weather stations throughout the state of Florida. We are able to provide data for most stations from 1948-present.
· Climate Information:
Long-term historical averages for various stations, climate divisions, and the entire state.
· Extreme Event Records:
Information and analyses on extreme events such as freezes, droughts, floods and hurricanes.
· Special Analysis:
With their vast knowledge of El Niņo, La Niņa and climate variability, the State Climatologist and staff can offer expert insight into Florida's climate trends.
· Outreach:
Activities, presentations, and workshops that inform and educate the people of Florida about current and emerging climate issues. We also coordinate volunteers for the Community Collaborative Rain, Hail & Snow Network (CoCoRaHS).