Dear Florida Climate Center Friends,
We'd like to present you with the June 2013 edition of our newsletter. In this newsletter, you'll find our monthly climate summary, a list of special events that our staff attended, an example of a data request made to the office, and more. If you have any questions, please email us at climate@coaps.fsu.edu.

Thanks,
The Staff of the Florida Climate Center
David Zierden


State Climatologist

James O'Brien


Professor Emeritus

Melissa Griffin


Asst. State Climatologist
May Climate Summary for Florida


The Florida Climate Center's May 2013 Florida Climate Summary is now available. The summary provides an analysis of temperature and precipitation trends across the state, along with data on hazardous weather, drought, the impacts of the weather and any records tied or broken for the month. During May, average temperatures and rainfall totals varied across Florida. ENSO-neutral conditions continue to be reported for the equatorial Pacific. The Climate Prediction Center (CPC) predicts above normal temperatures for Florida, above normal precipitation for the Florida panhandle, and normal precipitation for the rest of the state through August. Past summaries are archived here.

May average temperatures and departures from normal (° F) for select cities.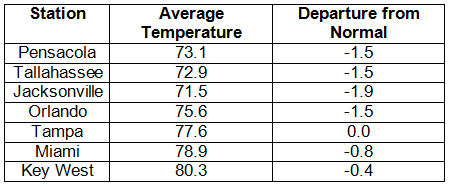 May precipitation totals and departures from normal (inches) for select cities.

A graphical depiction of the monthly rainfall departure from normal (inches) for May (courtesy of NOAA, NWS).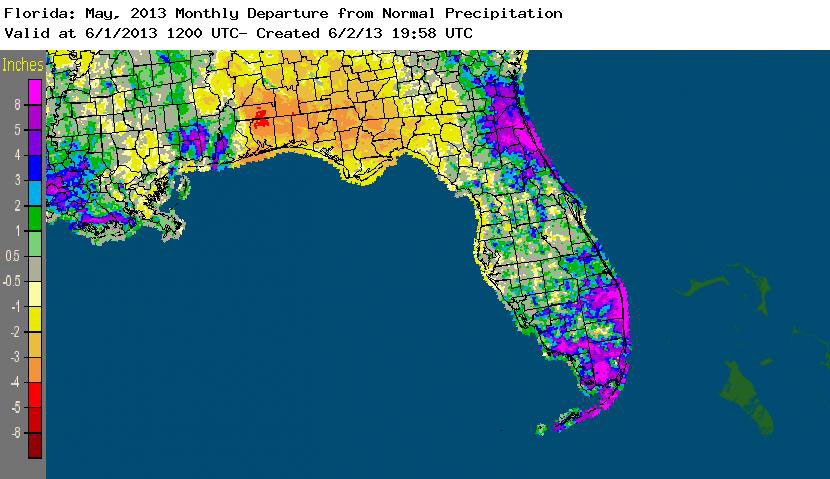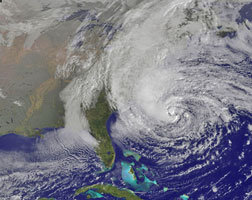 Hurricane Season 2013
On May 30th, COAPS scientists released their fifth annual Atlantic hurricane season forecast. Hurricane season begins June 1 and runs through Nov. 30.
This year's forecast calls for a 70 percent probability of 12 to 17 named storms, including 5 to 10 hurricanes. The mean forecast is 15 named storms, including 8 hurricanes, and an average accumulated cyclone energy (a measure of the strength and duration of storms accumulated during the season) of 135. The forecast numbers are based on 50 individual seasonal atmospheric forecasts using sea surface temperatures predicted by a recently upgraded National Oceanic and Atmospheric Administration (NOAA) climate model.
For more information on the forecast, please feel free to read the news story at: http://coaps.fsu.edu/hurricanes
Be Prepared
Southeast Climate Consortium Program Review
The Southeast Climate Consortium (SECC) held its annual program review on May 15-17 at Savannah, Georgia. The SECC is a partnership of eight universities in Florida, Georgia, Alabama, and the Carolinas that works to bring information on climate variability and change and climate forecasting to better use in the management of agriculture and natural resources. State Climatologist David Zierden attended the meeting along with others from the Center for Ocean-Atmospheric Prediction Studies. Highlights of the meeting included presentations on the latest research and applications, breakout session planning research activities in agriculture, climate sciences, and water and coastal resources. There was also a special trip to the Skidaway Institute of Oceanography and a low county boil on the last evening.
Photos are available here: https://www.facebook.com/southeastclimateconsortium
Western Education/Extension and Research Activity (WERA) Committee Meeting
Toward the middle of May, Assistant State Climatologist Melissa Griffin attended the annual planning meeting of the WERA 1012 group in Estes Park, Colorado. The working group, which is associated with the Association of Public and Land-Grant University (APLU) system, is tasked with managing and utilizing precipitation observations from volunteer networks. WERA 1012's primary focus is to promote, improve, educate and conduct research within the collaborative group from land grant universities across the U.S. Ms. Griffin currently serves as the state coordinator for the Florida Community Collaborative Rain, Hail & Snow Network (CoCoRaHS) and served as the Chair of the WERA group, along with continuing to act as chair of the Training and Education sub-committee. Ms. Griffin will spend the next year (2013-2014) working on a variety of projects as part of this corporative effort.
Stars Middle School Career Day
On May 23rd, Assistant State Climatologist Melissa Griffin attended Career Day at Stars Middle School in Tallahassee, FL. As part of her presentation, Ms. Griffin highlighted the reason why she became interested in meteorology, her favorite part of being a meteorologist, and what courses she had to take in college. Ms. Griffin quizzed the students about weather instrument, and the students asked questions about what jobs are available to a meteorologist. The students who took part in her presentation also asked about the recent Moore, Oklahoma, tornado and what it's like to be a storm spotter.
Florida Climate Center Partners with Florida Department of Health
David Zierden and Melissa Griffin with the Florida Climate Center are collaborating with the Florida Department of Health on a project involving climate variability, climate change, and public health in Florida. The project is called Building Resilience Against Climate Effects (BRACE) and is receiving multi-year funding from the Centers for Disease Control and Prevention. The project kicked off with a meeting of the technical advisory committee (chaired by David Zierden) on May 29th in Tallahassee. The meeting included an overview of the project, along with technical presentations on Florida's current and projected climate, sources of public health data, and impacts of temperature on heat-related illness. The Florida Climate Center will be assisting in the preparation of a climate and health profile report and examining how various aspects of climate change can impact public health and disease risks.
Upcoming Events
July 7-12, 2013:
Annual Meeting of the American Association of State Climatologists in St. Louis, MO
Hurricane Andrew, credit NOAA.
Example Data Request
Each month, we highlight here recent examples of some of the many public services provided by the Florida Climate Center:
This past month, a reference librarian in Sarasota County contacted the Florida Climate Center in hopes that we could help a patron find some archived weather information. The patron had heard that it rained for 40 straight days in Sarasota before Hurricane Andrew hit in August 1992. The librarian had looked through a variety of information available on the Internet, but had not been able to answer the question. While no data existed for the exact location the patron had mentioned, the Climate Center was able to obtain daily rainfall data from six different stations that surrounded the area of interest for the entire summer of 1992, along with some information about the localized nature of summer-time thunderstorms. A few days later, the librarian contacted us to let us know the patron was pleased to have the information.
About Us
The Florida Climate Center is part of a three-tiered system of national, regional, and state climate offices, including NOAA's National Climatic Data Center and the Southeast Regional Climate Center. The Florida State Climatologist and other staff at the Florida Climate Center provide the following information and services to the people of Florida:
· Climate Data:
Historical weather observations for weather stations throughout the state of Florida. We are able to provide data for most stations from 1948-present.
· Climate Information:
Long-term historical averages for various stations, climate divisions, and the entire state.
· Extreme Event Records:
Information and analyses on extreme events such as freezes, droughts, floods and hurricanes.
· Special Analysis:
With their vast knowledge of El Niņo, La Niņa and climate variability, the State Climatologist and staff can offer expert insight into Florida's climate trends.
· Outreach:
Activities, presentations, and workshops that inform and educate the people of Florida about current and emerging climate issues. We also coordinate volunteers for the Community Collaborative Rain, Hail & Snow Network (CoCoRaHS).