Dear Florida Climate Center Friends,
We'd like to present you with the April 2013 edition of our newsletter. In this newsletter, you'll find our monthly climate summary, a list of special events that our staff attended, an example of a data request made to the office, and more. If you have any questions, please email us at climate@coaps.fsu.edu.

Thanks,
The Staff of the Florida Climate Center
David Zierden


State Climatologist

James O'Brien


Professor Emeritus

Melissa Griffin


Asst. State Climatologist
March Climate Summary for Florida


The Florida Climate Center's March 2013 Florida Climate Summary is now available. The summary provides an analysis of temperature and precipitation trends across the state, along with data on hazardous weather, drought, the impacts of the weather and any records tied or broken for the month. During March, average temperatures were well below normal while rainfall totals varied in Florida. ENSO-neutral conditions continue to be reported for the equatorial Pacific. The Climate Prediction Center (CPC) predicts above normal temperatures and below normal precipitation for Florida through June. Past summaries are archived here.

March average temperatures and departures from normal (° F) for select cities.

March precipitation totals and departures from normal (inches) for select cities.

A graphical depiction of the monthly rainfall departure from normal (inches) for March (courtesy of NOAA, NWS).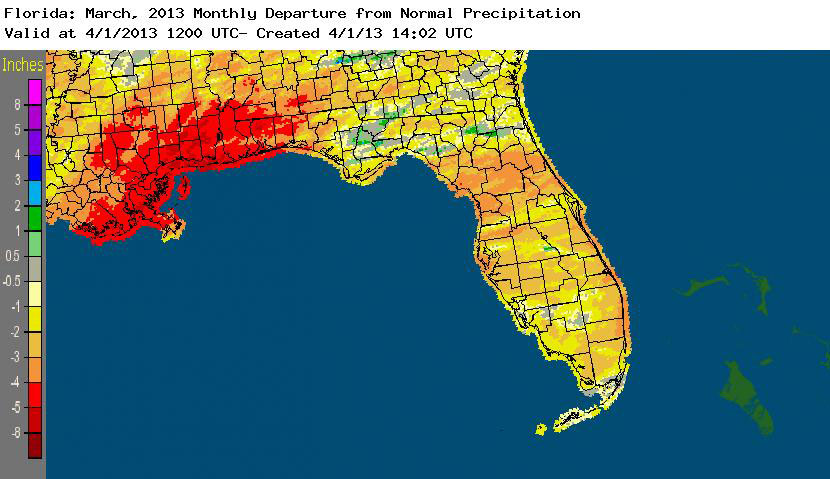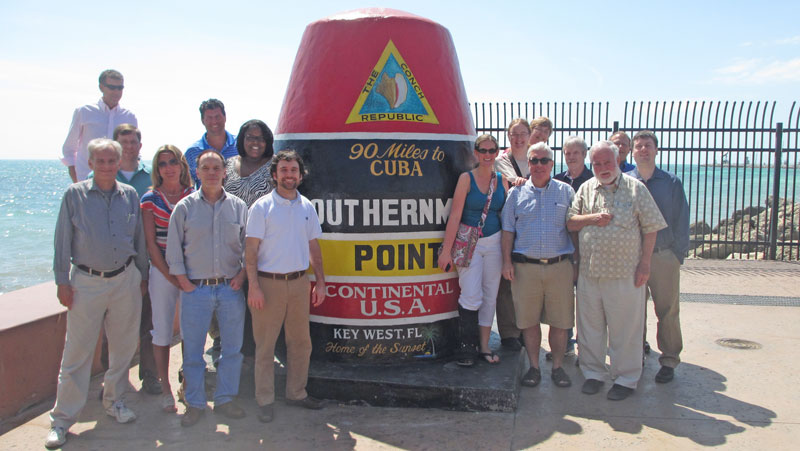 Southeast Regional Climate Center Technical Advisory Committee Meeting
At the beginning of March, the state climatologist and assistant state climatologist hosted and attended the Southeast Regional Climate Center TAC Meeting in Key West, FL. During the three-day event, members of the regional climate center and representatives from climate offices in the region talked about climate and its impacts on public health, including extensive discussions on heat-related illnesses. Presentations were given by each office on new research being conducted, along with collaborative projects that are ongoing within the region. Future goals and plans for the regional climate center were also mentioned during the meeting. Attendees took a walking tour of Fort Zachary Taylor State Park and were able to visit a variety of historical landmarks during their stay.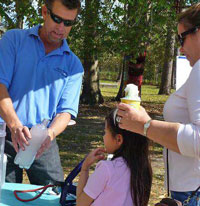 Science Saturday in the Park
The Florida Climate Center, along with the Center for Ocean-Atmospheric Prediction Studies and the Deep-C Consortium, put up a display and demonstrated science experiments to hundreds of visitors, young and old, at Tallahassee's Railroad Square on Saturday, March 16. Organizers of the event lined up displays from FSU and the community, including from the Department of Emergency Management and the National High Magnetic Field Laboratory. David Zierden (Florida Climate Center) and Tracy Ippolito (Deep-C) demonstrated hands-on experiments on making clouds and how plankton moves vertically in the water column, a favorite among kids.
State Climatologist Addresses Public Policy Class
State climatologist David Zierden was a guest lecturer at Florida State University's undergraduate class on public policy on March 21, 2013. The class is designed to look at a whole host of public policy issues affecting Florida and the U.S.A., including water and natural resource management, food supply, and environmental policies. The state climatologist lectured on the science of climate change and what it has meant to Florida, both in the last century and looking ahead for the coming decades. Changes in rainfall patterns, hurricanes, and sea level rise are the most pressing issues in Florida, and Mr. Zierden presented information on how each of these have impacted or could impact the state in the face of a changing climate.
CPALMS Videos
Assistant State Climatologist Melissa Griffin, along with Emeritus State Climatologist Dr. James J. O'Brien, have joined up with members of Florida State University's Learning Systems Institute to make educational videos that highlight one or more of Florida's K-12 educational standards and relate them to real world applications. Dr. O'Brien was interviewed about the factors that influence regional climates, while Ms. Griffin's video focused on the physical processes of severe weather and now it impacts the state. Ms. Griffin was also filmed talking about how a fluid density model can be used as an excellent teaching tool to help illustrate how warm and cold air move in the atmosphere.
Upcoming Events
April 2, 2013:
FSU Day at the Capitol in Tallahassee, FL
April 20, 2013:
Florida State University Marine Lab Open House in St. Teresa, FL
April 20, 2013:
National Drought Monitor Forum in West Palm Beach, FL
May 14-17, 2013
Managing and Utilizing Precipitation Observations from Volunteer Networks in Estes Park, CO
May 15-17, 2013:
Southeast Climate Consortium Spring Meeting in Savannah, GA
Example Data Request
Each month, we highlight here recent examples of some of the many public services provided by the Florida Climate Center:
At the end of March, the Florida Climate Center was contacted by the Florida State University Athletics Department to help provide insight on the potential for heat-related issues during the upcoming NCAA Golf Regional Championship that will be held in Tallahassee during May 2013. The Florida Climate Center is currently working with members of the athletics staff to make sure that information on historical heat index values can be used so that proper safety precautions will be taken to ensure the health and wellbeing of players and volunteers during the event.
About Us
The Florida Climate Center is part of a three-tiered system of national, regional, and state climate offices, including NOAA's National Climatic Data Center and the Southeast Regional Climate Center. The Florida State Climatologist and other staff at the Florida Climate Center provide the following information and services to the people of Florida:
· Climate Data:
Historical weather observations for weather stations throughout the state of Florida. We are able to provide data for most stations from 1948-present.
· Climate Information:
Long-term historical averages for various stations, climate divisions, and the entire state.
· Extreme Event Records:
Information and analyses on extreme events such as freezes, droughts, floods and hurricanes.
· Special Analysis:
With their vast knowledge of El Niņo, La Niņa and climate variability, the State Climatologist and staff can offer expert insight into Florida's climate trends.
· Outreach:
Activities, presentations, and workshops that inform and educate the people of Florida about current and emerging climate issues. We also coordinate volunteers for the Community Collaborative Rain, Hail & Snow Network (CoCoRaHS).