Dear Florida Climate Center Friends,
We'd like to take this time to wish you a Happy New Year and to present you with the January 2013 edition of our newsletter. In this newsletter, you'll find our monthly climate summary, a list of special events that our staff attended, an example of a data request made to the office, and more. If you have any questions, please email us at climate@coaps.fsu.edu.

Thanks,
The Staff of the Florida Climate Center
David Zierden


State Climatologist

James O'Brien


Professor Emeritus

Melissa Griffin


Asst. State Climatologist
December Climate Summary for Florida


The Florida Climate Center's December 2012 Florida Climate Summary is now available. The summary provides an analysis of temperature and precipitation trends across the state, along with data on hazardous weather, drought, the impacts of the weather and any records tied or broken for the month. During December, average temperatures were above normal while rainfall totals varied across Florida. ENSO-neutral conditions are favored to continue through the winter of 2012-2013 and into spring 2013. The Climate Prediction Center (CPC) predicts above normal temperatures for the state, with above normal precipitation for northern Florida in January, but below normal precipitation in peninsular Florida through March. Past summaries are archived here.

December average temperatures and departures from normal (° F) for select cities.

December precipitation totals and departures from normal (inches) for select cities.

A graphical depiction of the monthly rainfall departure from normal (inches) for December (courtesy of NOAA, NWS).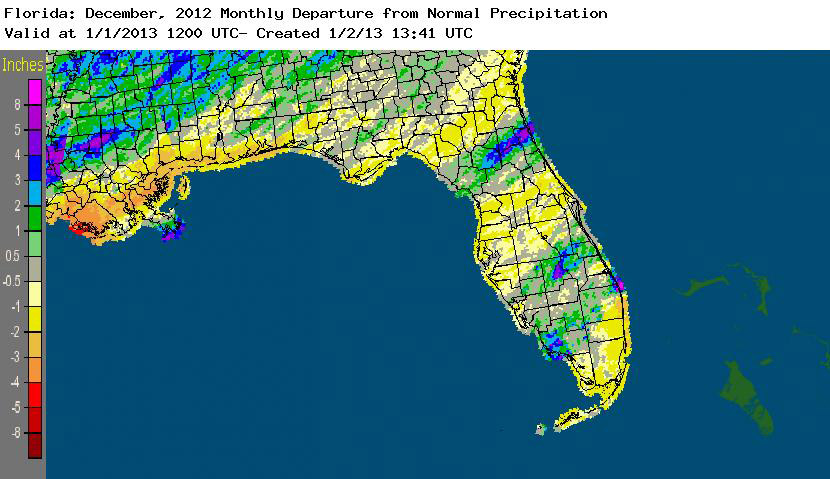 State Climatologist Warns of Increased Risk of Damaging Freezes
University of Florida Extension in Lake County hosted a "Winter Weather School" on December 6th in Tavares, Florida. The weather school was a workshop on the risks of extreme winter weather and cold protection for citrus and other crops. Information was presented by several speakers on the Florida Automated Weather Network (FAWN), on forecasting freezing temperatures, and cold protection tools available on the FAWN and AgroClimate websites. State Climatologist David Zierden wrapped up the meeting with a presentation on winter weather and the El Niņo/La Niņa Cycle. He warned of an increased risk of damaging freezes this year because of neutral conditions in the Pacific Ocean.
Assistant State Climatologist Talks at Local School
On December 14th, Assistant State Climatologist Melissa Griffin visited the School of Arts and Sciences in Tallahassee and taught some of the students about the importance of the Jet Stream and how the El Niņo Southern Oscillation (ENSO) can impact the placement of the polar and sub-tropical jets and how it can influence winter weather here in Florida. Students listened to a presentation, asked and answered several climate related questions, and then asked Ms. Griffin a few questions of their own.
In The News
Upcoming Events
Example Data Request
Each month, we highlight here recent examples of some of the many public services provided by the Florida Climate Center:
One of the goals of the Florida Center Climate is to provide high quality climatic information to citizens, businesses, organizations and educational institutions in the state of Florida. However, we also assist those outside of the state of Florida, especially when they need expertise in climatic data for the state.
At the beginning of December, the Climate Center was contacted by a graduate student at The State University of New York whom was looking at the post-storm impacts that hurricanes have on crime rates and different types of crimes in the state. She was interested in how neighboring counties would be affected if a hurricane hit a nearby county. Intending to run a few different model scenarios, she was using county crime data from the Florida Statistical Analysis Center and needed historical weather data (including wind speed, precipitation and temperature) from each county in Florida to help complete her research. The Florida Climate Center was able to provide her with daily precipitation and temperature information from around the state, along with provide some hourly observations from airport stations and the Florida Automated Weather Network (FAWN).
While her research is still in process, the student has agreed to share her findings with the center once they are finalized.
About Us
The Florida Climate Center is part of a three-tiered system of national, regional, and state climate offices, including NOAA's National Climatic Data Center and the Southeast Regional Climate Center. The Florida State Climatologist and other staff at the Florida Climate Center provide the following information and services to the people of Florida:
· Climate Data:
Historical weather observations for weather stations throughout the state of Florida. We are able to provide data for most stations from 1948-present.
· Climate Information:
Long-term historical averages for various stations, climate divisions, and the entire state.
· Extreme Event Records:
Information and analyses on extreme events such as freezes, droughts, floods and hurricanes.
· Special Analysis:
With their vast knowledge of El Niņo, La Niņa and climate variability, the State Climatologist and staff can offer expert insight into Florida's climate trends.
· Outreach:
Activities, presentations, and workshops that inform and educate the people of Florida about current and emerging climate issues. We also coordinate volunteers for the Community Collaborative Rain, Hail & Snow Network (CoCoRaHS).