Dear Florida Climate Center Friends,
We'd like to present you with the November 2012 edition of our newsletter. In this newsletter, you'll find our monthly climate summary, a list of special events that our staff attended, an example of a data request made to the office, and more. If you have any questions, please email us at climate@coaps.fsu.edu.

Thanks,
The Staff of the Florida Climate Center
David Zierden


State Climatologist

James O'Brien


Professor Emeritus

Melissa Griffin


Asst. State Climatologist
Fall Back Sunday, November 4
Just a reminder to everyone that Daylight Saving Time ends at 2:00 AM on Sunday, November 4th. Remember to turn your clocks back an hour before you go to sleep Saturday night.
October Climate Summary for Florida


The Florida Climate Center's October 2012 Florida Climate Summary is now available. The summary provides an analysis of temperature and precipitation trends across the state, along with data on hazardous weather, drought, the impacts of the weather and any records tied or broken for the month. During October, average temperatures were above normal and rainfall totals varied across Florida. As of October 29th, neutral ENSO conditions continue to be reported for the equatorial Pacific. ENSO-neutral/weak El Nino conditions are expected to continue through the winter of 2012-2013. The Climate Prediction Center (CPC) predicts normal temperatures for the northern part of the state, and below normal temperatures for the peninsula; they are also predicting above normal precipitation in the western Panhandle and north Florida through January. Past summaries are archived here.

October average temperatures and departures from normal (° F) for select cities.

October precipitation totals and departures from normal (inches) for select cities.

A graphical depiction of the monthly rainfall departure from normal (inches) for October (courtesy of NOAA, NWS).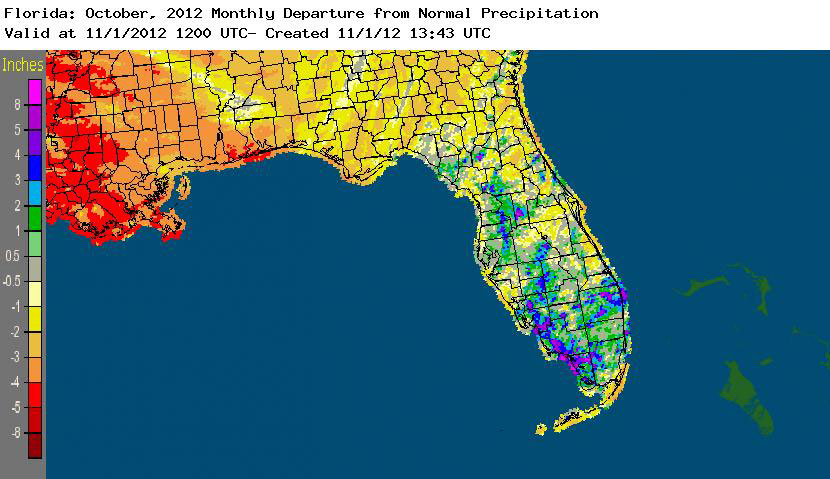 FCC Issues Late Summer/Fall Climate Outlook
The Florida Climate Center has put together a climate outlook for the Southeast for the Fall/Winter of 2012-2013. After two years of La Niņa conditions, the sea surface temperatures have returned to near normal, meaning that Neutral conditions have taken hold in the Pacific. If the Neutral conditions continue over the next few months, it means that weather patterns across the Southeast will be more variable this winter.
State Climatologist Talks with Master Gardeners
The Master Gardener Program is a volunteer driven program sponsored by the University of Florida Extension that informs residents through county Extension offices on gardening and landscapes. The Master Gardeners held their annual continued training workshop and conference this year on October 1-3 in Clearwater Beach, Florida. State Climatologist David Zierden spoke at the general session on climate variability and change and presented on the basics of climate change science, historical trends and variations in Florida, and what we may expect or do not know about the future climate. Several hundred master gardeners were in attendance and a lively question and discussion followed the presentation.
Asst. State Climatologist Presents at Tallahassee School
At the end of October, Assistant State Climatologist Melissa Griffin visited a Tallahassee elementary school to teach 5th graders about weather and fronts with help from PhD student Aaron Paget. Students listened to a presentation, asked and answered weather-related questions, and witnessed several weather experiments, such as making a cloud in a bottle, Bernoulli windbags, a fronts demonstration and a few interactive activities about thunderstorms and tornadoes.
Upcoming Events
Example Data Request
Each month, we highlight here recent examples of some of the many public services provided by the Florida Climate Center:
While most of us make Florida our permanent home, some choose to spend the hot summers in cooler climates and return to The Sunshine State before the first snowflakes fall. Upon returning to Florida, these residents inspect their winter homes for any damage and set to any repairs that may be necessary.
This month, the Florida Climate Center was contacted by a couple from New York who had received a report from the caretaker of their property that their house had experienced some water damage from a recent storm. The center was able to provide daily rainfall observations from National Weather Service Cooperative stations nearby the location of their Florida home and supplemental data from a CoCoRaHS observer in the same neighborhood. The couple then submitted the data to their insurance company in hopes the insurance might cover most of the repairs.
About Us
The Florida Climate Center is part of a three-tiered system of national, regional, and state climate offices, including NOAA's National Climatic Data Center and the Southeast Regional Climate Center. The Florida State Climatologist and other staff at the Florida Climate Center provide the following information and services to the people of Florida:
· Climate Data:
Historical weather observations for weather stations throughout the state of Florida. We are able to provide data for most stations from 1948-present.
· Climate Information:
Long-term historical averages for various stations, climate divisions, and the entire state.
· Extreme Event Records:
Information and analyses on extreme events such as freezes, droughts, floods and hurricanes.
· Special Analysis:
With their vast knowledge of El Niņo, La Niņa and climate variability, the State Climatologist and staff can offer expert insight into Florida's climate trends.
· Outreach:
Activities, presentations, and workshops that inform and educate the people of Florida about current and emerging climate issues. We also coordinate volunteers for the Community Collaborative Rain, Hail & Snow Network (CoCoRaHS).