Figure Drawing Sessions
Tuesdays
7:00 pm-9:00 pm
Uninstructed with Professional models.
Fee: $10.00
Sessions will be limited to 25 people.
Call 504-866-4278 to register.
Sessions start Tuesday, October 23
Forstall Art Supply will be OPEN 1/2 Hour Before and After Sessions for your Art Supply Needs.
Join us on Wednesday Evenings
You bring the refreshments and we furnish everything else. Call 504-866-4278 details

.
Classes
Art classes
have started at
Forstall Art Supply
for all ages.
Drawing

Watercolor

Acrylic

Call for Details

504-866-4278
Special Offer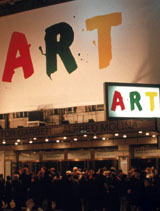 Need a place for a showing or seminar? Call us for details and availabity
Thank you to all our customers that filled out our figure drawing survey.


Forstall Art Supply

3135 Calhoun Street

New Orleans,Louisiana
70125
504-866-4278