FORKPLAY January 7, 2016


Escape to Hashed Browns in Chicago. A Family Christmas. Chefs in Rotation. RPM Steak. Never Too Late for Books.
Dear Friends and Family,
My week in Chicago married obsession (movies, gummy bears, fried chicken) with elements of bliss (hashed brown potatoes three nights in a row, sleeping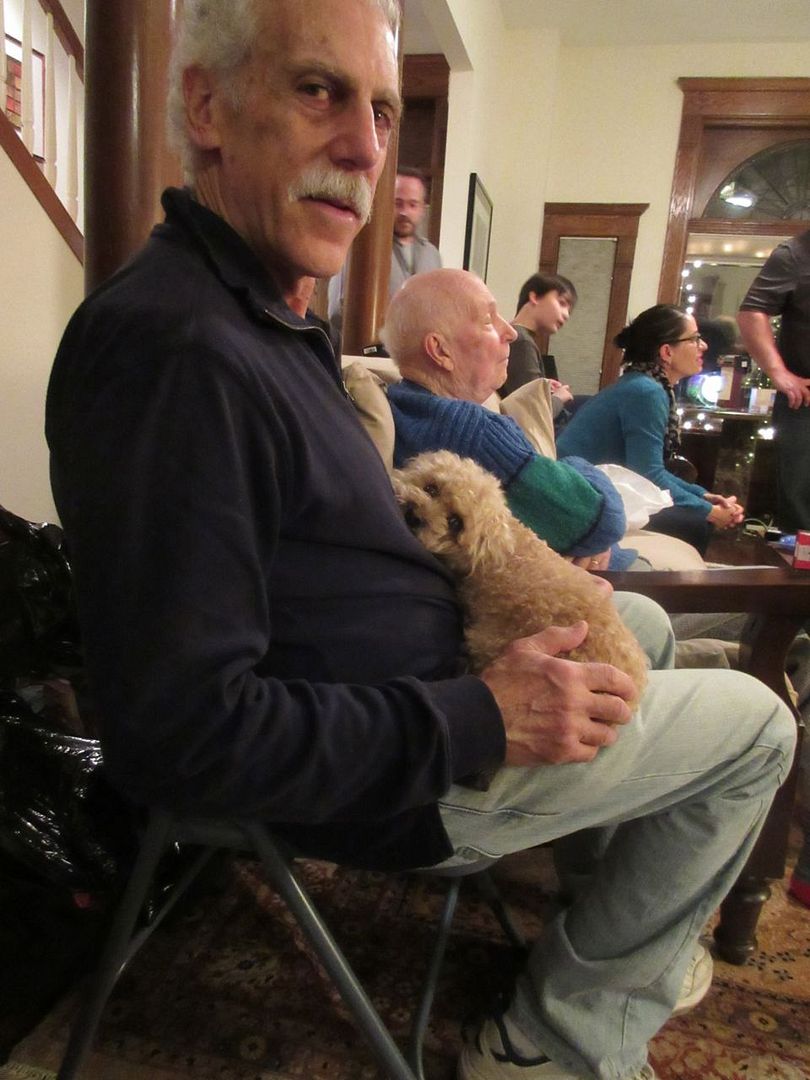 till 8:30). What a sloth I was. Now semi-retired, brother Jim has become a frequent movie-goer. We went to a movie every day before dinner, and when it snowed and the wind roared, he found films I'd not seen in his vast collection of favorites on DVD, and the three of us stretched out in front of the big screen in his office-gym-playroom in the middle of the afternoon. Wife Mary had only recently retired from 20 years as a dialysis nurse and in the emergency room before that.
I wasn't about to sacrifice myself in the madness of Christmas airline travel. I booked a first class flight on American Airlines at a civilized hour on Christmas Day. Clever but not so clever. I allowed two hours for check-in, but there was no traffic at all on the road to
LaGuardia, so I sat at the gate for two hours. I planned
to return on New Year's Day, when I assumed most
Chicagoans would be sleeping it off or joining their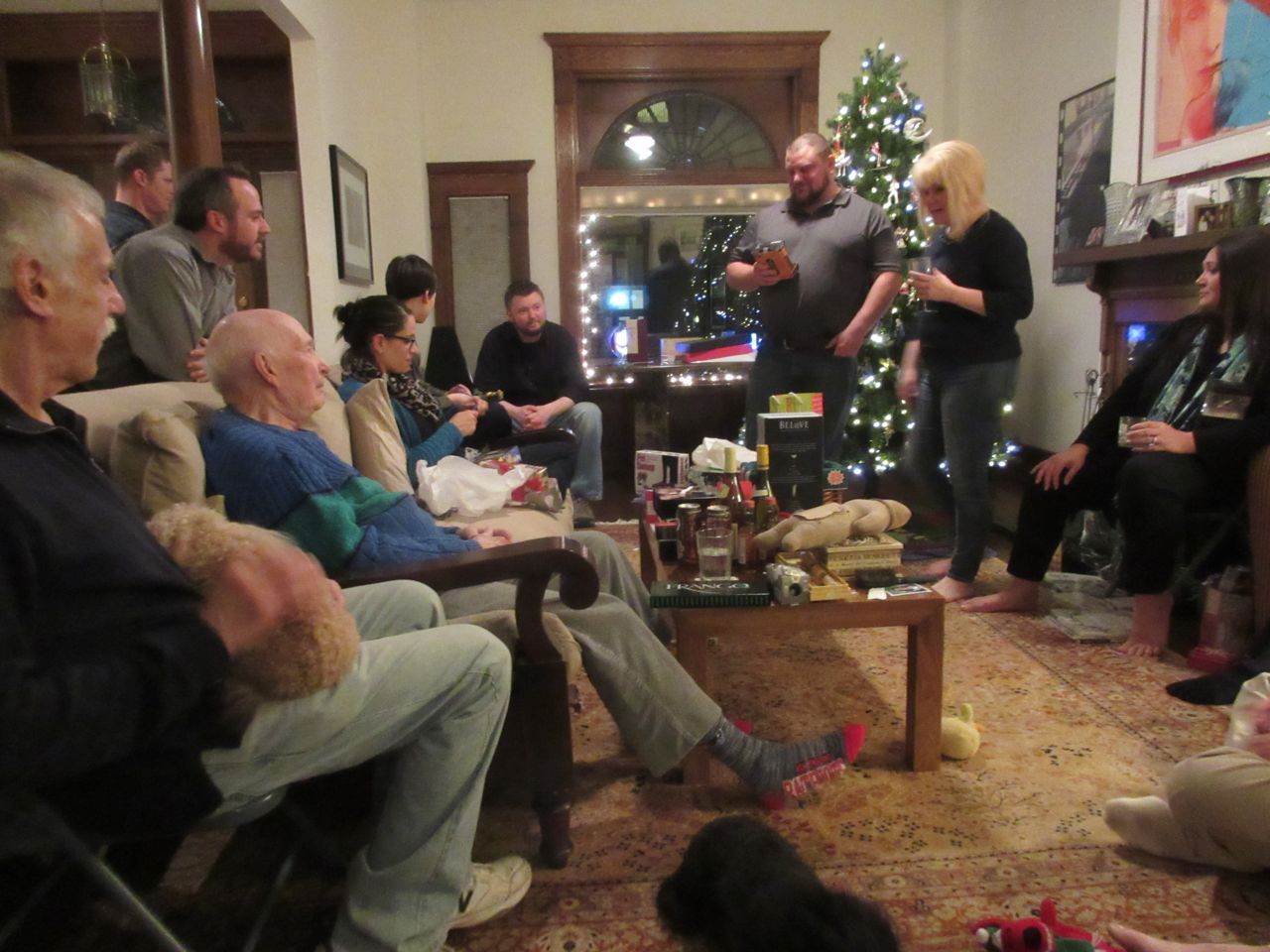 cronies to watch the big game.
I assure you the first class nuts were warm and
came in a little ramekin (not in the bag, as they did on
that Korean flight that provoked an executive's wife to tackle a stewardess.) No stewardesses were tackled on my flight.
It's a tradition with my New York friends to eat a
dim sum brunch Christmas day. Last year, the dim sum was elevated with an invitation to Red Farm from Ed Schoenfeld, himself, to join his family. But this year, I arrived in Chicago in time to join the generations of Mary and Jim's collected progeny at their annual Christmas buffet. Mary cooked everything herself in the classic, old-fashioned American way. Daniel Boulud did not cater. There was no cheating from Whole Foods catering. She baked the apple pie, and Pat, Douglas's wife, baked another. And everyone sat with his or her mate. Chicago is America, friends.
The Greene-O'Keefe kin had established gift rituals. Real gifts, with hopes to please, and a tyrannical game of recycled gifts. Brother Jim was born
on Christmas Day, so most people gave him two gifts to make up for a childhood of mostly making do with one.
I got gifts too -- chocolate truffles, eternal youth in a duo of squirt bottle. And from Jim's son Gabe, the dramaturg at La Jolla playhouse, and his publicist wife Mia, home for Christmas: a gift card for dinner at Red Farm.
Protesters raging through the downtown shopping streets of Chicago made headlines in the morning papers we read silently over breakfast cereal. Would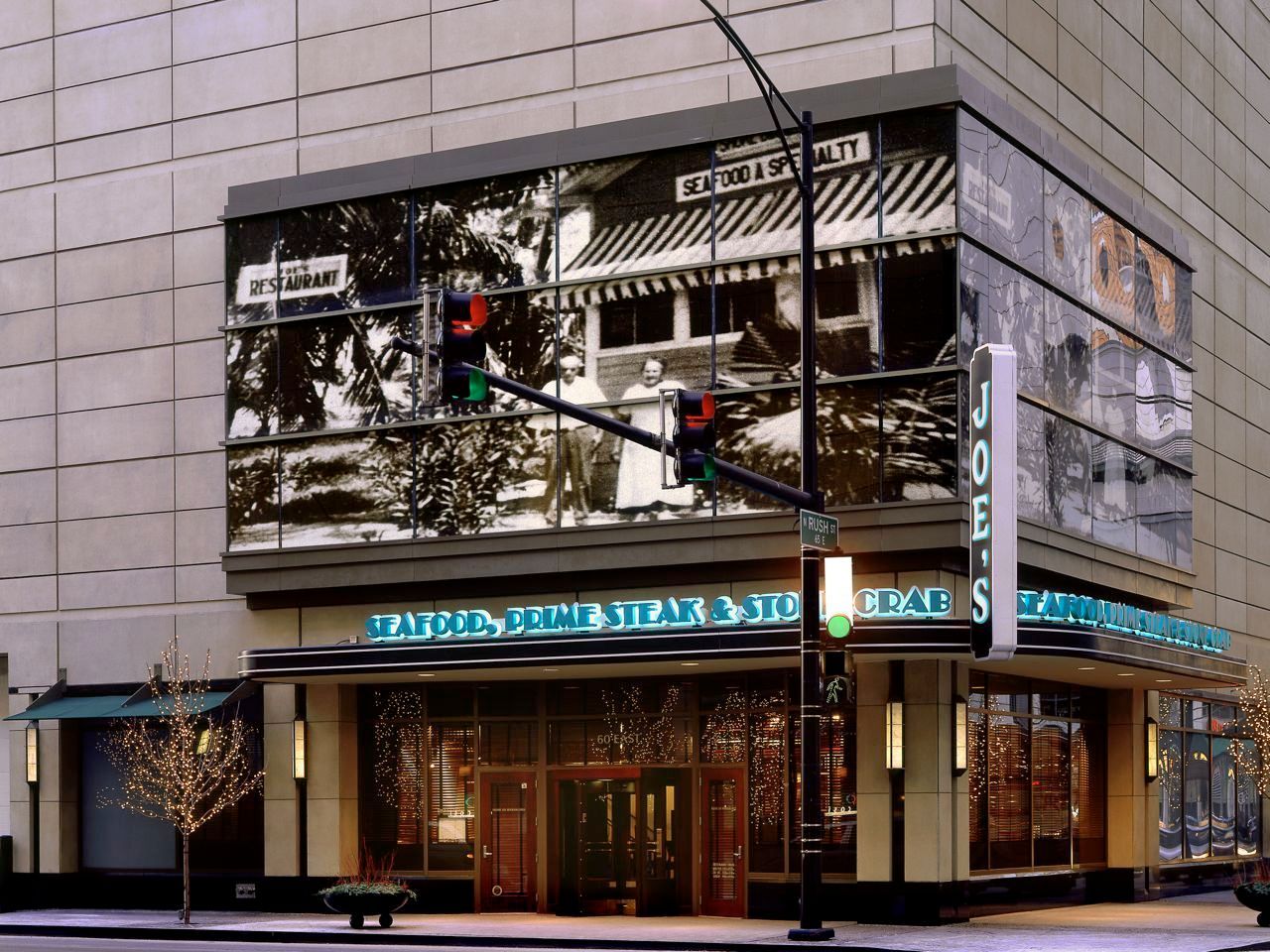 Mayor Rahm Emanuel cutting short his family vacation
in Cuba and a shakeup in the police department -- body cameras, taser instruction, attitude adjustment - quiet the anger? We walked the dogs on our quiet street, bought raspberries at Whole Foods, sat in stretch-out reserved theater seats, transported and stunned by the movie "Youth." And got home from dinner in time to watch the crisis unfold on the evening news.
Escape to Chicago
My holiday week in Chicago wasn't meant to be a work excursion, but we did have to eat. I urged my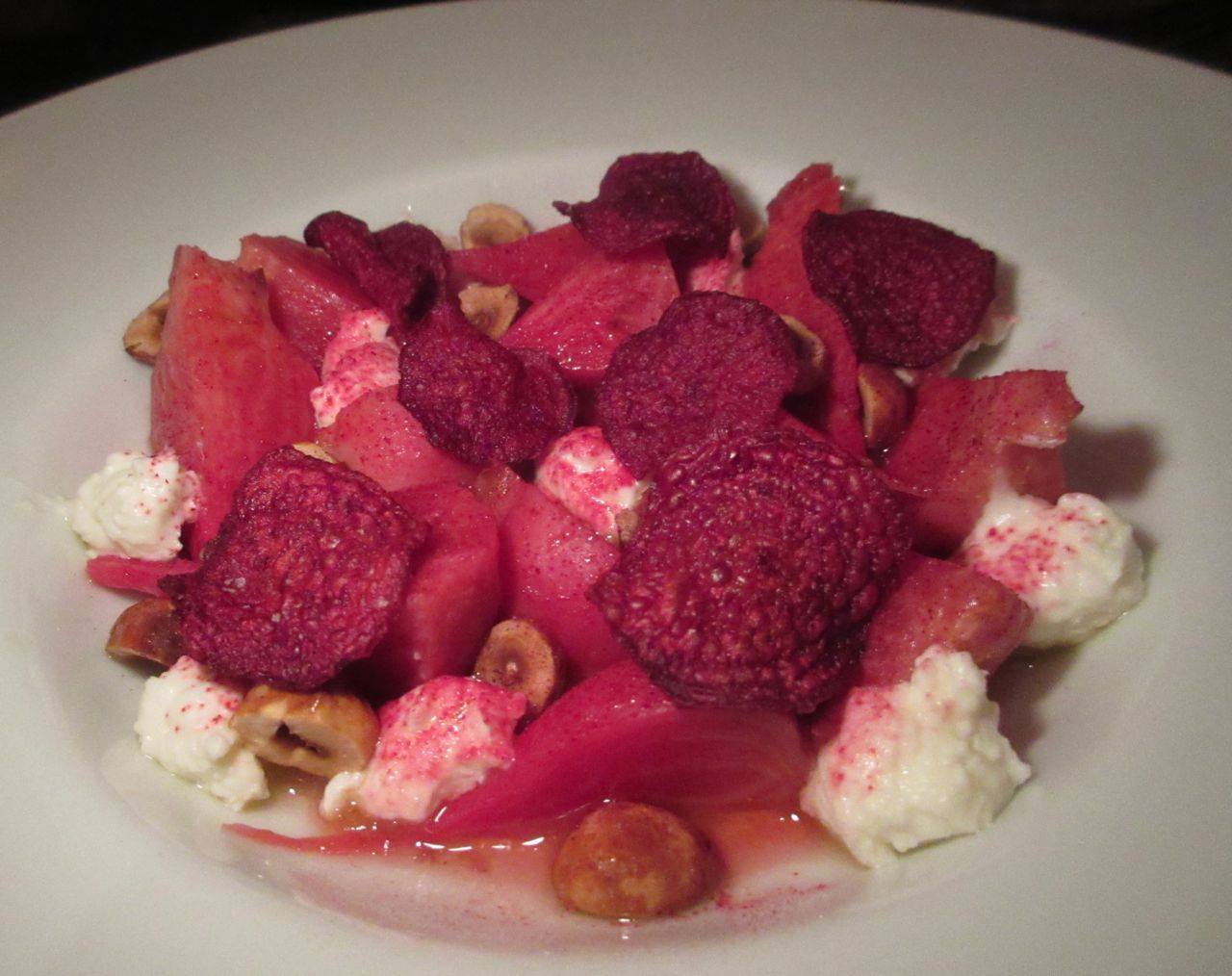 firmly opinionated brother Jim to choose the lineup, knowing our evenings might lean aquatic. He's a paragon of fitness -- nothing comes between this guy and his workout - and he often favors fish, good fish as opposed to swimmers that attract mercury. Joe's Seafood, Prime Steak, and Stone Crab and Shaw's Crab House were on our calendar.
The unexpected thrill was discovering the smart, elegant, original cooking of Stephen Gillanders, veteran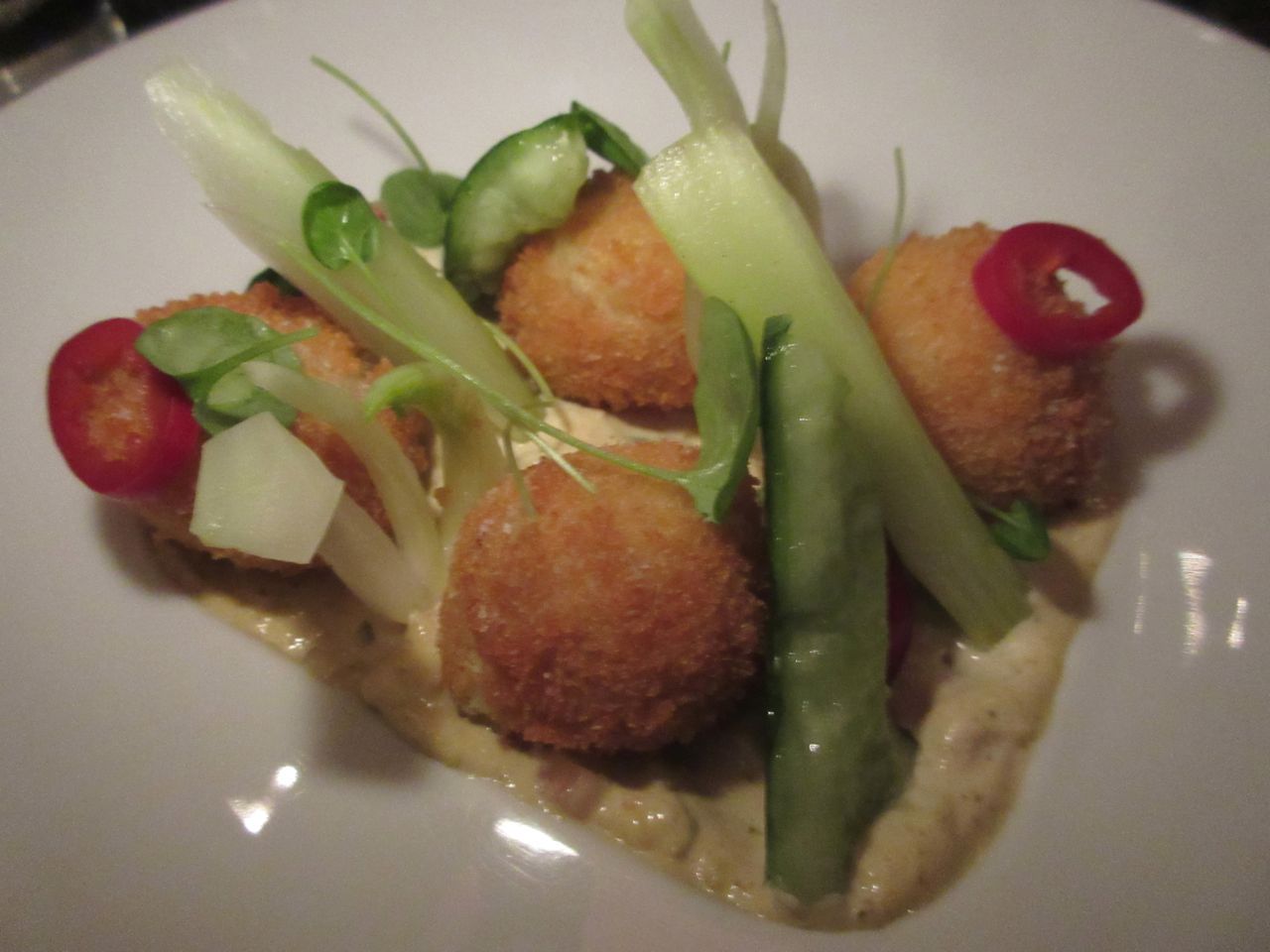 of a decade with Jean- Georges and the chef-in-rotation at Intro, an experiment with rotating chefs by Lettuce Entertain You's Rich Melman. Click here please to read my thoughts on Melman, the fried chicken at Joe's Seafood, Prime Steak and Stone Crab and to the highs of dinner at Intro.
RPM Steak
Sleek chiaroscuro, glove-soft leather, servers in fitted white dinner jackets with black buttons, and the
Villeroy & Boche service plates on bare black tables, signal the ambition of RPM Steak (a newish leaf from the Lettuce patch). I've noticed Chicago seems to think it's okay to sell bread instead of giving it away. Here, the Parker House rolls with rosemary Nordic butter are $6. Not that I wasn't foolishly aggressive, taking not one but two chunks of the excellent garlic bread served with three cheese fondue for $8.
The thick sliced bacon tradition of old-fashioned steak houses arrives in sweetly caramelized chunks of belly -- Mary's pleasure -- but too sweet for me. I was happy enough with the romaine crunch and Parmesan of my Caesar (easily enough for three to share). The essential anchovy had been reserved for the deviled egg, perched in the toss.
The customer decides what a steak will be by choosing from the catalog of cow. "Bison and Grass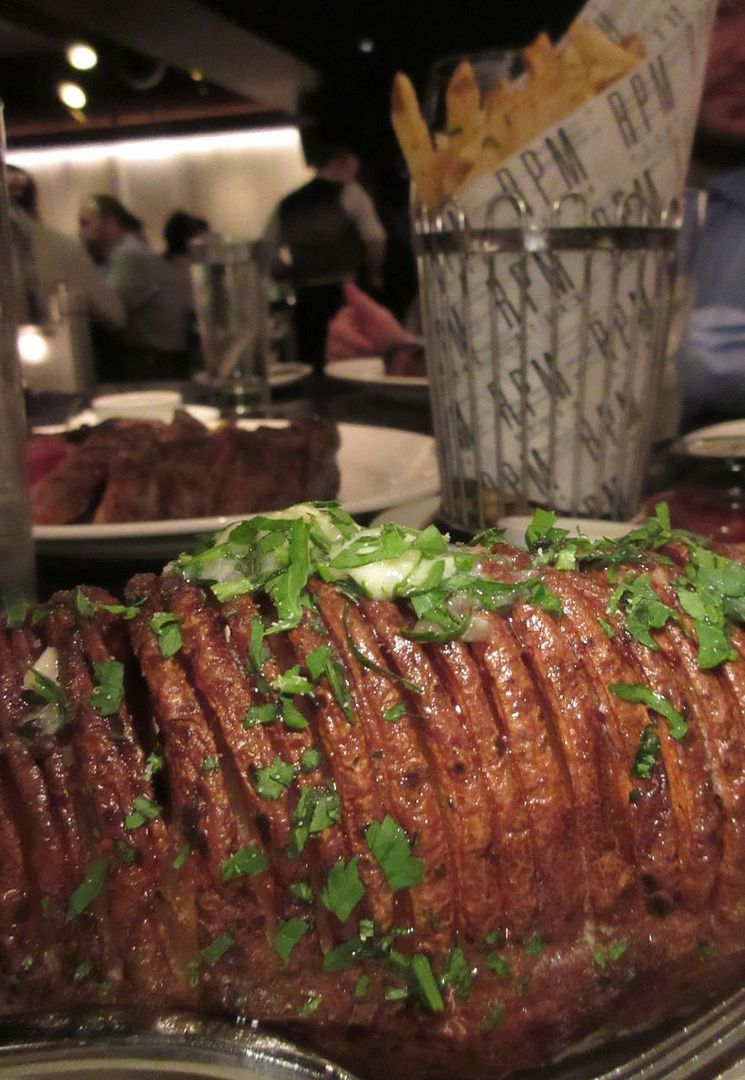 Fed," "Wagyu," "Prime Dry-Aged" (28 day or 60-day).
"Filet Mignon" is its own category. From "Signature," brother Jim chose The Duke, 16 oz. bone-in Eye of Ribeye. Mary and I shared a very fatty 24 oz, 28 day dry-aged Cowboy - also a rib eye. It was meaty and rare and good enough, but my dream steak is crunchy and caramelized.
I'd never heard of Crispy Hasselback. It turned out to be a baked potato sliced and fanned and crisped on top, served with sour cream -- a serious triumph at our table. And I couldn't stop eating the excellent charred cauliflower. One bite of the cheesecake would have been prudent. But I was working on the concept that calories don't count out-of-town. At least the seatbelt still fit. 66 W.Kinzie Street. 312 284 4990.
***
Mea Culpa
I was in the grumpy minority at Untitled, finding some of Marc Anthony's pretty dishes overly fussy. But forgot that. His "V is for Vegetables" (Little Brown $40) is my favorite
cookbook of the year. His inspired ideas for soups and casseroles and gratins could not be more timely at this moment, when so many of us long for new ways to cook and eat vegetables.
Forgive me, please. I meant to share some books like this for your gift lists. But it's not too late to treat yourself. Never mind healthy. Think delicious. Cabbage and pork dumplings. Roasted parsnips with hazelnut pesto. Braised leeks and yellow lentils with anchovy dressing. Cornmeal fried okra. "As a kid I couldn't understand why they didn't sell fried okra in movie theaters," Anthony quotes John Besh.
Will you love the primitive sketches by David Coggins in "Paris in Winter: An Illustrated Memoir," as much as I do? His whimsical drawings and vignettes
from his family's annual New Year's trips to Paris appealed so much to me, I wanted to give it to everyone I know who needs more Paris in their lives. Slabs of foie gras, mountains of frites, too many sables from Poilane to eat before packing. A bistro with a wood-burning stove. Headaches. Alain Passard in jeans and tennis shoes. The truth is I know too many candidates for this book, so I took the money I would have spent at Barnes & Noble I and went to Paris myself. (Powerhouse $24.95)
"You must read my novel," Jessica Tom emailed me.
"Food Whore: A Novel of
Dining and Deceit." (William Morrow $14.99) It sat there in my bedroom on a pile of unread books. I never seem to find time to read. "A quick Update," she emailed again. "It's been
optioned by Dreamworks. It would be amazing if you wanted to weigh in as a prominent NYC critic." I was insanely jealous. No studio even nibbled at my memoir, "Insatiable."
And then I reached for her book. A young nobody arrives in New York sure she'll become a star on the culinary scene. The legendary New York Times
critic picks her up. She gets an unlimited-expense shopping spree at Bergdorf's, meals at three star restaurants, and sex with a
rogue chef. I devoured it in one night. Preposterous but fun!
I am on Ian Schrager's list. Whenever this notoriously brilliant fussbudget completes a project, a memento arrives - something unique, striking, of impeachable design. His book, "Ian Schrager Works" (Rizzoli $75) was the late
st. "Are y
ou sure you can carry this?" the messenger asked. It was very heavy, too heavy, a giant square in a slipcase. I leaned it against a cupboard. Even with my every-other-day pull-downs and pushups, it was too hefty to lift, too monumental to balance on my lap and turn a page...until today. I braced myself in a sturdy chair. It's a must, I suppose, if you're a Schrager fan too.

Photographs of brother Jim with Mickey, the extended family trading rejected gifts, the Trump memorial toilet paper among the rejects, the beets at Intro, the crab fritters with pickled ginger remoulade, RPM Steak's Cowboy Rib Eye, and Hasselback potato may not be used without permission from Gael Greene. Copyright 2015. All rights reserved.