FORKPLAY October 20, 2015


Re-Entry Blues. Le Comptoir. Feeling Rich at Epicure. We'll Always Have Paris
It isn't just jet lag you must overcome on returning from faraway zip codes. Back from 10 days in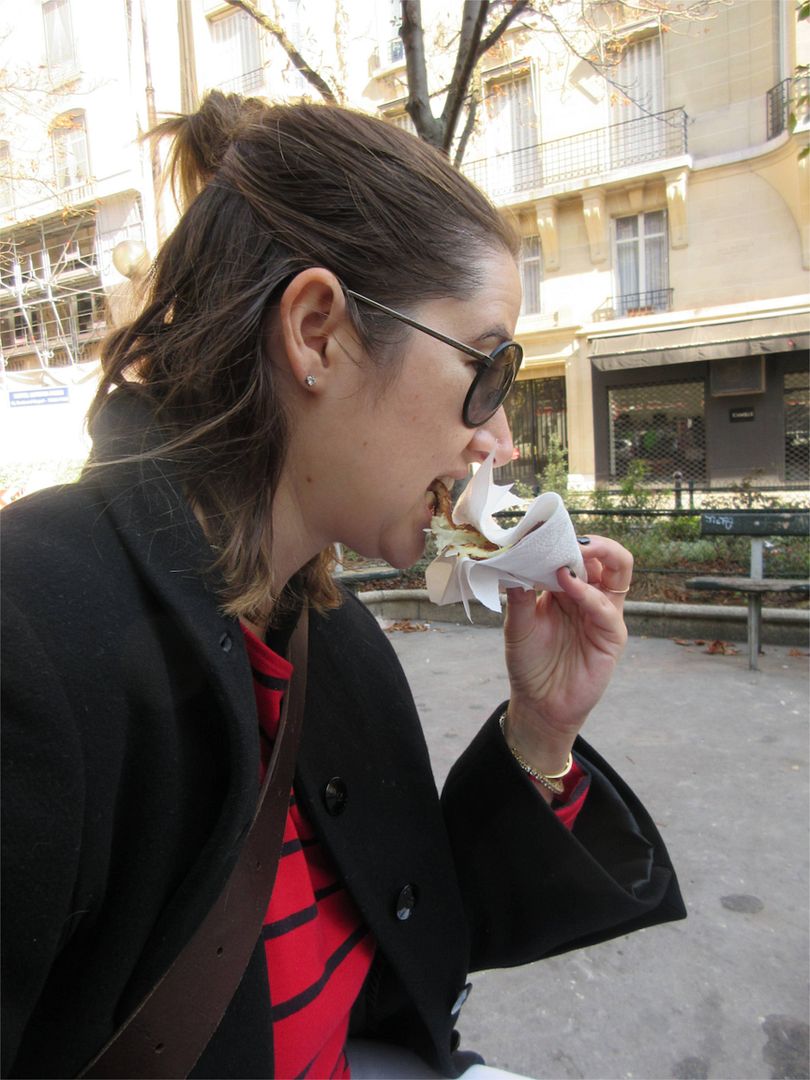 Paris, I found myself waking in the morning with re-entry blues. I am sure it's about getting up at 6:30 am to read the front section of the NY Times before rushing off to an 8:25 workout with my trainer in my office.
No trainer. No office. No clutter. No Fairway. Paris proved to be a delicious escape from reality. The weather was perfect. The Uber drivers wore suits and leaped out of the car to open first one door and then the other, stopping traffic to let you cross, then leaping out again at the destination.
A friend joined me. We met each morning in the lobby of our hotel, the wonderfully, ridiculously Victorian little Odeon-Saint-Germain and, on mornings we didn't feel like paying 14€ extra for the hotel breakfast, she was willing to run off to the baker Mulot or Kayser to get pastries or a cheese bread to go with the house's excellent coffee.
"What will be our activities for the day?" Lauren would ask. I am sure she has exactly the same conversation at home with her 2½ year old, Teddy. We explored The Picasso Museum and the Beaubourg. We went to the Bon Epicerie, studied the still lives of edibles, and laughed at the Brooklyn promotion.
Imagine Campbell's Cream of Mushroom soup for sale in this hallowed food hall.
More often than not our most important activity was lunch. That Boulevard Saint-Germain institution, Brasserie Lipp, would never have been my lunch choice. But I thought it would be reverent to join my friend Vicky Thiel (who invented the mini dress decades ago) and the brilliant, tempestuous publicist diva Yanou Collart. With Yanou booking, we would be seated at a prime table. Indeed, as soon as I saw the classic Gallic duo eating sausages next to us, I was sure we had a grade A station. I shared my oysters with Lauren. She was pleased that her pâté en croute came with salade verte in a soup bowl. Celeri remoulade was Vicki's lunch. Yanou barely made a dent in the choucroute. Brasserie Lipp
151 Boulevard Saint-Germain, 6eme.
33 1 45 48 53 91.
Oh Yves, I Hardly Know You
I'd chosen our hotel because it was a two-minute walk from Le Comptoir du Relais, the fanatically
popular little brasserie of Yves Camdeborde, besieged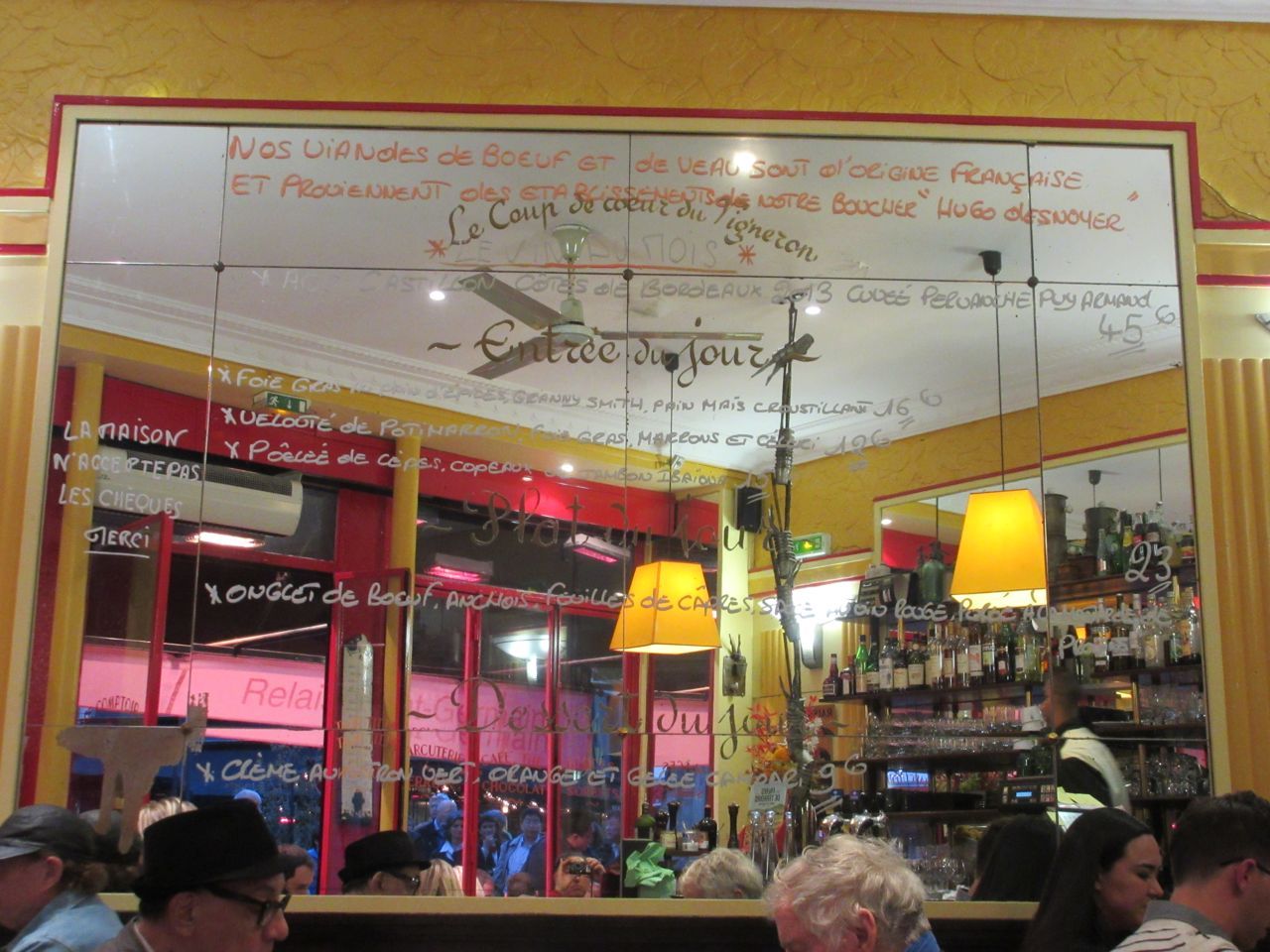 by locals and tourists alike. I'd fallen in love with Yves' rustic cooking at La Régalade
decades ago in a faraway
neighborhood. Madame Claudine would set his luscious terrine down on
our table and we'd cut two slices, and then two more, and then, mid-cut, an angry server would spy us and snatch it away. (Click here to read "Paris Review" for a taste of how we explored Paris then.)
Now, attached to the Camdebordes' Relais Saint-Germain, where hotel guests have priority, there is a weekday prix fixe dinner for 60€ that is notoriously
difficult to book. But the family remembers me and my early reviews, so they've been generous about saving a table for me on weekends when the à la carte lunch menu also serves for dinner.
Having slept through breakfast on the plane, desperately in need of coffee and hungry too, after checking in at our hotel, my friend Lauren and I join the queue of Le Comptoir hopefuls at 11:35 am. At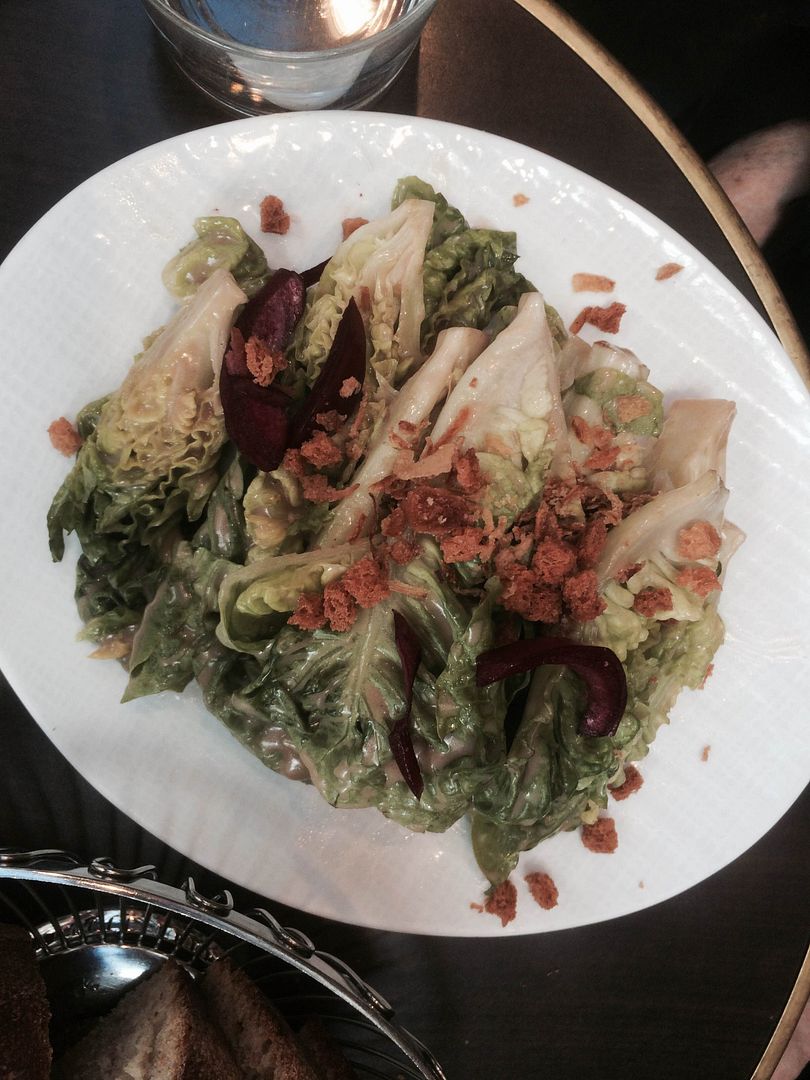 noon, earlier birds move inside, but we stand ignored,
until I stop a
waitress on the run and she settles us at
an outdoor table with overhead heat lamps that are almost too warm on a grey, cool day. I send her for two coffees as we study the menu. I must have sucrines, my favorite salade green - little gem lettuce - crisp as always under a rubble of croutons, though today a bit over-sauced with a sharp vinaigrette.
I encourage Lauren to order a platter of cochonaille - "piggy things" for us to share. I taste a forkful of the terrine, an odd, listless lump on the board. And then a round or two of strangely sedate sausage. "Maybe Camdeborde has lost interest," I say, "or figures he doesn't need to be on top of things, given the ravenous hordes."
But then our lunch is suddenly
elevated with a saucer of gloriously creamy Saint-Marcellin cheese - a large portion for just 7€. Our server brings more of the house's wonderful country bread without our asking. Shall we walk it off? Or take a siesta?
A few days later we're on the balcony of Ma Cocotte, a charming little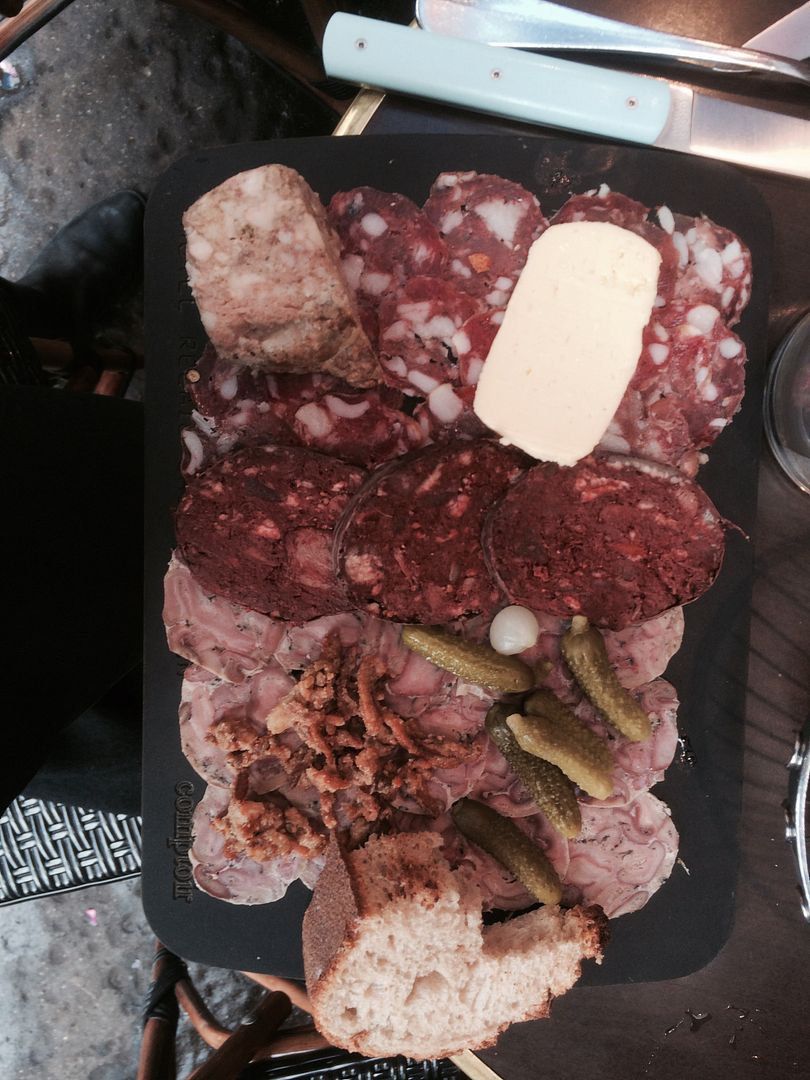 bistro in the flea market near
Serpette. It's new to me, put together by Philippe Starck. My friend, interior decorator Penny Drue Baird, has sent us. "It's not about the food really. But it's just so much better than anything that existed."
She has said I must order the terrine. It comes on a platter with ovals of sausage -- a very flavorful mash in a glass jar. The salami has major zing, too. And the bread is too good to ignore. Suddenly, I realize that a cute little café at the Flea does better cochonaille than Le Comptoir.
That doesn't stop us from returning to claim the Comptoir table I've reserved for Sunday dinner. I look for the welcoming woman who used to run the place. She's gone. Her unsmiling replacement leads us to a two-top next to the bar. No one comes. We stop a server and ask for water. We try to order wine. A basket of the crusty bread shuts us up for a bit. What is obviously a very VIP duo is seated beside us. There is cheek kissing and a quick pour of something fizzy as a gift for them. They are regulars at the hotel, it seems. We take advantage of the server's proximity to order.
I am pleased with my boudin noir and its long chili pepper on top, and later, the beef cheek stew is pretty
good. I pass the boudin on to Lauren, who gives me her pumpkin chestnut soup with bits of foie gras from the posted menu. "Was it room temperature when you
got it?" I ask her.
As the hostess hovers near the VIPs, I stop her. "Is it normal to serve the soup lukewarm?" I ask. She grabs the bowl, slams it down on the bar next to us. Our
cèpes
arrive and then, after 10 or 12 minutes, hot soup. Wonderful soup. And after that the evening's special steak, an onglet - rubbery and uncuttable with the steak knife.
"This is not what I expected when I ordered the steak," says the VIP woman next to us with whom we have exchanged philosophy and business cards.
Will I want to come back to an old favorite batting .300? Probably, but I suppose I'll lose my table power forever for writing this. Le Comptoir du Relais 5 Carrefour de l'Odéon, 6th. 33 -1 44 27 07 60 Ma Cocotte 105 Rue des Rosiers Saint-Ouen. 33 1 49 51 70 00
Epicure: Great Expectations
A linen napkin, very small, neatly rolled, is obviously meant for small amuses. We're seated looking out at the garden through mullioned windows framed by flowery curtains in the disarmingly old-fashioned dining room of Epicure in the Bristo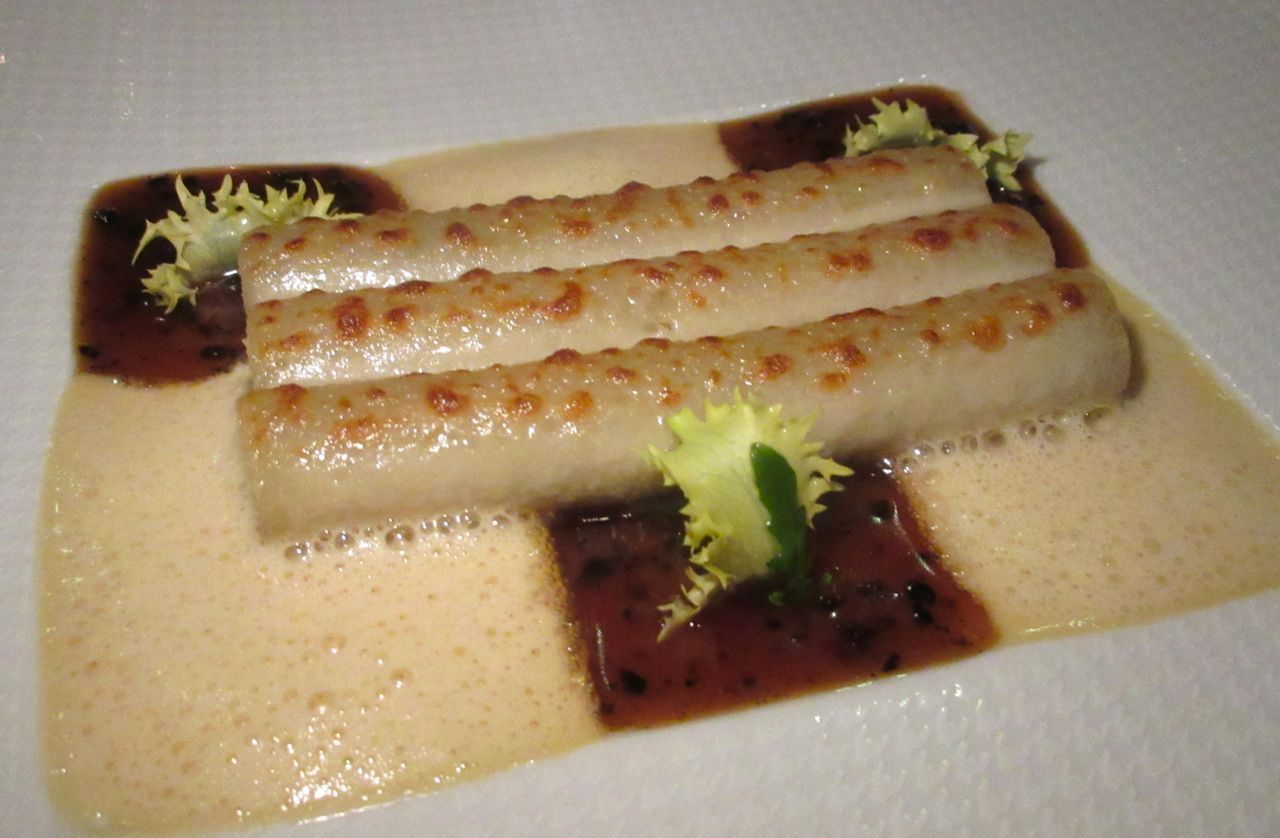 l Hotel. Starched linen covers the table. The skirt beneath is fringed. The pale plaid upholstery of the Louis XV style armchairs strikes me as '60s Park Avenue matronly, but thoughtfully built for the long sit.
Our pal Wilfred had flown in to join us on our last four days of tastings and earns a special welcome, not just for never running out of conversation, but as an irrepressible grape nut. His wine selections have a way of inspiring bored sommeliers to stand up straighter, and they are always his gift. Here, his choice of a 2002 adds elegance to a bright Domaine des Comtes Lafon Volnay Santenots du Milieu. (That accounts for $386 on
what translates to a $1400 dinner for three.)
It is scarcely a su
rprise that Epicure might be dazzlingly good. The trick is always to live up to three-star expectations. Tonight, our dinner had been booked by a friend of the house for Wilfred. Possibly that has dictated the choice of table and the exuberance of the captain. Mostly I like the fuss. Click here to read more and decide if you want to pawn your first-born for dinner here. Epicure. Hotel Bristol 112 Rue Du Faubourg Saint-Honore 8th. 33 1 53 43 43 40.
***
We'll Always Have Paris
Certainly, I am totally opposed to a fancy tasting lunch on my last day in town. Dinner, perhaps. But here we are, the three of us at Jean-François Piège's crankily uncommunicative and impossible to book Le Grand Restaurant. Fancy, stuffy, popinjay perky, precious. There is a 190€ "Debut of Autonne" tasting and a 245€ "Signature" event, too. Ours will be 84€ (the bargain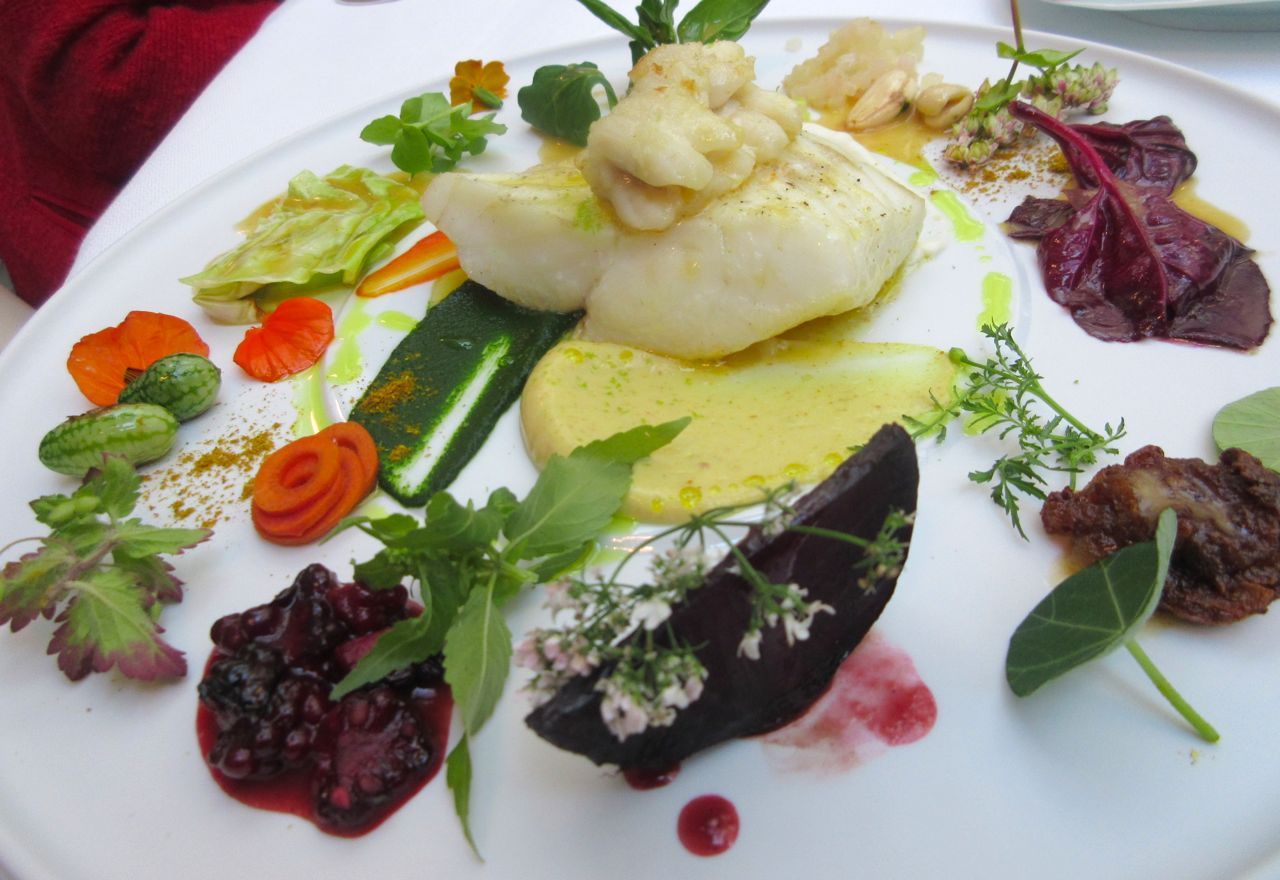 choice). I am sure I will despise it.
But fancy (Baccarat sconces and crazy quilt ceiling), perky (integrated young crew in tight navy suits, females coiffed with buns), precious (oversize black gloves dispensing an astonishing layered bread and butter on a curl of sculpted metal) as it is, the bruising euro pinch seems almost reasonable in the flavorsome triumphs of over-the-top amuses and boldface trickery
.
Crisp, inflated potatoes soufflées dabbed with caviar atop a shellfish cream and slivers of
cèpe
.
A creamy tourte of sweet onion, herring and crushed
praline. A silver egg mirroring the room with more caviar and the natural gels of langoustine and caviar at the bottom. Two of us share a large veal chop cooked rare over nutshells
(presented raw in its smoker for our approval, or maybe edification.) It's meaty and fine, with more
cèpe
s, raw and cooked, as is the creamy walnut mousseline spooned alongside. Click here to see why I urge you to book far ahead if you hope to go to Le Grand Restaurant on your next Paris trip.
Le Grand Restaurant de Jean-François

Piège

7 Rue d'Aguesseau, 8th

33 1 53050000
Also click here to learn how to win a 100€ lunch at Guy Savoy's new quarters at La Monnaie.
Restaurant Guy Savoy. Monnaie de Paris. 11 quai de Conti. 6th. 33 1 43 80 40 61.
And why you'll want to revisit Michel Rostang and indulge in his welcoming service and remarkable classics.
20 Rue Rennequin, 17th . 33 1 47 63 40 77

Photographs of Lauren eating potato pancakes
from the Saturday Bio Market, denizens of Brasserie Lipp, reflection of Le Comptoir du Relais, its sucrine salad, and the cochonaille platter, Ma Cocotte's terrine with spicy sausage, Epicure's stuffed macaroni and the goody armoire, Le Grand Restaurant's turbot wreathed with jewel-like herbs and flowers, and Michele Rostang's classic sweetbreads croustillant may not be used without permission from Gael Greene. Copyright 2015. All rights reserved.