FORKPLAY September 8 , 2015



Hampton Laziness. Discovering Scarpetta. Provincetown Stages. The Heyward Beckons. Mountain Bird Migrates. Pucker Up Squash!

Dear Friends and Family,

It seems I missed my guy Steven even more this summer than last. Is that strange? He died three years ago in August. Our friends the Schusters and I went to Easthampton Main Beach in the late afternoon

a few weeks ago, as we often did when we were four. I had a flash of Steven slipping out of his sneakers and walking along the surf. That was the afternoon we saw the deer heading east on the sand.

My summers house-guesting in the Hamptons have been severely curtailed by the untimely arrival of more and more grandchildren. They get first dibs on the guest rooms I used to occupy. I admit I'm not the perfect guest. I always buy my hosts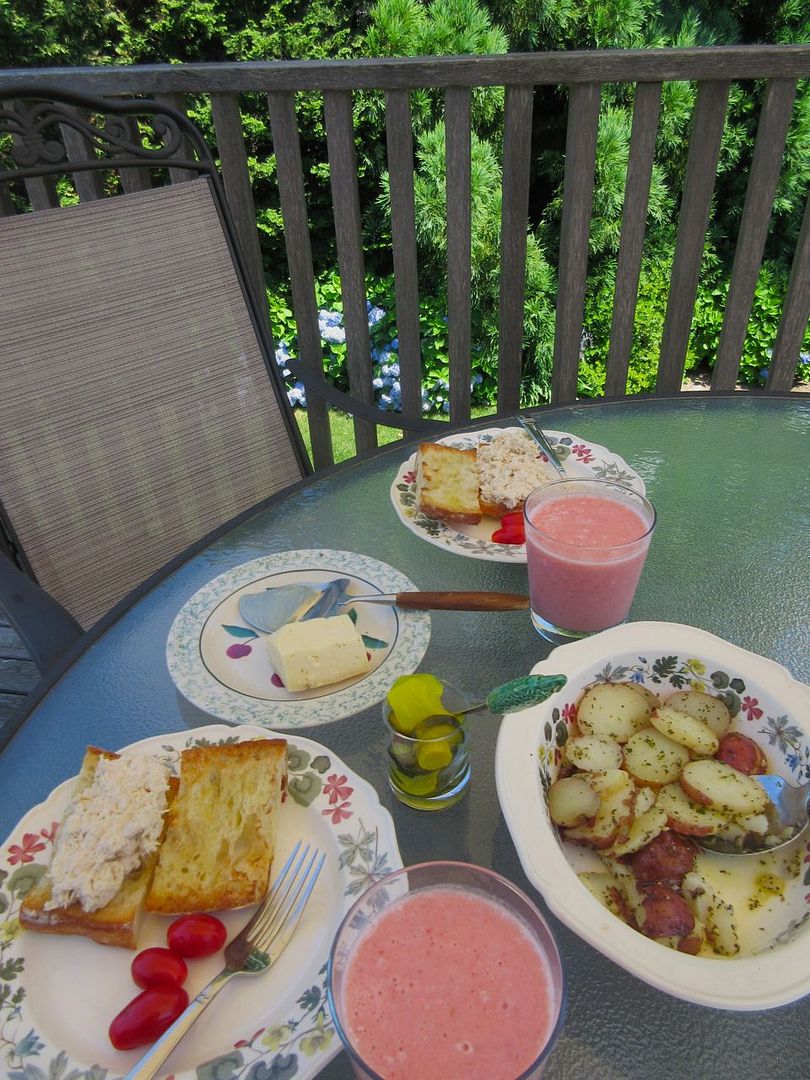 a big beautiful fruit pie from Round Swamp Farm, but then, once someone has taken a slice, I feel free to spoon up a few inches to grace my no-fat yogurt with kibbles and bits breakfast.
I used to cook. The last effort I made at the Schusters' house was cutting up a Round Swamp chicken with peaches and mayonnaise for a lovely lunch salad. The Schusters have actually asked why I don't ever make my famous berry or nectarine
crumble. I said I would on my next visit. I'm shameless. I came. I left I did not bake. Then the grandchildren took over. Click here to have the recipe for a low calorie crumble.
My friend Eileen has no grandchildren, but she does have many sisters and loving friends so I was incredibly touched when she wrote to me in June that she had rented a house a short walk from the village and was reserving a room for me for a week in July and a week in August. Eileen has been a professional cook and she almost never stops preparing lunch except to prepare dinner. She puts on an apron and just starts peeling and chopping.
At Eileen's I read novels, put peach pie on my yogurt every morning and occasionally participated -- like mashing mayonnaise into canned tuna while she did something Italian to leftover fingerlings and whirred up raspberry smoothies for lunch a deux on the deck. On my next to last August night, her son Clark wrangled a herd of giant lobsters and corn on the grill. I sliced tomatoes and peaches that Eileen layered with fresh mozzarella and we both sprinkled with olive oil and balsamic. Hers was the last touch: chopped basil.
***
Scarpetta Is a Holdover at Gurney's
A friend took me to Scarpetta in July. I fell first for the exaggerated accent of our adorable waiter Salvatore in his striped denim apron, and then for the house- baked breadbasket with its lushly stuffed Stromboli rolls. By signing LDV Hospitality to take over all the food service at the long-time stodgy resort and spa, new owner George Filopoulus got a version of Manhattan's original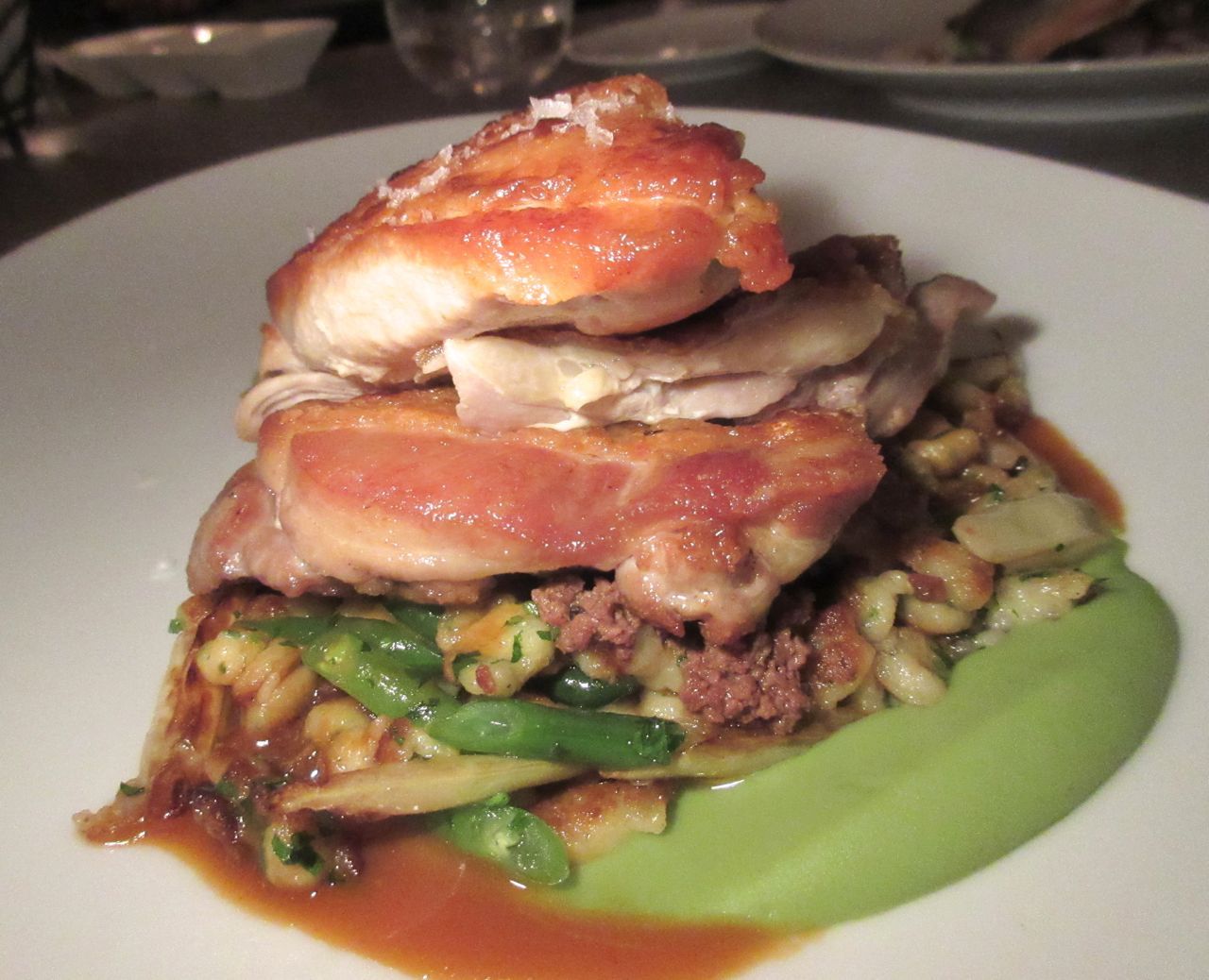 Scarpetta, a backfield of seasoned waiters from the
Miami outpost, and the company's executive chef Jason Kellert in the kitchen.
The room
was vast and boring and usually empty. Now it's broken up with macramé hangings. As I said in my Beach magazine review, it won't make Architectural Digest, but it's cozier and there are another 100 seats on the outside deck when weather permits. There are many South Fork restaurants with water views, but I'm not sure anyone has a thousand feet on the ocean as Gurney's does.
The place has been such a hit - i.e. one of summer's toughest tables to book - that they have decided to keep Scarpetta open at least till it snows, and maybe afterward, a few nights a week. Come soon. Start with fluke crudo or share a fine fritto misto. Even something as everyday as the market salad is special on truffle ricotta cream. On my first visit both of us liked short rib and marrow-stuffed agnolotti
better than the tagliatelle
with lobster and asparagus (but that was fine too).
Once I wiped the excess salt crystals off the chicken on my next dinner, I found it juicy and full of flavor (though still very salty). My guest was impressed by perfectly cooked branzino stuffed with mushrooms and guanciale in a white asparagus vinaigrette. Limoncello with crushed berries and stone fruits was all about summer -- the dessert of choice, just as Salvatore insisted. 290 Old Montauk Hghway 631 668 1771
Williamstown is Theater
As a restaurant critic for 47 years now working for myself, I eat out six nights a week. That seems to keep me from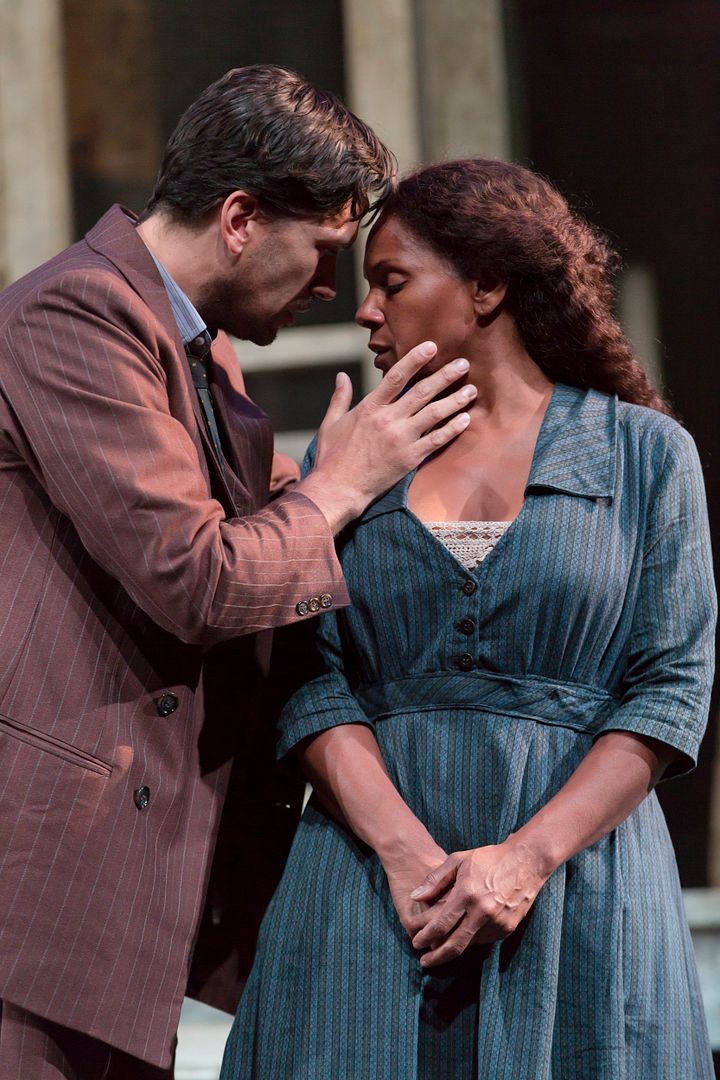 enjoying the city's extraordinary richness of theater as often as I might.
So a weekend in a small Massachusetts town, surrounded by a gorgeous sweep of green mountains and a total immersion in theater at the Williamstown Theatre Festival, was over the rainbow for me. I got a sense of how professional theater, a serious, intense, several weeks of revivals, classics, new ventures and work in process - transforms a small New England village. I felt transported from my clutter and deadlines. In just one weekend, I saw the world premiere of a complex and intriguing musical, Unknown Soldier and an exciting workshop production of Poster Boy, a provocative effort edging toward production. And I had a prime seat for the most exciting event of the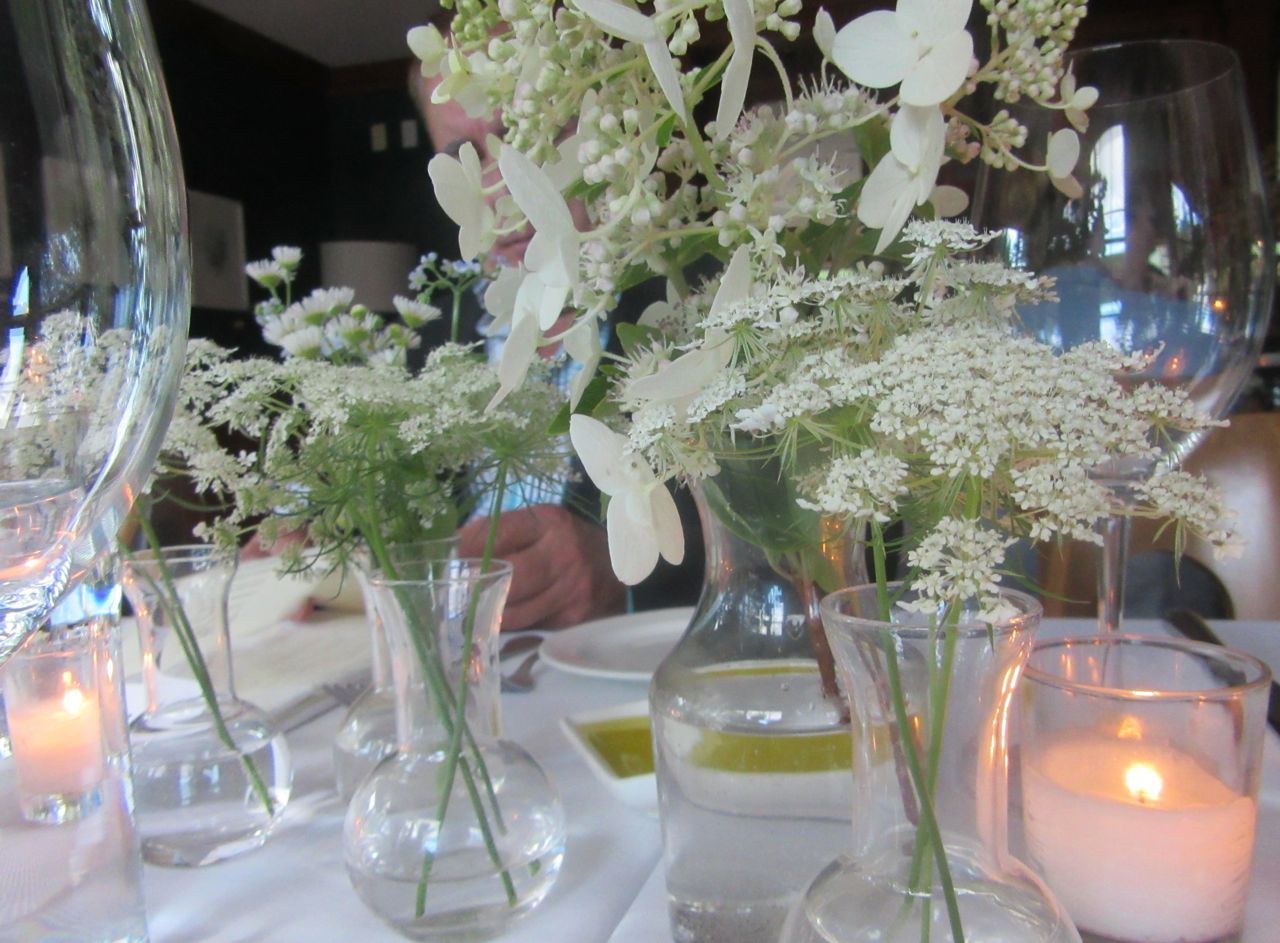 summer, six-time Tony winner Audra McDonald playing opposite her husband Will Swenson in a uniquely memorable version of Eugene O'Neill's A Moon for the Misbegotten. A chance to see new nuances in both this extraordinary actress and what is not the most brilliant of O'Neill's works.
I also got to be honored at an impressive gathering of theater supporters and Williamstown weekend and local gentry - a chance to tell tales from my memoir
Insatiable. The evening was hosted by Paul Neely, the former publisher of The Chattanooga Times: dynamic philanthropist, a supporter of the college, the theater and the museum; and a confessed foodie. Everyone said Mezze Bistro was the best restaurant in town but still I was surprised by the delicious sophistication of what we ate. I was especially taken with the lush toss of duck confit, corn, ham, and crumbs topped with a perfect egg yolk. And also the plum almond tart with apricot sorbet.
***
The Heyward Beckons in Brooklyn
I've never been to Charleston or Savannah. I've fallen for Low Country cooking as Alexander Smalls and J.J. Johnson do it at The Cecil in Harlem. But I was excited to get a ride to The Heyward to find most of what emerges from chef Kevin Bergh's kitchen to be
good or very good, surprising and even whimsical.
The house is out of crab so we won't get the mini crab rolls advertised. The waitress suggests we might want to order the pork belly special instead, with foraged berry relish, smoked corn and dilly beans. That's a roundup typical of chef Bergh. It sounds like A Midsummer Night's Dream. He grew up in St. Louis and spent time in New Orleans and Nashville. Like most hip chefs these days, he goes to the greenmarket and asks his purveyors what's new and good.
We've already tackled the savory pileup of crispy braised pork belly and Hoppin' John -- Carolina gold rice and Sea Island peas laced with carrots and tomato. You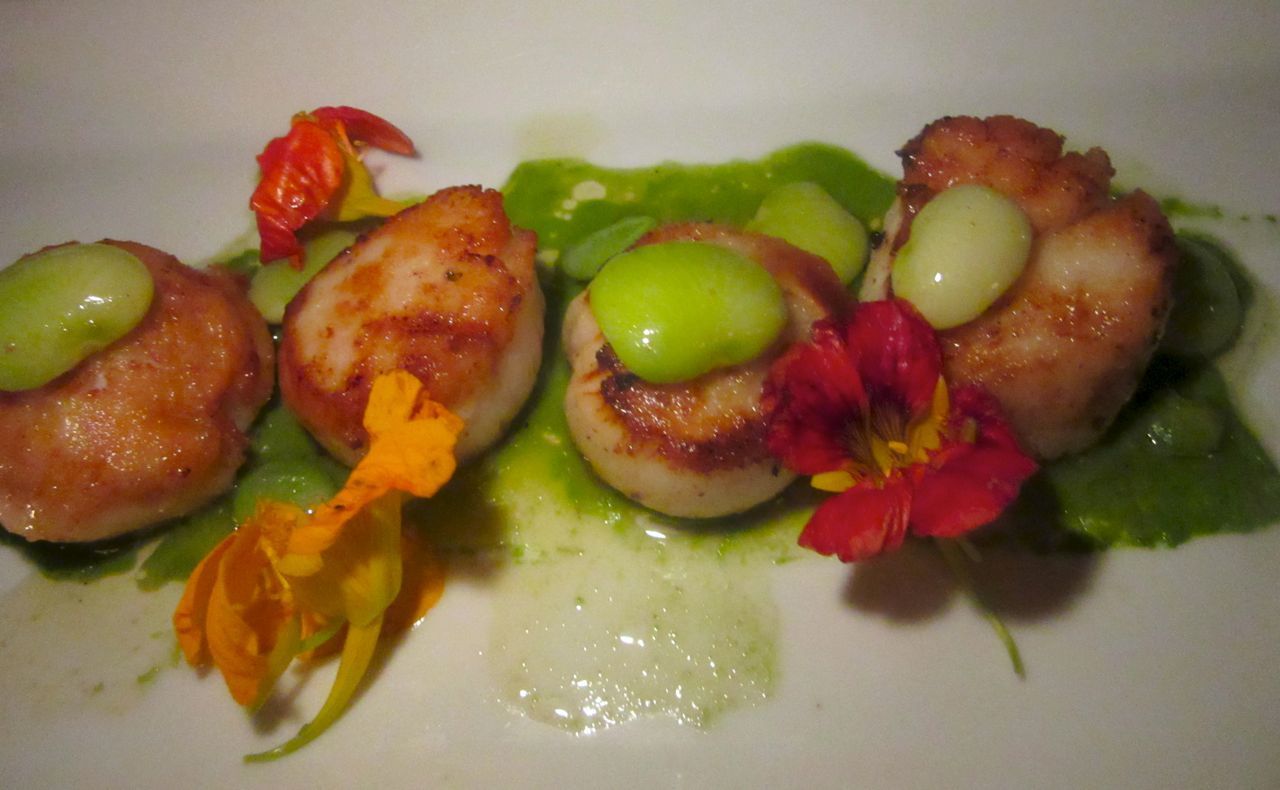 can try to cut away the luscious fat but somehow it defies dietetic sanity. Pork belly twice in an hour is more than enough pork belly for me. You want to click here to know more about what to order. 258 Wythe Avenue between Metropolitan Avenue and North 3rd Street. Williamsburg, Brooklyn. 718 384 1990.
Mountain Bird In A Rusted Cage
Restless in exile after losing their beguiling lace-curtained dollhouse in Central Harlem to a rent hike, Kenichi Tajima and his wife Keiko landed their avian-centric Mountain Bird as a pop-up
at Alexandra Morris's Tastings Catering on East 110th Street. I took friends who'd never been to the original Bird Cage and they loved it. Click here to read "Mountain Bird Sings in Harlem."
The Tajimas had been searching for a space they could afford without success. Fans like me poured in to revisit favorite dishes. Tasting's tables and chairs are not very comfortable and the place had none of the original's charm, but now the Tajimas had a bar and waiters and it was heartening to see their gratitude at being alive again.
Last week I was back with three friends. With the front door open to outdoor tables, the air conditioning was inadequate.
But I discovered the thrilling sensuousness of four little chicken wing Lollipops with black truffle dressing on a nest of
shredded cabbage. I warned Keiko that Mountain Bird was not even mentioned when I dialed their phone number to make a reservation. She told me that they had
signed on to stay and be called Tasting Social Presents Mountain Bird. "That's not a name," I told her. "That's not your name. You've got to get out of here."
I was alarmed and very sad. It seems an enormous sacrifice for a not very congenial arrangement. But perhaps running the 147th Street space all by themselves with just a dishwasher wasn't ideal either. Rents are doubling and tripling everywhere. And Harlem has a renaissance on almost every avenue. Without a partner, a backer or a sugar daddy, they may have no other choice. 251 East 110th Street. 212 744 4422
Puckerup Squash!


Have September zucchini taken over your garden, your backyard, your back forty? Capture them in a dozen pickle jars and savor summer all year. Click here for the perfect zucchini pickle recipe from Stacy Dermont, managing editor of Dan's Papers.

Photographs of tuna lunch at Eileen's, Scarpetta's chicken and market salad, Williamstown Theatre's Moon for The Misbegotten with Will Swenson and Audra McDonald, the table setting and plum tart at Mezze Bistro, The Heyward's shrimp and grits and scallop dish, Mountain Bird's truffled chicken wings and duck two ways, and Stacy Dermont's pickled zucchini, may not be used without permission from Gael Greene. Copyright 2015. All rights reserved.