I thought you might enjoy reading one of my Vintage Insatiables, a report from the High Tree Cooking Class, dated October 11, 1976.
We blessed souls who live to love and love to eat and eat to love and love to delicious excess are obsessed with glorious fantasies. True,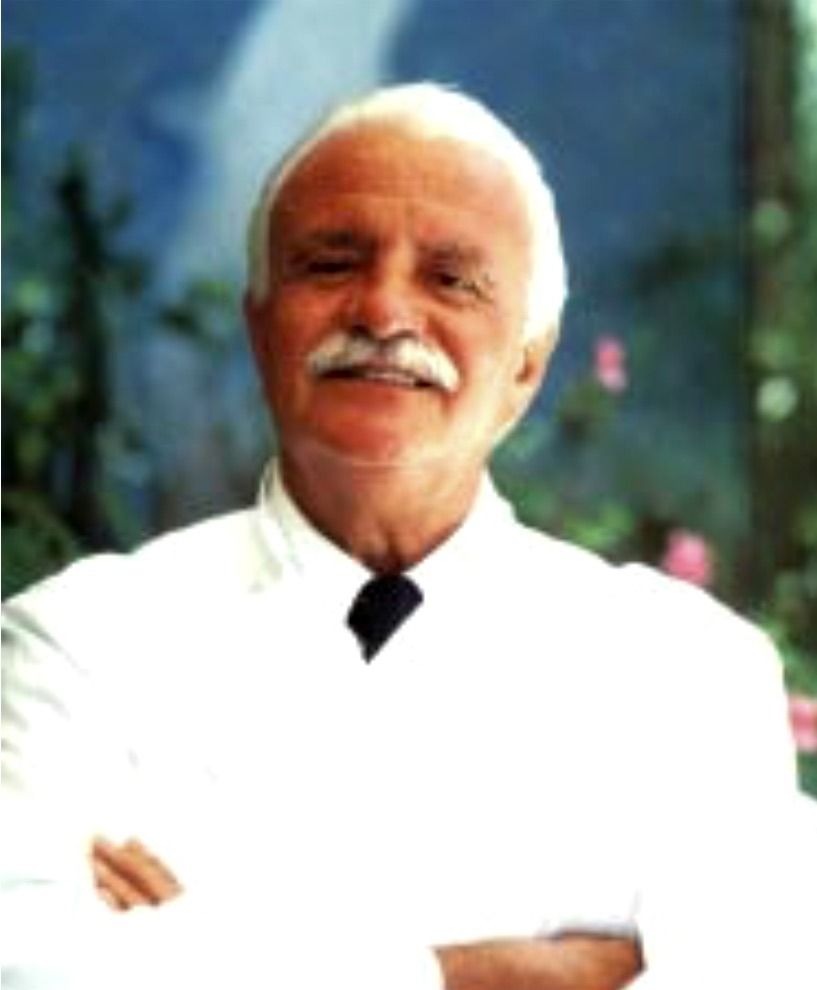 gastronomic cravings are as varied as the libido's yearnings. Some long for Mother's cooking, for soul food, for the prepubescent banana split. Others yearn for the simplicity of a perfect raspberry. To be immersed in pasta. To be assaulted by chocolate. To dive into a tin of caviar. To be attacked by a running Brie. But surely the universal food world-dream is to apprentice in the kitchen with a French chef of the vaunted three-star tradition.
So here is gastronomic fantasy come to life in wine-stained, butter-sticky reality. Roger Vergé, brilliant chef-proprietaire of the Moulin de Mougins just north of Cannes, is billed for a harvest-time week at High Tree Farm in California's Napa Valley. It will be Vergé's debut into gastronomic show biz - teaching la grande cuisine to whiskful amateurs.
I have been hired as critic and raconteur. "Two passionate celebrants of gastronomy's haute monde perform in a collaboration of culinary expertise and enlightened commentary," the school brochure advises. Perform? I have visions of Roger and me as the Flying Wallendas.
"I can't believe it is really happening," says Michael James, High Tree's flighty but persuasive impresario. Michael James born (Vlamis) was a Romance language major whose fixation on France led directly from la langue to la table. He studied cooking with Simone Beck (the legendary
"Simca" of the Julia Child cuisinary consortium), then apprenticed in French restaurants and returned to San Francisco, dashed to find that "no one is interested if you're young and nobody." Michael at 26 is beautiful in a silky turn-of-the-century style. He floats as if sweetly stoned, but that Spring Byington air of his is deceptive. Inside, ambition simmers. With the earthbound business sense of partner William Cross, he concocted the Wine Country Cooking Course in a luxurious retreat surrounded by vineyards, and launched it with a splash, the devoted Simca as an irresistible lure.
Students flew in private jets to High Tree to cook and eat with Mme. Beck. Soon such food-world big cheeses as Jacques Pepin, Marcella Hazen and Julie Dannenbaum were enticed to teach at High Tree. But for Vergé, Michael is taxing the treasury. And charging $190 a day. He's had twenty pounds of butter flown in from Wisconsin. I am to bring sixteen pounds of crème fraîche packed in dry ice by its Pennsylvania manufacturer on my flight from New York. Other staples are already stashed at High Tree. But Vergé can poke and pinch and then choose the fish and fowl himself.
Monday morning, we pile into a lumbering rented Lincoln Continental to market in San Francisco, trailed by the school's Volkswagen can with the license plate JCOOKS. Vergé examines crayfish alive and kicking. Freshly killed ducks from Chinatown. Broccoli on a sidewalk stand - Vergé can't resist it. He pokes and squeezes and sniffs. There was not a fish in sight recently enough deceased to please him. Michael is not taking that well.
Much to Michael's relief, Vergé finds the rex sole in San Francisco's grandest supermarket properly firm and sweet. He admires a prime rib roast as if it were a Brancusi at the very least, and orders it cut into two-inch-thick steaks - côtes de beouf, a dozen. California produce is dazzling. There are miniature eggplants and baby artichokes, tender limestone lettuce, papaya, mango and fragile, fat raspberries. Roger selects two plastic-bound blocks of bright orange cheese "pour les sandwiches." He wants
to try some bacon, avocado and cheddar on toast. No one wants to tell him that he has just invented a California luncheon classic.
A giant ceramic cow gazes down at us serenely as with grave expectancy we gather in the kitchen that first afternoon, an off lot of Chinese brides about to confront the week's destiny. Serious yet debonair in a one-shouldered apron-legacy of a Greek grandfather who once ran a café called El Gato - Michael takes a deep bracing breath. Vergé smiles nervously. And then, plunge. He is cooking again. Not too much explanation. Not too eager to say how much, how long, how hot, why or when. Clearly reluctant to invite unplumbed amateurs to plunge in.
Most of us are over our heads. Nurtured by the flat-out commands of The Joy of Cooking, coddled by the detailed specifics of Julia Child, what are we to make of Vergé, who simply...cooks? Even those among us who have learned to bypass recipes and cook by instinct, touch and smell, feel vaguely threatened with no proportions, no temperatures, nothing in print to follow or ignore.
"Michael, don't tell me there are no written recipes," I whisper.
Michael responds out loud. "I think that recipes inhibit people too much." He is either truly cavalier or simply making the best of a lost cause.
Bemused by the class panic, shy, sweet, patiently accommodating, Vergé pauses to explain. What went into the duck stock, the browned bones, the chicken wings, the vegetables. How he will sauté the barely roasted breasts of the bird in clarified butter. What he has done to the crayfish. The sauce...how it begins with shallots in sherry, reduces over a flame till the liquid disappears, then more sherry, reduced again. Reduction. Reduction. The beginnings of his demi-glacé...The last-minute butter swirled in to make the sauce shine.
Vergé peppers.
"How much?"
"That much."
He nutmegs.
"How much?"
"A bump and four grinds."
"Oh, no... all that butter."
He lops a half-pound lump off a five-pound block. "What about cholesterol?" asks an actress-pupil.
"It's not the butter that's bad for you," Roger replies. "It's butter blended with flour." The actress stares, eyes wide, wanting to believe. Champagne is served. Salad comes out of the drier.
From humble peons in the kitchen, we become royalty at table. There are candles everywhere, and an extravagance of
bright flowers, fragile crystal, precious china. Co-owner and maître d' Billy Cross is in black tie; the waiters are spiffy in gold-braided officer's-mess uniforms, delivering parade of Napa wines to taste. And the fruit of Vergé's mystifying legerdemain: the sublime crayfish in their delicate buttery bath, the tender rare duck in its sherry-haunted sauce.
And so it goes. An academic exercise quickly blossoms into a house party, escalating finally into sensory blitz. Buttery croissants at breakfast. Sublime cheese at lunch. Vergé's tarte tatin made with High Tree's own walnuts. We are learning the technique of his fragile vegetable timbales, the simple sorcery of bass fillets napped in Vermouth spiked cream. The princely côte de beouf is served in slices sauced with a silken "bordelaise" of California Cabernet flavored with shallot and a hint of vinegar. Vergé's lobster fricassée stuns the mouth with its exquisite pool of butter, cream and golden Sauternes.
"If they poke us with a fork, we'll shower butter like chicken Kiev," says Diane MacAllister, an architect's wife.
Every noon and evening there are four or five different Napa wines to taste, small wines, new wines, prize-winning Pinot Chardonnays, a magnificent Cabernet Sauvignon of Mayacamas, the '72, with decades more to live, and even the celebrated Heitz '68 Cabernet of Martha's Vineyard, made from grapes grown by a class member, Belle Rhodes and her husband, for Joe Heitz...powerful with a hint of spearmint, and expensive - $30 retail in Napa if you can visit the vineyards whenever there is an hour or two otherwise unfulfilled. So it is run, sip, cook, sip, nap, sip...tasting five wines at a clip, twenty or more in a day...always a tiny little buzz on. Robert Mondavi himself breaks out a 1970 La Tache to compare with his best Pinot Noir ("That's chutzpah," someone whispers). Outside they are spilling grapes into pressers. "The grapes taste so good, why do they even bother making it into wine?" asks the class ingénue.
We stand on the roof of the handsome white stucco "Mediterranean monastery with California Mission overtones" that is Sterling Vineyard's home,
gazing over the valley beyond tiny hills of copper, red and purple pumice, the winemaking residue that will be plowed into the soil. "In a month this land will be green as Ireland," says our host. "And then it will be yellow from mustard," Belle Rhodes adds, "and then blue with lupin."
How coddled we are. The exaggerated stylishness of High Tree is reflected on the table - it is never the same. Once night we arrive to find 100 votive candles. At lunch ceramic ducks celebrate the duck barbecue. That night dozens of candles in tiny paper bags line the walks, mantles and sideboards and guard the centerpiece. The staff are in caftans. Or French jerseys. Or uniform. At night I find a daisy lying on my pillow. One afternoon a mammoth pink begonia suddenly appears in my bath. At 8 A.M., houseman Emmett does tai chi at the pool. Anyone may join. No one does.
A California journalist, never having encountered gourmands en masse before, cannot quite believe the monomaniacal obsession. At table there are heated philosophical debates...over which is the best Chinese dumpling house in San Francisco. One handsome man approaches, gazes meaningfully into my eyes, takes my hand and says; "Have I got a chocolate cake for you." In every stolen spare minute, our students rush to the local cheese store or invade the Court of Two Sisters, a bakery in Yountville with the lettered warning: "No smoking please. Butter, cream and fine pastry at stake." Even the Sunday New York Times crossword puzzle conspires, "Home on the range" is one clue. The answer: "Julia Child." The journalist hands me a cartoon he's clipped from the paper. A man is saying to a woman: "I'm your psychiatrist...don't tell me your recipes!"
And suddenly one afternoon in this boozy blur, it all begins to make sense. Vergé is breaking a dozen rules. But everything works. "He has only two cooking heats," architect jack MacAllister observes. "On and off. He does everything at full blast." How long to sauté a two inch steak?
Till it's done. You can feel it. How much butter? Lots. Wine...reduce it, reduce it, reduce it. Salt, pepper, taste. Everyone is bolder. (And at home, weeks later, unable to decipher a single straightforward recipe in my hysterical jottings, I discover I am cooking without recipes. Heady sauces, peppery and gleaming.)
There are tears over the raspberry tart Friday night as most of the first group depart to make room for the weekend acolytes. The MacAllisters want the survivors to stuff poufs down into their clothes and lie on the lawn to greet the newcomers. There are toasts to the candlelight. To the chef. To High Tree. To la vie en buerre. I'm not quite sure the weekend arrivals ever quite crack our butter sealed brotherhood. Sunday lunch there are more toasts, diplomas, no salad (it got washed with the laundry) and there's a fly buzzing Roger. "If you believe in reincarnation, that fly could be Dumaine." I muse.
Roger ponders, nods and grins. "More likely Escoffier."
The Wine Country Cooking School has lost High Tree Farm. It was sold last spring. There will be no more figs falling into our mouths. Or homegrown walnuts to stud our apple tarts. But Simca will be back to teach October 1 through 6. And the amiable and gifted Jean Troisgros of Roanne's mythic three-starred Restaurant Troisgros and I will be doing our cuisinary high-wire act November 3 through 8. Mornings will be lost in the vineyards of Napa, touring wineries and tasting, an aperitif to lazy grapey lunches. Classes will meet in the Robert Mondavi winery kitchen, then be served dinner by the reassembled "Eighteenth Century Retainers" of High Tree under Mondavi's sliding roof.