My Parisienne friend Yanou Collart, the powerful diva publicist who decades ago gave me France on a plate, sent me the news. Roger Vergé had died. Roger, the dashingly handsome host who, with his wife Denise, decades ago put the tiny town of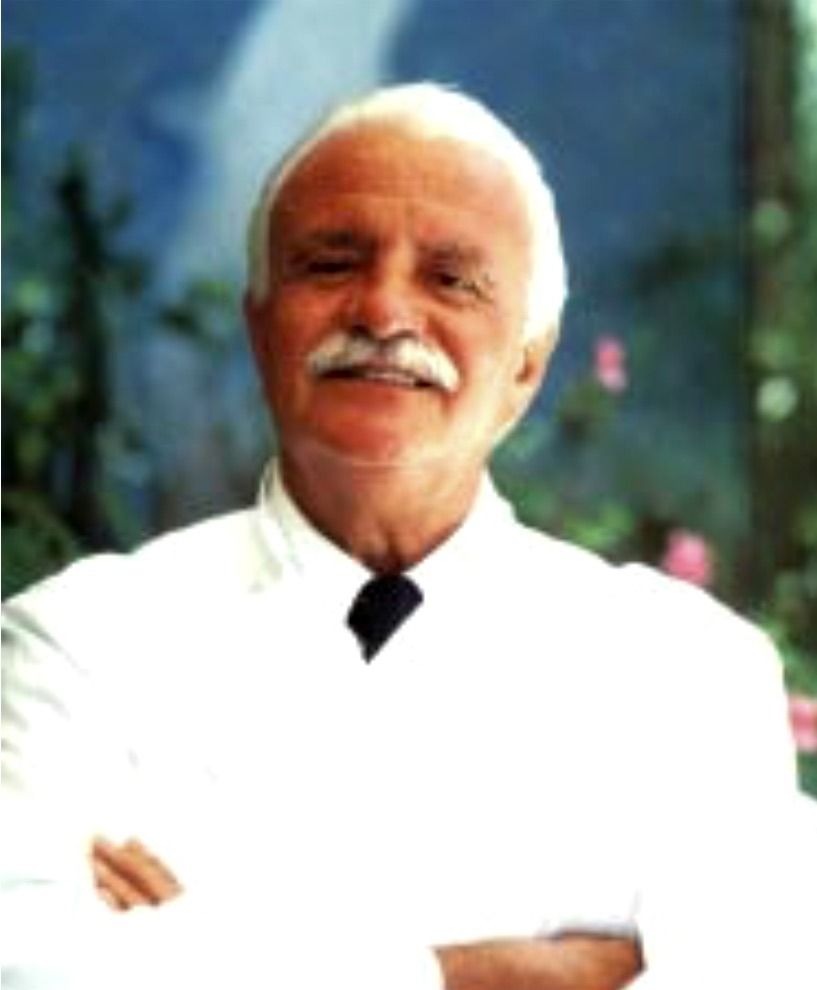 Mougins on the cuisinary map. I was not sad. I knew that the shy sweet chef with his great mane of white hair and romantic moustache - the very Hollywood image of our fantasy chef - had been barely living, suspended in the fog we all dread, for a decade. There were tears running down the cheeks of the many chefs at his farewell, Yanou wrote. Tears for memories of youth, for an innocent time when everything was new, tears for a vital Roger celebrating "The Cuisine of the Sun". I thought back to those days when many of my readers came to discover the truffle trail that we early foodies had followed for many years.
I looked up my 1972 "Status Report on La Grand Cuisine" among the vintage Insatiables on my website to once again revisit the Moulin de Mougin, a 16th century stone olive oil mill in a garden not far from the sea. Here's how the piece began:
"One beatific day in May the welfare department of New York magazine gave me a small cash advance on my liver. And off I flew to foie gras country - insatiable Alice through the looking glass, growing taller and smaller on the magic mushroom."
The Moulin had two stars then. I'd been there before after numbing detours to Bocuse and Troisgros. That particular evening, midway through the Cannes Film Festival, the house was under siege from late night diners. "But the glory of the kitchen suffers not at all." I wrote. My companion's mussel soup was scented à la boullabaisse. I chose gâteau of rabbit, tiny bones and all, stuffed with a meaty farce, wrapped in fresh pork and coated with aspic.
I recall Roger bonding with Danny Kaye when we returned -- a dozen of us -- in fall 1973 on yet another grande bouffe in two private jet planes orchestrated by Yanou for Moet et Chandon and Hennessy. Click here to read "Nobody Knows the Truffles I've Seen."
I returned to Mougins in 1974 to celebrate Verge's third Michelin star along with a gathering of chef cronies, press and food-loving friends. What could the chef possibly serve these cuisinary all-stars? I wondered. I was
amazed by his audacity. He had plotted to disarm them all at the welcoming lunch with a grand aioli. There were bowls of garlicky mayonnaise, and everything to dip in it: hard-boiled eggs, and boiled potatoes, fish and all the crudities from the market. A bouillabaisse on the beach would follow that evening. Paul Bocuse and the artist César were mobilizing the troops to simmer the broth over a fire on the sand.
In 1978 two young men, a silky turn-of-the-century style impresario and cook named Michael James, a protégé of Simone Beck, and his down-to-earth partner Billy Cross, asked me if I could entice Roger to make his gastronomic debut in show biz with an exclusive cooking class at High Tree Farm in the Napa Valley. They'd already had success with classes taught by Simone herself, Jacques Pepin, and Marcella Hazen (and would later move on to host the Great Chefs of France revelry at the Robert Mondavi winery.)
Roger and Denise liked the idea, as I described it, of being paid to discover the Napa Valley, with only a few hours in the teaching kitchen as the price. I would be flown first class to San Francisco to be the translator in spite of my fractured French. Students, mostly blue-haired dowagers, glided in from everywhere in private jets.
Our fairy tale life at High Tree is a blur of crystal and flowers and a chorus of handsome young men in striped aprons. Yet I have never forgotten walking toward the house that first morning on a path carpeted with ripe figs fallen from dozens of trees. The scent is so vivid even now, as if the whole world were nothing but fig newtons
***
Our colors today are the rose of roses and the purple of irises from the garden at the Moulin de Mougins.

***
Untitled by Any Other Name
Fortunately my friends and I didn't check online before agreeing to meet at the new Whitney for a quick tour and dinner at Untitled. We would have discovered both were officially closed on Tuesday. So here we are at 7 pm. It's drizzling, but grey daylight illuminates
architect Renzo Piano's soaring glass expanse under the museum's cantilevered entrance, up a few steps on Gansevoort Street.
With its poured cement floor, wood furniture and exposed kitchen, it could be a high school cafeteria, except for Robert Indiana's The Electric Eat aglow as you enter and a march of couturier lighting. America's "Outstanding Chef 2015," Gramercy Tavern's Michael Anthony, looks up from behind kitchen counter, recognizing me from an early dinner one month ago.
"I thought we'd stay open to see if anyone comes when the museum is closed," he says a bit anxiously,
gazing at the spottily inhabited room.
Well, even in that rain, Meat Market shoppers, determined nocturnal nomads, and rejects from the impossible-to-book Santina around the corner have found their way to Untitled. Of course, you'll stop by for lunch or a snack before or after your Whitney tour even if you're not necessarily a big fan of the neighborhood. So click here to read more and know what to order. 99 Gansevoort Street, ground floor. 212 570 3670
***
Class Reunion: Upland Revisited
Once in a while I want a guaranteed high for the evening. It's not that I don't relish, even
revel in, being a restaurant critic. I certainly wouldn't have been torturing myself for 47 years, braving the unknown from force of habit. But now and then, I want to go to a restaurant with multiple pleasures or a specific dish I crave.
Last week it was Upland that drew me. Actually, my friend Josh thought his mother would love Upland. Yes, I agreed. Justin Smillie is constantly revising the menu, occasionally not to my taste, but full of welcome
surprises and sensory rushes. My brain immediately fixed on memories of short rib intoxication -- the outrageously rich slab of beef dressed up like a Folies Bergère dancer that the chef invented downtown and has revised.
What did we eat? What did I love the most?
Click here
to read more and follow my lead.
345 Park Avenue South, entrance on East 26th Street just east of Park. 212 686 1006
***
Once Again at The Cecil
Since my very early rave for the African-Asian-Low Country mingle of The Cecil in Harlem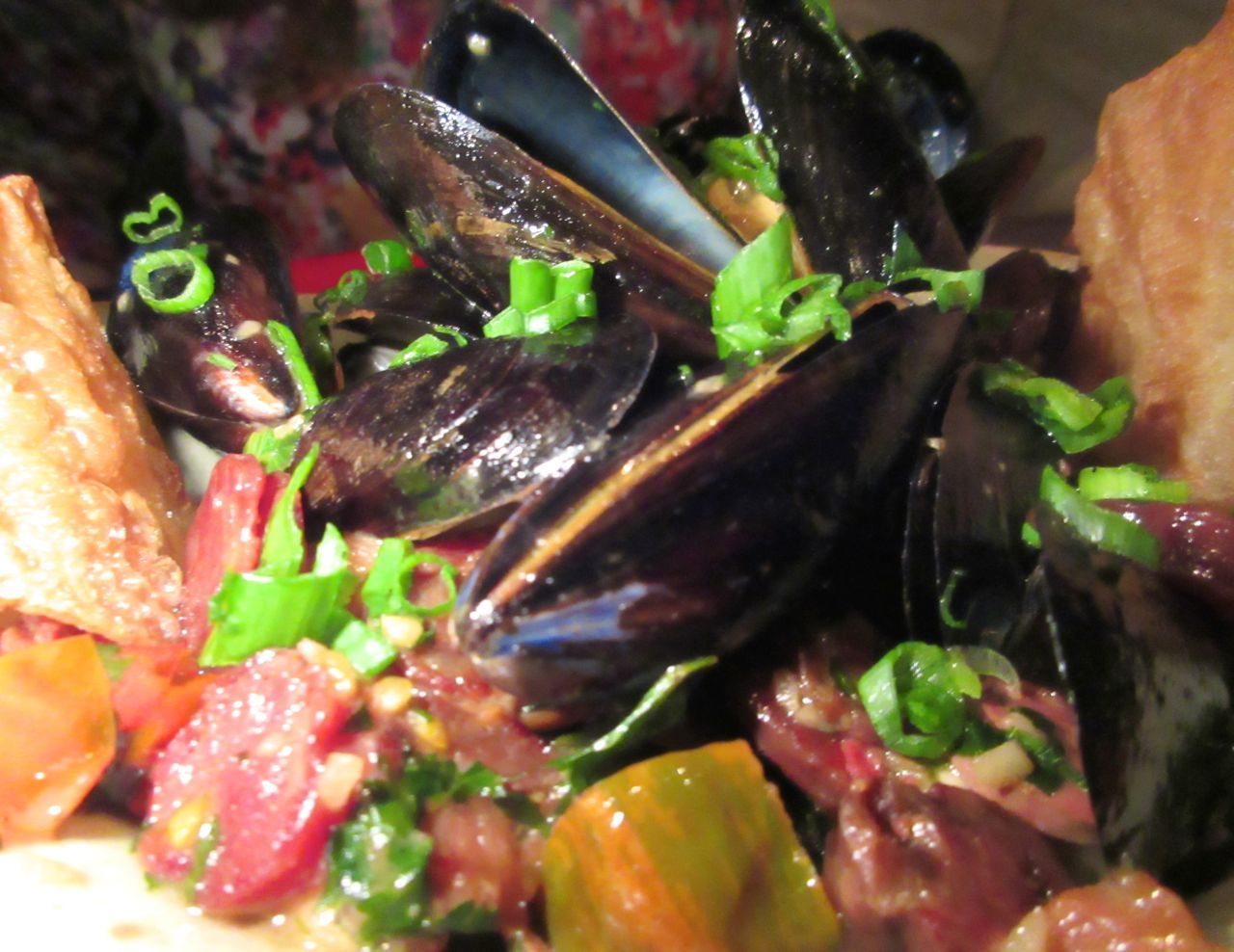 , I've been on their email list. When I got the blast about new menu items, I didn't dilly-dally. I tapped three friends who had never been and booked an early table.
So many new dishes. I survey the updated all-on-one-page menu. Broiled shrimp with a yam flapjack. West African chicken Suya with grilled plantains. Spicy crab bun. Crispy chicken
dumpling salad with lemongrass and candied peanuts. Braised goat on udon noodles. No way we can taste everything new but we'll do our best.
As we sip our "Southern Moment" on the rocks and Bedell Winery rosé, my friends and I debate our choices. Soon the table is crowded with starters to share. Our quartet really loved our dinner and plan to go back soon. You'll want to know what we ate. Click here and scroll down please for the data. 210 West 118th Street at St. Nicholas Avenue. 212 866 1262.
***
The Tao of Sharing
Restaurants are big on sharing. Some are especially keen on promising that dishes will arrive in no special order as the kitchen gets to them. A great gimmick for taking the pressure off the cooks to learn proper timing. I am now specific about how many dishes can come out at one time, so we don't wind up with platters balanced off the edge of the table. But where are utensils for sharing?
Where is the knife to divide the sinewy whatever when so often there are three delivered to serve four of us? Where are the serving spoons so we can all taste the puree below or the vinaigrette? Why do I have to ask for utensils as I did at Upland, Untitled, The Cecil, Lupulo and Clocktower in just the last several evenings? Even if you didn't command us to share, please bring serving spoons when we tell you we're sharing.
***
Talent Merges at The Clocktower

I love being on Ian Schrager's list. I can't guess what list I'm on. I'm sure it's not the A list. It could be the C list or even D. All I know is whenever Ian completes a project, a custom-made
memento arrives -- unique, striking, always of unimpeachable design, discreet, exquisitely wrapped. Recently I received a tall white box held closed by an elegant white faille ribbon. Inside was a sculpture in dark chocolate of the Clocktower Building, site of Schrager's New York Edition hotel.
I couldn't wait to eat at The Clocktower. By the time I called anonymously, I ran into the usual hot-new-spot-in-Manhattan churlishness, 5:30 or 9:30 tables only.
The Schrager brand dance starts at the tall front doors: Adorable lads greeting you as if you were Helen Mirren, asking about the quality of your day. On the second floor, slightly more substantial young men flock around in effusive welcome. It's not Helen Mirren they revere. It's me.
Enough, you say, what should I eat? Well, in
fact everything I tasted in two dinners here was good or very good or curl-your-toes-dizzying.
But you'll want to click here
for the full rundown
.
5 Madison Avenue, Entrance on East 24th Street just east of Madison. 212 413 4300