Dear Friends and Family,
As soon as I read that the flavanols in chocolate helped some older people regain twenty years of memory power in a small but properly scientific test, I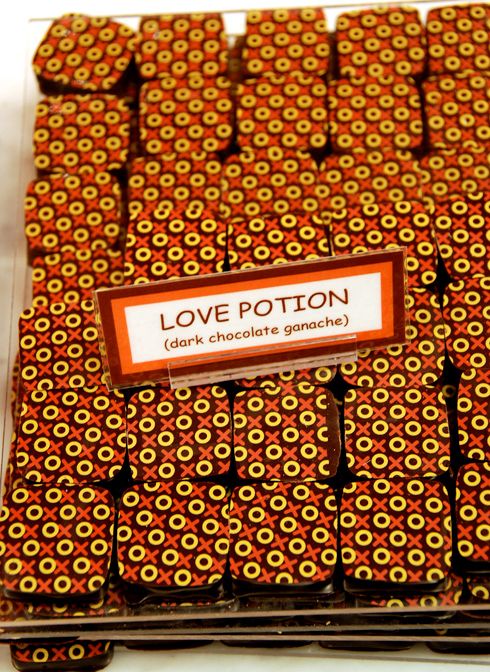 leaped into action. I had to have some of whatever that was. I immediately called Jacques Torres, Monsieur Chocolat, my local cocoa butter connection, figuring he might already be at his test tubes eager to cash in on the findings.
I could say I wrote a note to myself to call Jacques and then left it in the fridge with my keys. That's almost true. I almost always forget one thing every night of the week that I remember only when I'm in a cab driving downtown to dinner. Usually, it's earrings, sometimes it's my umbrella or the post-it that tells me where I'm going. Usually it's my phone.
At dinner, I sometimes stop in the middle of a story because I can't remember the name of an actor. I'll say: "He was the actor in those movies w
ith what-was-her name, you know." And everyone looks at me blankly, trying to read my mind. Then I'll remember fifteen minutes later or maybe an hour -- Sophia Loren. I was always a fan so why do I have a block against her name? I could google it, although I am annoyed when people keep their phones on the table and use them. I have a dumb phone so I can't even call Uber. Sometimes when I'm writing my blog, it gets so bad I have to goggle something that's sitting right there on the tip of my cranium. I type in the first three letters and there it is suddenly, jumping up in my brain.
Of course, I worry it's the first wave of the D disease. But doctors, my friend the psychologist, everyone I complain to is quick to say it's just overload,
or simply typical of the aging brain. They don't know how dependent I have become on Google.
But Jacques was ahead of me. "You should taste my 80% cocoa chocolate bar," he said. "But I can't tell you how much flavanol it has." Anyway, according to the
NYTimes
report, it's the epicatechin in the flavanol that does the trick. And, as Jacques pointed out, the process used to make chocolate taste good destroys the flavanols.
If I could have a chocolate bar that gave you 1/5th of a daily dose of the memory booster for 500 calories to eat five a day, would I choose to be fat or a whiz kid? I'm sorry you asked.
***


A Decadence of Brunch.


Our ascendance to the new revitalized
Rainbow Room
that first Sunday just after noon was not promising. An NBC audience milling about in the lobby kept us from using the designated elevator. Security, we were told. We had to check our coats on the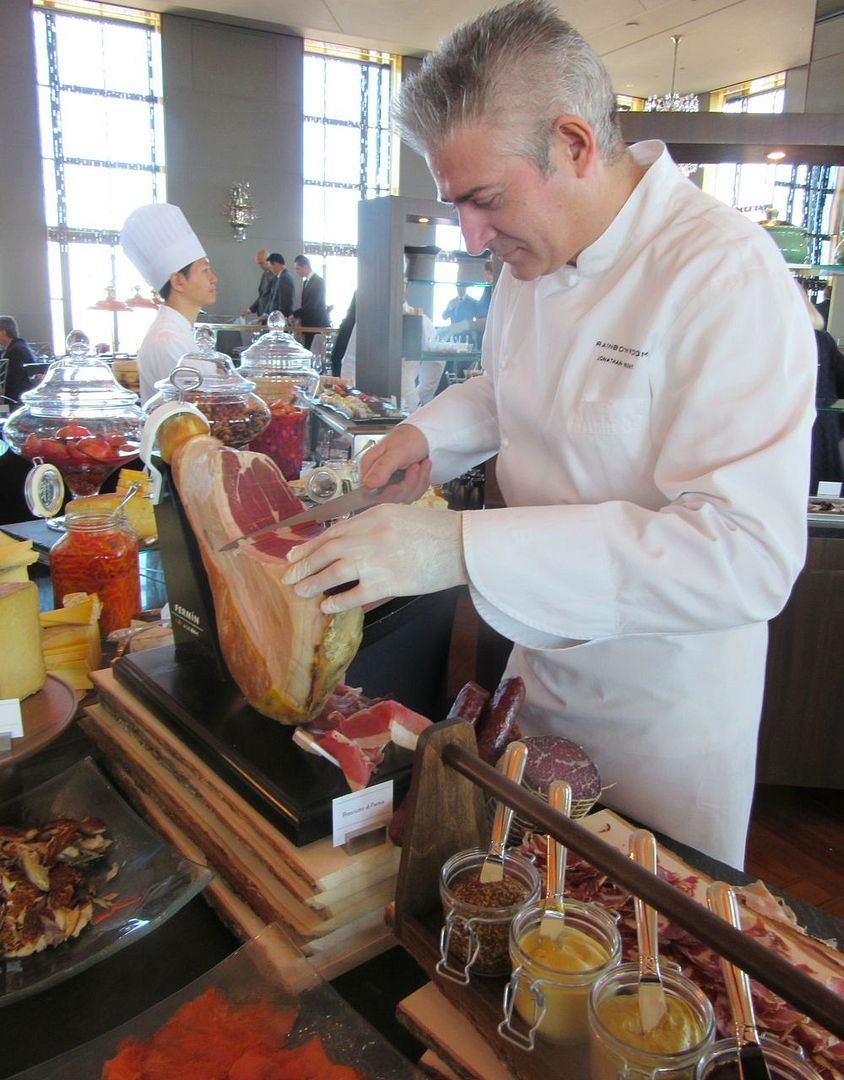 concourse and take a freight elevator, then transfer to yet another lift. Security! I was grumpy already. The truth is I've never been a brunch fan.
And then to the left, the new entrance to the Rainbow Room. As we are seated on the edge of the dance floor, I am distracted by the dense merry-go-round of the brunch buffet. It's a Tiffany of eats, a Brooklyn Smorgasbord on steroids, arranged like an octopus with dozens of chefs in white coats and captains in tunics standing inside each tentacle, ready to entice and slice, to slosh and slather.
Let me cut to the crucial questions. Did we love it? Would we go back? Was it worth every penny of $95 plus alcohol and tip?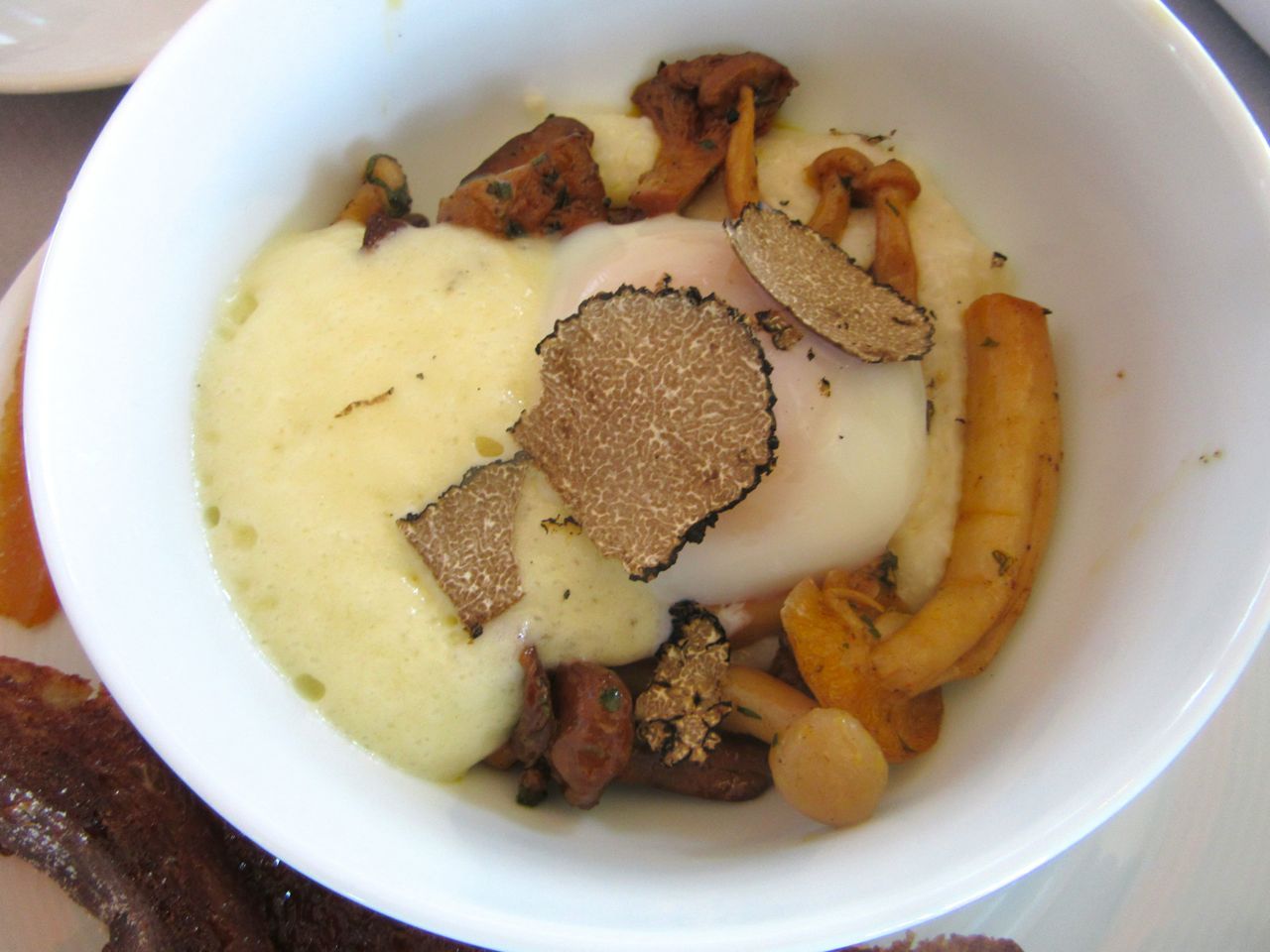 Yes and yes and yes. I can't say I'll return often. It's definitely a license to overindulge. Even if you skip what isn't really that good, there is so much that is wonderful...I went back four times. Or was it five? But you...yes go.
And click here to see what you want to eat.
65th Floor at 30 Rockefeller center between Sixth and Fifth Avenues.
***


OlŠ Brazil


The small underground lair that is the heart of
Botequim
is dark and empty. I'm bewildered. Why did the reservationist say we couldn't co
me at 7:30, only at 8...the usual new table tricks. Of course, I ignored her. I'm even early. It's 7:15. One table is occupied. The kitchen -- a rectangle of light in the darkness surrounded by the raffish black-and-white graffiti papered walls -- seems relaxed, just cranking up for the night.
There is a soft bossa nova beat on the sound system. Bouncy and sexy. Impossible to stay cranky. I can imagine I'm waiting for a hot date somewhere in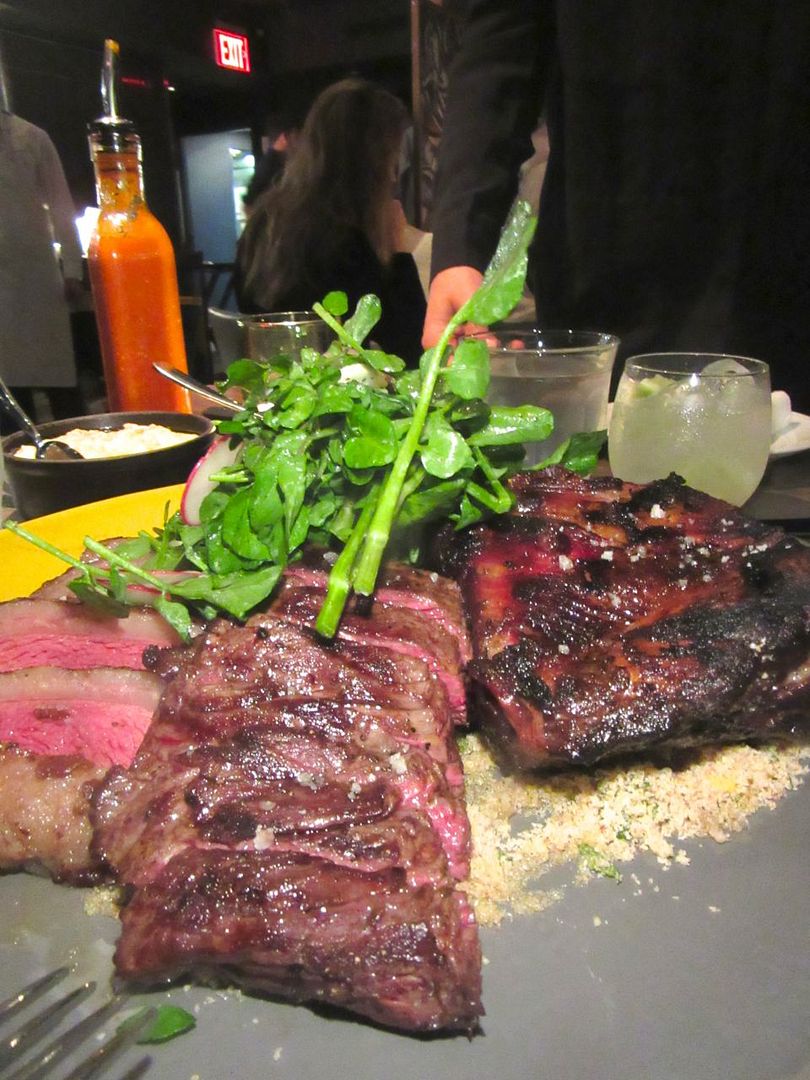 Rio, rather than the basement of the Union Square Hyatt Hotel.
My friends and I are increasingly excited as Saturday's dinner unwinds, with one delicious surprise after another. I'd asked our server to bring us little cheese breads, p"o de queijo, to eat with our caipirinhas. Pastelzinhos de carne, pastry triangles filled with beef, are wrapped in delicate pastry unlike the usual doughy empanada. And then comes the churrasca platter. We're out of control. Again. Go early if you want to avoid the crowd.
And click here to see what you'll want to order.
132
Fourth Avenue between 12th and 13th Street in the Hyatt Union Square.
***


Chaating About Tulsi


Yes, for a moment, I can imagine I am joining a Maharajah or a Rajasthani gem dealer.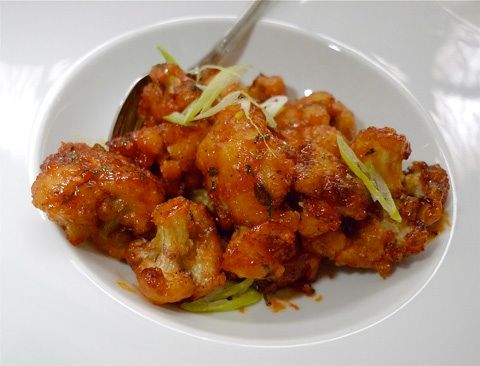 I'd forgotten the instant illusion of luxurious privilege in the sheer white curtains surrounding many tables at
Tulsi
. Okay, I dream. Maybe it is polyester.
Still, as a friend observed last week on his first visit to Tulsi, the cocoon of sheer white fabric is "a charming illusion." None of my companions tonight have been to Tulsi before. But some, like me, k
now Chef-co-owner Hemant Mathur's inspired vision of Indian tradition from his partnership with Suvir Saran at
Devi
. I am nursing a $14 juleptini. Kingfisher beer appeals to the Englishman beside me. Across from me, a Jain woman sips a mango lassi as waiters deliver the house amuse, a spicy belpuri chaat with mint and tamarind chutney. And soon our table is covered with a lineup of dishes, tandoori grills and sides and luscious breads.
Read more here
.
211 East 46th Street between Second and Third Avenues.
***


At Play in the Fields of Flushing


It's not much fun heading toward Flushing in the slog of going-home traffic. I forget that between visits. Even though we leave my place at 7, we arrive too late for a quick fix of Peking duck in a bun -- the stand is already closed.
Tonight I'm with Katie and Hagan, the
Place Invaders
, and Matt Bruck, who runs
Joios!
(They stage food & drink discovery tours). Somehow, we're all drawn to
Xi'an Famous Foods
in the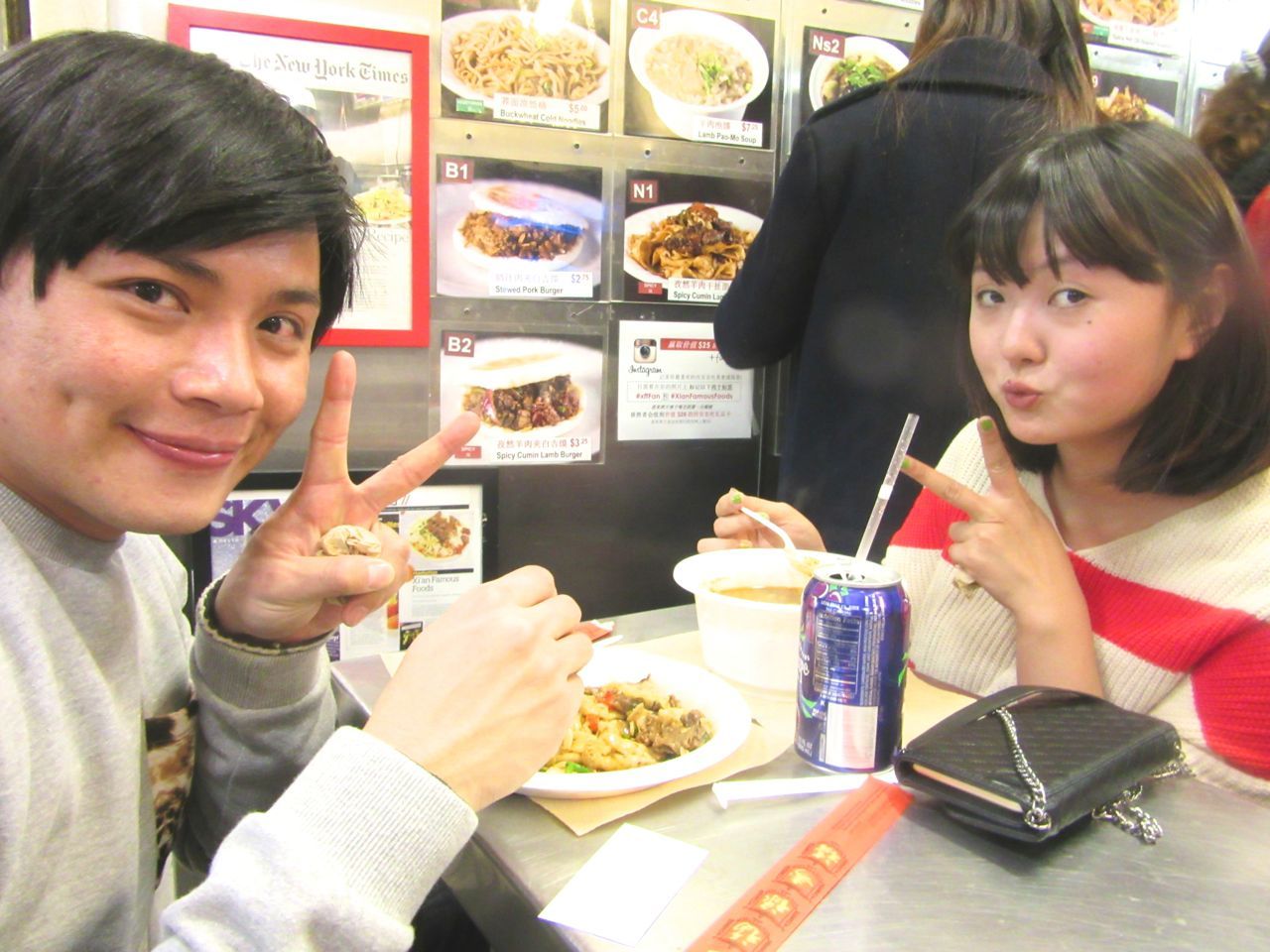 basement of the Golden Mall (
41-28 Main Street
) for an amuse before the evening eat-around. (The devil you've wrestled before is easier to handle than the devil you haven't met yet.)
Hagan wants to try the spicy and tingly lamb face salad. I have to have the spicy cumin lamb burger -- please, how often do I get here? Like the adorable couple next to us at the counter, we share the lamb pao-mo soup too. Matt goes off to fetch made-to-order dumplings.
A few blocks away at
Fu Ran
(
4009 Prince Street
,
718 -321-1363
) we score a table to sample the Mongolian lam
b chops, fatty and crisp, showered with cumin -- a Uyghur dish. Katie's choice of the triple delight vegetables -- potato, eggplant and green peppers is at least a double delight (too many dull peppers), especially that melting eggplant. Our guru, Rich the EthnicJunkie, had bowed out with a toothache but sent his picks. He recommended crispy fish but I liked the look of spicy fish in red sauce at the next table. I liked it even better than the lamb chops.