Dear Friends and Family,
Every fall about this time, New York erupts in a contagious feeding frenzy, exciting thousands of foodies -- like it or not, that's what we are, my friends, people obsessed with what we eat and in some cases, how to
cook it. Each year it grows bigger and more complex, the Food Network NYC Wine and Food Festival, launched first in South Beach, created and directed by Lee Schrager of Southern Wines with
Food & Wine
.
I was very touched when Lee, the man the
NY Post
salutes as "the consummate noshing nomad," reached out in the middle of complex logistics and invited me to choose where I'd like to eat. Of course, I longed to storm the big Burger Bash but I knew my knees wouldn't hold up to the walkathon on the pier.
That's how I came to be seated right next to the kitchen at
David Bouley's Botanical Lab
Friday
evening for his visionary event, The Chef and The Farmer.
I've been a Bouley fan and a Bouley baiter since the debut of the remarkable villa he and his brothers built on Duane Street in 1987. (
Click here
to read my review, "Vaulting Ambition."
Click here
to read my essay, "David Bouley: Magic Chef.)
Twenty-seven years later he has become obsessed with food as medicine, experimenting with dehydrated greens to cure whatever ails you. Indeed, this evening's muse, farmer Renee Giroux, bills herself as nourishingplants.com -- "Clean Food. Clean Medicine." But not everything has changed. Bouley still takes forever before he lets you take your seat. The cocktail hour stretched on into the evening (never for a minute interrupting the marathon of canapés and non-stop flow of white wine.)
Then at last, the chilled heirloom tomato terrine is rushed to the table. Bouley is a star chef who actually loves to cook. His meticulously just-cooked dayboat lobster -- evoking memories of Frédy Girardet minimalism
-- swam with hibiscus. I suspect that David plated my entrée himself. The "all-natural Pennsylvania chicken with Hudson Valley foie gras" was pure Bouley mastery. Sure, an organic farmer raised the bird to be happy and well-behaved, but Bouley taught his team how to deliver white meat, moist-beyond-imagining, and sublimely perfect foie for, how many were we, 80 or 100? I couldn't help but note that my neighbor's plate did not look as photo-ready as mine -- a Bulgari jewel setting. But the discipline of cooking was the same.
"The Big Apple's French Revival," celebrating bistro cuisine at
Benoit
with Alain Ducasse and his French-cooking friends, was quite another story. It began precisely on time. I tried to avoid the cocktail swoon and arrived after everyone was seated. Interestingly, except for Benoit's executive chef Philippe Bertineau, none of Ducasse's bistro cookers were French. Two were
from our own left bank, Brooklyn. Of course, I had to go into the kitchen to say hello and remind Alain I has first tasted his food at
Juana
before he moved into
Louis XV
in Monte Carlo, before anyone ever heard of Alain Ducasse, before he got his Napoleonic global armada marching.
At dinner, I recognized the marvelous octopus terrine of
Bâtard
's Markus Glocker on the charcuterie platter. He's Austrian. The cauliflower steak with poached oysters was cooked up by Lisa Giffen of Maison Premiere. The very French skate with green garlic and mussels came from
Montmartre
's Michael Toscano. The thrilling lamb's neck "en crepinette" was by Ryan Angulo of
French Louie
. (My friends at our table have promised ourselves, we'll make the Brooklyn detour soon.) Benoit's pastry chef did the classic quince and apple tart with crème fraîche. And everyone was home in time to watch the season premiere of "Black Dynamite" on the Cartoon Network.
Thank you Lee. And the city thanks you too for the festival's gift to the Food Bank for New York City and to No Kid Hungry.
***

Today's colors try to capture the city's leafy conflict -- orange for early autumn leaves, green for those still trying to pass for summer.

***


Aldea's One Man Show


I thought I'd sworn off chef tasting menus -- too long, so torturous, and at the most demanding level, too much food. Now I find myself sitting on a comfortable padded seat at the counter looking into the kitchen of
Aldea
, surpr
ised to find myself quite relaxed in the intimacy of its six-seat kitchen counter. There is something endearing about this one-man show by Chef-Owner George Mendes as he shares his love affair with Portugal in a $145 nine-course tasting (tip not included).
I find myself inhaling garlic and chorizo, kombu and grape vinegar. Loving unexpectedly subtle bacalao on creamy white grits with fried potato strings. Intrigued by blood
orange in various guises jewelling the veal sweetbreads.
Fickle New Yorkers fall in and out of love with two or three new restaurants every few weeks. I guess I must count myself among them. I'd forgotten about Aldea over the years. Then I got an email blast promoting the chef's Monday nine-course tasting for just six at the kitchen counter, "with custom cocktails, craft beers and obscure wines from around the world." Why not? I thought.
Click here
to read more and decide if you want to reserve too.
31 West 17th Street between Fifth and Sixth Avenues.

***


Shun Lee Sees Red


Suddenly, like a smart dowager with good bones and a skilled plastic surgeon,
Shun Lee West
is vibrant and glowing again. "Come see what I've done," proprietor Michael Tong had invited. "Come for dinner with two or three friends."
Somehow, I knew it would be red. Good luck Chinese red. After 23 years of stylish, mysterious, sexy
black, it would have to be red. Yes, it is red, bright red. The cherry red carpet with a tattoo of black dots is new. Napkins tucked into glasses bloom like poppies. The waiters' shirts are red too. Michael's tie tonight looks faded coral with all that oompah red.
We are six with Michael around the revolving lazy Susan. I'm not really expecting much after recent Shun Lee experiences with too salty, too thick sauces. Michael advises us to crack open our Shanghai soup bun and douse it with ginger threads and black vinegar. The crab-pork broth is heavenly. Now we are eating something that looks like baby food. It is fresh crab dotted with roe, delicate and exquisite, sautéed with egg white, a sensuous porridge.
Soon we are marveling at "swimming prawns" on the lazy Susan. These exquisitely cooked giants were live in the market only hours ago, Tong boasts. The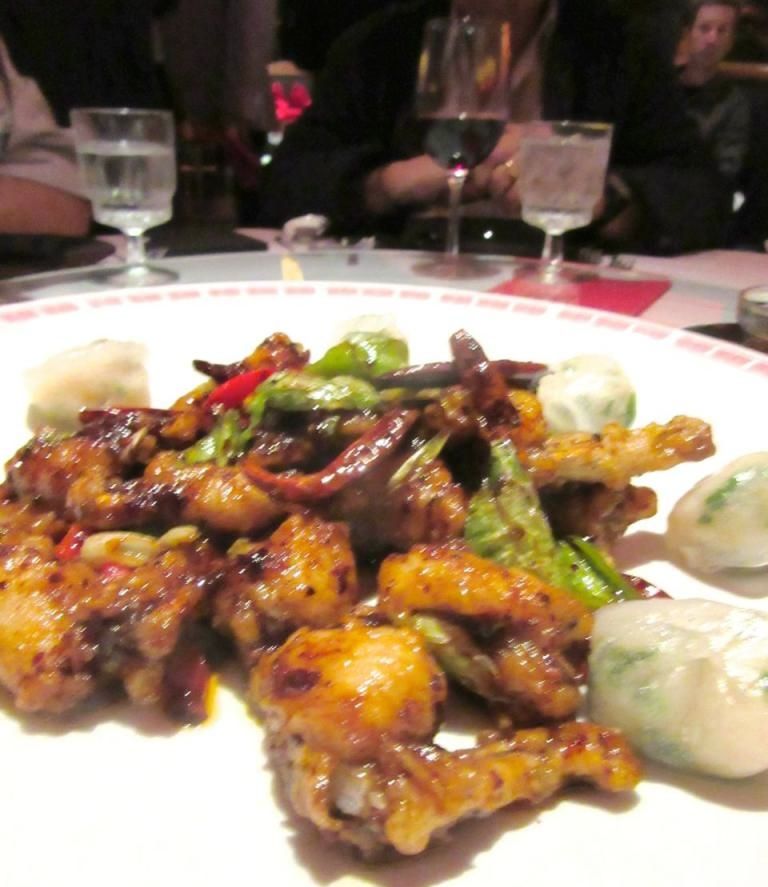 frogs were jumping in the Chinatown market too, he notes. All of us are moaning and exclaiming over these frogs in hot peppers, the lush flesh, the blast of chile. I've never tasted any frog appendage as silken. Luscious little shrimp-and-pea-sprout dumplings are scattered alongside. Is the kitchen cooking only for us? I wonder. Not at all, Michael insists.
Click here
to see the secret menu you want to ask for so you can taste these very same dishes.
43 West 65th Street. 212 595 8895
.