Dear Friends and Family,
I was right. New Yorkers were in a flea market mood last week as we wrapped up summer. I hope the week was stuffed with sybaritic pleasure for you.
Several of my treasures have found new homes. And some of you have made appointments to come by the office to look at my vintage jewelry and the vintage kitchen collection close up.
As I was writing descriptions for a new collection of jewelry I hope to post on Etsy this week, I came across a little black metal box filled with flexible fish in bold enamel colors -- royal blue, green and turquoise. It was a birthday gift from Steven who loved to fish. I have photos of him trolling for dinner from our rented houseboat on Lake Powell. And a triumphant Steven pulling in a piranha from the Amazon in Peru. We were instructed to throw it back.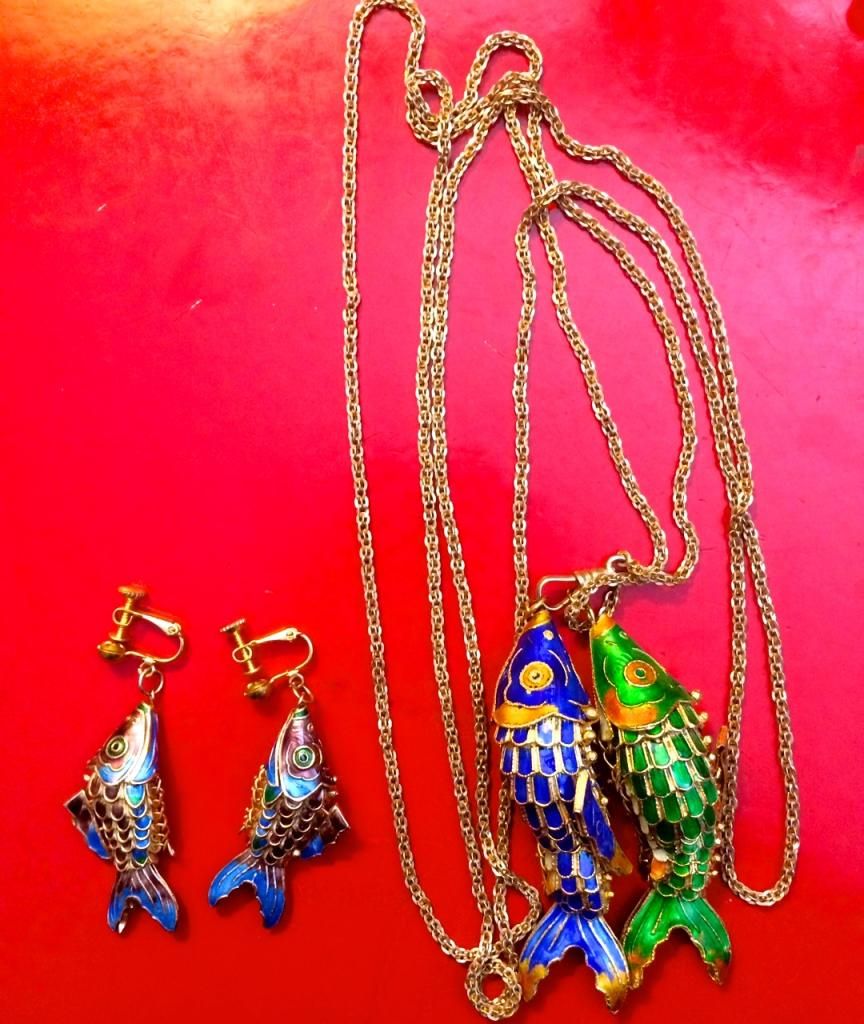 "I hope you enjoy your new hobby," his note said. There were so many enamel fishes that I wore a few times and then put away in a drawer. I have kept unmatched earrings for myself, and am selling the rest. The earrings are screw back but I have pierced ear fitting if you need them. Necklace and earrings, $85. Earrings alone, $25. I'm keeping his sweet note and the great Lake Powell photo on my desk.
***

Here with New York feeling like a pizza oven, are autumn colors. I can't wait for a breath of clean air.


***

The Essential Sausage Stuffer
If you collect vintage farm and kitchen tools, you will want this amazing black, wrought iron invention. It's a sausage stuffer, 19 inches tall from the floor to its tip. There are some decorative gold touches on the basic black. "ENTERPRISE MFG CO" is embossed on the crown and PHILA.U.S.A below. There is a number 011 on top and at the bottom on the spigot is a number 7859. $150 plus shipping. Or please pick it up.

***

Your Own Coffee Bin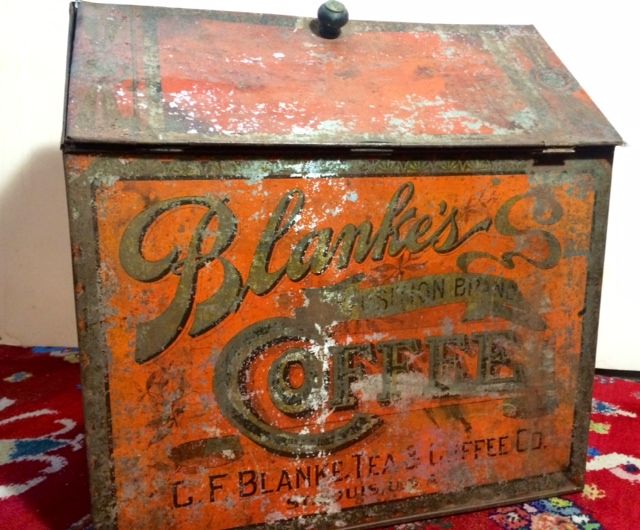 Remember when telephones were big black objects with a wheel you dialed with your fingers and you didn't carry it to dinner or lose it in a taxi? Back then in the little church on the hill near Woodstock, I used this handsome old coffee bin as a side table for my telephone. It's 19.5 inches at its tallest point, 19 inches wide in front and back and 13 inches wide on the side.
On the front is written: C.F. Blanke & Co. "Promoters of High Grade Goods. St. Louis, U.S.A." On the back: "Blanke's Coffee. Always Uniform. G.F.Blanke's Tea and Coffee Co. St. Louis U.S.A. This can is subject to our demand."
Now it's subject to your demand...$115. It's scratched and dented and missing some paint but it still looks pretty good. If you collect old tins, you'll know this one is a special treasure. The color is luscious.
***

The Indian Princess


It was love at first sight for my late ex-husband and I and this carved Indian ship's figurehead that we
installed on the wall in our little church-home. He called her "Princess Waghump." He meant it in the most loving way. She's 50 inches tall and wears a skirt of colorful feathers. We bought her from a pioneer folk art dealer named Gerald Kornblau, who was also a collector himself. I would like to sell it for $12,500. Of course you'll want to see it.
Email
to make an appointment. I keep her carefully wrapped in moving quilts in a safe place in my office.
***

Kingston Harbor


I have been remembering the days -- the years even -- when Don Forst and I were in love. We had silly names for each other and a private world in the West 73rd Street flat I still live in. We agreed we would go to Detroit to get married in my late sister's backyard. It was Labor Day weekend, 1961.
A few months later, we went shopping at the Kennedy Galleries and bought this lovely oil painting by an unknown artist. It seems to depict what was called the Upper Canadian Rebellion, also known as The Patriot War, 1837-38.
I assume the town is Kingston. On the back is a sticker from the Minneapolis Art Institute. On that sticker is a file number -- it says "lent by Wadsworth." It also says "Unknown" meaning the artist. As you can see the gold leaf frame is gorgeous. I'd like to sell it for $900. But you will want to see it close up.
Email
please
.
***

Vintage Treasures


Alongside the vintage handbags I am selling on
Etsy
, I have posted some precious antique compacts, snuff boxes, a silver match safe, and an enamel notebook, little objects I used to line up on dresser and table tops in my living room. At some point the collections from our Asian travels took over and I wrapped these little treasures in tissue and bubble wrap and put them in shoe boxes.
I was trying to make a dent in my clutter when I found the boxes and rediscovered amazing little prom cards and minaudieres that I'd almost forgotten.
Here is the
Silver Art Nouveau match safe
with its curving flowers and leaves and a monogram: JCM or HM perhaps -- it never mattered to me. $125.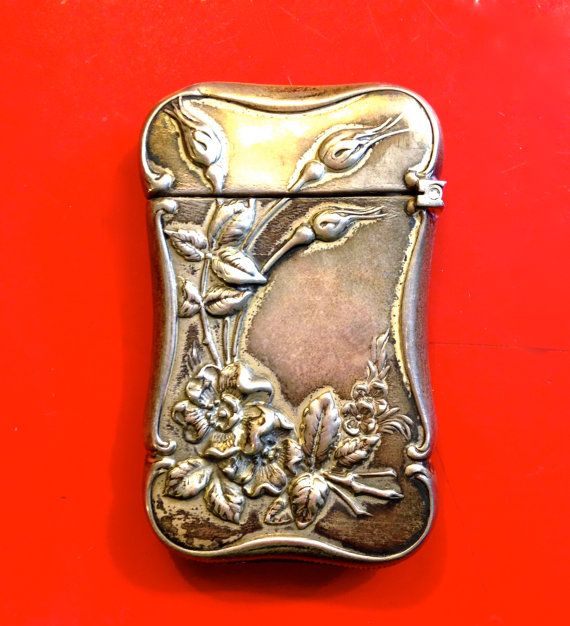 The vintage wooden snuff box
with the allover kelly green and gold plaid pattern has just been reduced to $125.
The Royal Blue enamel minaudiere
with its rhinestone-studded medallion has a compartment for a few bills or business cards and a depression for makeup which have never been used.
Click here
for more photos and information. $225.
The vintage black enamel notebook
is inlaid with mother of pearl flowers, lined in red fabric and comes with a little pencil.
See more here.
$205.
The 2.5" by 3.5"
little mother of pearl with silver fittings
is a miniature change purse on a chain. Tarnished and treasured. $125.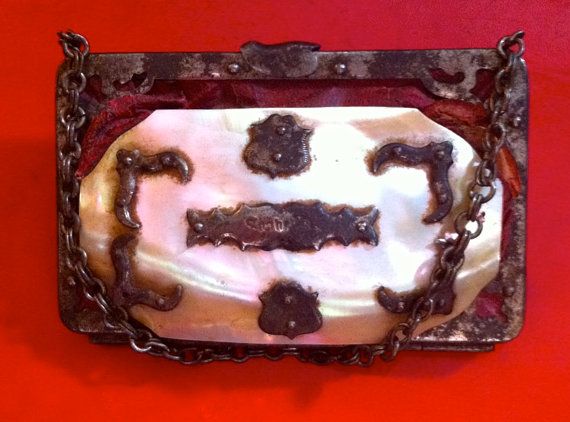 If you decide to check out these small keepsakes or
my Etsy site
, you should look at the handbags too, most of the beaded ones are one of a kind, made by the women who wore them. I recently uploaded a favorite: Covered thickly with black caviar beads, the ivory Bakelite frame is partially covered with bright green shagreen. I've never seen anything quite like it.
See more here.
$350.