Wedding Night Sex. Cherry Sizzles. Melibea Cruising. Cull and Pistol. Rock It.
Dear Friends and Family,
Usually I can resist Huffington Post come-ons. "Six women reveal what wedding night sex was really like." That stopped me. HuffPo wondered if couples living together for months, years, decades before the wedding, still found a spark. I started remembering my wedding night at the St. Clair Inn.
We were 60s cohabitors, Donald and I. I think it's safe to say sex brought us together. He was on the night shift at the New York Post. I was on the day-side. We met at breakfast. I had to threaten him with abandonment to get him to le
t me move in. Amazingly, in those days, that worked. We agreed we would never marry but would stay together as long as it was good. Then I went to Los Angeles on an assignment for a month. The evening I returned, he proposed. I didn't know what to say. I thought we had a deal.
The tensions of our modest wedding in my sister's suburban Detroit backyard made it difficult to breathe. Anxiety about Don meeting my eccentric family all in one fell swoop. His mother as sweet as treacle (of course we had to invite her). The Gothic Arch debacle -- I'd asked the florist for a Gothic Arch and found four white poles stuck in the ground looking like fat Virginia Slims. "I should have known no one in Detroit would know what a Gothic Arch was," I raged.
Don looked terror-stricken but handsome, deeply tanned (working nights will do that) in a dark gray pinstripe suit from Brooks Brothers, his first new suit since his high school graduation. It was all so unnerving that afterward, when we arrived in our honeym
oon suite at the St. Clair Inn, just for the night -- the real honeymoon to Italy would come in fall -- we immediately called room service and ordered six desserts. All of them bordered on inedible. We ate every one.
I don't remember the sex. I'm sure we somehow managed. I can't believe we didn't. Probably I was on top. I wasn't a food writer yet, but I would be. It's the pastries I remember: the sloppy peach pie, the too-sweet chocolate layer cake, the glazed strawberries with ersatz whipped cream on an island of spongy chiffon. Stop. I can't go on.
***
For our colors today, this wild mix of almost-cherry and turquoise made me feel happy.
***
Cherry Sizzles
There's nothing subtle about Cherry, the newish subterranean hideaway adjacent to the Dream Hotel. Cherry is cool. Cherry is hot. Cherry is sexy. I am wondering if it's too late for me to be a cougar.
My friends and I are grinning, amused to see we are in a stage set for Fork Play. Seduction. Romance. Surprised to see so many tables of young women dressed for the kill! Where are the guys? I wonder. I reach for the cocktail list and contemplate the calvados sansho pepper-dusted fuji apple of the "Ringo Star." Instead I try the Cherry Bomb: cherry jam and black pepper agave in tequila.
Like Madonna, smarter than an Oxford Don, wilier than a hedge fund trader, playing the bimbo, falling out of her bustier and garter belt, Cherry's Victorian boudoir airs by Studio Gaia -- the tufted velvet, dark-wood-framed mirrors, silk shades bathed in the rosy glow -- are a setting for ambition. South Korean-born Chef Choi weaves classic Japanese notions and French technique with Korean accents.
There's a tendency toward sweetness, as in the sake-glazed foie gras-short rib gyoza, sent by the house. But the umami wins out, and we finish them anyway. The crunch and salt of nuts saves the shrimp amandine, slathered with sweet almond paste. Want to read more and know what to order? Click here.
355 West 16th Street between Eighth and Ninth Avenue. 212 929 5800
***
Cruising at Melibea
"A Study in Tomato." Oops. I missed that. Right here on the menu at Melibea. Under salads, it lists: "A Study in Tomato." A smart-ass dish, a concept challenge. Normally I would pounce. But I was distracted trying to get everyone to order something different.
It's no cinch orchestrating four cheeky, wiseacre New Yorkers into ordering dinner without seeming too bossy, when bossy is what you are. Especially with a menu this original, so larded with a mix of irresistibles and incomprehensibles.
"Everybody just choose two things from any category," I suggest, trying to whip the ensemble into action. "I'll order last." We're still stuck on cocktails. The painstakingly curated list is annoyingly hyper-creative for me. Cava and cherry tomatoes. No cava please. Rum and rosemary with yellow Chartreuse. Rosemary and Chartreuse kill it for me. Smoky mezcal and pimentón. Double yoicks. Three of us have settled on rum and ginger with ginger beer.
We're riding a Mediterranean roller coaster tonight. Thrillin
g highs, edging into ecstasy, then plummeting to wrenching lows, before searing off to the stratosphere again. Risotto with surprisingly flavorful duck confit and cooked pear. Homemade ricotta with its own cured lemon spin. Even an old hat like hummus is lively as a Texas cheerleader. Click here to read more.
2 Bank Street just south of Greenwich Avenue. 212 463 0090.
***
Cull & Pistol
"Intrepid Bloomberg harvests a catch at Cull & Pistol" is a teaser on the front page of Insatiable Critic.com this week. I had spotted Lauren Bloomberg's enthusiastic review of The Lobster Place's new seafood eatery in Chelsea Market on her website, Knives! Camera! Action! She fell hard for the baked oysters under a veil of St. André cheese. I couldn't wait to check it out. That evening I met friends at Chelsea Market.
I had imagined unleashing myself in an oyster binge. But then my friend Barry spied the $75 lobster-clam roast for two on the menu. Perfect for the three of us. While waiting, we divided a lobster roll and an order of fish and chips -- the fish wondrously crusty, the frites better than most. I even had one plump, briny Widow's Hole beauty while waiting for our roast. It nestled in ice, alongside a tumbler of mignonette and another of cocktail sauce topped with fresh-grated horseradish, as regally as if it were a dozen oysters and not just one.
We'd already sampled the house focaccia when our waitress dropped off the garlic toast. The batch of sea creatures stuffed into the big black iron pot that arrived next was beyond imagining: Easily a two pound lobster on top and floating alongside, giant prawns, fat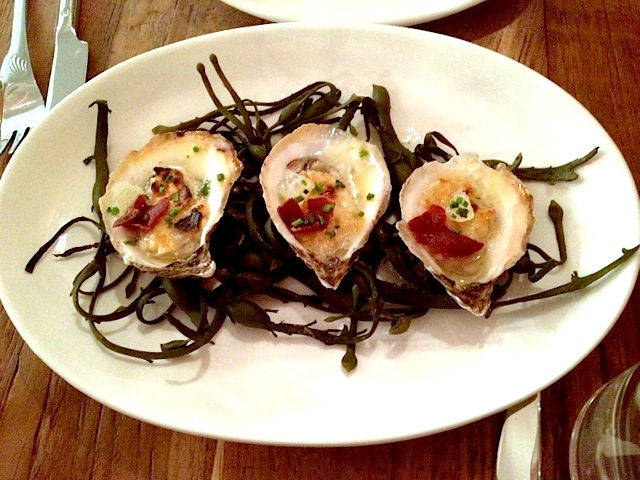 mussels perfectly cooked, some clams; underneath, more shrimp, fingerling potatoes. The slightly dried-out chorizo had given its all, adding a great meaty edge to the fabulous broth. I dragged my lobster through leftover tartar sauce. The corn was the only disappointment, but one no one expects great corn on the cob so early in the season.
I promise you that the three of us, legendary gourmands all, never stopped eating. But finally, I detected a certain nervous lull. We were loath to surrender the rich bounty that remained. I asked our server if she would remove the critters that remained from their shells and put them in a jar with some broth. "It will be great tomorrow with some pesto on pasta," I suggested to Barry.
"It was perfect for breakfast," he emailed me the next day.
75 Ninth Avenue. 212 255 5672
***
Rocking at The Rock
This year, chef stars from the East and West Coasts will gather Monday, June 10 with winemakers and our favorite mixologists in the garden at Rockefeller Center for "Rumble at the Rock" to benefit Citymeals-on-Wheels.
For 28 years, Nick Valenti, boss of the Patina Group, has been producing this sprawling festival of deliciousness on the esplanades, in the garden and in his restaurants at Rockefeller Center. His inventiveness and generosity have helped us deliver millions of meals to the city's frail, homebound elderly in all five boroughs. Some of our star toques are regulars -- Nobu, Alfred Portale, Joachim Splichal, Charlie Palmer, Jean-Georges Vongerichten. Alex Stupak, Christina Tosi, Michael Voltaggio, Celestino Drago and a dozen other buzz-worthies are new to this event.
We limit guests to keep traffic flowing, but there are 27 VIP tickets left at $1200. And I have a handful of $600 entries available that cost $400 using my $200 discount. Just enter my code CMOWGG at Citymeals.org or call 212 687 1290. See you there.
***