FORK PLAY May 7, 2013
My Mother Saralee. Carnellini Corners. Lafayette Again. Seeing Stars. Wong Is Right Again. Rumble at The Rock. Nougatine Makeover.
Dear Friends and Family,
My mom, Saralee, was the youngest in a family with six children, and she always got the neck of the chicken. She couldn't wait to be grownup and get some white meat. She was a timid eater. I gave her some crab salad once, telling her it was tuna. She loved it.
"Oh Mom," I exalted. "That was crab. You loved it."
She made a face. "No, I didn't." She admitted she never quite believed she could have produced a daughter like me.
When I got to Detroit in 1976, on the book tour promoting my erotic novel Blue Skies, No Candy, it was long before Submission and Dominance would become as all-American as baseball. The critics had been brutal. I asked her how she would handle it, if friends condemned her for having a daughter who could write an obscene book.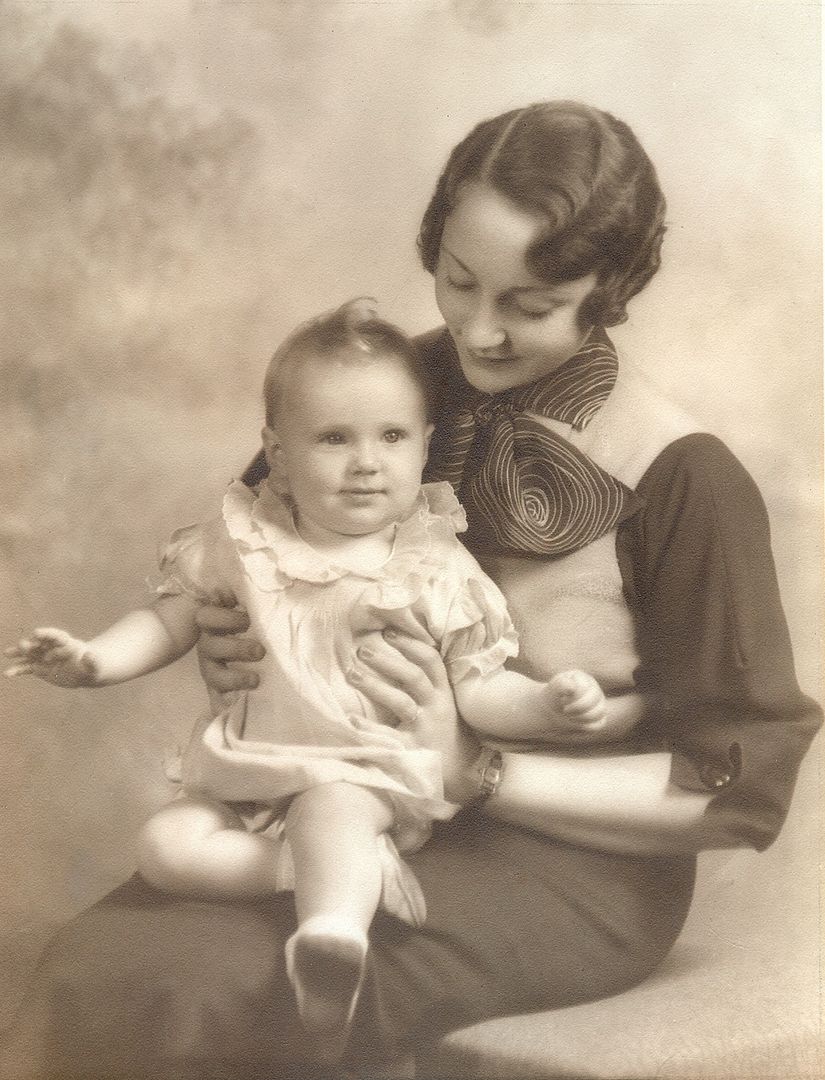 "I'll just tell them that's what you have to do to sell a novel these days," she responded. I never knew if she actually read the book till one day, driving to visit my grandmother, she said: "You wrote about the BJ in your book."
"Mom," I gasped. "Did you say BJ?"
"I was glad to know other people do it too. I always thought it was something your father invented."
My Mom died at 79 trying very hard to be 80. She never discussed death, but toward the end, after every doctor's visit, she would always ask if it was all right to buy green bananas. I think of her often. I hear her voice, reminding me to drink my orange juice.
***
Our colors today are California orange and New York apple red, to alert you to The Chefs' Rumble in the Rockefeller Center Garden in June. See below.
***
Andrew Carmellini Takes the Corners
I never paid much attention to the chef Andrew Carmellini himself. I focused on his restaurants. He is not an incurable ham, not a kibitzer given to wandering the dining room buttering up the crowd.
I went often to Locanda Verde, braving the riotous din, seduced on my first outing by the chef's homemade farfalle - pasta butterflies with clams, sweet pepper and chorizo, and the fabulous goat cheese drenched lamb meatball sliders. His celebration of American cooking, The Dutch, hooked me the first week with yet another slider. What tickled my taste buds in the first twenty minutes was a fried oyster -- full and soft and voluptuous like Angelina Jolie's lower lip - topped with pickled okra remoulade of all things (the oyster that was).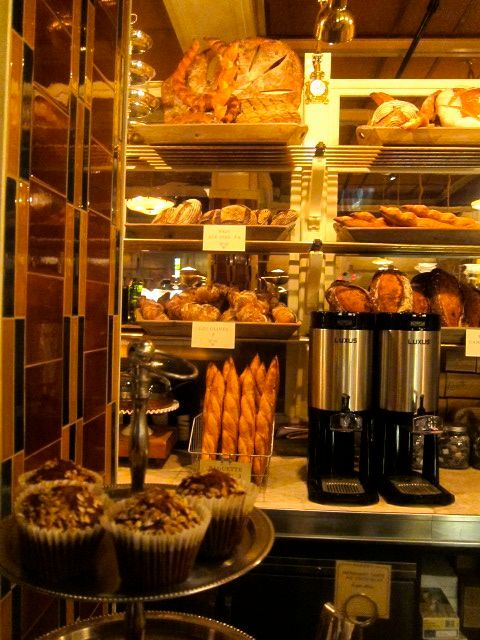 It never struck me as significant that both restaurants were on corners till Carmellini came out of the kitchen to discuss his aspiration to cook French again. He longed for a trifecta of kitchens - Italian, American, and French, for no better reason than his love of all three cuisines. And his new love child must be on a corner.
That played poetically into partner Josh Picard's plans, since he had a corner in mind on Lafayette Street, where Chinatown Brasserie never drew the crowds its amazing dim sum deserved.
Lafayette is the grand launch of the spring season (so far, anyway). The big fromages of the food world turned out, along with Carmellini fans from Café Boulud and even tourists wandering by with roll-on suitcases, sneaking in to use the bathroom. Each time I've been the kitchen gets better, and the serving crew gets perkier. Click here to read what dishes I love at Lafayette.
***
Lafayette Again. And Again.
Our town has seen three Lafayette restaurants in my 44 year merry-go-round of food writing. There was Lafayette, the cramped little fortress of obsessive sadism at 202 East 50th Street, where Jacqueline and Jean Fayet, graduates of Henri Soule's Academie of haut snobbisme, terrorized brand-name eaters, even Jacqueline Kennedy.
"
Hauteur has been elevated to unsurpassed superciliousness," I wrote in my 1970 review. Click here to read
what 50 shades of domination meant in those ancient times.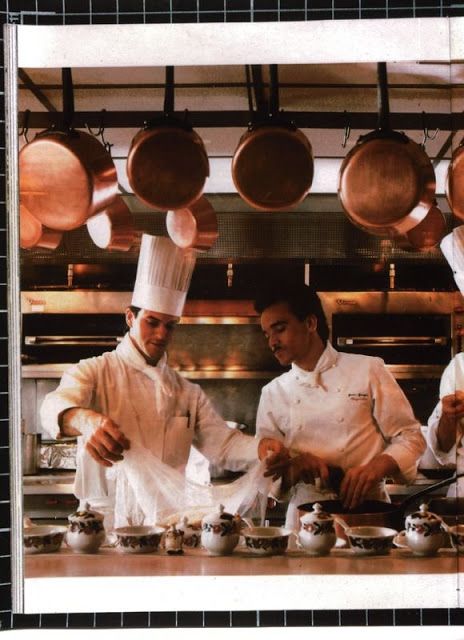 It was at the Lafayette at The Drake Hotel that Jean-Georges revolutionized French cooking in 1990. At 33, he'd already been cooking for 18 years when he vowed to dispense with the classic bone-braised stocks of the masters. "Why shouldn't Vonger
ichten divide his edible masterworks into 'bouillons,' 'les vinaigrettes,' 'huiles parfumées' (infused oils), and 'jus de legumes' (vegetable extracts)?" I asked in The Drake's Progress. "The prose is not nearly as mannered and pretentious as it might seem when you study his early spring menu at Lafayette, simply because most everything is delicious, if not downright dazzling." Click here to read it. Above, see J-G with a moustache and his sous chef Kerry Simon in 1986. The open kitchen was a radical innovation then.
***
Eating Around and Seeing Stars
I was instantly wild about Stella 34 at Macy's. If you read my review in the May Manhattan magazine, or my Stella BITE, you already know. I find it amusing that this rare jewel of serenity -- well-lit, quiet enough to talk, surprisingly upscale with quite wonderful food -- has landed in a department store.
I planned to bring snobby friends from abroad for wonderful pastas, crisp-skinned suckling pig from the rotisserie, and the cherry float with Florentine gelato and brandy-soaked Amarena cherries. I would thrill them with the close-up view of the Empire State Building all dressed up at night.
I was back at Stella last Tuesday with an ex-beau (as we used to say so delicately). I gave him the skyline view. We shared a marvelous Caesar salad with fresh white anchovies star-crossed on top, and a smart anchovy bite in the dressing. He was delighted with his branzino from the brick oven, and my tortiglioni pasta with ham and fontina cream. Yes, he loved the dinner. But he probably wouldn't come back because, after all, it was Macy's. Not even with the private elevator waiting to whisk him to the sixth floor.
I guess you've got to be emotionally secure to bring snooty pals to eat in a department store. Anyway, Stella 34 is our new advertiser. Click on their ad now so they'll be impressed. Enter through Macy's 34th Street between Broadway and Seventh Avenue. 212 967 9251
***
Wong is Right Again
Wong was bouncing Friday night when I brought two roaring foodies who'd never been. They agreed to let me order my musts: the shrimp fritters, daikon cake, toasted duck buns, rice noodles with sea cucumber and the lobster egg foo young.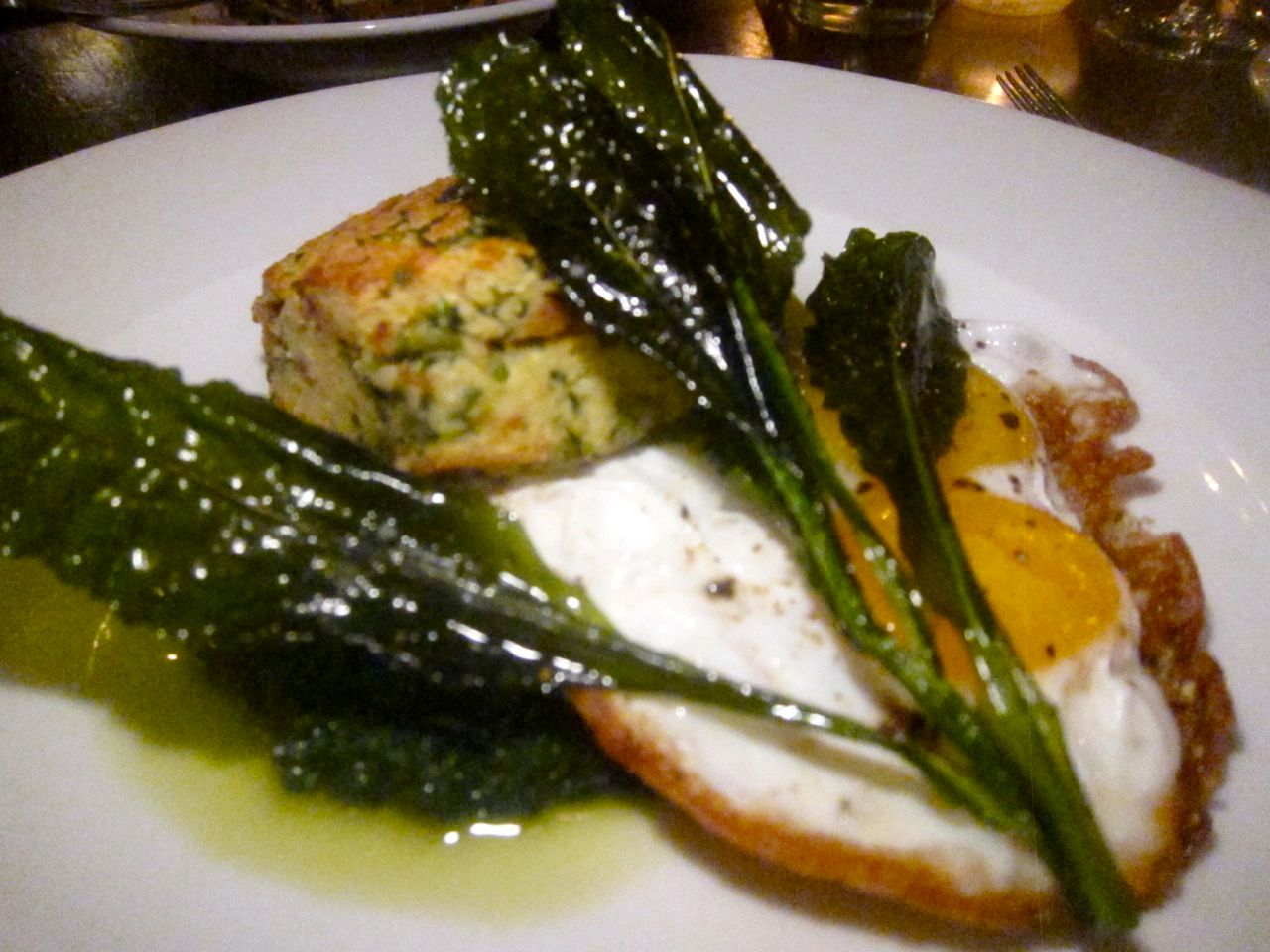 It was all luscious, as it usually is, though maybe the duck could have been jazzed up with some sauce.
Blake Joyal, chef de cuisine for Simpson Wong, and crew never stropped whirling and saucing. But he took time to deliver a new dish you see here -- ramp and spring garlic bread pudding with duck egg, fried kale, and a pesto made from nettles, fish sauce, and sesame oil. 7 Cornelia Street between Bleecker and West 4th Street. 212 989 3399.
***
Rumble at the Rock
I just saw the Rockwell-designed invitation to the big chefs throwdown, June 10 in the Garden at Rockefeller Center for Citymeals. The envelope is monumental, worthy of framing.
You should be getting it in the mail any minute. I hope your mail carrier doesn't squash it.
"Rumble at the Rock" will have California chefs squaring off against our New York State home team to do the best appetizer, the best ribs, the best dessert, the best cocktail. On the orange team will be Michael Voltaggio from Ink, the chefs from State Bird Provisions and Melissa Perello from Frances, both in San Francisco, Nancy Silverton from Mozza and more. Cooking from the Big Apple: Jean-Georges Vongerichten, Nobu Matsuhisa, Jonathan Benno, Marc Forgione, Lauren Resler and Alex Stupak from Empellon Cocina, Jeremy McMillan from the Bedford Post Inn, plus plus plus.
Buy tickets now with your credit card by calling 212 867 1290 or book at Citymeals.org.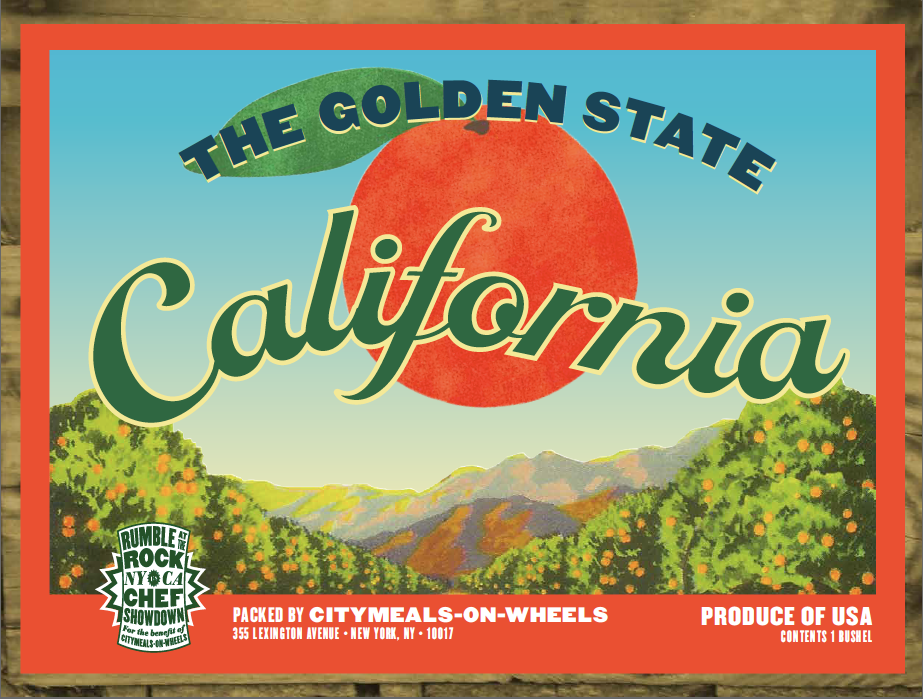 I expect the evening to be fun and wildly delicious as it always is. I'll see you there.
Food-obsessed readers will also want to check out the New Taste of the Upper West Side, three different evenings of feasting, May 29th through June lst. (See their ad here). Enter Gael in the shopping cart for a 20% discount. I'll see you there too. That's why my website is named Insatiable.
***
Nougatine Gets a Makeover
I was surprised to see Jean-Georges standing by brother Philippe at the welcome podium a few nights ago when I came to meet friends for dinner at Nougatine.
He seemed to be waiting for some VIP in the back room. Not me. I was a surprise. He stopped by to see what we thought of the new look up front by architect Thomas Juul-Hansen, unveiled that day. "We kept the floors and changed everything else," J-G told us. "The bar, the walls, all the furniture, even the plates and glassware are new." What shall I say? It looks very clean. And smart. There's also another restroom.
As for dinner, I ordered scallops on crispy rice - an oh-my-god dish I first levitated over at a back room lunch.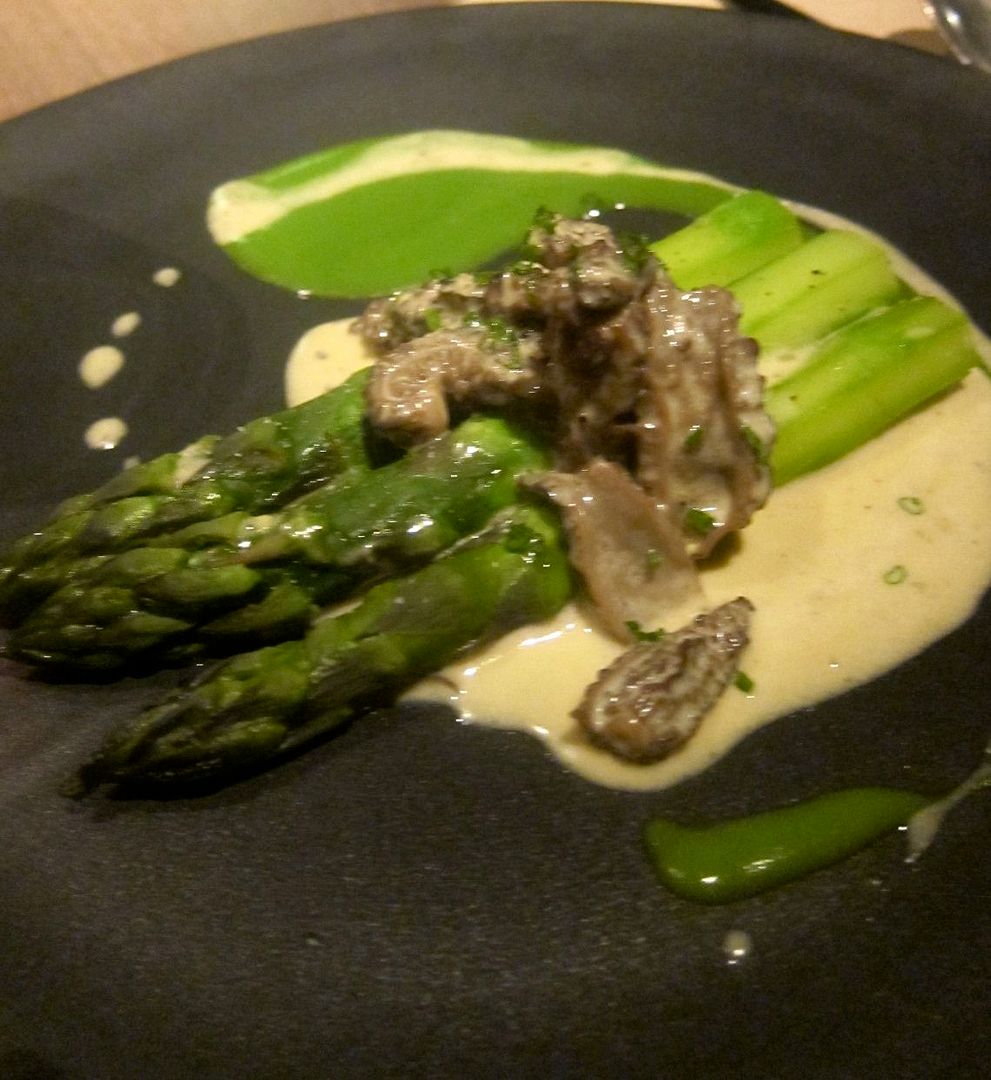 Out of scallops, the kitchen substituted raw salmon. Salmon does not have the same teasing sensuality of a fresh scallop, but it was a textural thrill to savor anyway. We skipped desserts, as I often do when I'm not reviewing. But out came fruit jells and house-made marshmallows, along with nine chocolate bonbons for the three of us. Of course I tasted everything. It's my job. 1 Central Park West between 60th and 61st Street. 212 299 3900.
Photographs of Andrew Carmellinis baked oysters Sargent and the bakery at Lafayette, The Empire State Building tower from a window at Stella34, the ramp and green garlic bread pudding at Wong and the asparagus with morels at Nougatine may not be used without permission from Gael Greene. Copyright 2013. All rights reserved.
Click here to follow my twitterings.