FORK PLAY: April 10, 2013
Foodie Top 100. Real or Imposter Carbone. Stella by Starlight. The Road to Salvation. Lincoln Detours.
Dear Friends and Family,
With originality, audacity, and aptness of thought, Samir Arora, the digital visionary behind Glam Media, Inc., revealed the company's inaugural Foodie Top 100 Restaurants of the World last week.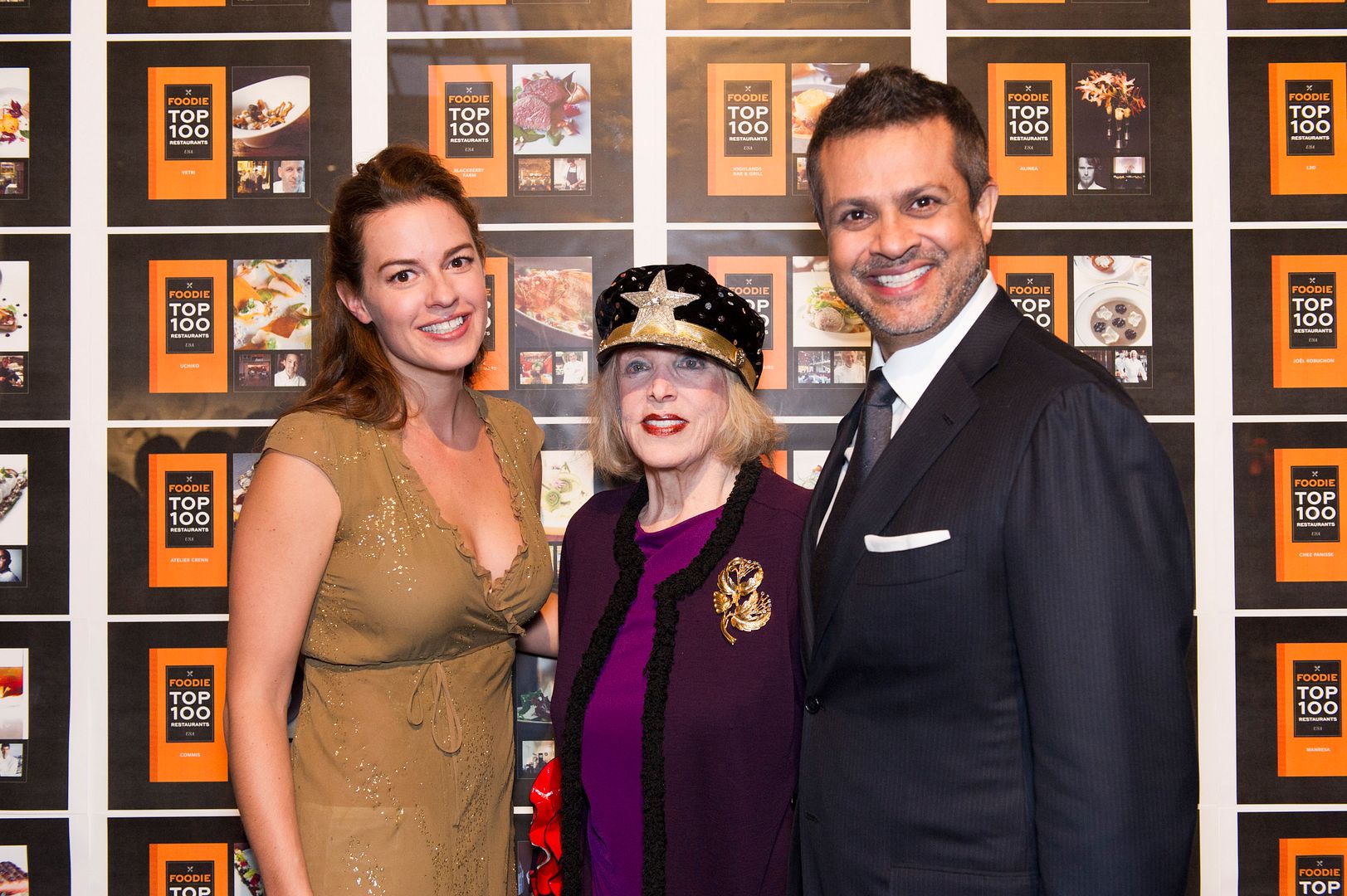 There was an invitation-only bash with modest canapés to celebrate at the Dia Art Foundation, where Arora -- that's him, on the right -- the ultimate foodie himself and a powerful technocrat, showed off galleys of the "Foodie Top 100" book Chronicle will publish this fall. He then flew off to similar award presentations in London, Paris, Tokyo, San Francisco, and Los Angeles.
The LA stop could be a little gloomy, as not a single local spot landed on the Foodie worldwide list, although some toques may be consoled to find themselves on the USA top 100.
Glam itself was the buzz for those who had never heard of Glam Media till they got the invitation.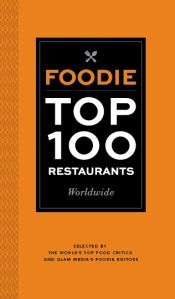 Of course they googled it to discover that the internet giant almost no one knows is #1 in lifestyle online, reaching more than 297 million monthly unique users, as measured by comScore. Its advertising revenue is bigger than Vogue's. Last year it launched foodie.com, where its top 100 lists appeared with photographs from the book to come.
And yes, as a Foodie at Glam.com consultant and editor, I contributed my nominations to the honor roll. Click here to read more.
***
Will the Real Carbone Please Shout Out
It shouldn't have taken twenty minutes waiting at the bar for me to realize that this narrow, sparsely populated little trattoria on West 38th Street could not possibly be Carbone, the hot new playpen of the ambitious duo from Torrisi and Parm.
But there it was, written on my evening post-it by my assistant: Carbone, 331 West 38th Street, 8 o'clock.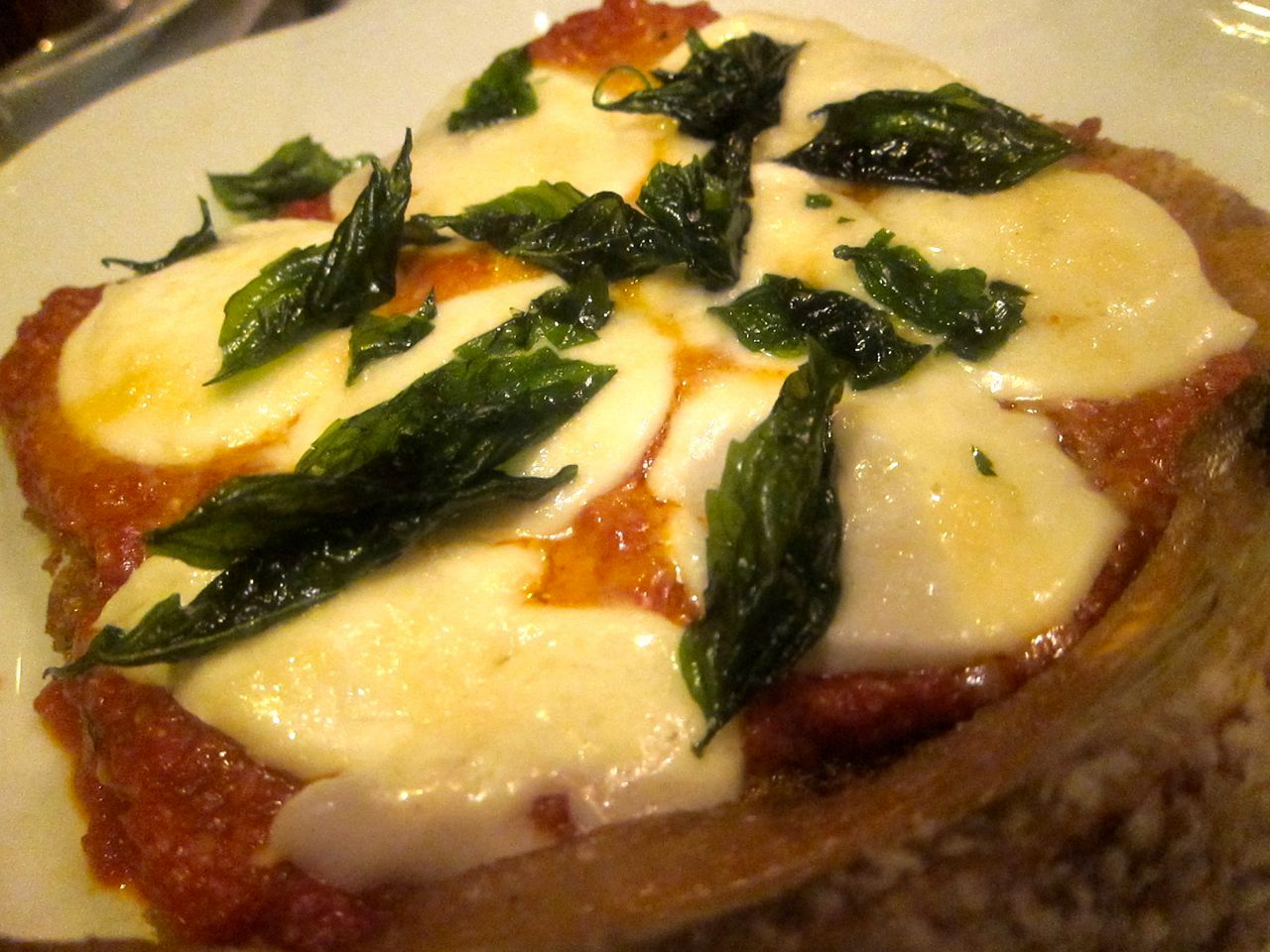 I remember looking at the solo diners, the tall men in long black overcoats coming and going, the sullen faces. Thinking...is this part of a joke? Am I missing something?
And yes. I was missing my friends, waiting for me at the bustling new Carbone where Rocco used to be, on Thompson Street. I had no idea where to go. But the grumpy owner of Carbone Ristorante Italiano, who happened to be eating a pizza at the far end of the bar, did. "Tell your friends to stop calling here for tables," he growled.
I jumped into a cab and headed toward the Village. I missed Tony Bennett but arrived in time to salute chef Michael White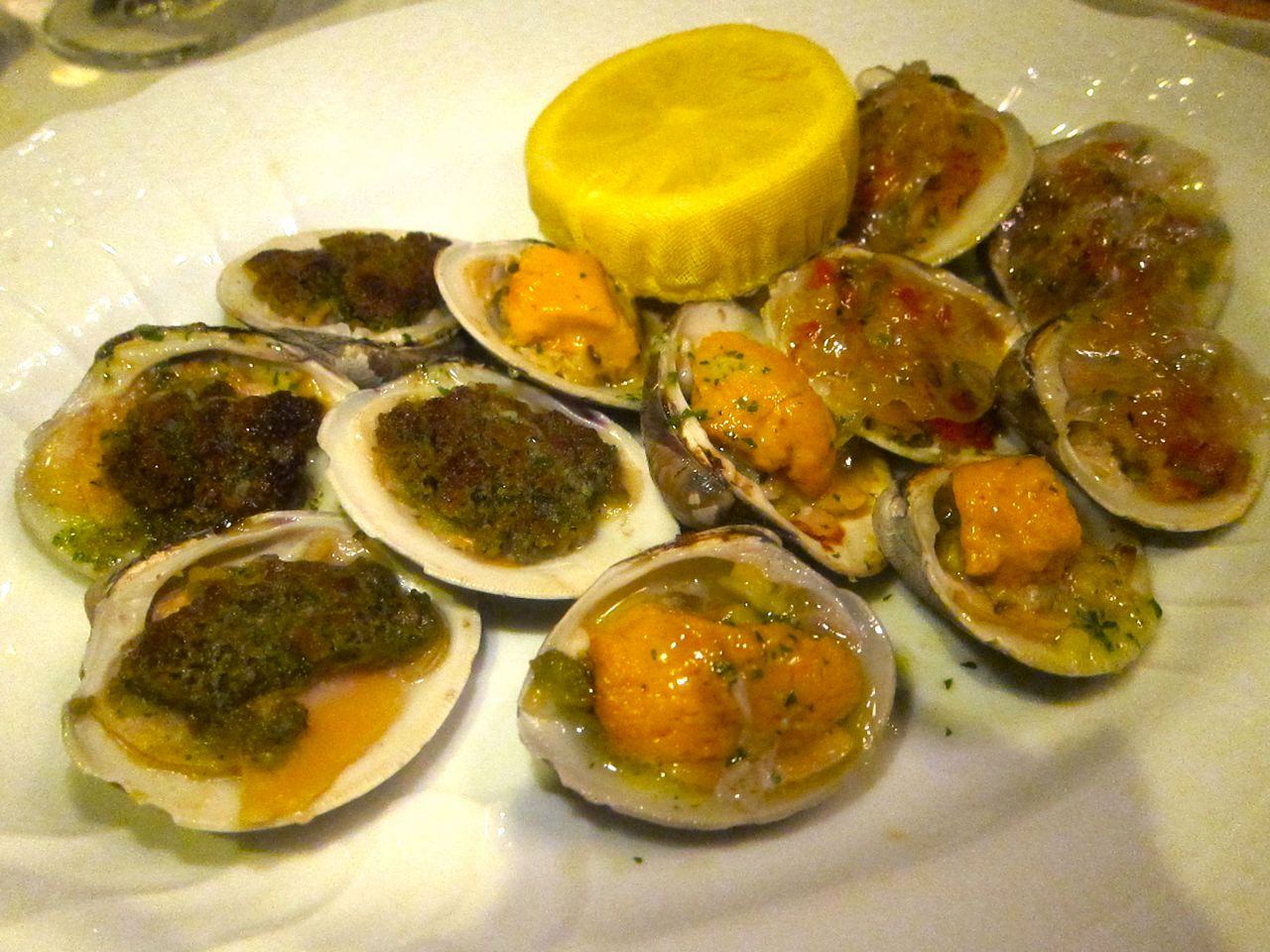 (reconnaissance tasting for three new restaurants he plans to open any minute).
So I'd missed a few of the house freebies (shades of Il Mulino), but got to taste the Chianti-sprinkled chunks of Parmesan-style cheese and the focaccia painted with a spicy tomato paste that was surely better hot. Veal Parmesan for $50? Yes, it was expensive. And yes what I tasted was mostly pretty good. Should you get in line for a table? Click here to read more about the newest real Carbone. 181 Thompson Street between Houston and Bleecker. 212 254 3000
***
Stella: A Fabulous View from Macy's
It's not just that I need to go to Stella -- officially Stella 34 Trattoria -- I'm hungry for Stella. I'm haunted by the outrageously lush lasagna I discovered at a late lunch last week.
With its seductive creaminess and the crunch of crumbs, it could make me forget Mom's mac'n'cheese. Alas, it means saving the luscious ridged tubes of tortiglioni pasta with bits of ham in fontina cream for another outing, though I've been craving that again too.
Fortunately, there's the insalata mista with shards of smoked ricotta and the brilliant verdure plate with Brussels sprouts and three colors of cauliflower for nutritional balance. I might even share a hill of peppery wilted escarole before tucking into the pork chop.
It isn't often I ask for my pork chop medium rare and get it quite so juicy and pink. The clever bits of candied mustard fruits, tossed into chunks of rutabaga and parsnip alongside the pig, taste a little bit like candy.
I've been to Stella twice and have fallen hard for its urban mix. It can be full of shopping bags and tourist moppets and smart shoppers lunching at the Prosecco Bar by day, but that doesn't seem to disturb the feel of upscale evening fuss at a window table, opposite the three wood-burning ovens. And prices are relatively gentle, with pasta and entrees $17 to $32, and wines in quartino, enough to fill and refill your glass, starting at $10.
Not yet discovered, it can be quiet at 8 p.m. As the streets darken, the staff lowers the lights, and the Empire State Building looms into view.
The young serving crew in their sneakers and sea green shirts have a just-born freshness, at least so far. They rush over smiling and run off for ice or serving spoons.
Unfortunately, our waitress seems to have been religiously trained to ask if we love the dish. Even once is too many times to ask, and four or five definitely, especially if I'm chewing.
Yes. I'm recommending Stella 34 at Macy's with a view, cocktails, specials from the rotisserie, gelato from Firenze. Click here to read the full review. Take the dedicated elevators inside the Broadway and 35th Street entrance. 212 967 9251. By Patina Group, our advertiser. But never mind that. It's worth the detour.
***
The Road to Salvation
If you hang out in the right spots, mostly on the Upper East Side and in certain posh lobbies, shops and hotels, you may see Manhattan magazine and notice that I became the restaurant critic in September. Editor Cristina Cuomo is a saint to work with, smart, hip and enthusiastic. I like the look of the magazine and that she includes fiction.
For the April issue, I focused on Willow Road, next to Del Posto on Tenth Avenue, a new spot that was looking hot and youngish at dinner, and relaxed and good for the neighborhood at lunch.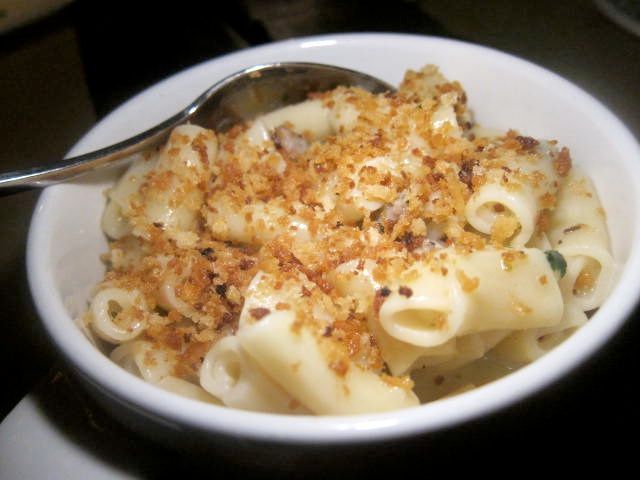 The staff was green as a ramp then. I'd like to assume they've moved on to another career or smartened up by now.
Someone with a sense of fun took charge of the look, posting vintage grocery and pharmacy boxes on display, standing a typewriter on end, and posting "BAKED BY ELECTRICITY" in baby blue neon on the ceiling over the bar. Homage to the building that once housed the Nabisco Baking Company. I surprised myself by liking the macaroni tossed in butter and olive oil with lemon and fennel pollen. The twenty greens salad with pistachio crunch was fine too. 85 Tenth Avenue, between 14th and 15th Streets. 646 484 6566
As the Manhattan headline put it: On my way to Salvation I stopped at Willow Road. That would be Salvation Taco, an unexpected deviation in style and ambiance for the shy kitchen goddess April Bloomfield and her partner Ken Friedman.
At The Breslin, their home base at the Ace Hotel, the crowd is hot.
Lobby lingerers are usually gorgeous lynxes. Here, the Bettys looked like Lena Dunham's "Girls" or worse -- Uggs, jeggings and Michael Kors totes. Perhaps all the pretty people were red-carpeting elsewhere. And tacos by April? Well, I suppose if you've ever eaten tacos you can design them. Whimsy here invents a Korean barbecue taco and one with Moroccan lamb on naan bread. Order all seven tacos lined up on a wooden board. Most of them are savory and fine. Go with someone you love so you can bite off half and leave half for him. Or her. At The Pod 39 Hotel. 145 East 39th Street. 212 865 5800. And click here to read the Manhattan review.
***
Lincoln Detours
I hadn't seen Cristina Cuomo for a while and she wanted to talk about her new assignment: creating a magazine called Beach for Luxury Media. We met in a sunny corner of Lincoln, facing the steps and the reflecting pool at Lincoln Center. She was all excited about a leather cord she was wearing. "It monitors your sleep. How many times you wake up. Your heart rate. How many steps you take." She'd bought it at the Apple Store.
I promised myself I would not buy one. I'd rather not know how bad it is.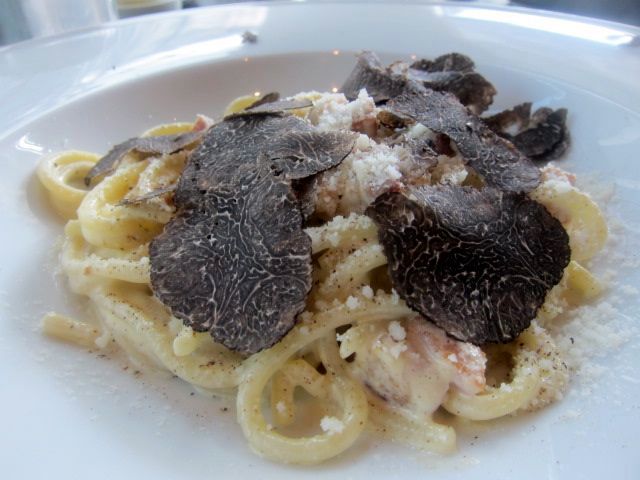 Cristina took two or three of the house's spicy grissini. I took the rest. I had every intention of ordering my usual Lincoln meal - scarola acciughe from the antipasti list and eggplant parmigiana from "Piccolo Piatti." Halfway there I caught myself. The company is paying, I thought. What do I really want? Pasta, I decided.
And scarola, too. I love the curls of escarole, and even the dreaded kale layered in a first-rate vinaigrette with fresh white anchovies and shards of peppered pecorino. My friend's seared albacore tuna with tiny black olives, cara cara orange slices, fennel and bread crumbs sounded ho-hum, but what a wonderful tangle of flavors.
Assuming her lean line reflected a fitness fixation, I was surprised when she asked for black pepper pappardelle with duck confit, arugula and grated foie gras. I would have expected steamed fish. My totally wanton spaghettoni alla carbonara with pancetta, an egg and pecorino Romano was, of course, totally in character.
Before we could lift a fork, a captain arrived holding a big black truffle and began shaving it all over the place. I grabbed my camera to catch the action. Too late. He'd efficiently scattered his riches. The scent of earth hit my nose. My toes curled.
The two of us inhaled and sighed and hmmm'd and cried out and ate the top layer of our pastas, exchanging tastes.
Then we couldn't eat another bite. Still when the waiter brought a lineup of sorbets and ice cream, we rallied. Cookies followed and caramels.
Lincoln has been saluting the various regions of Italy at dinner. It was Umbria in March. Now it's Liguria, at lunch as well. A publicist asked me to mention that. Patina Group, our advertiser, owns the place. Clearly, I am a fan of Lincoln, so I would've told you anyway. 142 West 65th Street between Amsterdam and Broadway. 212 359 6500.
***
Photographs of the veal steak and clams 3 ways at Carbone, the pork chop and the Empire State Building view, Willow Road's macaroni, the tacos at Salvation Taco, black truffles à la carbonara, and dessert at Lincoln may not be used without permission from Gael Greene. Copyright 2013, All Rights Reserved.
Click here to follow my twitterings.