FORK PLAY: March 13, 2013
No More Magical Thinking. Battersby Brass. L&W Oyster Co. Too Many Brooches.

Empellón

Cocina Push. Lunch with a Vu.

Dear Friends and Family,

August 15

th

. Steven left. Too young. So loving.
Of course, it was scary and sad and terrible. We were planning a trip to Havana. We talked about meeting a friend in Burma. To leave so abruptly a life so full of good times.
I was alone. Suddenly, I could hear the silence. In the darkness that first week, I heard something drop in the living room. I don't believe in heaven, but I do believe in ghosts. I assumed it was his spirit, saying I'm not sure what. I'm still here. Will you be okay? I'm not leaving you.
Friends had been wonderful, insisting on taking him along to dinner even when he wasn't all that presentable. Coming upstairs just for a minute to give him a hug. They sent mournful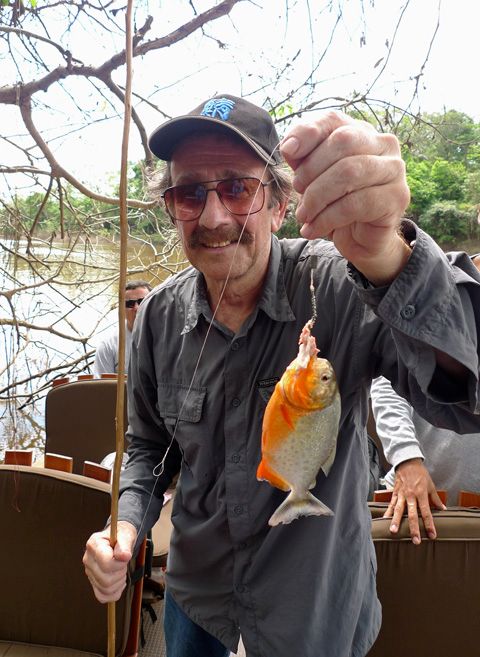 letters, remembering good times with Steven. They sent white orchids and chocolates and picked me up for dinner every night. Many still do.
I had forgotten how much I hated being a single woman. I wonder if that's why some old friends have disappeared. Do they not like me as a single woman either? Or maybe they never liked me. Maybe they don't like trading plates at reviewing dinners and ordering their second choice or waiting till I shoot a photo. Maybe I'm not as charming as I thought. Maybe they are uncomfortable seeing Steven not there. Maybe it scares them that the one they count on could die, too.
I would like to write that it's getting better. But in fact, it isn't. I do have fun with friends. Often, actually. I still join pals for dinner most nights of the week. But then I climb the steps to my door and that unnatural silence.
This morning I came into the bedroom after breakfast to look for my cell phone. The DVD player was on. The door to put the disc in was open. I was surprised. But I was not totally mystified.
***
FORK PLAY colors today just looked good to me and my new assistant Niki.
***
Battersby Brass
The table is tiny and bare at Battersby, rumored to be another bolt of Brooklyn brass. That's why we've GPS'd forty minutes to get here. Just 28 seats, counting the bar.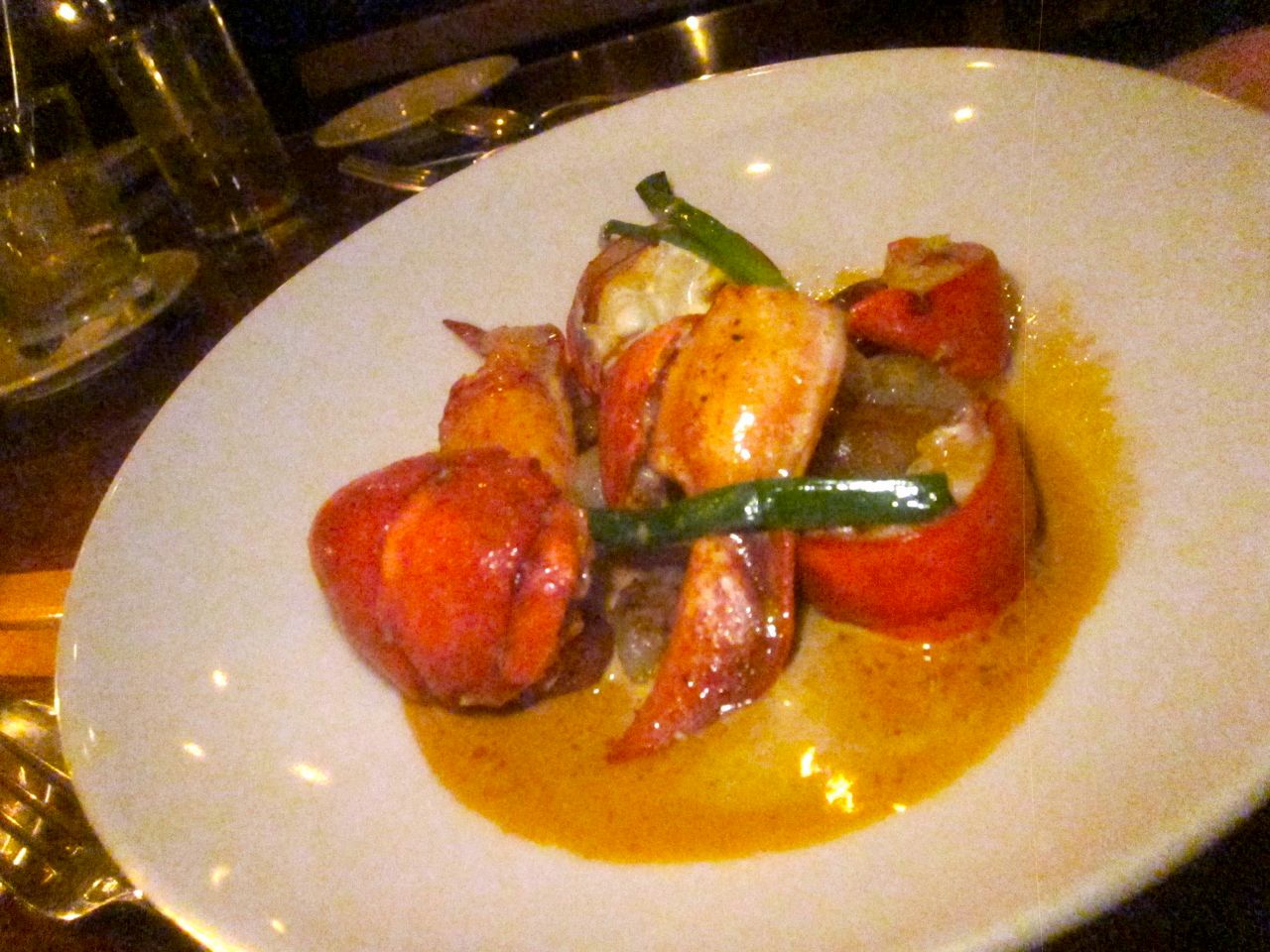 No reservations except for the "Spontaneous $65 Tasting." At least we're tucked into a tiny, bare table, unlike the hapless pilgrims ahead of us who are told to come back at 10 pm.
A friend of the house made the date. I said he could mention he was bringing me. Not my usual M.O., but it's Friday night. I feel like an adventure. Never mind the pinch-penny ambiance, who cares? I'm already impressed, inhaling and sipping the 'amuse' - yet another root soup, here tonight celery, with chestnut -- well, it's the drear of winter after all.
A stubbly mess, looking like a kindergarten art project, follows. "Homemade vegetable muesli on Greek yogurt," says our waitress. Tilt, I think, suspecting some molecular feint. Oh my. It is amazing.
I'm scraping the creamy swath and the last of the so-called meusli from the plate with the edge of my fork when a couple of breads arrive, two little browned poufs of rosemary focaccia. Hmmm. Warm, just out of the oven. I'll take that last chunk, please. Click here to read more and decide if it's worth your detour. 255 Smith Street, between Degraw and Douglass. 718 852 8321.
***
L&W Oyster Company
I guess you need to be a Hamptons regular - not necessarily conspicuously loaded or a media darling.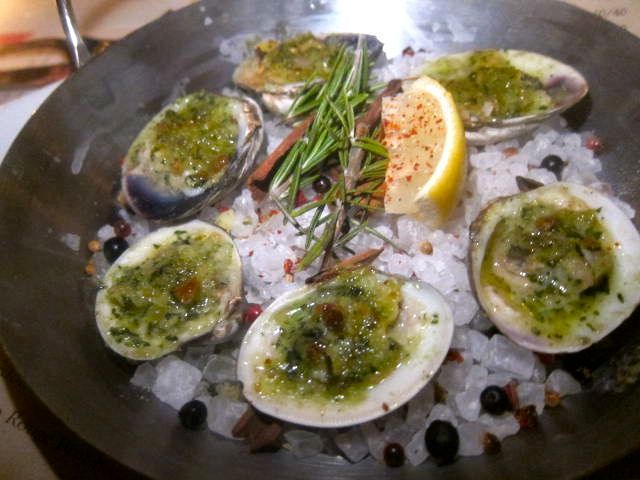 A commuter, maybe, or even a local, is likely to know why L&W Oyster Company isn't just another fish shack.
Once you get that the initials stand for Eric Lemonides and Jason Weiner and that this newest venture is just around the corner from their Manhattan Almond - a chip off the original in Bridgehampton - you'll look for more than fresh oysters and a decent chowder from these long-time partners.
You expect to be welcomed like family, because anyone who's ever been greeted by Eric twice becomes family. As for Jason in the kitchen:
You won't be surprised that between the meticulously fresh oysters and dishes that you love, will be some with more ideas than necessary.
If, like me, you eat Mediterranean half the time so you can eat like a Cro-Magnon hunter the other half, you'll start with oysters. As for the lobster BLT on toasted challah (can't avoid that bacon), what is aioli anyway but olive oil and an egg, with good-for-whatever-ails-you garlic? Click here to read more. 254 Fifth Avenue between 28th and 29th Streets. 212 203 7772.
***
Too Many Brooches
Madeleine Albright and I have a fancy for vintage brooches. She wrote a book about hers. I tirelessly switch from one to another of mine, nursing the fantasy that I can wear the same sweater all week if I am sporting a different pin every day.
Recently I found a cache of brooches I hadn't worn in years. It made me think maybe I should share them, if not with Madeleine Albright, maybe with you.
I am not an expert on vintage costume jewelry. I just know what I like. And here's what I believe.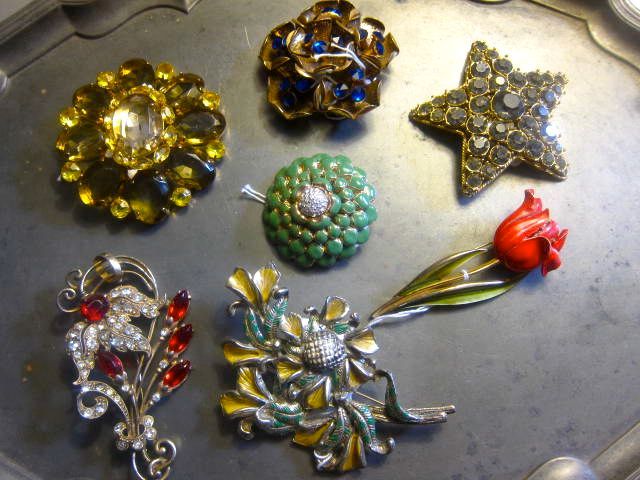 Starting at midnight in the photo above:

Vintage gold rosette with royal blue stones as stamens $125.

The 80's gold-tone metal star with big crystals or rhinestone $55.

Red and green enameled tulip signed Trifari with rhinestone-tipped stamens $95.

Large vintage yellow-and-green enamelware flower with an acorn $95.

Vintage "ruby" and rhinestone curving flower with "ruby" buds marked Staret $85.

Staret jewelry was made from 1940 to 1947 by Star Novelty Con. Inc.

The large, 90's yellow rosette seems to be glass $105.

In the center, the green enameled carnation with

the rhinestone center is marked Judith Leiber $150.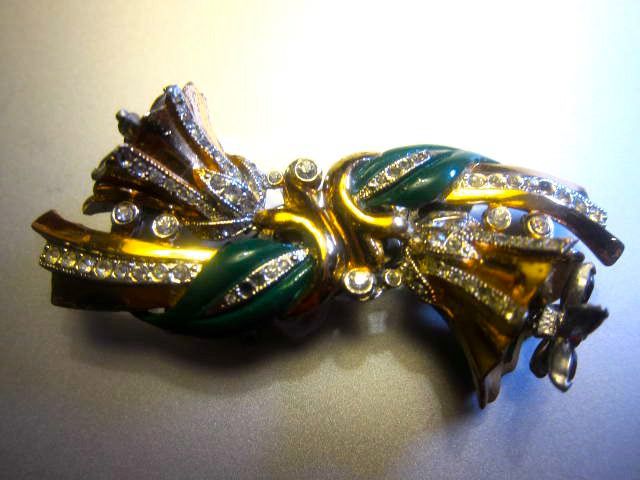 This vintage enameled bow with rhinestone-studded flowers and leaves is a pin that also separates into two clips.
It looks 40's or 50's to me but, as I said, I'm not an expert. As you can see, a few small rhinestones are missing $225.
By the way, the pewter platter is $165 plus shipping.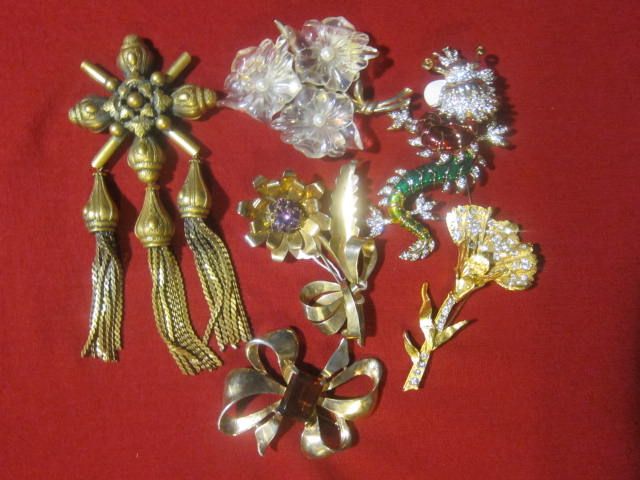 In the photo of above, clockwise from far left:
Joseff of Hollywood brooch with three dangles, signed Joseff $325 (I might sell the earrings too. Just ask.)

Three plastic flowers with "pearl" centers on gold stem $115. Fantastical red and green enamel dragon with rhinestones scales $175.

Gold flower with rhinestones signed "Christian Lacroix Made in France" $130.

Vintage "gold" bow with emerald cut yellow "sapphire" $155.

Center: Amethyst stones on long "gold" flower with sawtooth leaf $110.
Email me at askgael@insatiablecritic.com for more information.
***
Empellón Cocina Push
I am one of Alex Stupak's noisiest fans. I go to his Empellón Cocina at least once a month, taking friends.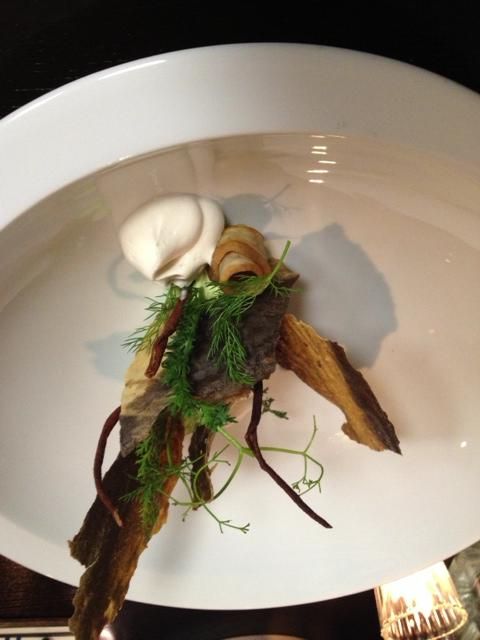 Again and again, I am stunned and thrilled by the one-time pastry chef's brilliant riffs on Mexican cooking.
Last week Alex invited me to a special tasting he was planning with Jordan Kahn, the chef of Red Medicine, and a friend since their days at Alinea in Chicago. Stupak said he missed the carefree days of being a dessert chef and the feast would mix sweet and savory.
This was his second Push project event, an occasional exercise designed to break the routine of being a chef-owner and give him a chance to cook with gifted pals.
I accepted. Maybe I should have paid the $125 plus tip.
Then I wouldn't feel so terrible saying I didn't really love it.
Early in the evening, Kahn's trout roe on rice pudding with quince and succulents was provocative - and good. And Alex's beef fibers with mustard juice, fermented tea, pistachio and arrow grass looked gorgeous on the plate. If only the strands hadn't tasted like string.
Could it possibly have been intentional?
Nine courses dragged on. It seemed forever. Here and there I was happy to taste brown butter sorbet or fabulous sorrel curd. I was amused by the Salvador Dali look of various plates, less moved by the nibbles. Granted, the non-stop dance by the two chefs was stunning. Facing the normally shaded kitchen window fully illuminated, I could watch them both bent over the hundreds of plates. At the next table, regulars like us, seemed dazzled. Alas, not me.
***
Lunch with a Vu
I invited myself to join my friend with the credentials to eat in the Metropolitan's Museum members dining room.
"Let's split something for lunch at l:30, and then see Matisse or Impressionist Fashion."
She chose Matisse and a crab cake. I chose the burger.
They were both surprisingly good.
The crab cake mostly crab. The burger truly rare and very juicy. The fries fat and crusty. Best of all, by the time we got our seat, a table at the window came free. I felt very rich. As for "Matisse: In Search of True Painting," I found it to be a master class on a painter searching for mastery. But what do I know? I'm a restaurant critic.
Photographs of Stephen with Pirhana on the Amazon, the lobster and focaccia at Battersby, L&W's Brussels sprouts Caesar, my bijoux, the sorrel curd and the beef fibers form Empellón Cocina, and the Met's crab cake may not be used without permission from Gael Greene. Copyright 2013. All rights reserved.