FORKPLAY February 13, 2013
How'm I Doin'? Arlington Club Stakes. Bill's Food & Drink. Antonucci. Daniel Celebrates.
Dear Friends and Family,
Many of my friends and peers who witnessed his reign, even raised money for his run,
were shocked and sad to learn that Ed Koch had died. Not just because it reminded them of their own vulnerability. Maybe they felt anyone that outspoken, unguarded, and narcissistic could live forever, that the joy he took in himself and the absence of stress would make him immortal.
But in a way, he cheated death with that first heart attack, and many times after. He wrote off friends who begged him not to run that last time. And when he lost, he made a rich new life. At the end, he stayed in touch by radio, movie reviews and email, even responding when one of his fans shot back agreement: "Of course I'm right."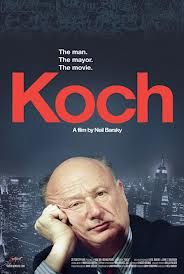 He basked in the devotion of his entourage, the Saturday lunch club at The Peking Duck in Chinatown. We met there once, long ago, so he could show me how good Peking duck could be.
It was really a good luck goodbye. He did not suffer long. He died just as the documentary Koch opened, obliterating the need to respond to its innuendoes and blows. The film's tiny jeers were quickly drowned out by exuberant headlines celebrating his unique life. "The ultimate New Yorker." The documentary emerged a small hiccup beside the grandeur of his own self-produced funeral. If Napoleon were Jewish, he couldn't have done better.
We owe a lot to Koch. He showed people another way of being Jewish. He made it a celebration, not necessarily religious. He got the shit off the sidewalk. He understood immediately why a public-private partnership with Citymeals-on-Wheels was good for him, and good for New York. We would be raising money the city didn't have to bring weekend and holiday meals to disabled, elderly shut-ins.
"Do whatever you have to do to make it work," he instructed the Department for the Aging. He smiled.
A city agency using public money broke with tradition. He loved it. He sent gifts whenever he got an honorarium for a speech. He invited restaurateurs participating in Citymeals first corporate dine-out to cocktails at Gracie Mansion. That's me laughing beside him in the film.
I knew he was making big money in his new life at a law firm. I called him there one day and told him about Citymeals Power Lunch for Women -- co-chaired by fabulous women like Barbara Walters, Beverly Sills, Liz Smith, Gloria Steinem. "We let men come for $10,000. It's fun. You'll love it."
He interrupted me. "I'm not mayor anymore," he said. "I don't have to do anything."
***
Our colors today are for sophisticated Valentines. Not classically red and not simperingly pink.
***
Arlington Club Stakes
There were about 24 hours two and a half months ago when a mere mortal with no Q rating or nightlife connections could hope to get a table between 7 and 9 p.m. at Arlington Club. Then, with instant combustion, the visigoths descended -- obsessed eaters and nightlife hotties, aging playboys, media darlings, every phylum of our town's self-styled entitled.
Chef Laurent Tournodel, partnered with a posse of investors from the club world, was back in town.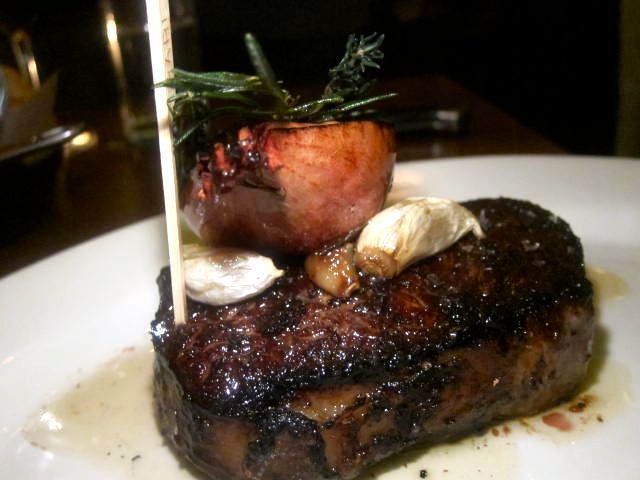 As the cunning behind the excesses of BLT Steak, this Gallic transplant had divined exactly what we want to eat. Then, in a tiff with his partner, he was out. Now, after a time of exile and starting small - he opened an LTBurger house in Sag Harbor, then positioned a second near Bryant Park -- he has arrived in the supposed desert of the gastronomically deprived Upper East Side.
The placid parlor that used to be Payard Pattiserie & Bistro, exuberantly thrown open by skylight and smartly decked-out to look like a turn-of-the-century train station, is under siege. A certain segment of our town's affluent -- locals and transients, first-nighters and eaters-in-carnivorean denial -- fight to get in. It's painfully noisy.
You shoulder in, lashed by mink flung indignantly, bruised in the aggressive scrum at the welcome stand, trampled in the scrimmage at the bar. One friend, too elegant to assert her bold-face bona fides, waited more than an hour for her reserved table. On a Tuesday.
That first night, we're so out of control we order eight sides for just four of us,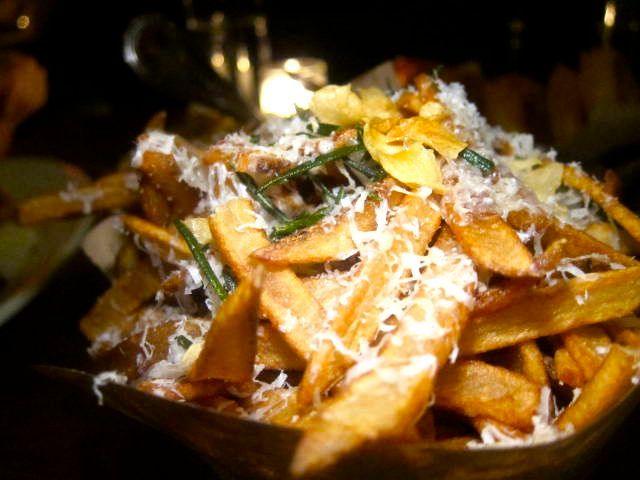 practically coming to blows over whether we really need spaghetti squash with honey-butter for vitamins when we already have Brussels sprouts with pancetta. Or shall it be grilled radicchio to offset the fat and salt of truffled gnocchi in Parmesan cream, coin-cut potatoes Arlington (crisp outside, soft inside) and devil-may-care mac-and-cheese, long tubes standing up in a cosmic emanation of smoked Gouda?
Can you put up with a measure of madness to claim a table on suddenly-chic upper Lexington Avenue? Click here to read my BITE so you can decide what you will order. 1032 Lexington Avenue between 73rd and 74th Street. 212 249 5700.
***
Legal-Illegal
I can't recall who sent me this, but I like the irony.
***
Bill's Food & Drink
I liked chef John DeLucie's food at The Lion and the food coming out of chef de cuisine Jason Hall's kitchen
at Crown, once I could hear again after an evening of torturous din.But frankly, I wasn't expecting much at Bill's Food & Drink. Just more of the same. It all seemed too agile, too aggressive, too fast, too corporate, too if-Daniel-can-multiply-why-can't-we.
For some reason, though the Prohibition-era speakeasy Bill's Gay Nineties had flourished in this townhouse on East 54th street for more than a hundred years, I'd never been there. Still, I'm always sad when another fixture of old New York fades away.
To cram 85 seats into the second floor dining room must have taken Macy's' most senior shoe salesman.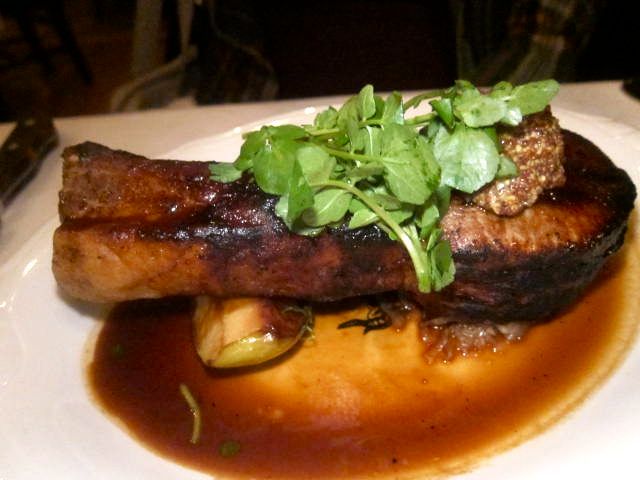 Our tiny table is pressed against the fireplace, where a gathering of fat candles takes the place of a real fire. Executive floorwalkers occasionally speed walk by, as if someone is perishing from lack of a little extra fuss. And every waiter or busboy passing through brushes against my shoulder or mashes into my arm.
So what do you know? Big surprise for me. And good news for the hungry of midtown. A lot of the food coming out of this kitchen is good and very good. Click here to read more so you'll know what to order. 57 East 54th Street between Madison and Park Avenues. 212 518 2727
***
It's Not My Local. It's Yours: Antonucci Café.
My Upper East Side pals, who fell in love with his Venetian food at Remi, were thrilled when Francesco Antonucci opened a modest café on East 81st Street in 2007. Then, with the characteristic fickleness of the over-indulged New Yorker, they drifted away.
Twice last week friends asked me where to eat in their neighborhood.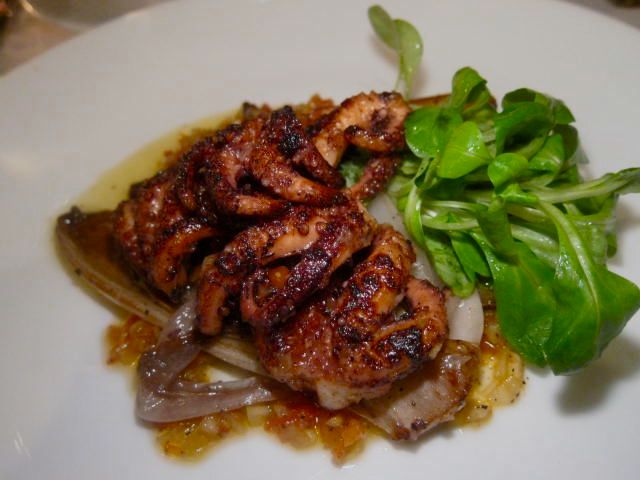 They were bored with the usual Italians, not up to the hazards of the Arlington Club, and wary of the weekend din at T-Bar. When I suggested Antonucci's, they cried, "Yes, yes, oh perfect. Why didn't I think of that?"
This infidelity scarcely matters. Antonucci's is almost always full early and reinforcements pile in as tables clear. My friend and I are lucky to score this tiny two-top shoved between two fours. "It's definitely the neighborhood," my friend observes the faces surrounding us. And I agree. I can't say exactly what it is. Something about the noses maybe. And the haircuts. The botox, the tweed jackets and the ties.
Perched at a shelf in the narrow bar room waiting for that precious table, I have a chance to marvel at the tiny kitchen. What a miracle that Antonucci can produce 39 entrees on this wintry evening - yes, that's the total listed on both sides of a single page with the day's date at the top.
The waiter warns us that our chosen bruschetta of braised bone marrow will take a while.
"That's okay," I say. "Just bring it when it's ready." Francesco has spotted me. He sends out big balls of mozzarella arancini. I'm already hopelessly involved with dipping bread into the soup bowl of whipped ricotta afloat in a sea of wonderful tomato sauce that is the house giveaway.
I guess it's rude to send back the chef's gift of foie gras. It's not foie gras I want from this too-long-transplanted Venetian. I'd take tripe in a flash. But this marvelous octopus we've ordered will do, riding in crisply caramelized on fronds of braised endive. The cavatelli loaded with a reasonable veal ragu is not bad, either.
The shimmering bone marrow on thick toast is definitely worth the wait, with or without the green sauce served alongside. But the evening thrill is the puntarelle salad. I love this pungent green, so rarely seen on Manhattan menus, partly because it's bitter and crunchy, but mostly because it reminds me of idyllic days in Rome when my guy and I would bring home wild greens from the Campo de Fiore market to toss in sublime olive oil for lunch.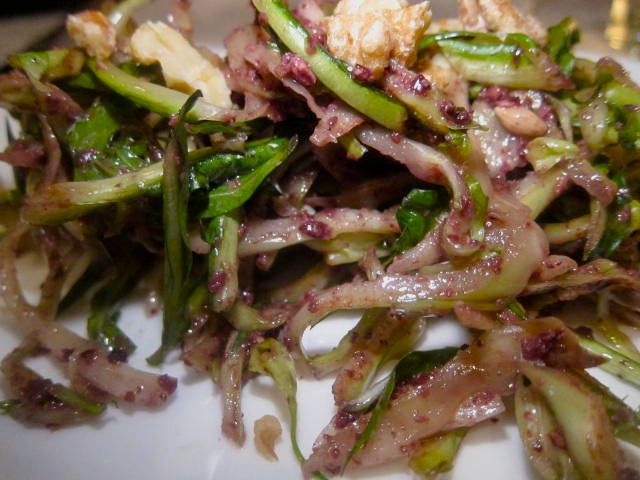 Antonucci's puntarelle -- slivered and mingling with walnut and anchovy - is an astonishment. The two of us are taken by surprise, raving to each other so idiotically, our neighbors look up to stare. By the way, Antonucci isn't as inexpensive as it used to be. I suppose nothing is. That bruschetta was $18, like many appetizers. Entrees top out at $42. It costs extra to split a pasta. Even so, I wouldn't mind if Francesco would let us take him for granted on the Upper West Side. 170 East 81st Street between Lexington and Third Avenue. 212 570 5100.
***
Daniel Celebrates his 20th and Citymeals
Daniel Boulud is a treasured member of the Citymeal-on-Wheels family. Even as he has expanded his empire globally and is often on the road being the star that he is, Daniel maintains a lifeline to the frail homebound shut-ins we feed.
Each year he dreams up a unique event on a Sunday to benefit Citymeals.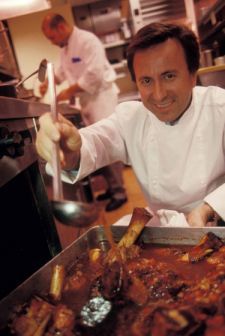 Over the years, with affluent friends jockeying for tables and outbidding each other for his priceless auction items, he has raised millions of dollars.
On April 7, the Lyonnais chef who has become a classic New Yorker will celebrate 20 years of Restaurant Daniel. Ten Daniel chefs will return to his kitchen to cook and the auction will be more compelling than ever.
Expect to taste the food of Dominique Ansel. Jonathan Benno, Matteo Bergamini, Alex Guarnaschelli. Lee Hanson, Xavier Herit, Harold Moore, Riad Nasr, Lior Sercarz and Nicholas Wilber. Seats are $1250 or $25,000 for a table of ten. For more information visit our website, citymeals.org.
***
Photographs of Mayors Ed Koch and David Dinkins, and Marcia Stein cutting ribbon at Citymeals 25th anniversary benefit at Rockefeller Center, the Arlington Club sirloin and its crispy potato ribbons, the scallops at Bill's Food & Drink, Antonucci's Octopus and the puntarelle salad, and Daniel Boulud and his chefs delivering meals to Sandy victims may not be used without permission from Gael Greene. Copyright 2013. All rights reserved.
The photograph of Koch campaigning on the street may not be used without permission from Owen Franken
.
Click here to follow my twitterings.