FORK PLAY January 30, 2013
Fairway Capers. The Marrow. Winter Sale.
EN Japanese Soars. Two Little Bakers
Dear Friends and Family,
I was a big fan of the Manhattan Users Guide (MUG) newsletter, long before the internet. Remember that innocent time before a nation of eaters yelping, before your kid naked on YouTube, before 379 new emails in the box every morning?
I was amused to discover a few days ago that MUG is soliciting ideas on how to improve the 74th Street Fairway, the original, my infuriating Fairway.
I live less than two blocks from the place. I shopped there when it was mostly a fruit market and you could gaze at David Sneddon, a partner, as he chose a ripe cantaloupe for you. That homey vibe disappeared when the company sold itself into big-time corporate play. It used to be cheaper than anywhere else, but not anymore.
I would shop at Zabar's if it weren't almost half a mile north, and not just because Zabar's is an advertiser and a supporter of Citymeals and I loved it first. Long ago, I had a crush on the late Murray Klein, the P.T. Barnum of Zabar's. And the Zabar brothers, still pressing the salmon flesh and tending the coffee beans, feel like family to me. I love their Russian coffee cake and, alas, am a fool for their babka. They also have the best rye bread, maybe the only authentic old-fashioned rye in New York City.
Steve Jenkins basks in his aura as an uninhibited promoter, but his 74th Street cheese staff are stone-faced, refusing to move from behind the counter, even when an old lady begs for help. I tried to return a block of cheese with suspicious white spots and was told: "It isn't mold until it turns green."
Fairway may be working on its image since someone photographed a mouse in the olives. Just last week, the meanest cashier in the Express lane said good morning to me. I was amused and also pleased that cracking his lips did not slow his checkout speed.
I've tweeted my response to MUG's request. I'm recommending that managers should be forced to eat every piece of non-ripe fruit the store tries to sell in its cut-up fruit section. While I watch. And double my money back for the rotten blueberries I'm returning this morning.
***
Colors today are icy winter and the royal blue of my favorite cashmere sweater.
***
The Straight and The Marrow
Now that the suckling pig has replaced the eagle as our National Bird and nose-to-tail is the new national sport, more compelling than baseball, there comes The Marrow.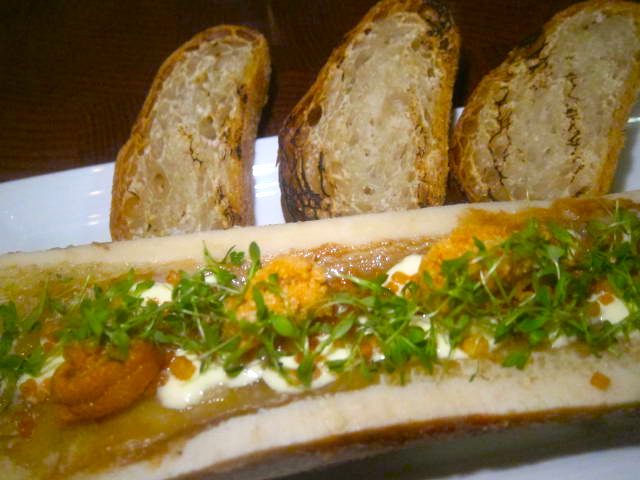 On some menus bacon just sneaks up on you. But at chef Harold Dieterle's third small bistro in the West Village, meat is the mantra. In a bow to his ancestry, the menu is divided: Mostly carnivorean inspiration from the Austrian-German Dieterles on one side, the Italian Chiarellis on the other, with cellar depth to match.
Dieterle, who went from a Top Chef triumph to open Perilla on Jones Street, and then his "better-than-authentic Thai" Kin Shop a few blocks away, has taken our pulse, if not our blood pressure. The four of us, all food professionals, are hyperventilating on our first visit. It's taking forever to order because we're so excited to see a menu like this.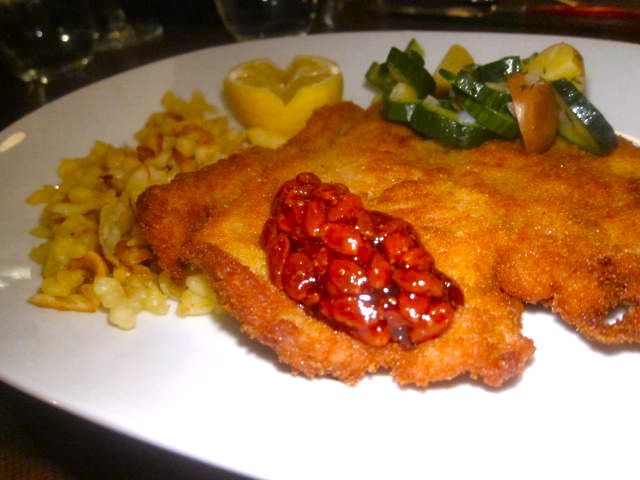 Imagine, no octopus, no beet salad, no Caesar. Instead: Lightly sauerbratened lamb ribs. Juniper-braised lamb neck. Duck schnitzel. Foie gras mousse with gooseberry. All of us are old enough that we survived the era when we believed fat and cholesterol would kill us. But here we are. We're still alive. And we want everything.
Click here to read my full review of The Marrow. 99 Bank Street between Greenwich and Hudson Streets. 212 428 6000.
***
Flea Market Sales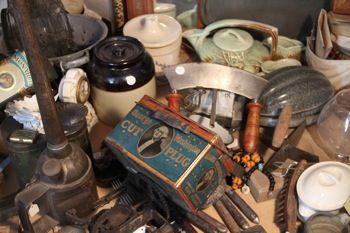 It's January, closing in on February. It looks like everything in town is on sale. And Valentine's Day is close.
The vintage jewelry and antique evening bags I'm selling from my office flea market could be just what you need to please your sweetheart. Or yourself, if you happen to be your own best friend.
Does your Valentine covet 40's bangle bracelets, 60's designer gold chains, kitchen collectibles or grocery store tins, tribal necklaces or brooches that would make Madeleine Albright jealous?
A while ago, when my then-husband and I weekended
in Zena, near Woodstock, we had room for it all in our little church on the hill. Now, with just my small apartment and studio office, there's so little room. Save me from a Collyer Brothers' fate.
Everything is 10-20% off and, if you catch me in an especially clutter-phobic mood, even more. If you live in NYC come by to check out my treasures. I'm on the Upper West Side, steps from the 1,2,3 subway lines. Email me at AskGael@insatiablecritic.com
***
EN Japanese Brasserie. Once a Pub, Now a Temple.
Eating out professionally has its rewarding highs. The joy of revisiting a favorite. The possibility of discovering brilliance. The shock of finding an old hangout grown transcendent. That's the story of EN Japanese Brasserie.
It called itself an izakaya, a pub, when a brother and sister team from Tokyo opened it in 2004 on Hudson Street. I liked the idea that tofu was made fresh every few hours, but otherwise it didn't seem worth a detour.
Brother Bunkai went home to take care of Tokyo business.
Sister Reika Yo stayed and when she married Jesse Alexander, she fell for his ambitious ideas. I suspect that's why we came last winter with a friend of the house. We were six, ordering mostly off a long and confusing menu, then stunned by the dazzle of salmon smoking under glass before our eyes, mochi cut to look like a porcupine, and teeny vegetables assembled by the house's forager for crudities on ice.
I meant to write about it, but got caught up in new restaurant openings.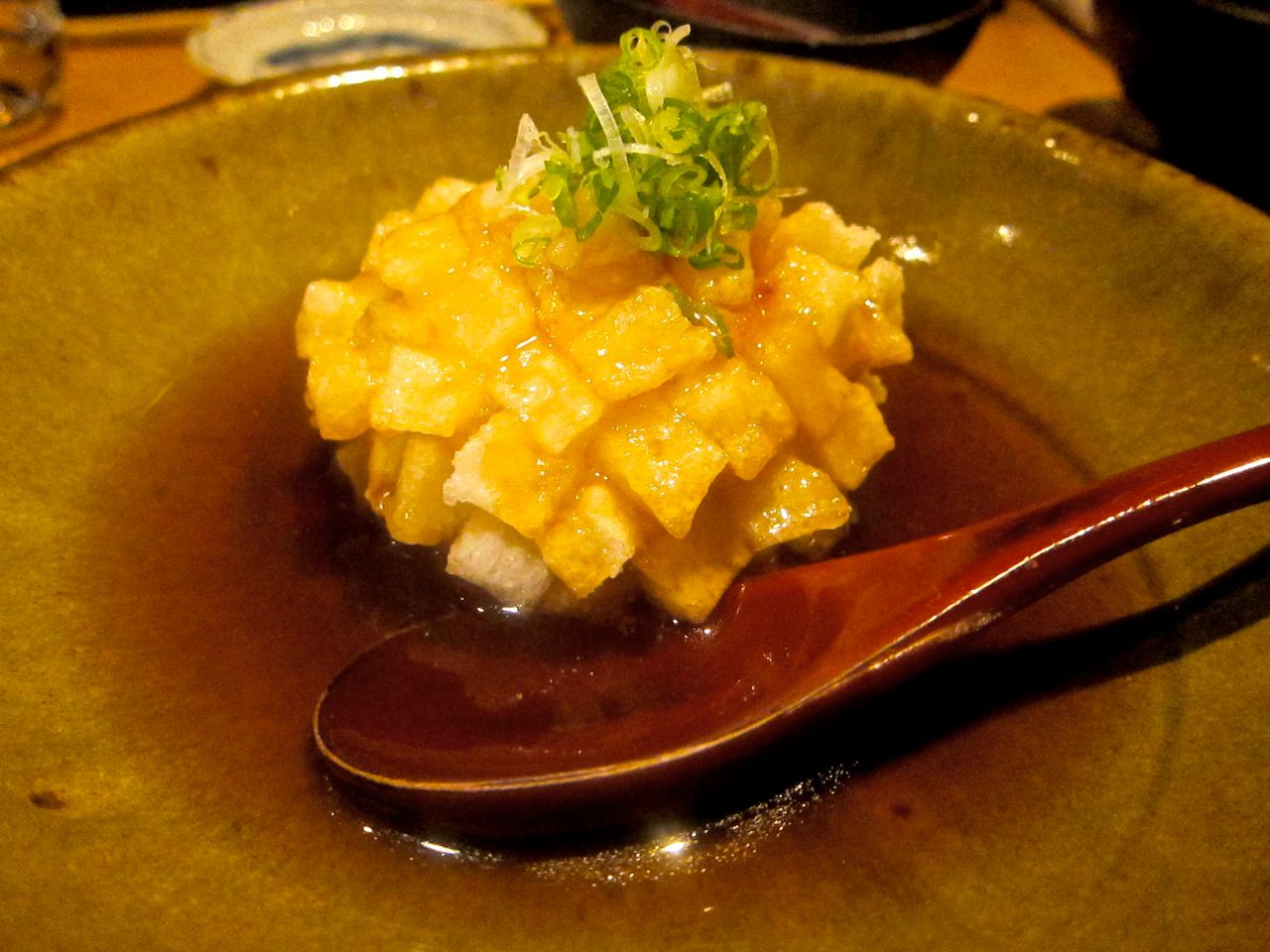 Then I read about chef Abe Hiroko's $125 omakase, offered the last Tuesday of every month, and went back with Barry Wine, the chef of the late, great Quilted Giraffe, famous at the end for its Japanese fusion.
We watched the chef scraping bits of toro from a giant swatch of skin, piling it high beside a little tuffet of sea urchin and then wrestling with a seared tuna head. Midway through a 15 act indulgance -- sighing over thrilling juxtapositions of texture, and strange oddments made delicious, the two of us began to realize that we were in the hands of a master. Now EN Japanese soars as high as it's ceiling. Click here to read all the detailsand decide if you need to reserve now. 435 Hudson Street between Leroy and Morton Streets. 212 647 9196.
***
Cranberry Scones by the Two Little Bakers.
Rina Oh, a food writer friend and photographer, started cooking a few weeks ago with her two sons - 6-year-old Alex and Daniel, 4. Now they want to cook every afternoon. That led to TheTwoLittleBakers.com
Yield: 12-15 servings
Prep Time: 5 minutes
Active Time: 15 minutes
Total Time: 20 minutes
Ingredients
2 Cups all-purpose Flour
1 Cup Granulated Sugar
4 Tablespoons Baking Powder
1 Pinch Salt
4 Ounces Butter, cubed and extra butter for brushing scones
1/3 Cup Light Cream
1/2 Cup Dried Cranberries
Directions
Combine the dry ingredients: sift flour, sugar, baking powder, and salt in a bowl. Add the cubed butter, crumble with fingertips until it resembles fine crumbs. Make a well in the center and add cream.
Knead dough for about 2-3 mins. Stir in cranberries. Continue to knead dough for another minute until cranberries are evenly distributed.
Form a ball.
Flour surface. Roll out dough with a rolling pin until 1/2 inch thick.
Using a cup or circular pastry cutter, cut dough into cylinders.
Preheat oven to 350 F. Grease baking sheet with butter. Place cut-out dough on the greased baking sheet. Bake for 12-15 mins until golden.
Lightly brush with melted butter. Serve with your favorite compound butter or preserves.
***
Photos of Fairway, The Marrow and Duck Schnitzel at The Marrow, My Collectible Table, Small Vintage Whiting and Davis gold mesh change purse, and a coral tribal necklace for sale in my office, and the EN Japanese Brasserie scallop and mochi may not be used without permission. Gael Greene copyright 2013. All right reserved.
The two little bakers photographs are the property of Rina Oh. rina.oh@gmail.com