FORK PLAY January 16, 2013


Linguistic Dilemmas. Highs of 2012. My Short Ribs Obsession. What About Desert. Sirio Without Sirio. Duck A L'Orange. Tyler's Food Porn.
Dear Friends and Family,
It can't be easy turning out a magazine of Style every Thursday and Sunday, especially when most everyone is still hungover from the holidays.
The result might be the Times recent dissertation on how unmarried spouses aren't sure what to call each other. Partner? Too corporate. Lover? Aggressively boastful. Boyfriend? Kind of high school yearbook. Significant other? Bite your tongue.
What to call "The Faux Spouse," the Times wonders. Spouse? That sounds like marriage. Isn't that what all the country's seven million unwed duos are deliberately or whimsically avoiding? My paramour. That's nicely cheeky. My special friend? Stodgy. Mi Hombre. Cute if you live in Santa Fe, I suppose.
You think Jessica Lange called Sam Shepperd "mi hombre" for the decades they were a procreating couple before they quietly split? Did he call her "faux wifey?" I dare not wonder what Mia Farrow called Woody Allen. Unprintable, I'm sure.
A journalist I ran into once in Sicily referred with throwaway glam to her inamorata. I wished I'd thought of that first.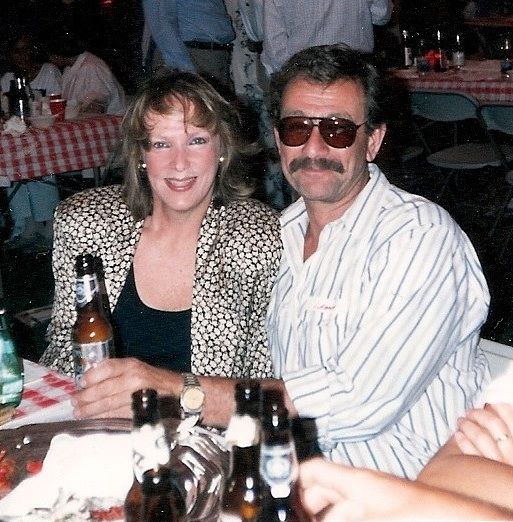 But I wasn't about to ride on her savoir-faire. When I didn't refer to him in my writing as The Road Food Warrior in the 26 years we were together, I called Steven "my guy." In France I always referred to him as my fiancé because a French woman told me that if you had sex even once with a man in France, you could refer to him with proper politesse as "mon fiancé." I tried fidamazato in Italy but just got stares. I switched to Mon Stefano.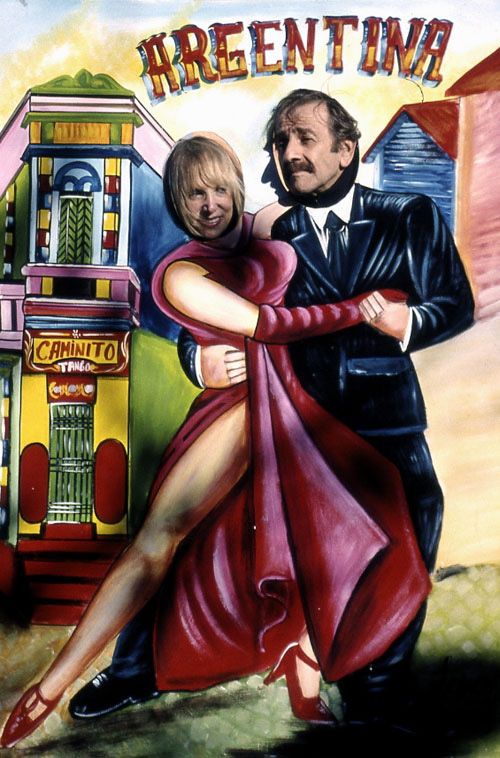 After we were officially declared Domestic Partners by the City Clerk downtown so that he could inherit my lease, I called him "my near-husband." When he died quite suddenly in August, I was left alone in the unnatural silence of our tiny apartment. No longer a "person of opposite sex sharing living quarters," abbreviated POSSLQ to the US Census Bureau, according to the Times. This was my first Christmas alone. If I were 50 like Jodie Foster, I might feel my new life is just beginning.
***
Our colors today are inspired by Emperor grapes and the green of leeks.
***
Dizzy from 2012 Highs
As I sifted through photos of dishes that provoked sharp cries and murmurs for "The Highs of My Eating in 2012," I wallowed once again in those remembered moments. How lucky we are that food porn has no calories. Needless to say, pig had many primal moments but fatty cuts of cow triumphed too.
There was the sublime marriage of fresh corn and bacon in the baked polenta at Atlantic Grill and caviar on a sea-urchin-scented seafood medley at Le Bernardin.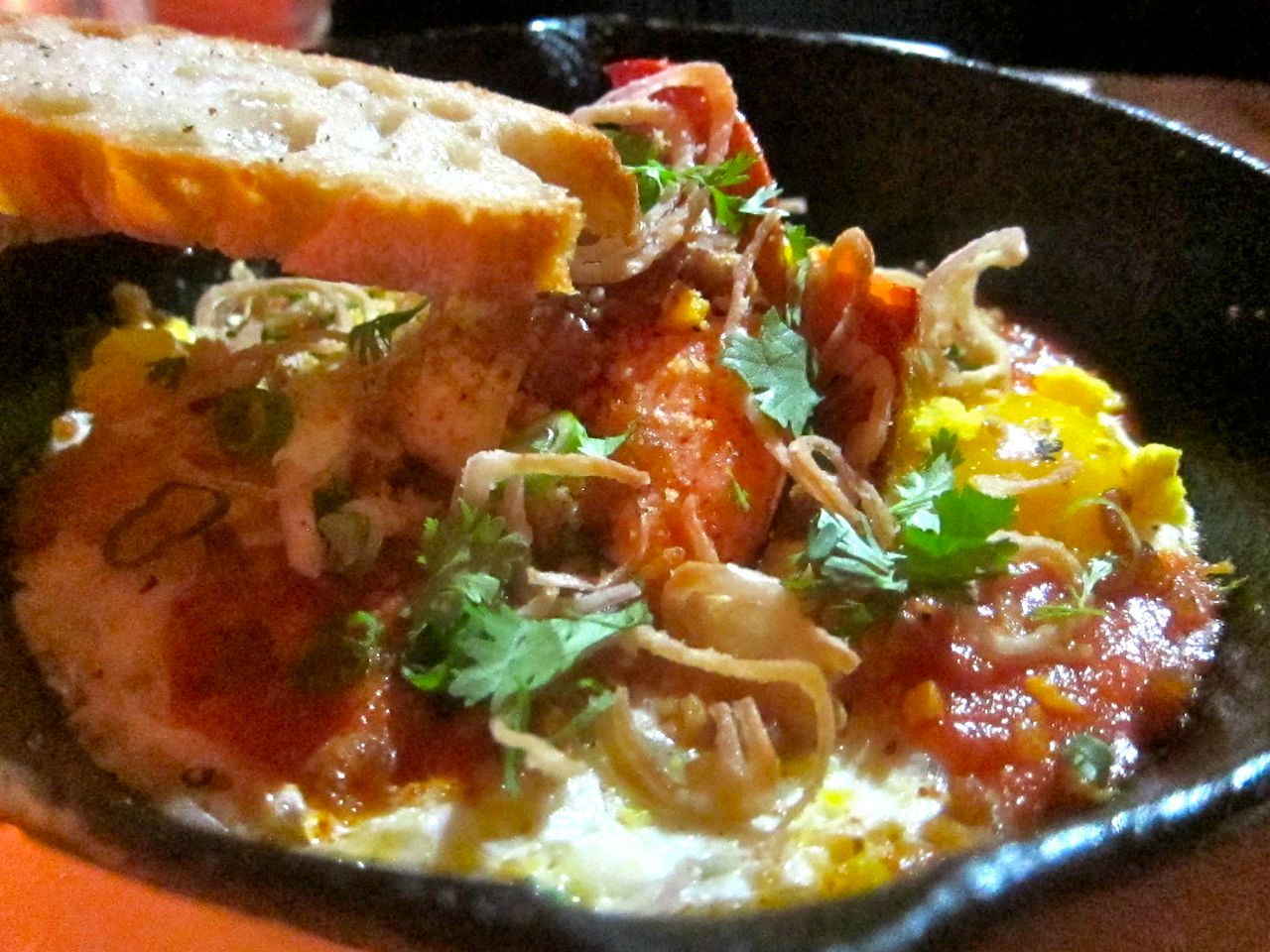 Still, there is definitely not enough caviar in my life these days, nothing like the bathtub of fat sturgeon eggs in a mad Lyonnaise buchon by Paul Bocuse in the wondrously reckless days of 1973. Nothing like the tin a certain wizardly actor once gave me to finish, preferably in his bed. When I explained why we weren't meant to be horizontal together, he was gallant enough to let me finish it anyway.
***
Craving Crave Fishbar
Everyone I send to Crave Fishbar agrees it's a find and, like me, can't wait to return.
I don't even begrudge the $40 taxi detour. Of course, we all agree that chef-partner Todd Mitgang is a fitful genius, inevitably tossing on an extra ingredient or two in most of his dazzling inventions. Yes, he is definitely rethinking the humble fluke and flounder.
Spicy scallops with chopped fingerlings and nori powder was the triumph of a recent outing, where John Dory grilled a la plancha with local wax beans, basil pistou, pistachio, and wheatberry salad wore a hedge of greenery that is the chef's best kink. Click here so you'll have an idea what to order if you go. 945 Second Avenue between 50th and 51st Street. 646 895 9585
***
The Fatted Calf
As I raced though last year's greatest hits, I realized that more than half of them were variations on short ribs. That led to an essay I hoped would provide a must-do list for my fellow carnivores, caught up in total denial.
It isn't easy right now, booking a table a
t
Il Buco Alimentari
for chef Justin Smillie's fiendi

shly crunchy and ornate version, served on the bone with showers of fresh grated horseradish. Click here if you just can't get enough cholesterol, oops, excuse me, I meant cow, and jot down the addresses you want to check out.
***
And What About Dessert?
TBar's banana parfait milles feuilles with coconut caramel sauce is my idea of dessert.
Piled into a big glass vase, it's enough for four (that it's just $12 is a small side gift). I like TBar's equally oversize strawberry shortcake sundae too, and the monumental chocolate hodgepodge. 1278 Third Avenue.
You can keep your ditsy little dabs of pastry and fluff arranged on a plate with streaks and dribbles. Give me the salted caramel sundae at Jean-George's ABC Kitchen, with its caramelized popcorn and peanuts and rivers of dark chocolate. 35 East 18th Street.

Just a few evenings ago, I stumbled across the dark chocolate skillet cake at the brand new Bill's Food & Drink. It's an old-fashioned cake swirled with sensational chocolate sauce, neither runny nor overly sweet, and it belongs in this pantheon. Watch you don't burn yourself on the black iron pan. 57 East 54th Street.
***
Sirio Without Sirio
The crowd is uncharacteristically subdued on the mild winter Friday evening last week at Sirio Ristorante, in the alley where Caprice was too capricious (or maybe not capricious enough). There's nothing really wrong with architect Adam Tihany's spruce up, except that it's awfully beige and brown. And, alas, François Latapie at the door seems barely awake.
In the heat of its launch when the early responders poured in, everyone said the food had only to be better than Cipriani down the street and Sirio would thrive.
Well tonight the kitchen is better than our expectations. And middle son Marco Maccione's arrival with dutiful cheek grazes and touching tales of new fatherhood injects some old-time family energy into the stodge.
There is no reason for the ailing patriarch to drag himself into work twice a day, although he still stands guard at Le Cirque. "I'm too old to retire now," he insists. But the celebrated excesses of the Sirio style are definitely absent. Click here for a report on what it means to have no Siro at Sirio's.
***
Remembering How Duck Used To Be
"My friend wants to eat Duck a' l'Orange," a reader wrote to Ask Gael. "Does anyone do it that way anymore?"
I tried to recall the last time I had a roasted duck deglazed with Grand Marnier and orange juice. Not that long ago, but where? I called the few restaurants upholding French tradition. La Mangeoire. Benoit. L'Absinthe. Gaston and Jeanne.
Amazingly, Google led us to Orsay, where duck a l'orange is the Saturday special. Now I'm craving it myself. I haven't heard much about Orsay for a while. If you go, let me know. 1057 Lexington Avenue at 75th Street.
Hungry for great cassoulet? Christian Delouvrier's meaty stew from Castelnaudery with lamb, pork sausage and tarbais beans is a special at La Mangeoire all of January and February.
Though he isn't into retro duck, the chef doesn't mind turning out rognons aux moutarde if you're six and order ahead. Recently I was stunned to see Mijotée de Cuisse de Lapin en Civet. When was the last time you saw a rabbit in civet on a French menu? It came with Delouvrier's marvelous gratin de macaroni and was delicious. 1008 Second Avenue between 53rd and 54th Street.
***
Tyler Florence is Fresh
Would I want to see Tyler Florence's new cookbook? the publicist asked. I once met Tyler in the Hamptons. He was hunky and charming. "Tyler Florence Fresh"(Potter, $35) turns out to be hunky too, quirky and full of food porn.
It's organized by ingredients, which is not organization at all.
It goes from A for anchovy to A for apple to A for artichoke. You might come upon something you would actually cook, stick in a lettuce leaf to mark your place, or you might never thumble across it again. Did you ever imagine you'd want to jump into a key lime pie?
If this book were $60 -- it's big and really heavy and looks like a lot of bucks -- I'd say the dazzle is strictly for fans. But it's January and the news is grim, so go ahead and buy it. Maybe you'll try the duck breast with spiced apple pulp with wild rice croquettes. Or just look at the ingredients.
***
Photographs

may not be used without permission from Gael Greene. Copyright 2013. All rights reserved.