FORKPLAY December 11, 2012
Year End Thoughts. Pino's Last Stand. Talde Marathon. Incurable Collector's Tag Sale
Dear Friends and Family,
Ever wonder what a restaurant critic would want to eat at her potluck birthday? Dim sum. Spare Ribs. Mac'n'cheese. Caesar salad. Chocolate cake with chocolate frosting. I suppose I would want the same menu for my last meal. Indeed, if I did have that birthday buffet, it could be my last meal.
I didn't mention cherry pie. That's because it's not cherry season. But does it really matter?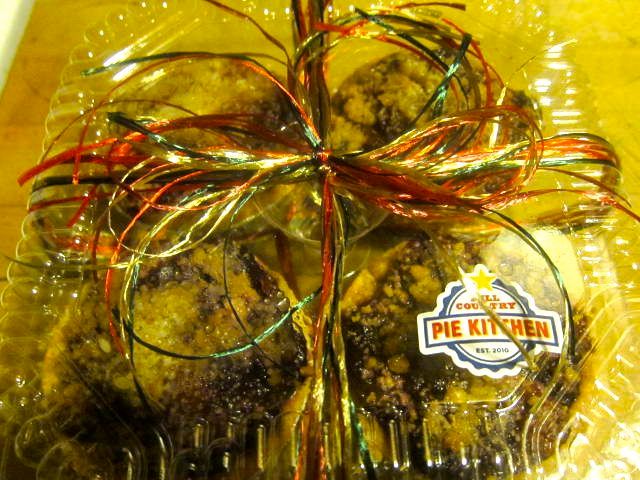 Last week a partner at Hill Country Fried Chicken (1123 Broadway at 25th Street) came to dinner one evening with four of the house's crumbed two-cherry mini-pies in a box tied with a Christmas bow. Sweet cherries and sour together. Quite brilliant. ($3.50 each) Breakfast Saturday felt like Christmas. And Sunday I didn't mind getting up early at all.
In a strange way, I still haven't quite recovered from the hurricane tension. Even though my corner of West End Avenue was spared, I spent several hours imagining being forced suddenly to evacuate, wondering where I put my passport. What would I take?
That was before the news and images of fire and death and unimaginable loss began.
I ate insanely, sticky, sweet spare ribs and yes, not very good macaroni. A whole loaf of olive bread with the kind of soft runny French cheese I never buy for myself (when you dine out six nights a week, homebound bingeing
is scarcely necessary). I finished a whole quart of Cherry Garcia, one-fourth at a time, replacing it in the freezer between each splurge.
Apparently, I was not the only out-of-control eater. At dinner a few nights later, two women friends confessed to Mallomars and pizza. One found a sub she'd hidden in her freezer. "T
hey call it the 5 lb. storm effect," a friend told me after comparing gustatory fallout with her circle. "I bought enough emergency food for three days without electricity," my tech genius confided. "But I ate it all that first night."
While I was wallowing in regret back at the computer, our staff and volunteers at Citymeals-on-Wheels delivered 65,000 emergency meals. That felt good.
***
Our colors this week are evergreen and Tiffany blue.
***
Pino's Last Stand
It wasn't that long ago that Pino Luongo was in full enfant terrible mode, attacking other chefs as inauthentic. Delighting the gossip-mongers.
Now after losing his empire and finally even Centolire for failure to pay rent or taxes, he seems content cooking at Morso where he is not even an owner. That's good news for old fans.
Pastas and many entrees are available in Mama-loves-you-darling size, and smaller too. With his lusty and luscious stracotto ("Brisket pot roast, Florentine style"), the smaller amount is more than enough.
Pino gets the iron
y of his new life. "Now I am back where I started," he told me. "I went from the kitchen to the front of the house and now I'm back in the kitchen." Saturday night, the house is packed. But Morso is as close to Queens as you can get in Manhattan. Is it worth the trek? Click here for the answer. 420 East 59th Street.
***
Eating it All at Talde
I wasn't going to Talde even when it had a buzz. I don't see the joy of a 45 minute commut
e to Brooklyn to wait who knows how long at the bar for a table. But a friend had put together a lively posse and arranged a ride for me. It was more a marathon than a reviewing experience, but I did get to taste a bit of 23 dishes, at least 19 of them when I was still fully functioning.
"All our dishes are to share," the waitress began.
With nine people to share? The man next to me brilliantly ordered one of everything on the menu, an appealing roll call of Asian favorites with irresistible twists by Top Chef alum Dale Talde. Think bacon, smoked pork, Chinese sausage, kimchee yogurt and, yes, bacon. Click here to decide if you want to hit the bridge. 369 Seventh Avenue on the corner of 11th Street. Park Slope Brooklyn.
***
The Incurable Collector's Tag Sale
I opened a drawer two weeks ago and found a stash of antique evening bags I'd forgotten. Then there was the tribal necklace, unworn since the 70's, and a secret hideaway for vintage brooches in a closet I no longer use. And I'm still unpacking boxes from the little church on the hill near Woodstock that have been in storage, waiting for the giant loft I was too busy to buy. I've run out of wall space and tabletop and shelves that would let me gaze at my treasures and shiver with joy.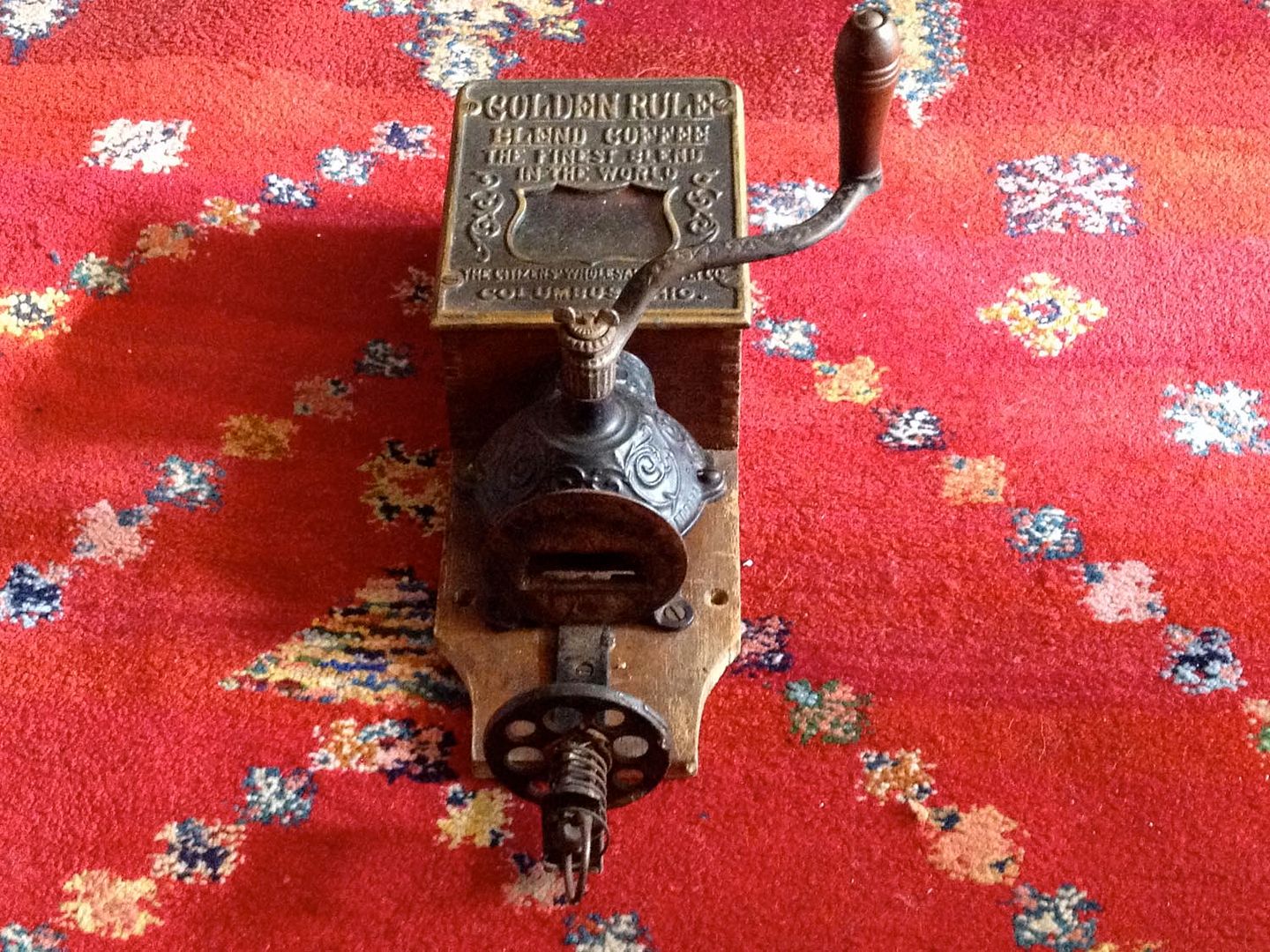 Vintage country, kitchen and grocery store collectibles. Cherubs in sterling and china. Folk art, serious and not so. Tortoise shell, bone and paper mâché. Snuff boxes. Dance cards.
Come help me deaccession. Visit to check out this small flea market in my office if you're in Manhattan. Email
if you want to see more photos. Or order by email from these. Make an offer.
1.Wooden butter dish (glass liner for the butter gone)$20
2. Silver bugle bead bag, lined, fairly good shape $70
3.We kept a huge page of straw flowers in this black tole coal scuttle with gold edging. Amazing condition. $275 (Saw it in the Times Home for $495)
4.Tribal necklace, coral beads, lapis lazuli disc, silver ball, hand-painted face. $285
5.The folk art rooster weathervane is rusted in beautiful color on its own metal and wood stand. $425
6. Joseff pin. $325
7. A table of treasures. Name your price.
8. Big 19 ½ inches long, black crochet bag with zipper on Lucite twist pull $100
9. Bag woven from folded camel cigarette packages $75.
10 wallet that matches $50
11. 6 brooches Clockwise from top left:
Joseff gold metal signed Joseff on small disc in the back. $325
Lucite flowers. $115
Red and green enamel with stone: mythical animal. $175
Gold carnation with rhinestones Christian LaCroix $130.
Gold bow with yellow stone $55
Gold flower with bow and orchid stones Mmarked Sterling $75.
12. long thin beaded clutch 13 ¾ x 4 inches Walborg label says "Made in Belgium by hand" $150
13. Small gold change purse by Whiting & Davis perfect condition $75
14 Four Chinese pockets $8 to $25
15.Brown, gold and red vintage beaded bag with chain $195
16. Standup hinged chocolate mold - hens, chicks, rabbits $135
17. Antique Golden Rule blend coffee grinder "The Finest Blend in the World" it says, "The Citizens Wholesale supply Company, Columbus Ohio." Excellent shape, missing the jar to catch the coffee $195 Google this to find these grinders selling for $300 or more.
18. Indian Princess ship's figurehead. $12,000
19. World's Fair 1893 trinket box $65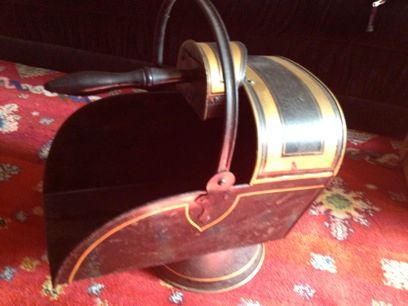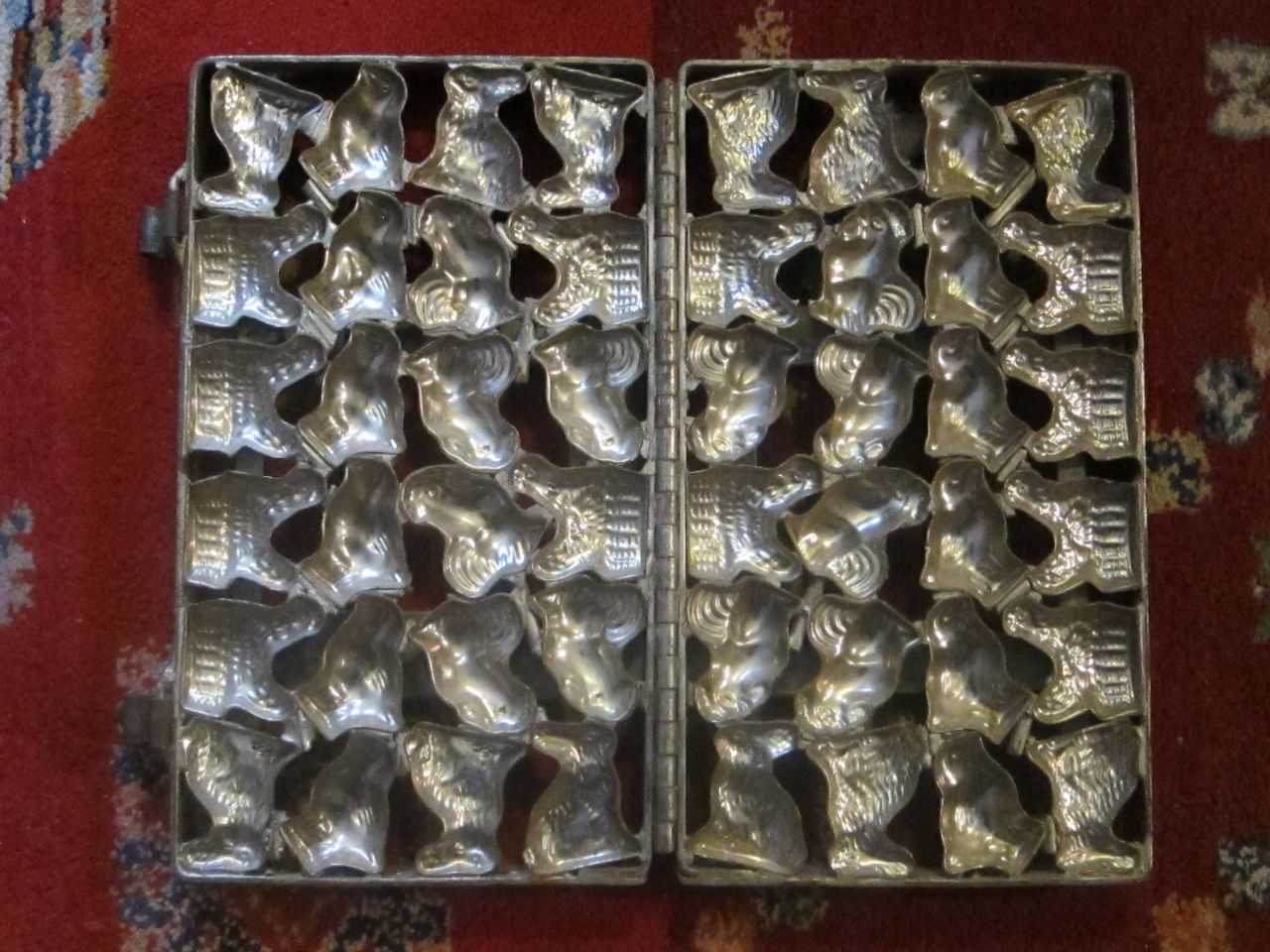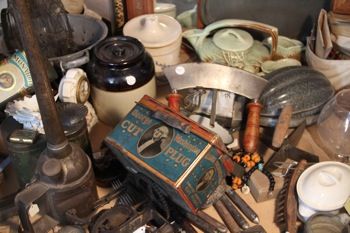 ***
Connect to me at twitter.com/GaelGreene.
Photographs of Hill Country Chicken's cherry pie, Pino's pressed chicken and rigatoni all butera and Talde's samosa

may not be used without permission. Copyright 2012. Gael Greene. All rights reserved.
Fork Play copyright Gael Greene 2012.