FORK PLAY November 28, 2012
Alas, Poor Twinkies. Lunch at the Met. Arthur-on-Smith. Sugar & Plumm. White Truffles in Winter. Mud Mask & Chinese Pockets
Dear Friends and Family,
I certainly never thought of myself as a deprived child. Quite the opposite. Even when quite young, I was convinced that I was entitled. And my parents thought so too. Too much
indulgence was just right for me. My mom had some of the insecurities of being the youngest child, but she was firm in her values. We did not eat white bread. We might very occasionally drink a Faygo red pop (after we'd finished our milk). Coke and Pepsi never.
When I read about the Hostess Bakery closing, I was amused by reports of Twinkie fans decimating the limited stock. How could it be that I had never eaten a Twinkie, a Ding Dong, a Snow Ball? No never, no Suzy-Q's, no Ho Ho. In fact I'd never heard of a Ho Ho. A ho exalted by some rapper chant, but never no Ho Ho.
Personal discoveries are food for tweeting these days for pseudo-savvy tech girls like me. "I never tasted a Twinkie or a Ding Dong," I tweeted. "But I feel your pain."
That prompted one of my Twitter followers to ask: "Did I eat any kind of junk food as a kid?" I could see she was imagining I was an over-sheltered child.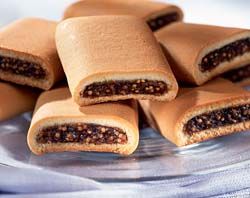 That's a ho ho. I thought of the fudgsicles, the Jujyfruits, the Dots.
"Do you count creamsicles?" I tweeted back. "I loved candy corn. At home our snack was Fig Newtons."
"My guess is you never smoked pot either," another Twitter correspondent supposed. I could see my Twinkies virginity was being misconstrued. My hippitude was being challenged. Since I don't have to worry about getting a job teaching at Harvard or running for Mayor, I decided to tell. "I even inhaled," I tweeted back.
It's not that tragic if you once loved Twinkies and now they're gone. I have survived kicking the Swedish Fish habit. What's really sad is all union bakers who may never work again.
***
I'm tired of orange. This time of year, the markets are striped with orange: pumpkins and squash, clementines, persimmons, Navel oranges. That's why this week's colors are teal and shocking pink.
***
Buzzy Mops Up
Many restaurants suffered flooding, loss of power, food spoilage, devastated wine cellars, income loss they can never make up. And there are more staggering losses, even among my friends. Homes. Ancestral homes. Branches of the NY Library. Bellevue for heaven's sake. I find it strange and unsettling that most of my friends and I are back to living our lives of heedless indulgence while so many are still homeless or displaced.
Still, I was especially sad to see River Cafe ravaged by the storm. Its precious wine collection, with rare bottles purchased from California vineyards long before most New Yorkers discovered Napa wines, now trashed. Waterlogged caviar, foie gras, lobster, pastries carted away. One hundred people are suddenly out of work.
It took Buzzy O'Keefe 12 years just to gather the permissions to lash his barge to the pier on the East River at Fulton Ferry Landing. Countless marriage proposals and 25th anniversary celebrants sipped champagne, swooning over the diamond necklace skyline view, as Gina Bellafante noted in her excellent Times report.
It was the place where Charlie Palmer first stuck sea scallops between potato galettes. Where Larry Forgione invented the term free range chicken (and Buzzy financed the farmer to raise them that way). It saw the first laughs from David Burke's quirky wit.
I tried to reach Buzzy to say something. What can you say? Across the River, his Water Club was whacked by the storm. It's our advertiser, closed now too. Of time and the river.
***
Burger with Decadence on the Side.
My friend invited me for lunch in the Metropolitan Museum members dining room when I told her there was a furniture show I th
ought we should see. The windowside tables shaded with greenery were all taken. Indeed, the place was jumping. "Usually it's almost deserted," she said. I found it quite charming that a couple I knew had met each other (rather than secret lovers) for lunch. The servers seemed to be celebrating the holiday too.
I had no hope for the food, so the perfectly delicious charred octopus with chickpea panisse and Marcona almonds that we shared was a pleasant shocker. My friend's gruyere soufflé, alongside bitter greens with slivers of speck, was pretty, classic and bland. Why did I order a cheeseburger? More denial, of course. It was unexpectedly good too, rare and not compressed, with Adirondack cheddar. And big fat fries carved from heirloom potato. Everyone's into the local and heritage game now. It makes me smile.
As we exited the member's elevator below, we bumped right into the Faberge corner. I stopped to look closely, remembering how I coveted the intricate Czar's eggs in Malcolm Forbes' collection.
He would have had fun at the show I'
d come to see with its secret compartments and drawers behind drawers, its inlays of exotic wood and astounding chinoiserie, the automaton of Marie Antoinette playing a tune on a keyboard: "Extravagent Inventions: The Princely Furniture of Abraham and David Roentgen". Stuff for King Frederick William ll of Prussia, Catherine the Great and Louis XVI, fertilizer for the revolution.
There were videos in front of various game tables and armoires with a white-gloved hand demonstrating all the hidden nooks and convertible features. I studied the gold piercings on the most expensive piece of furniture ever made. Quickly I had enough. It was even too decadent for me.
***
Like Father, Like Son
Chef Joe Isidori takes his craft very seriously. He picked up a couple of Michelin stars along the way to Southfork Kitchen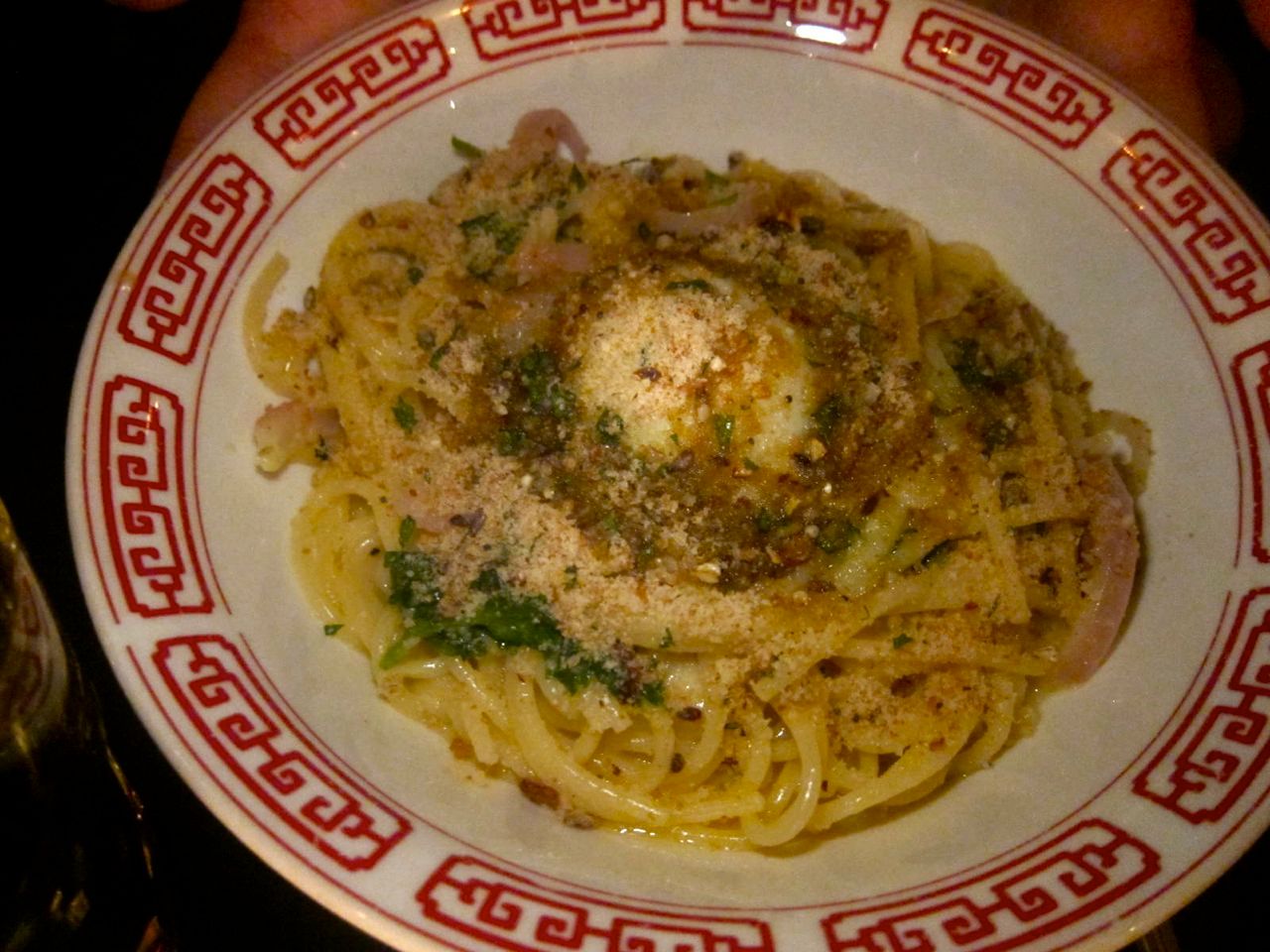 near Bridgehampton on the Sag Harbor Turnpike. It shows in the confidence of his sophisticated dishes and the upscale, stylized service that contrasts to the rustic, dark cabin feel of the place. But his audience there is seasonal.
When he decided to stake the winter months on an homage to his father, he chose Carroll Gardens, an established restaurant scramble, because of its long history with Italian-American immigrants. He promised Arthur-on-Smith would filter the food of his father and grandmother - both professional restaurant cooks - through his own sensibility, discreetly, more accessible, still local and sustainable. Less formal.
There is a tribute to family on the back of the Brooklyn menu. "This restaurant will be about two chefs with a simple bond," Isidori writes.
If you hang out in the Hamptons, you may be reminded of dishes you loved this summer, but mostly these are anchored to an Italian immigrant heritage. Click here to see what to order. 276 Smith Street between Sackett and Degraw Street.
***
Toot Sweet: Sugar & Plumm
Forty-three hundred square feet of sugar and fat. I couldn't wait to try the something-for-everyone menu of the sprawling Sugar & Plumm, "Purveyors of Yum," new to my neighbor
hood. I loved the cartoon mural of sundaes and sweets on the back wall, hoping my alcohol-spiked milkshake would help me handle the echoing din. I resolved not to be grouchy if careering toddlers racing in pursuit of shrieking five-years-olds banged into my chair.
The gestalt, after all, was to lure Upper West Siders and their offspring for early dinners, birthday parties, or just dessert after a walk in the park. Word spread that strollers were welcome at the table or you could check yours with the stroller valet. I was glad I didn't need to bring a tyke to get a seat.
When the local neighborhood board objected to the early look of the place, David Rockwell was called in to class it up. With its wall of candy by the p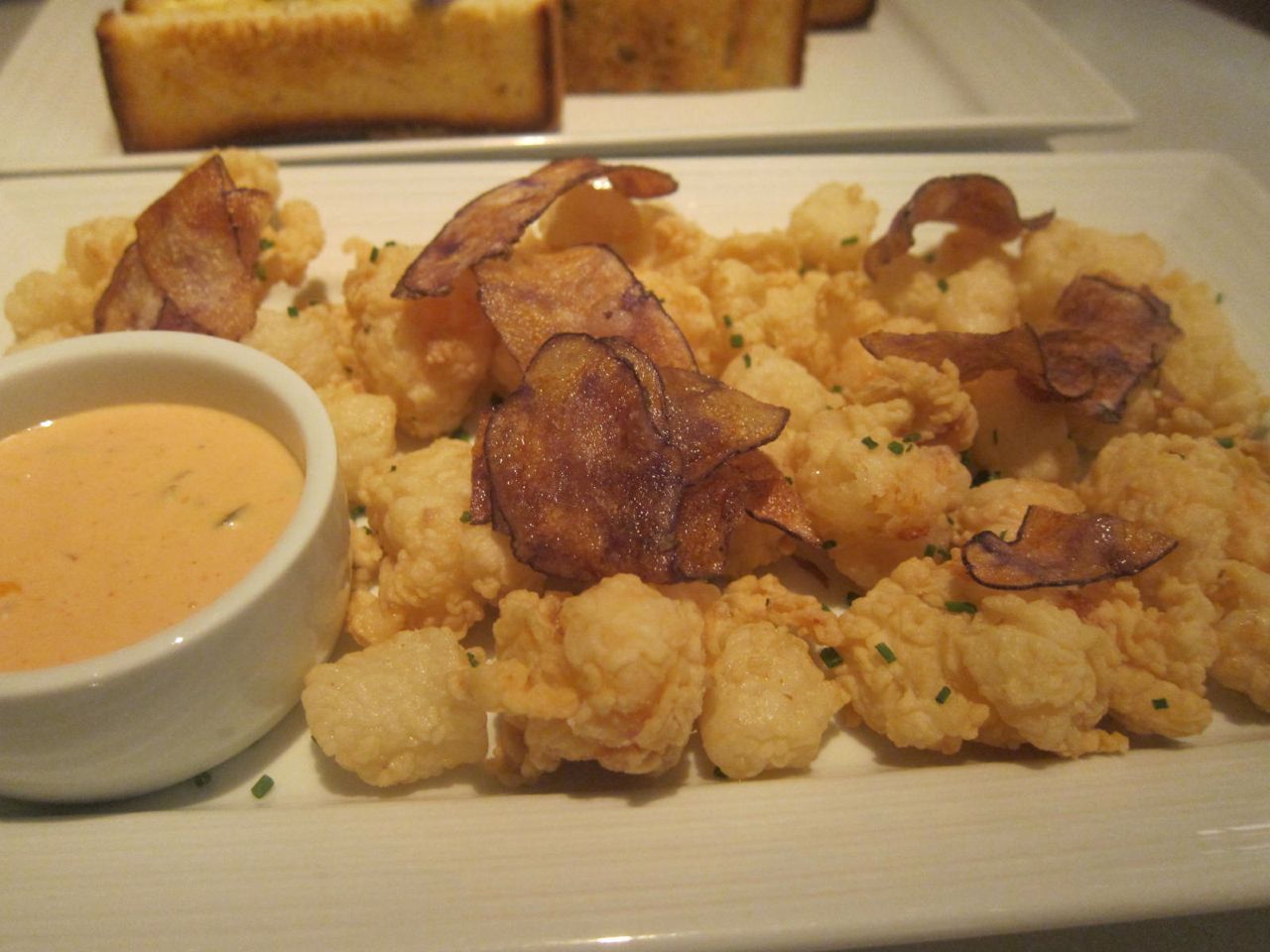 ound, pastries by Pichet Ong, French chocolates and a wildly appealing menu, I figured I could put up with squealing moppets. The shrimp and grits were a miracle. I loved the grilled cheese sandwich. Big pieces of crisp chicken and perfect waffles won me too. Then I went back two and a half months later. What happened? Click here to find out. 377 Amsterdam Avenue between 78th and 79th Street.
***
White Truffles in Winter
"Close your eyes," he had said to her. "Food demands complete submission." And then he placed a perfect scallop in her mouth. "Do you taste the sea?"
Only page 2 and already I was shivering with excitement. I had promised to read N.M. Kelby's book, "White Truffles in Winter," newly in paperback. I was in the middle of "Fifty Shades Darker," the 2nd book of that combustive series that has suddenly restored profit to publishing. Drowning in a most tedious and stupid part, I picked up "White Truffles."
Quickly, I was drawn into the disciplined kitchen life of the great chef Escoffier and his poet wife Delphine. I could smell the scents of pickling spices, lavender jellies and memories seeped into the floorboards. It's not a biography of Escoffier at all. It's a novel, Kelby's imaginings in prose so vivid and fresh, I could not get enough of it. I could not pick up Fifty Natterings again.
"White Truffles" is not just hot. It's exquisitely written, sensuous, intimate and revealing. It's probably even fattening. I intend to buy it in multiples for all my food-loving friends. Click here to buy it now from Amazon.
***
My Hopi Mudhead Mask and Chinese Pockets
A visit to Sante Fe and Taos got me started collecting Indian objects in a modest way. I was immediately drawn to Kachina dolls and bought a few, nothing rar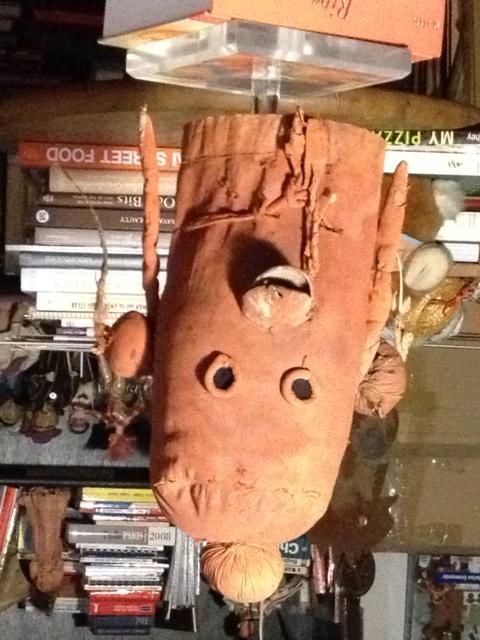 e or old, just odd pieces that struck my fancy. Considering what I already collect - vintage kitchenware, old grocery store tins, evening bags, Chinese baby hats, textiles, and vintage costume jewelry - I was content drowning in my treasures. Then I started visiting George Shaw's Indian art gallery in Aspen. It was inevitable, I suppose, that I would fall hopelessly in love with something. It was a Hopi Mudhead Mask beautifully mounted on a stand.
When we left Aspen, the mask moved to a spot in my office overlooking my morning workout space, wonderfully primitive and real amidst all the Barbies. I feel it's time I found it a new home. I would like to get what I paid. $1300 plus shipping.
One year, Steven and I spent a month in Beijing. Every weekend we went to the flea market. Steven, who usually just watched me exercise my shopping muscles, got caught up in bargaining as a new sport. He insisted I must buy these
embroidered and fanciful Chinese pockets. They have been hidden in a drawer for a decade. I meant to frame them. Good intentions litter my tiny apartment. At least when it comes to pleasure, I have rarely procrastinated. There are eight of these irresistible pockets, some with silk tassels, some faded and frayed, some with tabs so you can hang them on a belt, some bright and near perfect. $8 to $25 each, or buy all eight for $185 (includes shipping, USA only). Or email me to visit my office flea market.
***
Connect to me at twitter.com/GaelGreene.
Photographs of the Arthur-on-Smith's carbonara and clam sausage dish, Sugar and Plumm's pulled pork with waffles and fish and chips, the Hopi Mudmask, and the Chinese pockets may not be used without permission. Copyright 2012. Gael Greene. All rights reserved.
Fork Play copyright Gael Greene 2012.