FORK PLAY November 13, 2012
Citymeals: Delivering in the Dark. Inn at Little Washington. On the Road. Barrio By Candlelight. Il Mulino. Vintage Evening Bags.
Dear Friends and Family,
I'm so proud of our staff at Citymeals-on-Wheels. As of this past weekend they had supplied 64,000 emergency meals to seniors in all five boroughs. Before the storm hit, our team sent big w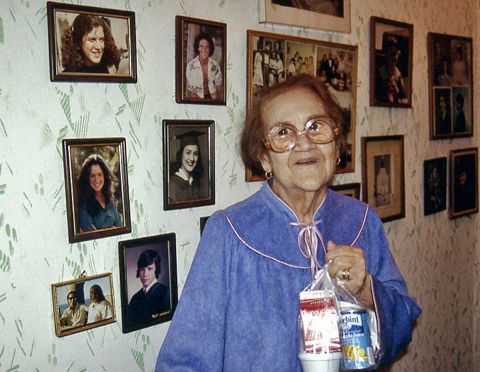 inter boxes containing 12 shelf-staple meals to our most at-risk elderly in Brooklyn and Queens. We arranged for double meals on Friday and Monday for 5500 of our homebound ahead of the hurricane. But with some neighborhood centers already closed, it fell to our people to hand-deliver many of those meals really fast, before the threatened surge.
Days later, with power still out and many feeding centers flooded or disabled, we were back again, relying on a task force of volunteers, many with cars. We distributed food in parking lots and in shelters. Amazingly, most of our crew found ways to get into the office and quickly fanned out to the dark zone. At times, as Citymeals staffers and volunteers with flashlights climbed 10, 12 or 14 flights in darkened buildings to bring meals and water to a frail shutin on our roster, aged neighbors would beg for help too. And one of ou
r team would make a second trip to get more boxes of food. I was moved and heartened by the energy and standout performances from our new Executive Director, Beth Shapiro, Program Services Director Rachel Sherrow, and Vivienne O'Neill, Director of Volunteers.
Board members who volunteered were stunned by the scenes of devastation. Lizzie Tisch made deliveries with her daughter, then went home and arranged for 850 pounds of fresh vegetables to go to one of the crippled centers.
Our friends in the food world mobilized too. Jean-Georges himself blended the cream of tomato soup, and sent it with cases of apples, bread, peanut butter and jelly - enough to feed 500 people. Cookshop sent 150 lbs of roasted chicken
and sides. Hudson Farmer's Market sent chickens too. Restaurant Associates sent 700 steak dinners from a cancelled fashion event.
Aureole's chef Marcus Ware cooked more than one hundred hot lunches - butternut squash soup, chicken thighs, boeuf bourguignon and veggies - for seniors without gas or food in Far Rockaway and Howard Beach. He was dishing up lunch himself in a Far Rockaway church as I typed this.
As delivery efforts continued, our senior people began calling good friends for funds to help us refill the shelves so we're ready for winter. A generous long-time supporter asked if a $200,000 challenge grant would help. An SOS went out to our supporters. Commitments are coming in. How about you? Can you help? Go to Citymeals.org or call 212 687 1294.
***
I sat out Monday's anticipated bluster from Sandy by myself at home on the corner of 73rd Street, imagining hurricane winds and tree limbs crashing through my stained glass windows. I felt the absence and the presence too of Steven, the absent Road Food Warrior. I imagined him pounding nails into a storm shattered window frame to hold a plastic tarp, and wondered if I could even find the hammer. A few friends called to ask how I was doing. I read the Sunday Times (it seems to take me all week these days). A few pieces of tar tore off the roof. But the only evidence of serious disaster in my house was the empty box of apricot rugelach.
***
Our colors today are apricot for the rugelach and purple just because I like it.
***
Dinner by Candlelight
When power died below 39th Street, it didn't stop the cast of characters at Barrio 47 for long. After all, what do New Yorkers need in a crisis? A stiff drink. Something crusty and savory from the wood-fired oven. A cocoon lit by candlelight where friends can share anxiety and tales of escape and bravado.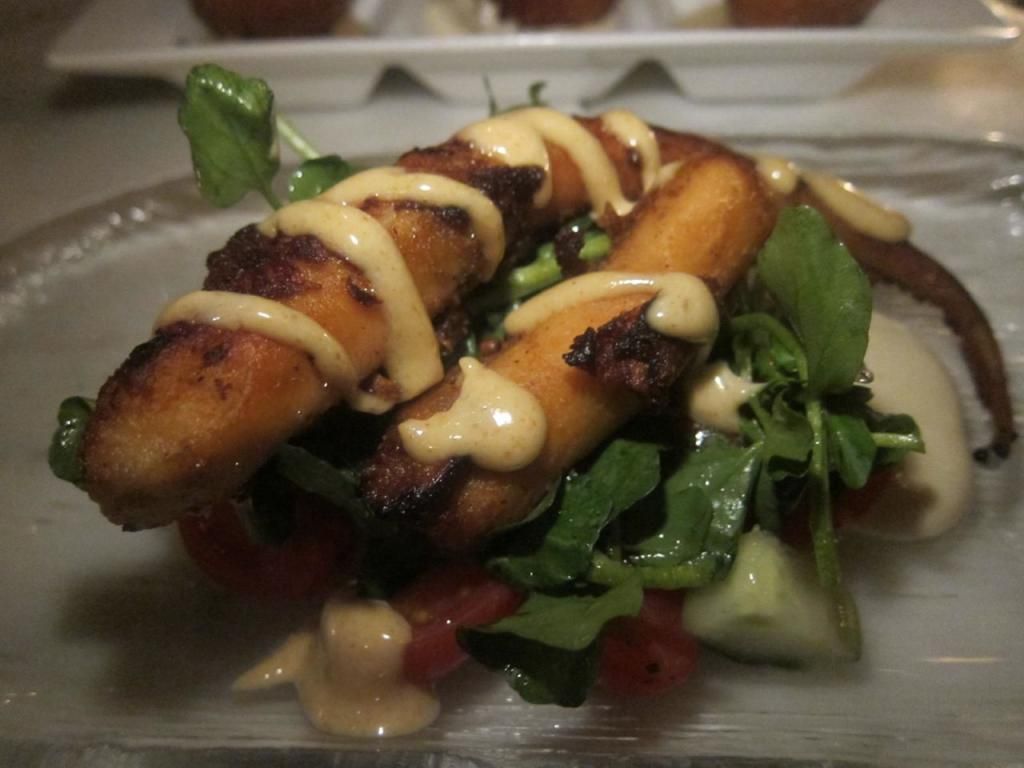 The French-born brother owners, Roman and Alex Volland, had conceived of this spot as a sexy "Villagey" hangout emphasizing serious cocktails and Mediterranean dishes. That the Peruvian-born chef, Franco Barrio, just happened to have the same name was not nearly as important as his own passion for Spain and his time at Boqueria and Mario Batali's Casa Mono.
Our adventurous foursome had already found Barrio a few days before the storm. The long, narrow tunnel of a room on a hard-to-find curve of Eighth Avenue had an air of waiting to be discovered that Monday. But we liked our dinner. Start with a coca, that's Spanish for flatbread. Then consider the paella. Click here for more on what's good at Barrio 47 and if you want to go for dinner by candlelight. 47 Eighth Avenue between Horatio, Jane and West 4th Streets.
***
Great Expectations: Inn at Little Washington
I had two restaurant reports ready to load at BITE on my website Tuesday after the storm passed on. Given the killing floods and fire, the mounting toll of
deaths and disruption, the homelessness and delayed cleanup, it didn't seem the right moment to tear into a small restaurant with a struggling chef for burning his signature dish and entertaining his girlfriend in the kitchen. No names please. The blackout below 39th Street might do him in anyway. And a star chef making a costly splash uptown deserved another few weeks to get it right. Does he know? Will anyone tell him?
I thought I had a non-controversial solution. I had just returned the Friday before Sandy struck from an immersion in total luxury at the Inn at Little Washington in Virginia.I'd always longed to go, so I put together three days and two friends and off we went. As outrageously incongruous as that might seem given the havoc that struck just days after our return, I thought my review might be a relief, or a distraction.
We are New Yorkers after all. Most of us touched or bruised by the storm will clean up and rebuild, and one day soon we'll be longing for a romantic getaway.
Is this your kind of escape? I expected sybaritic. I anticipated sumptuous and excessive. For decades I've read the raves, but as our seven-hour drive turned onto narrow roads between thatch-cut fields to enter the small Virginia village, nothing quite prepared me for the theatrical ebullience. The ancient chateau welcome, the amazing, amusing mix of exaggerated English fringe and tassel, tapestries, Fortuny shades, wooden floors recycled from a French manor, explosions of flowers. The tap-dancing retainers. And the unabashed whimsy. Click here to read more. Find out how to go on a discount. 540 675 3800.
***
On the Road
I might not have gone so far just for a long-postponed night and sumptuous breakfast at Patrick O'Connell's many-splendored Inn. I was eager to see Kathleen Turner in "Red Hot Patriot: The Kick Ass Wit of Molly Ivins" at the Arena Stage in Washington D.C., and I'd also been invited to visit the White House kitchen by the executive pastry chef Bill Yosses. I know Bill from his star pastry gigs at Bouley, Joseph's and Tavern-on-the-Green. First hired by the Bushes, he stayed on with Michelle's blessing. Given last-minute election jitters, I couldn't know if he'd hang up his whisk. Timing might be everything.
My friends Karen Page and Andrew Dornenberg, the prolific food and wine book authors, happened to be between tastings and crushing deadlines and they were game to go along. They're fans of Kathleen and Bill Yosses too and were eager for another overnight fantasy at the Inn. For maximum flexibility, they insisted a rental car was the only way. Andrew would drive. Karen would tame the GPS. And I could read in the back seat.
I was excited when we pulled into a McDonald's, somewhere in New Jersey for our first rest-room stop. My chance to taste an Egg McMuffin. (Calories don't count on the highway). "Sorry," said the unsmiling McMaid. "We don't serve breakfast after 11."
A few hours later the twosome was introducing me to Cracker Barrel, a ye old country-looking place decorated with fake artifacts bought by the yard.
"The food is better than most fast food places," Karen promised. "And the people are sweet." Sweet? As a New Yorker I braced myself.
"Our dumplins' are made from scratch, rolled out with a rolling pin, hand cut, then simmered gently until tender," the menu promised. And real buttermilk. Oh yeah. I don't mind a spoken drawl but a written drawl. Puhleeze. But then - great news. Breakfast was served all day. I ordered sausage on my buttermilk biscuits and eggs "cooked just the way you like 'em."
"I like 'em scrambled soft and wet, barely showing any little lumps," I told our smiling waitress who promised to tell the chef herself. I was stunned. The eggs were like curdled Hollandaise. And the biscuits were warm and crumbly. They make you pay up front in the souvenir and snack shop so you'll find some chocolate-covered chatzka you can't resist and spend more.
***
Notes from Big Washington
Bill Yosses had taken time off to show us around. He walked us into the r
egular morning tour of the public rooms - we saw the red room, the blue room, the green room, the China collections. Not much has changed since Jacqueline Kennedy got friends to put out for the rehab.
Then Yosses ducked through unmarked doors into corridors that led to the kitchen where he and his assistant were preparing 600 ghost cookies and little bags of chocolates for hundreds of trick-or-treaters the Obamas would host on Halloween. We wandered out into the garden where we checked out the beehives warily and tasted herbs growing wild on a mild fall day. He gave us each bean and pea pods so we could sow White House seeds in our garden.
***
Il Mulino Chews Up the Scenery
I was eager to check out Il Mulino's new beachhead, open at last on East 60th Street in early October. My friends in that tony zip code always moan how desperate they are to find somewhere good to eat.
Uptown seems smaller than the original, very bright, and instantly besieged by "Mulinophants", already impossible to get in. N
ever fear, my friend Lilliane, also a favorite of maître d's around town, has a contact. So we're booked. The catch is we must be there at an uncivilized early bird 6:30 pm. "At least we'll be home in time for the debate," I comfort myself. At the door Rubi puts out his hand. Lilliane shakes it and the $20 in her palm disappears.
A relay of captains and waiters launch an earnest fuss. All around us what I take to be Mulino habitués handle the drama quite well. Alas, the kitchen creeps and when the veal chop Milanese finally arrives, we have to send back the soggy slab for rehab. Maybe the kitchen will never perk up. Maybe this crowd doesn't care. Click here to read more.
***
Vintage Evening Bags
The incurable collector that lives and schemes inside my brain has a weakness for vintage evening bags. Long before Barbra Streisand started collecting, I bought my first little satin bag with scattered seed pea
rls and a compact at the top on a chain for $1. Almost any era had its appeal for me: American Indian to Art Deco, Victorian, boxy bags from the 40's, mother-of-pearl minaudieres, Chinese embroideries. The men in my life never had to guess what I wanted for my birthday. I took them to Sylvia Pines Uniquities at 1102 Lexington Avenue and showed them exactly what I coveted.
I sometimes wear the scarlet and green Art Deco beaded bag John bought me. He had charm and staying power and bought me another the next year. I remember how shocked, but ver
y dashing Patrick Shield was the day he paid $600 for a small black suede evening bag with a marcasite watch in the frame.
My guy designed an installation of bags above our fireplace. The overflow stayed in my drawers wrapped in tissue. I'd forgotten how many I had. Now I want to sell a few dozen I've not even looked at in years. I remember Sylvia told me that's how she started her business - to sell her collections. Spare me that curse. Interested? Mine start at $15. If you live in New York, email me for an appointment.
***
Connect to me at twitter.com/GaelGreene.
Photographs of the Citymeals recipient, Barrio47's octopus, the Inn at Little Washington's dinner table and tea tray, Chick-fil-A's cow and burger, breakfast at Cracker Barrel, Bill Yosses in the White House pastry kitchen, the veal Milanese at Il Mulino, and my evening bags may not be used without permission. Copyright 2012. Gael Greene. All rights reserved.
Fork Play copyright Gael Greene 2012.