FORK PLAY October 23, 2012
Celebrating Steven. Fall at ABC Kitchen. Pascal's Picks. Rozanne's Sweet Potato Tart. The Library.
Ducks Eatery. Hopi Mud Mask.
Dear Friends and Family,
On Sunday October 14, about 85 of us -- family and friends, co-workers and collectors -- gathered to celebrate Steven Richter, the Road Food Warrior, my guy who died August 15, too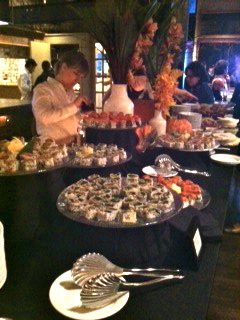 young, still hungry for adventure at 74. At the gatherin
g we ate spicy tuna rolls and country terrine, drank red wine, and watched his baby face, his hippy camper, his ecstatic fishing triumphs, and his art on a 60-inch screen.
At times in the weeks before, as I obsessed planning the details - the tart shell should be
thinner, do I really need a platform for the podium, how about a mini grilled cheese sandwich for the vegetarians - I couldn't help thinking it all quite stupid since Steven wouldn't be there to bask in being celebrated. He wasn't going to enjoy his friends' tales of the surprising comment or the succinct observation that stopped conversation. He'd never see the DVD so many of us worked on -- his favorite sepia snapshot of his mother
pregnant with him, the old photos of motorcycle days downloaded from Facebook, the scannings from old albums, son Nico at four with a halo of curls, a collection of favorite photographs from his work.
"Why don't you just buy a park bench with his name on it," a friend said. "Wouldn't that be simpler?" Yes. If I'd thought of it. That would have been perfect: a bench in Riverside Park where he loved to walk for almost two miles along the Hudson listening to the Beatles and Stones on his shuffle. When he was afraid to go alone, he walked with an aide. And when his legs were too swollen, he and the aide sat on a bench and watched the river traffic. But how could I invite friends and pass drinks? I'd have to tent a space in the park. I was too far into choreographing the memorial at Atlantic Grill.
I was touched when other restaurateur friends offered to host it. But the location across from Lincoln Center
seemed most central; the size of the back room, quite perfect. Daniel Boulud offered to send charcuterie from Bar Boulud around the corner. Disclosure, I accepted. Steve Hanson, a friend to my Steven, a champion of his photography, especially in the David Rockwell design for Ruby Foo and later Barca 18

-- our friend for 25 years, mine for 30, offered the back room of Atlantic Grill, the bar -- wine and Margaritas- and the lush array of sushi and passed goodies at cost. [Outrageous disclosure but there it is]. It scarcely matters as ethics go that I paid a good sum for technology, equipment and serving staff.

How many times have I written that a restaurant critic should never have friends? But after 44 years on the eats beat, it seems I am close to a few chefs and restaurateurs, and feel like family with others. I hope after paying all those dinner checks for decades, this softness might be forgivable. But if not, there you go. Mea culpa.

I would like to believe that someone you love hangs around for a while after death -- the soul, the light, some cosmic energy. If so, I'd like to imagine Steven smiling to see so many old friends gathered, hugging each other, a few getting high on tequila.

What I learned is you should celebrate yourself as often as you can afford to. Let your admirers plan a party while you're still around and kicky, scan the albums, make up your own menu, if you can afford it, hire a friend's witty grandchild to do the DVD. Give as much money away now while you're alive so you can hear the shrieks of joy and the tears of relief from relatives and friends who need it.

I bought a truck for Citymeals last week so I could enjoy thinking about it delivering emergency meals to frail homebound New Yorkers right now, this winter. You might want to pledge a few thousand to Citymeals too, and fill my truck with food. Click here for Citymeals.org or call 212 687 1234.

***

In his last several weeks Steven slept in two t-shirts, one over the other. Each one had to have a pocket where he kept I.D. in a leather card case and a couple of dollar bills. I ordered new tees online -- a bright cranberry and the teal blue that he favored -- but he insisted on layering frayed old ones with torn collars. Softer, I guess. We tried for those colors in the border here today.

***

Autumn at ABC Kitchen

It would seem that summer would be prime happiness time at ABC Kitchen

with tomatoes at their peak, all those leafy

greens a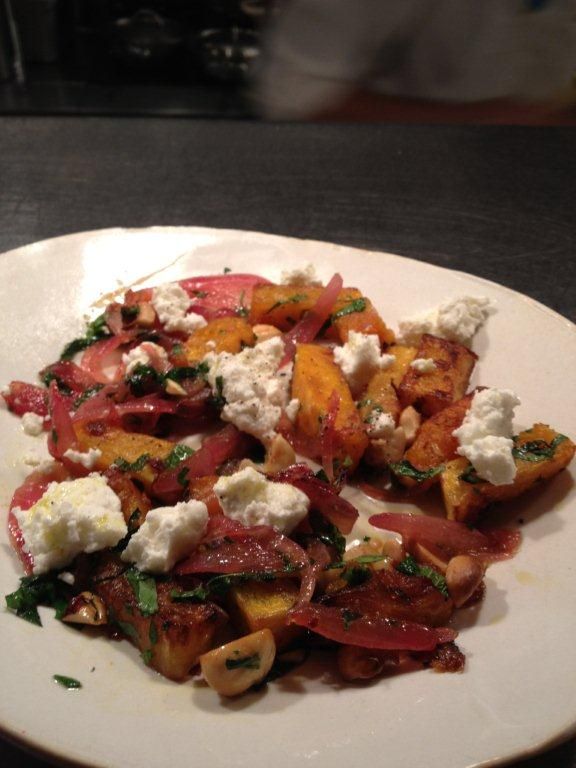 nd the shock of local fruit delivered spectacularly
ripe. That's where I take my vegetarian niece when she's in from Bigfork, Montana: her favorite spot in any season.
But early autumn last week was already exciting. My visiting kin were thrilled as always by the spicy carrot-avocado salad and the beets with homemade yogurt. And they were impressed to find three variations in squash. Roasted butternut with hazelnut, spicy onion, Thai chile, and goat cheese.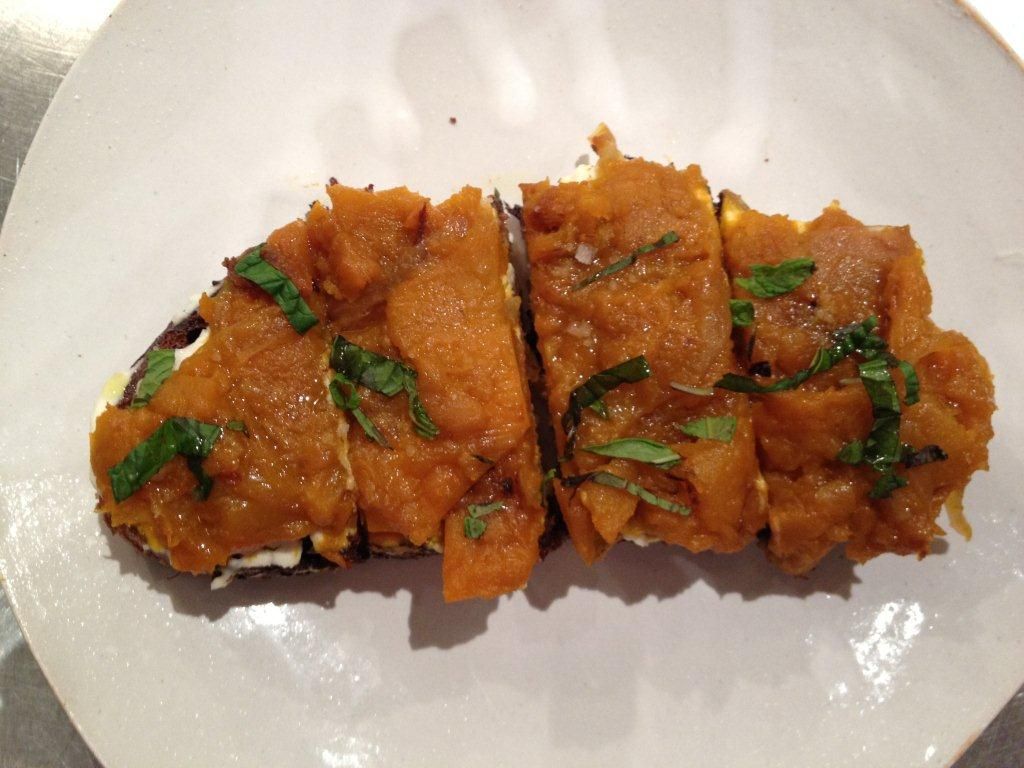 Delicata squash, battered and fried like onion rings, with maple syrup and grated goat cheese from Connecticut. And roasted kabocha on toast with fresh housemade ricotta and apple cider vinegar. (I'm hungry again, as I write this.)

Of course we had to order chicken liver toast as always for Nico, and his wife Anne confessed that even on the plane flying from Los Angeles, she'd been fantasizing about the big mixing bowl of salted caramel ice cream chocolate sundae with popcorn and peanuts.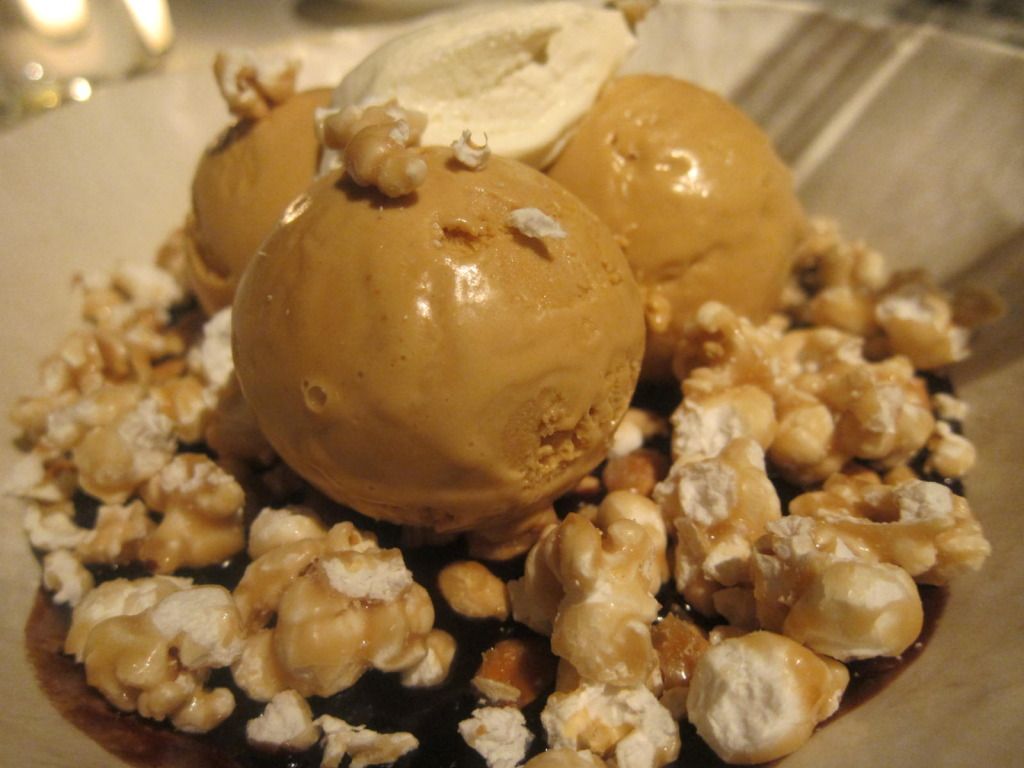 The house also sent out a moist midnight deep chocolate layer cake with chocolate bebes that was definitely distracting but didn't stop us from scraping the ice cream bowl quite clean. 35 East 18th Street.

***

Pascal's Picks

My friend, publicist and Iron Chef judge Karine Bakhoum, sent out an eBlast to let everyone know that her husband Pascal Riffaud, "the King of Concierges," is Downtown magazine's new restaurant columnist. When we meet with Karine and Pascal - six of us - for our monthly dinner excursion, we count on him to book the tough tables.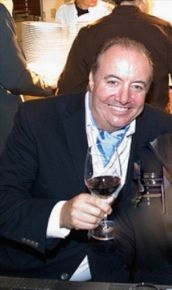 Through his service, Todays Epicure.com, Riffaud opens doors for clients who will pay whatever the tariff demands to get in to whatever's hot. I imagine my readers are more determined to avoid the chaos and insult of chic. So I decided to ask him to recommend someplace quiet but stylish where the food is good.
Where do you send your clients that is stylish, fashionable, and they can talk?
Pascal: "Cesare Casella's new Salumeria Rosi at 903 Madison Avenue is elegant and attracting a good-looking crowd. Also Crown, at 24 East 81st Street, on busier nights of the week, offers romantic, velvety elegance, in a not-too-formal atmosphere, perfect to impress a first date. Lots of Birkin bags in that room."
Where do you go yourself to grab a burger?
"On the Upper East Side, the next day after a long night, there's no better burger than JG Melon's (1291 Third Avenue) -- simply grilled, nothing fancy, just a real burger.
For something exciting and sophisticated in midtown I love DB Bistro Moderne's (55 West 44th Street) over-the-top aristocratic burger - ground sirloin on the outside with a filling of short ribs braised in red wine, truffles and foie gras. What a burger."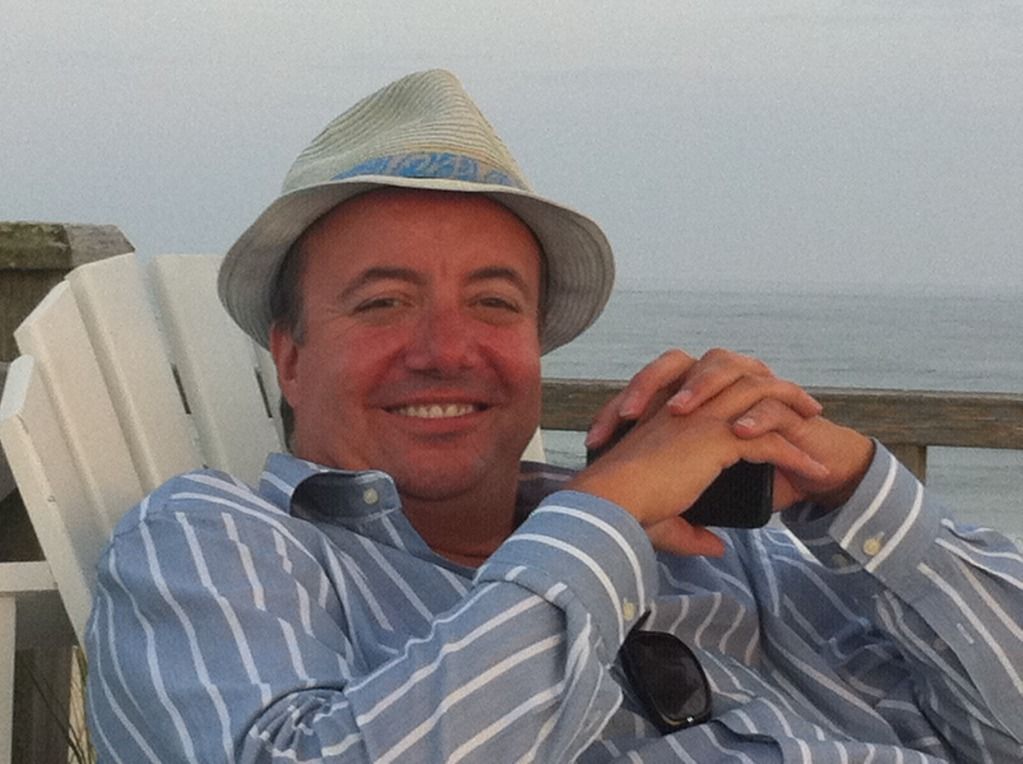 What's a good spot to start a flirt? Not that you would, of course.
"The lunch counter at Il Buco Alimentari (52 Great Jones Street) would be the perfect spot. The casual atmosphere makes it easy to just start a conversation with anyone. And if the flirt doesn't go anywhere, you still have their marvelous food. I crave the short rib sandwich. I'd also recommend the communal table at Forgione (9134 Reade Street). It's dark and anything can happen."
***
Rozanne's Sweet Potato Tart
Every year around Thanksgiving, I write a letter asking New Yorkers to remember the city's frail, aging, homebound elderly, prisoners in their small apartments and walkups, no longer able to shop or cook. For 31 years, these caring gifts are what enable Citymeals-on-Wheels to ensure no needy shut-in go without at least one meal every day of the year. These mostly impoverished, often severely disabled elderly, have come to count on us because most of them have no one else to count on.
My guy Steven was the first photographer to visit the homes and document the people we feed. Marcia Stein, our executive director for those first 30 years, recalls asking Steven to focus more on the expressions of the people they visited.
"I'm not a portrait photographer," he objected. "I'm a street photographer. I'm photographing them among their things." It was only later, seeing his pictures, that she realized how the things surrounding these isolated neighbors - the clutter, the treasures -- tell so much about who they were.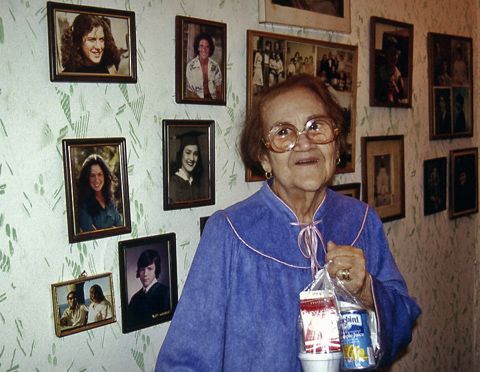 I always enclose a recipe with my letter. Last year it was Rozanne Gold's clever trick for making sorbet from leftover cranberry jelly. This year the four-time James Beard award-winning chef and author of 12 cookbooks has given us an easy and delicious recipe for sweet potatoes. Her most recent book, "Radically Simple: Brilliant Flavors with Breathtaking Ease," was named one of the year's best cookbooks (2010) by the New York Times.
***
Spiced Sweet Potato Gratin
This intriguingly spiced sweet potato dish taunts your
taste buds with nary a marshmallow in sight. It looks a lot like a birthday cake and can be transported (and reheated) easily in the cake pan in which it's baked.
7 large sweet potatoes, 3-1/2 to 4 pounds
1-1/2 cups sour cream
12 ounces extra-sharp white cheddar, shredded
1 tablespoon curry powder
1 tablespoon ground cumin
¾ teaspoon ground cinnamon
¾ teaspoon ground ginger
Put sweet potatoes in a large pot. Cover with cold water and bring to a boil. Continue to boil 20 minutes until potatoes are just tender when pierced with a small knife; be careful not to overcook (they need to be sliced). Drain potatoes in a colander under cold water. Let potatoes cool, then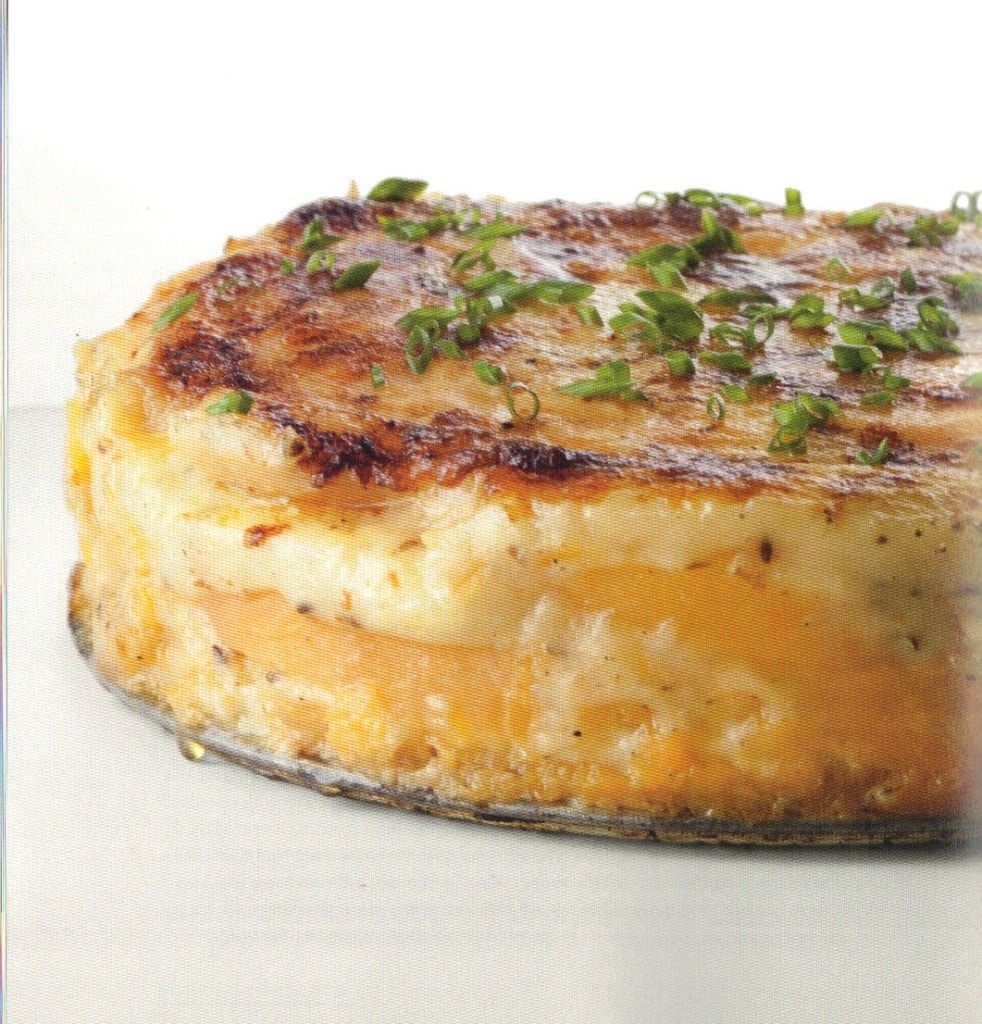 peel them. Slice potatoes ¼-inch thick and pat dry with paper towels. Preheat oven to 350 degrees.
Line the bottom of a 9-1/2 inch removable-bottom springform pan with a round of foil. Line the bottom with a layer of sweet potato slices (about 2-1/3 potatoes per layer). You want to create a single thick layer by filling in any spaces with potato pieces. Press down lightly. Spread ½ cup sour cream over potatoes to cover completely. Sprinkle lightly with salt and 1/3 of the spice mixture. Sprinkle evenly with 1/3 of the cheese.
Repeat process, making 2 more layers, ending with cheese on top. Place pan on a rimmed baking sheet and bake 35-40 minutes until top is golden and bubbly. Remove from oven and cool to room temperature. Can be made up to 8 hours in advance. It can be served at room temperature or reheated in a 400 degree oven for 10 minutes until hot. Remove from springform and cut into wedges. Serves 10 to 12
***
The Library: Standing Around
How do you turn on nightlife heat? How can you tell it's happening? Well, The Library at the Public -- brand new, not yet finished, menu still in flux -- is already booked full. Diners are standing, milling about. "It's a trend," my trend-collector pal assures me, sipping his very good "Dandy Riot" (rye, Talisker 10 year, Aperol and Angostura).
"Haven't you noticed? People are standing next to their tables during dinner schmoozing the crowd."
So here it is, in a smart David Rockwell plotted room - typically laid-back and comfortable, with industrial touches. That's star chef Andrew Carmellini overseeing the kitchen drill. And you can count on Josh Pickard, his partner at The Dutch in Soho and Locanda Verde in Tribeca, to cast a grownup, cool scene with professional service.
Keep looking. It's hidden away inconveniently above the lobby, so you have to know it's there. That's always a trend. And take this as a satisfied first impression. Click here for more details and discover what you want to eat, unless they've already rejiggered the menu. 425 Lafayette Street between Astor Place and East 4th Street.

***

No Quack at Ducks Eatery

Perversely, there is no duck on tonight's menu among the oddball mix of offerings at Ducks Eatery. But I'm dazzled and bemused by the are-you-kidding inventions of chef Will Horowitz. Buttermilk dashi on smoked bluefish with crushed huckleberries in foam. Blowfish ceviche with shrimp, calamansi, corn and applewood smoke in a canning jar. And what I'm eating is mostly pretty good, even very good, if not sometimes rocking. Prices are amazing too, starting at $5, nothing more than $14.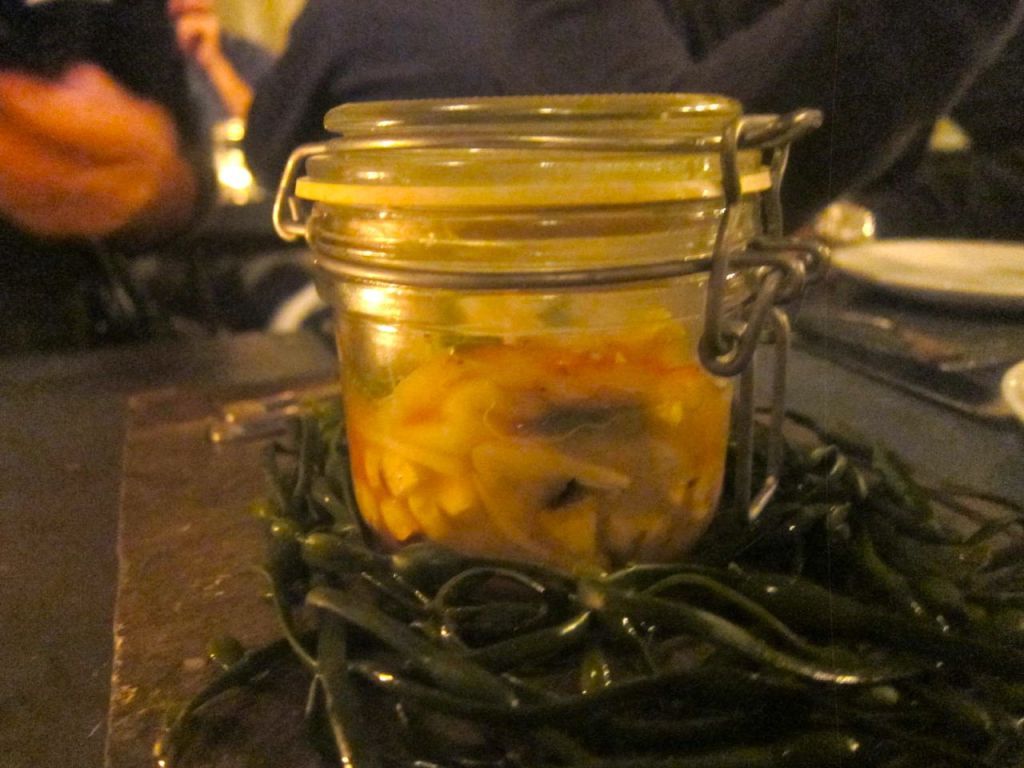 It begins with "Dee's Nuts" -- a marvelous, weirdo mix of cashews, Benton's bacon, Cocoa Krispies and dried Bing cherries in a brown paper bag. None of us can stop eating them, even after we are finishing off the blowfish concoction and tasting charred eggplant with piri piri, lemon zest and mint, wishing the eggplant were more melted.

Then lush, fatty, hickory-smoked St. Louis ribs, just tender enough, take us to another planet. Big lime-jerk-rubbed chicken wings are left whole -- hot, sweet and sticky -- four for just $12. Are you game for an excursion to the East Village? Click here for more details on what to order. 351 East 12 Street between Second and Third Avenues.



***

My Hopi Mudhead Mask

A visit to Sante Fe and Taos got me started collecting Indian objects in a modest way. I was immediately drawn to Kachina dolls and bought a few, nothing rare or old, just odd pieces that struck my fancy. Considering that I already collected-vintage kitchenware, old grocery store tins, evening bags, Chinese baby hats, textiles, and vintage costume jewelry - I was content drowning in my treasures.
Then I started visiting George Shaw's Indian art gallery in Aspen. It was inevitable, I suppose, that I would fall hopelessly in love with something. It was a Hopi Mudhead Mask beautifully mounted on a stand.
When we left Aspen, the mask moved to a spot in my office overlooking my morning workout space, wonderfully primitive and real amidst all the Barbies. I feel it's time I found it a new home. Want to buy my mudhead mask? It needs to be seen up close. Email me.
***
Connect to me at twitter.com/GaelGreene .
P

hotos of roasted butternut squash, kabocha on toast, and salted caramel ice sundae at ABC Kitchen, the homebound elderly by Steven Richter, the Library's calamari, blowfish ceviche and the Hopi mud mask may not be used without permission. Copyright 2012.

Gael Greene. All rights reserved.
Fork Play copyright Gael Greene 2012.