A DOTD truck clears ice from the I-10 bridge in Baton Rouge
Good job in bad weather
DOTD performance earns high marks
While hundreds of thousands of drivers were stranded on frozen roadways across the south, the Louisiana Department of Transportation and Development kept its citizens safe by being proactive in its operations and communications, according to Good Roads President Kenneth Perret.
"The true performance measure in this kind of situation is, 'Did you protect the public?' Secretary Sherri LeBas and DOTD made public safety a priority over convenience, and the result was that we had far fewer problems than other states," Perret said. DOTD was well prepared for the sub-freezing weather and utilized a wise strategy of concentrating on a smaller number of priority routes to keep open to take full advantage of its limited resources and manpower, he
said.
"Louisiana has more than 11,000 bridges and overpasses, and trying to keep all of them open would have been a fool's errand," Perret said. "Their strategy of keeping priority routes open was a good use of public resources. And, when those routes became impassable, DOTD quickly shut them down and got the word out effectively."
Perret said DOTD also reached out in advance to truckers by advising them early in the week of the probability of road and bridge closures. By partnering with the Louisiana Motor Transit Association, DOTD made truckers aware of potential closures and gave them alternate routes, Perret said.
"We still had some truckers who were stranded in south Louisiana, but the proactive steps DOTD took in letting the LMTA leadership know what was likely to happen really helped keep that to a minimum."
Because road conditions literally changed with the weather, DOTD was constantly opening and closing roads and bridges. Keeping the public informed of those changes is challenging, but the agency worked hard to update people, putting out more than 70 news releases and photographs around the clock.
"I thought they communicated well with the public, not only in telling people what was open and what was closed but also in stressing the danger in traveling in conditions that we don't see too often in Louisiana," Perret said.
Louisiana should be proud of the work DOTD employees performed. "It's easy to find public officials who are villains; we should be thankful for those true public servants who worked hard to keep us safe," Perret said.
Mailing Address:
P.O. Box 3713
Baton Rouge, LA 70821
Phone: 225-408-8279
Fax: 225-344-0458
Officers
PRESIDENT
KEN PERRET
FHWA Admin.-Arkansas (Ret.)
LA DOTD Asst. Secy. (Ret.)
SR. VICE PRESIDENT
DON WEATHERS
Executive Director, La. Asphalt Pavement Assn.
VICE PRESIDENT
JOHNNY BRADBERRY
LA DOTD Secretary (Ret.)
SECRETARY/TREASURER
KEN NAQUIN, CEO
Louisiana AGC, Inc.
Board of Directors
Executive Director - Ports Assn. of Louisiana
Mojeski and Masters, Inc.
COURTNEY FENET
Vice Pres. - R.E. Heidt Construction
Neel-Schaffer Engineers
EnCon Resource Group, LLC
STEVE HACKWORTH
D & J Construction
DAVID S. HUVAL
Huval & Associates, Inc.
SHELBY P. LASALLE, JR.
APWA
LA DOTD District Administrator (Ret.)
Executive Director - ACEC of LA
Fenstermaker-LA DOTD Secretary (Ret.)
LA DOTD Deputy Secretary (Ret.)
Director of Operations - AECOM
LA FHWA Division Admin. (Ret.)
LA DOTD
District Administrator (Ret.)
Executive Director - CAAL
Executive Director,
I-49 International Coalition
Bay Bridge Engineers say they weren't allowed to do their job
SAN FRANCISCO- According to the Associated Press, a California Senate report released on the construction of the new eastern span of the San Francisco-Oakland Bay Bridge raises questions about the quality of workmanship used to build the $6.3 billion span.
The report by the state Senate's Transportation and Housing Committee contains testimony from engineers that question the durability of welds on bridge pieces produced in China and the integrity of large bolts used to hold earthquake-safety equipment in place.
The report's investigators found that California Department of Transportation (Caltrans) managers dismissed concerns from quality-assurance experts that the Chinese firm Shanghai Zhenhua Heavy Industry Co. Ltd, or ZPMC, hired to do key bridge welds, lacked the experience to meet standards.
James Merrill, an engineer who oversaw weld inspections in China, told investigators that his staff found hundreds of weld cracks. At the time, the contract with ZPMC called for no cracks at all, so Merrill's firm MacTec Engineering rejected the pieces, leading to severe delays.
Merrill said Caltrans was concerned about the delays, and that he was told he was being "too rigorous" in his inspections.
Caltrans failed to renew MacTec's contract after the disagreement over ZPMC's work and hired another firm, Alta Vista Solutions, that turned out not to be qualified for the job, according to the report.
Caltrans eventually changed the language of the contract that had explicitly permitted no cracks in the welds.
Douglas Coe, a 25-year department veteran and former Caltrans bridge engineer, was forced off of the job after pushing the cracked welds issue.
"This is the first time in my career the engineering wasn't allowed to be done right," Coe told investigators. "I'm mad as hell that the Department [Caltrans] put me in a position to have to say this . . . but if that bridge starts to crack in five years it's all going come out."
Caltrans representatives told the investigators that the weld cracks in question were repairable and have been mostly fixed, and they maintain that the bridge is safe.
The report also faulted Caltrans with allowing a number of giant steel bolts to be installed despite a lack of quality-assurance testing by changing the bolt fabrication specifications on the contract.
Dozens of the bolts ended up snapping after being tightened in March, leading to a $25 million repair job.
Merrill, MacTec, told investigators that he suggested the bolts undergo more testing, but he was told to stop mentioning the issue.
Caltrans has disputed that it dismissed quality-assurance concerns to get the bolts installed on time.
Merrill and Coe agree that despite the defects, they don't believe the bridge to be unsafe, but that it will need expensive retrofitting sooner than it should.

Good Roads elects officers and directors, sets focus for 2014
BATON ROUGE, La. - Kenneth Perret, former assistant secretary
Kenneth Perret
for DOTD and a former administrator with the Federal Highway Administration, has been re-elected as 2014 president of the non-profit Louisiana Good Roads and Transportation Association.
Also re-elected as officers for 2014 were Senior Vice President J. Don Weathers, executive director of the Louisiana Asphalt Pavement Association; Vice President Johnny Bradberry, former DOTD secretary and COO of TOPCOR; and Secretary/Treasurer Ken Naquin, CEO of Louisiana Associated General Contractors.
Perret said one of Good Roads' focus areas in 2014 will be to encourage state officials to use any budget surplus funds on transportation projects.
"Road and bridge projects create jobs and have a positive impact on Louisiana's economy," Perret said. "The longer we wait to make additional investments in transportation infrastructure, the more it will cost down the road."
Perret said last year's state budget surplus - which may be more than $100 million - should be spent on projects that have statewide or regional impact. Some project candidates include Interstate 49 South between Lafayette and New Orleans, improving congestion at the Interstate 10/Interstate 110 interchange in Baton Rouge and additional work on I-10 in Lake Charles.
"Every $1 billion invested in transportation creates more than 31,000 jobs, makes us more competitive with other states for large-scale economic development projects, and improves the quality of life for our citizens," Perret said.
The budget surplus money would give a "shot in the arm" to transportation projects, but Louisiana still has long-term challenges, Perret said. Louisiana does not raise as much revenue for transportation as other states do. Besides having the 11th lowest gasoline tax in the country (the gasoline tax is the primary funding mechanism for transportation projects), Louisiana does not dedicate any general fund or sales tax revenues to transportation, outside of some capital outlay projects.
"The 2012 ASCE (American Society of Civil Engineers) Report Card for Louisiana's
Infrastructure gave our bridges a 'D+' and our roads a 'D,' and we haven't made any systemic changes to the system that got us where we are," Perret said.
Good Roads directors elected for 2014 include Joseph Accardo, of the Ports Association of Louisiana; Gen. John Basilica of HNTB; William B. Conway of Modjeski and Masters; Janet L. Evans of Volkert, Inc.; Courtney Fenet of R.E. Heidt Construction; Brin Ferlito of Neel-Schaffer Engineers; Al Flettrich of EnCon Resource Group; Steve Hackworth of D&J Construction; David S. Huval of Huval & Associates; Shelby P. LaSalle Jr., of the APWA; Wayne Marchand of GEC; Roger Melancon of RDM Consulting; Daniel E. Mobley of ACEC of Louisiana; Dr. Kam Movassaghi, former DOTD secretary and president of Fenstermaker; Gordon Nelson of Fenstermaker; Bob Schmidt of AECOM; William Sussmann, formerly of the U.S. FHWA; Willie T. Taylor, formerly of DOTD; Bill Temple of CAAL; Neil Wagoner, former DOTD secretary; and Gard Wayt of the International I-49 Coalition.

Current, former U.S. DOT secretaries issue funding warning
DALLAS - The Bond Buyer reported that the current U.S. transportation secretary and his predecessor both warned that the Highway Trust Fund could become insolvent by end of fiscal year 2014.
U.S. Department of Transportation Secretary Anthony Foxx encouraged local leaders to press Congress for a bipartisan solution to highway funding during the 82nd annual winter meeting of the U.S. Conference of Mayors on Thurs., Jan. 23.
"The Highway Trust Fund is teetering on the edge of insolvency," he said. "The fund needs to be replenished in fiscal 2015, but we may go upside down before fiscal 2014 concludes."
Foxx warned that the fund may even start bouncing checks as early as August, causing local highway project delays or cancelations.
Foxx said Democrats and Republicans have to work together to pass a new, long-term transportation bill before the current one expires on Sept. 30, at the end of fiscal 2014.
President Obama's proposal to link corporate tax reforms with increased infrastructure investment is a good start, Foxx said. "It would stabilize the Highway Trust Fund for several years so we could plow investments into infrastructure."
Ray LaHood, policy advisor for DLA Piper LLP and the former DOT secretary, told The Bond Buyer he wants Congress to replace the current two-year spending plan with a six-year highway bill, including at least $500 billion for surface transportation infrastructure. He believes crafting a bipartisan funding bill, paid for through a raise in the gasoline tax, will be lawmaker's biggest transportation challenge for 2014.
"We need to pass a highway bill, and fund it by raising the gasoline tax by 10 cents [from the current 18.4 cents per gallon] and indexing the gasoline tax to inflation," LaHood said. "If we had indexed it back when we last raised the tax in 1994, we wouldn't be having this conversation."
Treasurer Kennedy: I-49 South projects should receive surplus funds
LAFAYETTE - Projects along the I-49 South corridor between Lafayette and New Orleans should be first in line to receive an estimated $140-$180 million in expected state revenue surplus funds at the end of this budget year, Louisiana Treasurer John Kennedy told a group of I-49 South supporters.
"I would strongly suggest we should spend a significant portion, or all of the money, on I-49," Kennedy said at the I-49 South Stakeholders meeting in Lafayette in December. Kennedy said surplus funds are considered non-recurring revenue, and that money should go to construction projects, such as the ones waiting for funding along the vital I-49 South corridor.
Kennedy also noted that many people talk about the importance of I-49 South, which has been designated as "America's Energy Corridor," but the overall project lacks adequate funding. "We ought to put our money where our mouths are," Kennedy said.
State Rep. Joel Robideaux, who chairs the House Ways and Means Committee and the joint Legislative Committee on Capital Outlay, also was at the meeting, and he agreed with Kennedy's proposal.
"I liked what I heard from Treasurer Kennedy," Robideaux told the audience of about 75 people. "We need to make I-49 South a priority just as we did a few years ago for I-49 North."
Former State Sen. Mike Michot, who serves as Interim Director of the I-49 South Coalition, stressed that bringing all of the I-49 South corridor up to interstate grade isn't a local issue. "This is a vital corridor for our state's economic interests," Michot said, noting that the corridor is a critical component to supporting Louisiana's oil and gas industry, which has a $77 billion annual economic impact on the state.
Many speakers cautioned that, however corridor eventually is financed, it will take more money than is available now. That means someone will have to put up more money, either in higher fees or tolls, said Dr. Kam Movassaghi, former DOTD Secretary and president of Fenstermaker.
"Fundamentally, there are only two ways - taxes and tolls," he said. "All of these options, the public-private partnerships and such, those are mechanisms. Someone still has to pay."
I-49 International Coalition Executive Director Gard Wayt pointed out that Arkansas, which is trying to finish a section of I-49 in the western half of the state, realized it needed more money for that and other transportation projects and recently passed a half-cent sales tax dedicated to roads.
DOTD Deputy Secretary Eric Kalivoda told the stakeholders that the estimated cost of completing the 140-mile corridor is about $5 billion, but he said he is hopeful DOTD can be successful in presenting the federal government with some environmental alternatives to the expensive elevated roadway section. "We think we can cut the cost in half," he said.


DOTD, T-DOT to build Sabine River bridge
LUFKIN, Texas - The Texas DOT (TxDOT) and Louisiana DOTD are celebrating the start of construction on the long-awaited U.S. 84 Sabine River Bridge replacement project. The $20.4 million project will construct a pair of one way, two-lane
bridges to replace the current single structure built in 1936. On Jan. 10, TxDOT and DOTD were joined by state and local elected officials from both states for a ceremonial groundbreaking at the Dennis Freeman Memorial Park in Logansport, Louisiana.
Groundbreaking ceremony at Dennis Freeman Memorial Park.
Photo courtesy of Shelby County Today
"This is a great project for the local communities and all motorists who travel through the area because it will improve safety and mobility," said TxDOT Commissioner Jeff Austin, III. "It is a long time coming and we're thankful for the partnership with Louisiana to improve transportation for the citizens of both states."
The Sabine River Bridge connects Joaquin, Texas and Logansport, Louisiana. TxDOT and DOTD designed the project to provide a safe and efficient crossing of the Sabine River that meets current design and safety standards. The bridge currently serves approximately 12,500 motorists per day.
"We are grateful to Texas for overseeing the construction of this project," said DOTD Secretary Sherri H. LeBas. "The Sabine River Bridge is an important connector for Louisiana and Texas, and its replacement will enhance safety for the nearly 12,500 motorists that use the bridge each day."
TxDOT and DOTD first began discussions on replacing the Sabine River Bridge in the 1980s followed by multiple public meetings. Input from the public meetings and the alternative analysis were used in the development of the environmental assessment that selected the preferred alternative. The project was suspended several times due to lack of funding.
When completed, it will include two bridges, one for eastbound traffic and another for westbound traffic. These bridges will have two 12-foot lanes, a 10-foot outside shoulder and a four-foot inside shoulder. New eastbound lanes will run from approximately CR 3598 in Texas to LA 5 in Louisiana.
The project is expected to be completed in the summer of 2016.
The REAL "pain at the pump"
Did you know that most Louisiana citizens are paying less in transportation taxes than they were more than 20 years ago? Here's why.
Even though we pay more for gas today, we're actually paying less in gas taxes than in the past.
First, our model for paying for roads and bridges hasn't changed since the 1980s. With the exception of some local programs, such as the Green Light Program in Baton Rouge that is funded through a sales tax, the majority of transportation funding is through the state's Transportation Trust Fund, which - literally - is fueled by the gasoline tax. The state portion of that tax is 20 cents per gallon - 16 cents for the regular state program and 4 cents for the TIMED program.
Because the gas tax is based on volume and not price, the taxes a driver pays depends solely on how much gas he buys, not on what the price of gas is.
But, how does this translate into paying less in taxes? It comes down to fuel economy. The average car in 1993 got 17 miles-per-gallon. If that driver traveled 1,000 miles per month, she was paying about $140 per year in state fuel taxes. If that same driver in 2014 has an average car that gets 24 miles-per-gallon and drives the same 1,000 miles per month, she's only paying $100 per year in state fuel taxes. Even though she's paying more for gas than she was 20 years ago, she now pays less to help build and upkeep our roads and bridges.
At an average of only $100 per year, most Louisiana drivers are paying more for unlimited texting on their cell phones than to support our roads. The next time someone complains about all the tax dollars they're paying for roads, keep this information handy.
Do you enjoy reading the Good Roads newsletter online?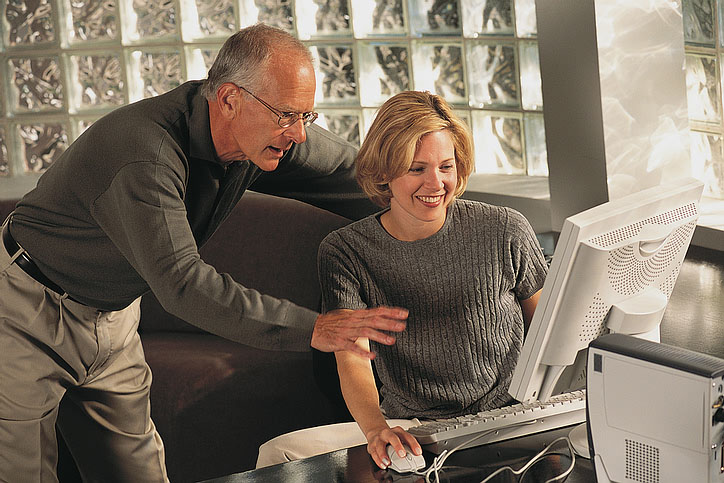 Good Roads is now distributing this electronic version of the printed newsletter we have published for many years. The e-newsletter has many advantages; You can link to other articles or websites by clicking on the words that are underlined and in blue. And, you can easily forward the newsletter to anyone who might be interested.
This newsletter is being sent via email to all members who have provided Good Roads with a valid email address. If you would like to receive the e-newsletter, make sure Good Roads has an updated email address. You can send your email address to Debbie Husser at debbieh@lagc.org to be included on the list.
We also would like to hear your opinions about the newsletter. Let us know at debbieh@lagc.org, or you can write us at Good Roads, P.O. Box 3713, Baton Rouge, LA 70821.