In this issue...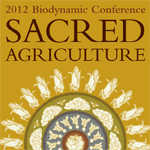 Visit our website to peruse photos in our
reflections from conference participants
.
Know someone else who would like to get our quarterly updates?
Support the Biodynamic Association!
15th Annual School Gardening Conference:
Solving Problems with School Gardening
Request for Session Proposals

School Gardens present many challenges and opportunities. From a practical perspective, starting and maintaining a school garden requires a coordinated effort among school and sometimes community members.

School gardeners face many decisions and challenges planning and maintaining the garden. Once you have the garden, it can become a living laboratory for science investigations and other curricular connections.

This year's school gardening conference will provide helpful advice for the practical side of growing a successful school garden and also share activities and lessons that use the garden to teach problem solving and other thinking skills.

We are inviting teachers and other experts to talk about their experiences with school gardening, to share helpful tips and advice, to demonstrate successful lessons and activities, and mostly to remind us all why school gardens are worth the effort you put into them.

Presenters will receive free registration to the conference.

For more details and to submit a proposal, please download the RFP (pdf)
Thank you for subscribing to the quarterly FBEIBA newsletter!
Have something you'd like to share with others? Send it to me at fbeiba@biodynamics.com and we will include it in a future issue.


- Dana Burns, FBEIBA Coordinator
Reflecting on Re-connecting to the Earth
Thank you to Tom Spaulding, Deb Crocket, Gunther Hauk, and the entire Angelic Organics Learning Center Staff for presenting at, and hosting
Re-connecting to the Earth: A Farm-Based Education Intensive
, a pre-conference event of the
2012 North American Biodynamic Conference.
Participants in the intensive expressed gratitude and inspiration coming out of the workshop:


"A wonderful place, inspiring, magical."


"Gave me inspiration."


"So inspirational I was moved to tears."

"Thank you for demonstrating a model is possible and able to thrive that incorporates heart and healing in farm-based experiences."


"An awe and wonder."


"Amazing-what a wealth of knowledge."


The pre-conference intensive and a very informative talk by Stephen Payne on Saturday, November 17 in Madison marked the first FBEIBA workshops at a BDA conference. Many new faces joined the FBEIBA events this year.
We are eager to keep this momentum going! Please help us by
becoming a member of the Biodynamic Association
and joining the
Biodynamic Directory
for members. When you join the directory you can search for and connect with other farm-based educators as well as other individuals and organizations that share your interests.
We are constantly striving to identify and meet the needs of the growing and diverse ranks of Farm-Based Educators Inspired by Anthroposophy. If you have a comment or suggestion regarding this process, please email Dana Burns at
fbeiba@biodynamics.com
The 2012 Farm-Based Education Intensive
By Lori Barian
We came on a full school bus from Madison. Others drove from their homes in Wisconsin or Illinois. Others probably came right from an airport. The gathering of nearly 150 people at Angelic Organics on November 14th felt like its own major event, as "Re-Connecting to the Earth: A Farm-Based Education Intensive," was one of three pre-conference workshops being held there in connection with the 2012 North American "Sacred Agriculture" Biodynamic Conference, each of which was sold-out.

The morning was cold with brisk winds, so it was lovely to find hot coffee and tea, yogurt and granola inside the "Corn Crib" where our workshop was being held.

Once we settled in, Dana Burns welcomed us and reminded us about the importance and impact of farm-based education. "You can take all of the serious and critical problems facing our world today and find that most have their roots in education. I see farm-based education as actually having the greatest potential to create the possibility of hope in addressing the many earth and life- threatening issues that we face today."
In the first part of the day, we heard the story of Angelic Organics Learning Center (AOLC), presented by its co-founder Tom Spaulding and senior program director Deb Crocket, with a slide show presentation. AOLC was an initiative of several CSA members wh

o saw that there was a need for educational opportunities on the farm, and not just so scouts would know where their food comes from, but also for torture survivors' and refugees' healing through reconnecting to the earth.

AOLC's mission is "empowering people to create sustainable communities of soils, plants, animals and people through educational, creative and experiential programs."

After starting out so very small, with primarily volunteer help, AOLC now employs 15 full time and 15 part time staff, and has a budget of $1,000,000+.


How did they do it? That's what we all wanted to know so that we can do it in our own communities.


One primary message in the AOLC example was the importance of a thorough planning process that makes vivid the vision so that everyone can work together toward the same goal. The plans are certainly revised along the way, but they give those working together on the project a clear sense of direction and a way to assess their progress.


Another key to AOLC's growth as an organization was given as a picture. Their work is in part planting seeds in an ever-widening spiral and then those seeds creating their own spirals. I saw that as a willingness to dig deep to give what is needed to a community, whether it is city school children doing urban gardening or CSA members learning techniques for preserving their food, and then being happy to see that learning blossom and lead to other initiatives. The AOLC doesn't just do their own programming on the farm there, they are also partnering with many other like-minded organizations in a very unselfish way in Chicago and Rockford, IL.
Farmer Educator Position Open
Pioneering Waldorf farm school in Port Hadlock, Washington (Olympic Peninsula area) seeks visionary fulltime FARMER/EDUCATOR to manage a working farm using biodynamic principles, and shape it as a learning environment.
Sunfield is an 81-acre farm with fields, forests, wetlands, and grades K-8 on-site, and is actively building farm-based community education programs. Successful candidate has biodynamic farming experience, a high level of passion and energy, and excellent communication and management skills. Position requires close partnerships with school faculty, community education staff, and volunteers; motivating/managing people, working with apprentices, developing and managing a small CSA; experience with small and large livestock; managing budgets; and interacting with students and community members of all ages.
Farm-Based Educators Inspired by Anthroposophy (FBEIBA)
www.biodynamics.com/farm-based-educators
FBEIBA is a project of the Biodynamic Farming & Gardening Association