Connect with BACnet International

Platinum Members
Gold Members
Corporate Affiliate Members

Connect With Success

Upper River Valley Hospital
Waterville, NB, Canada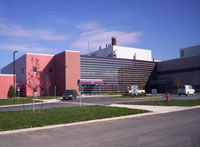 The Upper River Valley Hospital is a 70 bed health care facility located in Waterville New Brunswick Canada. The Hospital was built using LEED strategies and achieved LEED Silver status.

The facility has its own well water field to supply both potable and non potable water reservoirs. The rain water and water used in the reverse osmosis water purifying systems is captured and used in the non potable reservoirs. The non potable reservoirs can be filled by the well field and via the recovery system. The BMS system by user defined levels in the non potable reservoir can allow the levels to drop if there is an expected rain fall thus alleviating the use of the well field when rain fall is expected.

The facility also has its own waste water treatment plant. The main building is oriented to take advantage of natural lighting. Patient rooms have large windows allowing the natural light into the space. The main mechanical systems utilize tried and true control strategies which keep energy consumptions to a minimum.

Click here to read the full Success Story

BACnet Manufacturers: Delta Controls, Trane

Click here to view all BACnet Success Stories, or to submit your company's for publication.


Connect With Resources


Click on the image to download the newest edition of the Journal

Connect With the Community

Thank you for visiting us in Booth #903 at AHR Expo 2013



BACnet International's education sessions presented at AHR Expo 2013 now available online.


Participants in the BACnet International booth included:
Connect With BACnet Community News

News and Product Releases
Click here
for more information on Carrier
Visit us in Booth 1718 at NFM&T Baltimore!
NFM&T is a trade show and educational conference geared towards individuals who are involved in managing, operating, or maintaining a facility. This year's show will be held on March 12-14, 2013 at the Baltimore Convention Center in Baltimore, MD. As a single-source provider for complete system solutions, Carrier is excited to be exhibiting this year! Visit us in booth 1718 to see the i-Vu® Open Control System, which combines state-of-the-art Carrier equipment, plug-and-play controllers, and the powerful web-based i-Vu user interface to form a cohesive, intuitive, and fully integrated BACnet® Building Automation System.
-------------------------------
Click here for more information on Contemporary Controls
Using the BASrouter with a Honeywell Spyder Controller


The BASrouter provides a simple, cost-effective method to attach Honeywell Spyder BACnet MS/TP controllers to BACnet/IP without the need of a building controller. This allows Spyders to reside on the building's Ethernet network without the need to provide home-run fieldbus wiring to a head-end. Spyder controllers are frequently used for both VAV and unitary applications. Originally available as a LON device, they are also available as a BACnet MS/TP device and therefore can be easily integrated to BACnet/IP with the popular BASrouter. Contemporary Controls has recently published an application note to explain how this is accomplished.
Learn more at
http://www.ccontrols.com/enews/0113story2.htm
.
-------------------------------
Click here for more information on Continental Control Systems
New WattNode BACnet From Continental Control Systems Extends Electric Power Metering Offerings
Latest Addition to WattNode® Family Boasts Low Price,
Compact Design, and Easy Installation
Continental Control Systems announced that with its new WattNode® BACnet® meter (MS/TP), the companynow offers cost-effective energy and power metering for all of the major building automation communications protocols. The new BACnet WattNode meter complements the company's Modbus® and LonWorks® meters, enabling almost any building automation system seamless accessibility to electrical system measurements including power, energy, voltage, current, and power factor. Released earlier this year, with hundreds sold, the WattNode BACnet meter has been adopted throughout North America in commercial retail chains were energy consumption monitoring and consumption control is critical.
"We're committed to providing affordable, easy-to-install, high-quality products that offer both the reliable performance and high ROI required by our customers," said Cynthia A. Boyd, director of sales for Continental Control Systems. "Boasting an attractive price point, this new meter offers the benefits of our proven WattNode technology to automation and control system designers in the BACnet world."
Designed to be the most compact and cost-effective networked energy meters on the market, all WattNode meters provide line-powered single and three phase, wye or delta configurations up to 600 Vac and 6000A.
Supporting full self-discovery of the meter and all of its objects, the WattNode BACnet meter offers more than 50 electric power-related measurements, 64 addresses, and selectable baud rates up to 76.8K
-------------------------------
Connect with BACnet International News

A BACnet International delegation, headed by its President, Mr. Andy McMillan, met with a Japanese delegation from the Committee of Standardizing BACS interface of the Institute of Electrical Installation Engineers of Japan headed by its Chair, Mr. Takeji Toyoda. In this initial discussion, the groups exchanged information on the development of the BACnet communities in Japan and North America

Connect Face to Face


Visit BACnet International at the following upcoming tradeshows:



Booth # 901

Connect With Opportunity



BACnet International Success Stories

BACnet International Success Stories is a free resource that provides a place to promote your successful projects that use BACnet in order to further knowledge and understanding of the BACnet protocol - essentially, mini case studies. Posters utilize a web form to upload the content, (narratives, photos, etc...) which is then reviewed by editors from BACnet International (primarily for errors) prior to public posting.


Once the BACnet Success Story is posted, it becomes a permanent, linkable record of the successful project.
Further, Success Stories:
Are automatically eligible for additional public recognition via BACnet International's Leader of the Pack Awards
Are featured in Cornerstones - BACnet International's monthly eNewsletter that goes out to 7,000+ members / subscribers
Are candidates for articles in the BACnet International Journal - BACnet International's printed / digital periodical
Click here to submit your company's BACnet Success Story and take advantage of the free press!

New to this process? Don't know what you'll need?

Download the Success Stories Word Document.


Connect in Cornerstones

BACnet International followers benefit from an electronic monthly publication called Cornerstones. This publication will go to members of the BACnet community, connecting corporate, integrator, site, student and individual end-users. Cornerstones is a unique publication in that we speak not only to engineering and contractor communities, but also to the facility professionals, managers, owners and beyond.

This is where you come in. Connect.
If there is a best practice article, company news, product news or BACnet Success Stories you want to share, please send them to us. And don't leave out the photos! All submissions should be sent to info@bacnetinternational.org.