Connect with BACnet International

Platinum Members
Gold Members
Corporate Affiliate Members

Happy Holidays from BACnet International.
Warm wishes for a happy and healthy season.
Connect With Success

ImaginOn: The Joe & Joan Martin Center
Charlotte, North Carolina, United States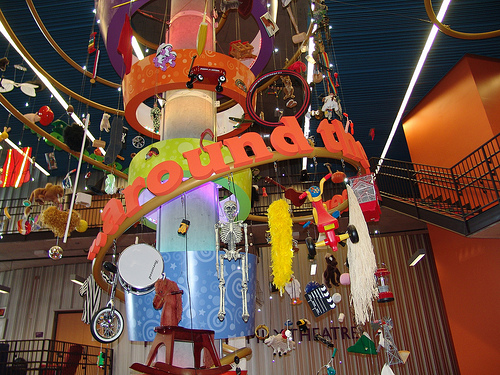 The Public Library of Charlotte & Mecklenburg County (PLCMC) and Children's Theatre of Charlotte (CTC) each offered engaging and educational programs for young people, but both were running out of space. The executive directors for both organizations decided to create a combined solution into a single, new facility.

Aesthetics became a vital part of the mechanical system design as unsightly panels and conduit have no place in a building designed to delight the eye as much as the mind. One of the biggest challenges was concealing as much equipment as possible.

Sophisticated control strategies--including supply air reset control, static pressure reset control, and fan speed modulation based on airflow measuring--effectively manage the vastly different heating and cooling needs of the library and the theater. In addition to motion-based space sensors, ImaginOn uses precision controls to reduce its energy use and increase savings by ensuring no space is over- or under-ventilated.

Click here to read the full Success Story

BACnet Manufacturers: Alerton

Click here to view all BACnet Success Stories, or to submit your company's for publication.


Connect With the Community

Connection Community Building
by Andy McMillan
For most of my career I've found value through participation in professional communities that share my challenges, interests and aspirations. Many of them are known by their acronyms (e.g. ASHRAE, ESD, IEEE, ASAE ...) and all of them provide opportunities for education, service and networking. They typically deliver those benefits through publications, conferences and trade shows. While valuable, the traditional model for these groups is rapidly becoming outdated as the world becomes more "social." The growing influence of Facebook, LinkedIn, Twitter and other "explicit connection communities" is changing our expectations of each other and how we interact. In addition, "implicit connection communities" like users of Amazon and Trip Advisor (where interaction is through static reviews) are also expanding our understanding of how to generate member-to-member value. Bringing opportunities for this kind of "social value creation" to professional communities is challenging but I believe it is essential for BACnet International to move in that direction.
Most communication in professional communities (including BACnet International) is directed from the association HQ to members via publications, emails, etc. While there is some member-to-member communication at conferences, committees and trade shows, it impacts a limited number of members. For example, BACnet International has over 7,000 members but only a handful participate in committees. Most of our members have attended at least one BACnet-related conference but even those are one-time events. To broaden the opportunities for members to learn from each other and share experiences, BACnet International is creating alternative models. Our Facebook presence is already in place, as is a member forum. In addition, we have begun to encourage live tweets from conference sessions. Of course this is just a start but we are committed to evolving BACnet International from its traditional professional community model into a robust Connection Community.
The views expressed in this column are mine and do not necessarily reflect the position of BACnet International, Philips Teletrol, ASHRAE, or any other organization. If you want to send comments to me directly, feel free to email me at andysview@arborcoast.com.
Connect With BACnet Committees

BACnet Application Interface Development:Call for Participants
The BACnet Committee's Applications Working Group (AP-WG) is starting the development of a library of standardized BACnet Application Interfaces. As the group starts the development of a specific Application Interface, the BACnet Committee will be seeking experts from the Building Automation industry to participate in a Rapid Development Group for the preparation of a rough draft of the interface.
The first Application Interfaces the committee is developing are:
Air Terminal Unit (ATU)
Variable Frequency Drive (VFD)
The AP-WG's intent is to have a draft document ready for the January meeting in Dallas. We are looking for experts who want to participate via email in determining the content of each Application Interface.
If you are interested in participating in either of the Rapid Development Groups, please contact the AP-WG convener at the address below by December 15, 2012.
204-925-1450
Connect With BACnet Community News

News Releases
Click here
for more information on American Auto-Matrix

American Auto-Matrix recently released the MatrixBBC. This powerful BACnet Building Controller joins the over 30 BTL listed products offered by American Auto-Matrix. Designed to meet BACnet specifications, the MatrixBBC is a high performance device that provides global logic capabilities, data routing, and I/O Control into a single package. The MatrixBBC also provides full support for the SPL Programming Language and has the capability to run up to 64 SPL programs. For more information visit www.aamatrix.com.
-------------------------------
Click here
for more information on Carrier
Enjoy the Benefits of SPT Communicating Sensors!

Have you realized the many benefits of communicating SPT sensors versus hardwired, non-communicating versions?
With recent updates to our UPC application library, communicating sensors are even supported with Carrier's ComfortLink™-based 48/50 A&P series RTUs and 48/50 HC units.
Benefits of these sensors include:
1. A hidden communication port that allows a laptop computer to commission equipment and access alarm data, as well as to access other equipment on the i-Vu® Open network.
2. Large, easy-to-read LCDs that can display space temperature, OAT, setpoints, and local override time.

3. The ability to do temperature averaging and/or high/low select control by daisy-chaining multiple sensors together.

4. The ability to provide the same SPT sensors throughout the building, whether you have Carrier equipment with BACnet controls or RTUs with ComfortLINK controls.

5. The ability to supply a communicating sensor with the air source unit. Many third party BAS manufacturers require that the equipment manufacturer also provide communicating sensors with their equipment.
-------------------------------
Click here
for more information on Reliable Controls
Leading with BACnet
Relia

ble Controls® is pleased to announce four new BACnet Testing Laboratories (BTL) certifications:

MACH-ProAir™

,

MACH-ProZone™

,

RC-Archive version 3

, and

RC-Studio® 2.0

.



The MACH-ProAir™ and MACH-ProZone™ have both been awarded BACnet Building Controller (B-BC) listings at the highest level of the BTL grading scale, Revision 12. The MACH-ProAir™ and MACH-ProZone™ bring the number of Reliable Controls® B-BC certifications to ten.

The new RC-Archive™ version 3 has been certified as BACnet Other (B-Oth).

RC-Studio® 2.0 update 1.76 improved its BTL certification from BACnet Operator Workstation (B-OWS) to BACnet Advanced Workstation (B-AWS), the highest possible workstation listing.
[View all of Reliable Controls® BTL Listed products]
Connect With Opportunity



BACnet International Success Stories

BACnet International Success Stories is a free resource that provides a place to promote your successful projects that use BACnet in order to further knowledge and understanding of the BACnet protocol - essentially, mini case studies. Posters utilize a web form to upload the content, (narratives, photos, etc...) which is then reviewed by editors from BACnet International (primarily for errors) prior to public posting.


Once the BACnet Success Story is posted, it becomes a permanent, linkable record of the successful project.
Further, Success Stories:
Are automatically eligible for additional public recognition via BACnet International's Leader of the Pack Awards
Are featured in Cornerstones - BACnet International's monthly eNewsletter that goes out to 7,000+ members / subscribers
Are candidates for articles in the BACnet International Journal - BACnet International's printed / digital periodical
Click here to submit your company's BACnet Success Story and take advantage of the free press!

New to this process? Don't know what you'll need?

Download the Success Stories Word Document.


Connect in Cornerstones

BACnet International followers benefit from an electronic monthly publication called Cornerstones. This publication will go to members of the BACnet community, connecting corporate, integrator, site, student and individual end-users. Cornerstones is a unique publication in that we speak not only to engineering and contractor communities, but also to the facility professionals, managers, owners and beyond.

This is where you come in. Connect.
If there is a best practice article, company news, product news or BACnet Success Stories you want to share, please send them to us. And don't leave out the photos! All submissions should be sent to info@bacnetinternational.org.