Valentine's Day is not just about chocolates and flowers, but about spreading love and spending time together. Though the day has passed, Venice Community Housing invites you to spread love not only to those in your lives, but to the less fortunate as well.

Join Venice Community Housing and Hollywood Community Housing Corporation as we celebrate breaking
ground of
our new permanent housing development.



The event begins at 9:30am, Thursday, March 5,

located at Gateway Apartments,
13368 Beach Avenue, Marina del Rey. Light refreshments to follow.

RSVP to Myrna Pappas at mpappas@vchcorp.org or (310) 573-8407.
VCH Supports the Homeless Bill of Rights and Right to Rest
According to a UC Berkeley School of Law study being released this week, 58 California cities have enacted hundreds of new laws since 1990 that single out or disproportionately effect homeless people. In 2013, more than 7,000 Californians were picked up for vagrancy.
Venice Community Housing endorses the Homeless Bill of Rights and Right to Rest bills, advocating for equal and basic human rights protections to homeless people. Find the LA Times Op-Ed piece regarding these bills,
here.
VCH Supports the Westside Shelter and Hunger Coalition
We had a blast at the Westside Shelter and Hunger Coalition's 19th Annual SuperBowl-a-Thon on February 6th!
Staff enjoyed games and prizes while supporting the coalition's mission to end hunger and homelessness. We can't wait for next year!
Valentine's Day Potluck

Venice YouthBuild hosted a Valentine's Day Potluck at Penmar Park. 13 alumni from various cycles stretching back 6 years joined the current YouthBuild class to enjoy a wonderful day of food, games, and an alumni panel. The panel consisted of 5 alum who spoke about their lives post-YouthBuild and their career pathways. It was a great time to catch up and start the long weekend!
YouthBuild Alumni News
Venice YouthBuild Cycle 12 Alum, Gillete Nevado, was featured in LAANE's (Los Angeles Alliance for a New Economy) campaign supporter profiles. We're so proud of her success and wish her the best! Read her inspirational story here.
Venice YouthBuild is a comprehensive program providing education, job training, and leadership development to 35 youth ages 18-24 each year to help them transition into successful adults.

Thank you, thank you to Google for spreading the technology love to VCH. A huge shipment of laptops and computers arrived courtesy of a very generous donation from Google.
We are pleased to invite you to a new, design-inspired
fundraising
series showcasing original curated special events: intimate salons, tours, luncheons and
dinners, hosted by the area
'
s cutting edge visionary artists.
Co-founded by Jay Griffith and Linda Lucks, welcome to the Venice Design Series, benefiting Venice Community Housing...
For additional information, visit
LAHSA 2015 Homeless Count Success
Executive Directors Va Lecia Adams Kellum of the St. Joseph Center and Steve Clare of Venice Community Housing
Venice Community Housing served as a deployment site host for this year's Los Angeles Homeless Services Authority (LAHSA) Point-in-Time Homeless Count. Over 60 volunteers donated their time to be a part of the nation's largest homeless census, providing a biennial snapshot of the demographic characteristics and locations of homeless within the Greater Los Angeles Area. We thank our volunteers for their valuable time and effort!
Support the Whole Planet Foundation
Enjoy music, food, beer, and wine while supporting the Whole Planet Foundation- a portion of proceeds will help raise funds for micro-credit loans for entrepreneurs in third world nations. Please email
venice.events@wholefoods.com
with questions.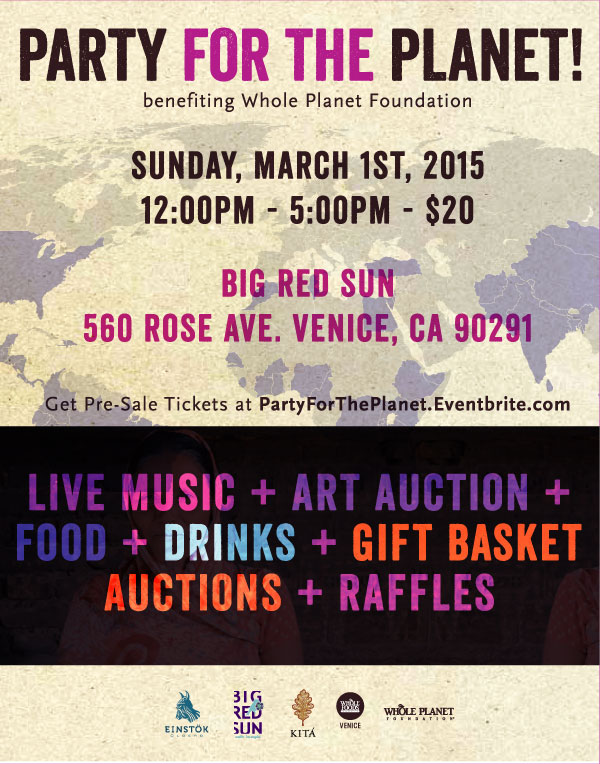 VCH's Volunteer Heavyweight: Deborah LaShever

VCH would be hard-pressed to accomplish numerous jobs, events and tasks without the never-failing help of Deborah LaShever, local businesswoman, writer, mediator, legal clinic assistant and activist with numerous local rights groups.
When it comes to digging in to help for Free Storage Venice, Jazz at Palms Court, our Sleeping Bag Fundraiser and Giveaways, she's there for us. And that's not all: there's tabling at events, training volunteers, attending organizational meetings, planning VCH strategies and seeking potential grants. Often seen at OFW, Deborah is well-known by local businesses, police and politicos, including our Councilman. She makes clear to all her progressive views, ideas and contributions, always seeking to help and lobby for the less fortunate and homeless.
VCH thanks and appreciates you, Deborah!
If you're interested in volunteering, learn more about our volunteer opportunities by clicking
With love and gratitude,
~ VCH
MISSION STATEMENT
The mission of Venice Community Housing is to preserve the economic, racial and social diversity of Venice and the surrounding area by maximizing affordable housing and economic development opportunities and providing needed social services to the area's low-income population.

Support Our Donation Center
Open the 3rd Friday of every month
Our Donation Center is open to all low-income and homeless individuals for "Shop Day" every third Friday of the month. Please consider donating your gently used clothing, small household items, personal hygiene, and cleaning products to those in need.
Upcoming Shop Days:
February 20th
March 20th
April 17th


Please bring donations to our office located at 720 Rose Avenue in Venice, Mon - Fri 10am-2pm.
The Los Angeles Homeless Services Authority, a city-county agency, received 767 calls about street encampments in 2014, up 60% from the 479 in 2013.
Are there more homeless encampments or does gentrification make them more visible? Read the LA Times article here.
Aquilla Flemings joined VCH this past December. She joins the team as a Case Manager for Resident Services. She works with Shelter + Care residents to provide case management services to formerly homeless and mentally ill clients.
Her favorite part of the job is getting to know her clients on a personal level and getting to know their stories.
While not at VCH, Aquilla also works at Covenant House California, a youth homeless shelter in Hollywood. She also volunteers with high school students at her local YMCA as an advisor to the Youth & Government program.
In her free time, Aquilla enjoys googling random things, reading, exercising, and watching cartoons.
Wish List
From linens to laptops, Venice Community Housing is always seeking donations for our residents and programs. Please visit our
online wish list
to see if you can meet any of our current needs!