July 2009 - Museum Newsletter
WAAAM Leads the Parade!

4th of July Extravaganza
The Western Antique Aeroplane and Automobile Museum will be leading the Hood River Annual 4th of July Parade with an envoy of military vehicles and an L-Bird air support escort all operated by the museum volunteers.
The parade starts from the Rosaures parking lot at 10am.
Look skyward as well as at the parade and you might just be surprised at who you know that is involved at WAAAM.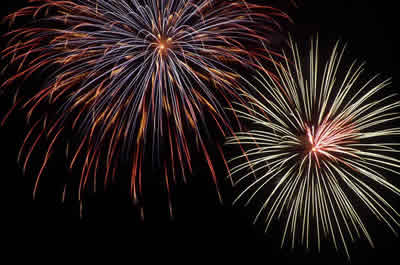 After the parade, visit the WAAAM for hot dogs and a tour. The cars and planes will be active throughout the day.


Evening hours will see WAAAM launch the L-Birds again to fly over the Columbia River to open the fireworks event at dusk.

Volunteers are working hard to have the 1942 Sperry 60-inch Antiaircraft Searchlight operating this 4th of July for a demonstration. Good Luck Volunteers!

See more:
WAAAM Vehicals of WAR
*WAAAM is proud to welcome all Active Duty Military personnel to visit the Museum at no charge*

Volunteer Spotlight
Andy & Jean Anderson

Jean and Andy have been volunteering at WAAAM since the grand opening! That's nearly two years already and the hours are many. Jean mans the front desk, advertising and events, Andy is always working on one of cars or some project he sees that needs attention and helps with events. Both have a passion for the old cars.
They have five antique cars which Andy has restored at the museum.
1925 Model T Ford Roadster Runabout,
1925 Model T T Truck Ford,
1928 Dodge Brothers Victory 6 four door sedan, a
1929 Model A Pick up and
1930 Model A Coupe with a rumble seat.
Andy is currently working on a 1947 Studebaker Ambulance.
Jean has also volunteerd at Westside Elementary School for the past eight years. She recently received the Hood River County Volunteer of the Year Award for her work at the school.
Congratulations Jean!
Andy is also a talented wood working craftsman and carves and restores carousel horses. (See some samples on display in the museum gift shop)
After 52 years of marriage they have two daughters, one son, five grandsons and one granddaughter. Their travels have taken them all over the world. Some of their destinations; Europe, China, Tibet, Australia, Egypt and Fiji; they also enjoy taking cruises. As Jean says, "We haven't been everywhere, but it's on the list!"
Thank you Andy and Jean - You make WAAAM wonderful!
The Arrow Sport Story Continues........
Part 1 published May 09
After the first test flight the weather over in Denver was not all that great, so I told the folks I would be back in the next week or so to fly the old girl back to the Denver area. When I got back the son-in-law met me at the airport with the deceased owners' grand kids, wondering if I could take them up in Grandpa's plane one last time. As you all know, there is no way I could say no. So after a couple of laps around the family farm with each of the grand kids, I was ready to head west. Need I say about an hour or so later than I had originally planned, but what can you do? My first leg was from Cozad to North Platte, the Arrow ran perfectly the weather was great, and just a small head wind. What more could you ask for??

Still not sure what my fuel consumption and oil burn might be exactly, I made my next stop in Sterling, where there was a note on the door to call for fuel, odd for 3pm... an hour or so later I was on my way. Now with sunset coming right up, there was no time to dally. My goal was to land at Jack Greiner's grass strip just north of Boulder, CO. He had given me a rough idea where he was located in relationship to the roads, highways and other airports. As I was approaching the general area the sun was just slipping over the horizon, so after a couple of laps around the neighborhood with out seeing anything that did not look like a horse pasture, I landed just north at Longmont Airport. The Arrow spent the night there, while I drove by Jacks place so I could locate it from the air.

The next morning I arrived at Jack Greiner's. Jack is a very interesting fellow. He began flying in the early 30's, and was one of the youngest Captains flying for American Airlines in DC-3's, later he spent time barnstorming around the mid-west in the taper wing Waco he restored , and at the time I landed with the Arrow, was in the middle of restoring a Rose Parakeet. When I shut the airplane down Jack walked up, and said, yep, that's the Arrow I flew back in the 70's. He said, "I remember you don't want to chop the power on her during the landing". While at Jack's place, I was able to spend time adjusting the brakes, tinkering with a few items, and having a crack in the exhaust collector welded up. After making a few more test flights, climbing up to altitudes that I would need to fly over the Rocky Mountains, I had convinced my self that this wing was not the one I wanted to fly over the Rockies. Discretion being better part of valor, I decided that since my Dad was helping us move from Georgia in a U-Haul, and would need to end up in Oregon anyway, that we would disassemble the Arrow and send her to Hood River in a truck.

As you know from before the Arrows' wings are one piece, so they stuck out of the biggest truck that U-Haul has about 3 feet. Loading a bi-plane is not a simple task. Luckily we had plenty of help loading her up. Unfortunately it is hard to gain a consensus with a Corporate Pilot, a Barnstormer, an Engineer, a Sheet Metal man, a Building Contractor, and a Wife. All of that a side, a few hours later we had the Arrow loaded and headed down the road, headed for Hood River.

After arriving in Hood River, Tom and Terry stuck the wings back on the old girl, and as luck would have it I was able to stop by for a quick visit and fly her again. At the same time we fired up the Davis DK-1 and got some nice photos of Kinner powered airplanes, with odd wings, flying in formation. WAAAM has another Arrow in line for restoration. It is a model F, low wing mono-plane with a Ford flat head V-8 engine. I'm sure the old car guys will love seeing that airplane together.

So that's the story, nothing exciting, just the way the Arrow Sport Pursuit arrived in Hood River. Did I mention that Budd Davisson did a cool article on this plane back several years ago??? http://www.airbum.com/pireps/PirepArrowSport.html

Ben Davidson
Arrow Pilot

WAAAM is a non-profit museum that was established in 2006. This museum's collection dates back to the early years of man's obsession with motorized travel. WAAAM is dedicated to keeping the memories alive as well as providing a vast selection of exhibits that educate and inspire visitors.
This museum is kept alive by volunteers and donations from people like you who want to preserve the past for future generations. Your donation (of any amount) will help assure that the amazing collections at WAAAM stay intact for future generations to enjoy.
Donate Today using PayPal. It is so easy.
Your donation is tax deductible.
Mark Your Calendar!
Happenings at WAAAM

-----------------------

4th of July Extravaganza

7/4/09

9AM - 5PM

WAAAM CAMP

2nd session

7/20/09- 7/23/09

2009 Ring Kings Custom Car Show 7/18/09

7AM -3PM.

Planes, Trains & Automobiles

8/14/09

2009 WAAAM / HOOD RIVER FLY-IN


9/11-9/13/09

United Way

Fundraiser

Red Cross Blood Drive

9/23/09
June & July 2009

Fourteen young and enthusastic future aviators spent 4 days of their summer vacation attending the first WAAAM

Volunteer Joyce Murphy organized and inspired these eager explorers along with guest instructors Tex Newman, Brian Brandt and Dick Clark about the world of flight and aerodynamics.

With hands-on activities on real antique airplanes,

they examined aircraft engines getting a general working knowledge of the power plants that make them fly. They

built a model glider by learning how to shape the airfoil, balance and make adjustments to create the perfect flyer.

The next session is designed for middle and high school age students.

Learn more about the July Session
NEEDED!
We need Volunteers for the Annual Hood River Fly-In.
Pick a day!
Pick a shift!
Pick a position!
Sept. 11-12-13
Get a crew shirt, lunch, admission,
a return admission and feel great about helping WAAAM.
Call 541-308-1600
Visitors Quote
"This is Oregon's best kept secret"
As told to volunteer Lois Bowman along with the promise to volunteer and help WAAAM in writing grants
Book Your Event at the Museum Event Center

We have meeting areas up to 15,000 sq ft.
IT ALL ADDS UP!


Did you know, by using the GoodSearch.com website WAAAM earns one cent for each internet search and click? That could be a lot of dough! Since last month $10.00 has been earned!
Click below to help....these sights help the museum at no cost to you.