Ray's Craft Beer Newsletter
Beers for the Big Game!
Volume 2 Issue 2
Dear Rays Craft Beer Lovers,
I'm not sure if all of you are sports fans, but there is a particularly important American football game next weekend. Not only will this game decide the National Football League championship, but it also serves as an event for friends to gather together. Every Super Bowl party should have some great craft beers, and that's exactly what we're going to feature here. After some beers to represent all the different aspects of the game, we'll closeout with a fun beer sangria recipe.
Cheers!
Dan Downes
Flying Dog Raging Bitch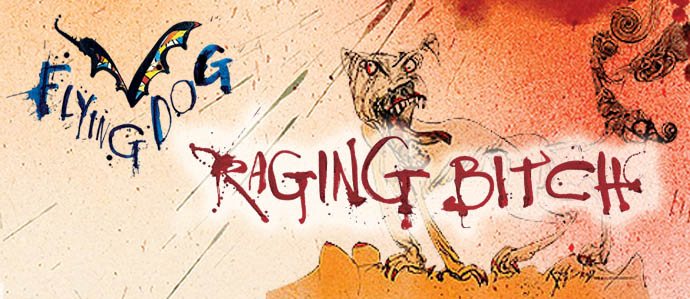 flyingdogales.com
To represent the Ravens, I decided to go with Flying Dog Brewery out of Frederick, Maryland. Located about an hour west of Baltimore, Flying Dog has made a name for itself with innovative brews and impressive artwork from famed British illustrator Ralph Steadman (known most notably for his work with Hunter S. Thompson).
Pouring a bright copper color, there's a slight floral hoppiness. The Belgian yeast characteristics come through strong, with lots of apple and banana esters along with a small coriander note. The same fruitiness continues to the taste with melon, banana and green apple pairing with a light malt sweetness. Medium mouthfeel with high carbonation, there's nothing overwhelming about the hop bitterness,
but it does add some grapefruit and citrus tones. This beer has a lot of complexity and bold flavors, but there's also a soft side. It's like Ray Lewis.
anchorbrewing.com
Anchor Steam Beer
Representing the 49ers is the steam beer from San Francisco's Anchor Brewing, and dates back to the 19th century. Anchor actually owns a trademark for the term "steam beer," so California Common is the generic name for the style. Predating commercial refrigeration (which started around 1856), brewers used shallow open fermenters so the air would cool the wort faster. While certainly a feat of ingenuity, it also showcases the beer's defining characteristic -- it utilizes a lager yeast that fer
ments at temperatures higher than usual. A typical lager ferments around 45-50°F while the average California Common goes anywhere from 58-68°F.
Where does the name steam beer come from? No one is 100% sure, but there are a few theories.
Some say it was derived from a hissing sound the beer would make as it was fermenting, while another posits that the hissing originated when a new barrel was tapped. Anchor itself says the name comes from the the practice of people producing the beer on their rooftops and, "The foggy night air naturally cooled the fermenting beer, creating steam off the warm open pans."
Now while you may still be sore from what the 49ers did to the Packers a couple weeks ago, that's no reason to take it out on their beer. Pouring a golden amber color, you'll notice caramel and honey right away with no real hop presence. The balance toward malt continues to the taste with caramel flavors and bready maltiness that then even
transitions
to a slight nuttiness. One of a kind, this beer goes down smooth!
Esser's Best
essersbest.com
Sure a Wisconsin team may not be in the game, but that doesn't mean you can't have some Wisconsin beers! While there are tons of great options, my pick is the Esser's Best Original. First brewed in 1863, Esser's Best is the perfect crowd pleaser beer. Even if you have that picky father in law that doesn't like "fancy beer," he'll appreciate this Munich Helles Lager.

A golden color, Esser's Best has grainy malt aroma and a slight whiff of grass. When you drink it, you'll realize that this is everything that a lager should be. Crisp, clean and with the mild sweetness you expect. Lightly carbonated, there's a small hop kick at the end, but this is an easy drinker through and through. If you're looking for a local beer that you can have at kickoff and not tire of it by the fourth quarter, this should be your choice.
abita.com
Since the game is being played in the SuperDome in New Orleans, we need a beer to represent the city. Abita is a natural choice and their latest seasonal is the Mardi Gras Bock. Brewed with Perle hops and caramel and pale malts, you can technically classify it as a Maibock (aka Helles Bock).
Brewed with a high malt content, the MGB has notable roasted nut aromas and slight butterscotch. Slightly sweet, the hops contribute an earthiness and round it out. If you're having BBQ wings at your party, this is the beer to pick up. Perfect for strolling down Bourbon Street, the Mardi Gras Bock will do well in your living room, too!
Goose Island Big John
gooseisland.com
An imperial stout brewed with cacao nibs, Goose Island's Big John is a big beer for the big game. Made for a snifter, this jet black beer produces a small tan head. After the initial rush of roasted malt, scents of chocolate, anise, brown sugar and cola open up. Amazingly, the taste is just as complex as the aroma. In addition to dark cherry-like fruit; chocolate, vanilla and a bit of molasses are also present. There's a slight alcohol heat from the finish, but not out of line for an 11.5% beer. Last week I tried the 2011 vintage and the sweetness becomes more pronounced and the alcohol diminishes. Great for dessert or your cellar!
Beer Cocktail
Beer Sangria
chow.com
Whether it's summertime or wintertime, a sangria is great for parties. What makes this particular sangria different is that it is beer based instead of wine. I discovered this recipe on chow.com and have been using it for group gatherings ever since. Incredibly easy to make, you can prepare this hours ahead of time and just pour it over ice once guests arrive.


Ingredients:

1 (750mL) bottle Raspberry Lambic -- I'd recommend Lindeman's Framboise or New Glarus Raspberry Tart
2 (12 oz) bottles of Belgian wit bier -- I use Hoegaarden, but use whichever you prefer
6 oz of Lillet Blanc -- A French apertif wine
6 oz of raspberries (about a cup)
1/2 of a medium orange. sliced
Ice
Directions:


Combine ingredients and stir!
Thanks again for subscribing to and reading Ray's craft beer newsletter. If you have any questions, comments or suggestions, please feel free to email me at dandownes@rayswine.com



Lastly, for up to the minute beer arrivals and release information, be sure to follow us on Twitter and Facebook. We added a brand new Twitter handle @raysbeer to solely focus on all the beer happenings. Enjoy the game!



Cheers!




Dan & the gang at Ray's