Ray's Craft Beer Newsletter
Hoppy New Year
Volume 1 Issue 7
Dear Rays Craft Beer Lovers,
As 2012 draws to a close, I ask us to consider the hop head. The last few newsletters have showcased many of the richer, maltier seasonals, and while no one can deny that they're great beers, does the hop head have no place in winter? I say, "Nay!" and this issue will focus on some of the newer hop-centric offerings. We'll open with an introduction to a growing beer style and close with a Belgian edition of Substitute Teacher. The beers we discuss may be bitter, but hopefully your year won't end that way!
Cheers!
Dan Downes
Not that kind of hoppy!
The American Black Ale
A relatively new style, the American Black Ale is surrounded by controversy...of nomenclature. There are a variety of different names for the style, including, but limited to: India Dark Ale, India Black Ale, Black India Pale Ale, Cascadian Dark Ale, American style India Black Ale, and even Noonan Black Ale (seriously). New Englanders claim that the Vermont Pub & Brewery originated the style, Northwesterners want the term Cascadian Dark Ale (referring to the Cascade mountain range) because they invented it and still others claim the British created this type of beer long before the Americans. As a Midwesterner, I don't really have a horse in the race, but I will admit that the title Black IPA never made much sense. How can something be both black and pale?
Regardless of what you decide to call it, how should you expect it to taste? Simply put, they are dark beers that display strong hop characteristics. There will be roasted malts similar to stouts, but with slightly less burnt or toasted tones. Still confused? Well allow me to give a few examples.
New Glarus Black Top
newglarusbrewing.com
Famous for producing the beloved Spotted Cow and impeccable German style beers, New Glarus can hold its own with the new generation, too. If you're looking for an introduction to the American Black Ale, Black Top would be my choice. One of their current winter seasonals, Black Top is a beer of balance in style that seems to promote anything but. Dark cocoa powder and toast scents accompany strong hop profiles. This same interplay of subtle and strong continue to the taste where dark chocolate and fruits from the malt marry with spruce-like and citrus flavors of the hops. Not overwhelmingly bitter, Black Top is perfect for the person who enjoys beers that aren't too heavy handed on the hops.
sixpoint.com
Sixpoint Diesel
If you're looking to explore the Black IPA style a bit more, you can't go wrong with Diesel. The latest seasonal from Sixpoint Brewing, they continue to produce beers that push the limits of classification. Pouring an extremely dark brown, an active tan head appears and persists throughout. The aroma will remind you of chocolate covered coffee beans. There's some dankness from the hops, but they don't overwhelm the bouquet.
Taste wise, this beer delivers exactly what you'd expect. There's a strong roasted barley flavor reminiscent of dark roasted coffee along with dark chocolate. The hops may have hidden on the nose, but they come through strong on the finish with distinct pine and earthiness.
International Bittering Units


Looking over beer labels, you might have come across the term International Bittering Unit (IBU for short). IBUs measure the bitterness of beer through the use of a spectrophotometer and solvent extraction.

Now while it may be easy to assume that something with a higher IBU number must be more bitter, things are not that simple. The perceived bitterness of a beer is much different in brews with higher malt content. For example, Guinness Stout has about 45 IBUs while Bell's Two Hearted IPA has 55 IBUs. The reason the Two Hearted tastes so much more bitter is because of the lower malt content.

For in-depth information on styles and corresponding IBU levels check out this chart

.



O'so Brewing

Lupulin Maximus
osobrewing.com
Hop cones contain little yellow sacs called lupulin glands. These glands hold the key to giving beer it's bitterness and aroma. O'so brewing out of Plover, Wisconsin, emphasizes lupulin in a whole new way by even putting hop cones in some of the bottles! Take a whiff of this and you'll realize there are some seriously concentrated hop oils in this Imperial IPA. The malt is not forgotten and contributes notes of toffee and graham crackers.
The taste mirrors the aroma in a many ways. The hops punch you in the mouth right off the bat. There will be big earthiness along with some grapefruit and orange zest. Again, though, there's malt characteristics of caramel and graham cracker to back up the hops. This sweetness counteracts the bitterness and really gives this beer maximum complexity.
If you want to really see the yin and yang of hops and malt and get an idea about how they work with one another; pick this one up!
Hoppin' Frog Hop Dam
hoppinfrog.com
Everyone who calls themselves a hop head will have to test their street cred with this latest offering from Hoppin' Frog. Dubbed a Triple IPA, Hop Dam actually required the brewers to build a large stainless steel hop dam (hence the name) just to brew the beer! Using 50% more hops than their Mean Manalishi DIPA (which clocks in at 168 IBUs) Hop Dam simply describes its IBU level as "high." Dominated by Amarillo hops, there is also a melange of Columbus, Cascade and Summit varietals. This is an American-style beer through and through.
An amber color, prepared to be surprised when you smell this beer. There are definite strong resiny aromas and earthiness, but you'll expect a bit more from something that bills itself Triple IPA. You'll take back all those doubts once you taste it. This is the hoppiest beer I have ever tasted. The initial bitterness hits softly at first, but finishes with a big blast. Bready sweetness from the malt gives another layer, but it's
severely
out gunned. Despite all the bitterness, it's actually quite enjoyable. The hops will dry your mouth a bit, but you'll want to go back for another sip. Don't drink this with an expensive dinner, however, it'll destroy your palate!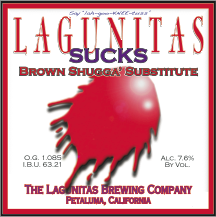 lagunitas.com
Last year, capacity issues forced Lagunitas to cancel their seasonal Brown Shugga'. As an apology, they brewed a Double IPA and named it, "Lagunitas Sucks." It was such a hit that they brought it back again this year. Big piney, herbal aromas couple with pineapple and grapefruit. Light-bodied, this is another stellar example of a west coast style IPA from the folks out in Petaluma. As it hits your palate, there will be some
herbaceous qualities in addition to grapefruit and lemon peel.
A subtle bready maltiness comes in the background to give the beer a bit more balance. A dangerously drinkable 7.6%, this beer works great with fried foods or the next time you decide to have taco night at home.
greenflashbrew.com
Last week was the first time Green Flash brewing out of San Diego, California, hit the shelves in America's Dairyland. I've been fortunate enough to visit the brewery twice and couldn't be happier to have them on the shelves! They do a number of great beers, but my personal favorite is their Belgian IPA -- Le Freak. The color of marigolds, the beer even emits a wonderful flowery scent in addition to orange zest and cloves. Incredibly creamy, the Belgian banana characteristics come through on the fore then transition to the grassy and citrus flavors of the hops. Green Flash calls this a "zesty brew" and you'll think someone grated fresh orange and lemon peel on top of your beer!
Substitute Teacher
If you wanted...

Westvleteren 12
Then you'll like...

St. Bernardus Abt 12
sinbernardus.be
In the last few weeks you might have heard about the release of "the best beer in the world." This was a reference to the arrival of Westvleteren 12 (known in beer geek circles as Westy 12) from the Trappist Abbey of St. Sixtus. Previously, St. Sixtus beers were only available by visiting the abbey itself in Belgium. In a one-time deal struck with a US importer, distribution was available for a special one day release to a handful of states, which excluded Wisconsin. Many people have come in looking for the Westy 12 and while I may not be able to offer them the beer they're looking for, I direct them toward the St. Bernardus 12.
With 5 miles separating the two, St. Bernardus brewery and St Sixtus have a shared history. Shortly after the Second World War, the Trappist Monastery of St. Sixtus decided that it no longer wanted to brew commercially. They decided to enter an agreement with a Mr. Evarist Deconinck who had a small operation in the village of Watou. This same farm had once been run by the Trappist monks of the Mont de Cats monastery in neighboring France who fled their country during the anti-clericalism of the Third Republic. The monks called the farm "Refuge de Notre Dame de St. Bernard," which was how St. Bernardus brewery earned its name.
In the agreement, the monks of St. Sixtus would still brew beer in the monastery for their own conusmption and connected taverns, while Mr. Deconinck would brew the beer for commercial production. This agreement expired in 1992 when the Trappist Monesteries decided that the appellation "Trappistenbier" could only be given to beers brewed within the walls of a Trappist
monastery
.
Why the history lesson? Well, the beers that St. Bernardus brews came from Westvleteren brewmasters based on Westvleteren recipes. In fact, St. Bernardus still uses the original Westvleteren yeast while St. Sixtus switched to using a Westmalle yeast in the 1990s!
St. Bernardus fills your glass with a deep, dark amber and releases aromas of brown sugar, plums and figs. The taste is a
whirlwind
of different flavors. It's amazing how there's a complex richness to the malt characteristics, but they are delivered with such lightness and finesse. B
rûléed
sugars merge with pear-like fruit that finish with a bit of anise and warmth from the alcohol. Yes, the collector in you may regret never trying a Westy, but you'll appreciate how much further your $90 will go with the St. Bernardus. It's even beat the Westy 12 in some blind taste tests!
Thanks again for subscribing to and reading Ray's craft beer newsletter. If you have any questions, comments or suggestions, please feel free to email me at dandownes@rayswine.com



Lastly, for up to the minute beer arrivals and release information, be sure to follow us on Twitter and Facebook. On behalf of everyone at Ray's Wine & Spirits, I wish you all a Happy New Year and look forward to what 2013 may bring.



Cheers!




Dan & the gang at Ray's