District honors retiring School Board president
On the eve of the April 9 election, Downers Grove Grade School District 58 recognized retiring School Board president Stephen G. Funk for his four years of dedicated service.


Vice President Sallie Lupescu shared a statement thanking Funk for his time, dedication and commitment, and for consistently seeking to make District 58 an even better place for students to learn.

"He always placed the interests of children above all others. We are fortunate to have worked with him and to have learned from him," Lupescu said.

Two District 58 students qualify for state science fair at U of I in May
Two District 58 students have qualified for the State Science Fair competition to be held May 3 and 4 at the University of Illinois.

Herrick Middle School student Angelo Marra will represent District 58 with his project, "Which Treatments Affect Radish Seeds?", and O'Neill Middle School student Chandana Sooranahalli will represent District 58 with her project, "Can a Parabolic Reflector Be Used to Strengthen Wireless Systems?"

Their projects earned top scores at the Regional Science Fair

March 9 and at the 32nd annual District 58 science fair Jan. 19.
Two District 58 staffers chosen as Teachers of the Year by DGJWC


Two District 58 teachers were honored with Outstanding Teacher Awards March 19 by the Downers Grove Junior Woman's Club during their annual education awards ceremony.
The Junior Woman's Club's Outstanding Teacher awards are open to teachers at all public and private schools within Downers Grove, and are designed to recognize teachers who are truly special and remarkable in the field of education. This year's winners were Hillcrest third-grade teacher John Smoke, nominated by Zachary Mead, and Hillcrest fifth-grade teacher Joanne Fiene, nominated by Peter Crowe and Samantha Simmons. Smoke has been teaching in District 58 since 2008, while Fiene has taught in District 58 since 1973. During the awards ceremony, students read their letters to the audience about their teacher, and the teachers received a framed certificate.
Students to hear from writers, illustrators during D58 Author Fest
Library signing event open to public

District 58 students will have the chance to hear about the art of storytelling from some of the best in their field during the 2013 Author Fest, set for April 17-19.
Authors come to Downers Grove from all over the country during the annual event to talk about how they became writers, discuss their craft, answer students' questions about the writing and/or illustrating process and talk about careers in literature. Visiting authors for 2013 include Julia Durango, James Kennedy, Kate Klise, Kevin Luthardt, Craig Pierce, Aaron Reynolds and Barb Rosenstock.
The Fest alternates each year between the north side schools and the south side schools, and this year's host schools are El Sierra, Fairmount, Indian Trail, Kingsley and Whittier. The LRCs at each participating school, as well as the classroom teachers, immerse students in the works of each visiting author before he or she comes to their school.
The three-day event will wrap up with a book-signing featuring the authors and illustrators at the Downers Grove Public Library on Friday, April 19. This event is open to the public. Books will be available for purchase from Anderson's Bookshop beginning at 6:30 p.m., and authors will sign from 7 to 8 p.m.
Author Festival is sponsored by the Downers Grove Area Council of Parent-Teacher Associations and the PTAs of the participating schools, with additional support from the Downers Grove Public Library and Anderson's Bookshop in Downers Grove.
Poi Dog Pondering concert raises more than $30K for D58 Education Foundation


The District 58 Education Foundation's April 5 Entertainment for Education fundraiser in partnership with WXRT, featuring an evening with Poi Dog Pondering at the Tivoli Theatre, raised more than $30,000 for the Foundation's programs in District 58.
"It was truly a memorable evening, and we are so grateful to the community for their continued support of our organization," said Education Foundation President Jay Stocki.
Over the past decade, the Foundation has donated more than $400,000 in financial support, primarily in the form of annual classroom and building grants, to help District 58 offer expanded learning opportunities. This year alone, the Foundation funded more than $35,000 in grants for District 58 schools. The Foundation also funds Sneak Preview, a three-day middle school orientation program for incoming seventh-graders; the Select 58 eighth-grade service awards; the Distinguished Service Awards for staff; and a new teacher welcome luncheon.
For more information about the District 58 Education Foundation, visit www.58foundation.org.
Board awards bids for facilities work
The District 58 Board of Education voted April 8 to approve several bids related to facilities projects slated for completion this summer.


The board awarded bids for asbestos abatement at
Fairmount School ($77,250), Pie
r
ce Downer School ($68,400), Hillcrest School ($51,700) and Longfellow Center ($14,000), as well as flooring
replacements at Fairmount, Hillcrest, Kingsley and Lester for a total of $588,659.
The board awarded the bid April 8 for a three-classroom addition at Pierce Downer School, as well as related remodeling work, to Tuscany Construction, Inc. for $1,485,000. The board also awarded bids for flooring and fire alarm replacement at Pierce Downer using Life Safety funds, for $75,000 and $35,000 respectively, and awarded bids for miscellaneous classroom furniture for Pierce Downer for a total cost of approximately $60,000.
The board anticipates awarding bids in May for security upgrades and asphalt replacements throughout the district.
"Each of these planned projects is critically important to the accomplishment of our strategic plan, and to our commitment to providing quality educational programs in safe and nurturing environments," said District 58 Superintendent Kari Cremascoli. "I am pleased and proud of the progress our district has made in this regard this year, and look forward to taking the next steps towards implementing our plans to upgrade our facilities."
Click here to visit our Facilities Planning page and read more about the facilities projects planned throughout the district for 2013 and 2014.
D58, Downers Grove Public Library to host additional Digital Learning Workshop


Due to popular demand and extremely positive feedback, District 58 and the Downers Grove Public Library will host an additional Digital Learning Workshop session for interested parents and community members on
Monday, May 6 at 1 p.m. at the library, 1050 C
urtiss St., Downers Grove. The workshop will focus on how digital devices can be used to support learning.
Please bring a device if you have one, but it is not required. For more information about the workshop, contact Technology Director Scott Meech at smeech@dg58.org or Assistant Superintendent for Curriculum and Instruction Matthew Rich at mrich@dg58.org.
District 58 summer school online registration now open
Registration for District 58's Learning in the Summer 2013 program is now open. Again this year, parents and guardians can register their children and pay for regular education classes online. In addition to kindergarten
readiness, math, reading, art and music classes, which will take place Monday through Friday from June 10 through June 28, District 58 also is offering Digital Game Design and Digital Video Production classes this year for students entering third through eighth grade in 2013-14! These two-week sessions will take place Monday through Thursday the weeks of July 8 and July 15.
District 58's summer learning programs are open to all students enrolled in public, private or parochial school that will be entering kindergarten through eighth grade in 2013-14 and reside in the District 58 attendance area. Transportation is not provided. All classes will take place at Henry Puffer School, 2220 Haddow Ave., except for band and orchestra, which will take place at Herrick Middle School, 4435 Middaugh Ave.


The registration deadline is Friday, May 24, and early registration is encouraged. Enrollment will be handled on a first-come first-served basis, and space is limited. Class may be canceled due to insufficient enrollment. For more information, contact summer school secretary Diane Glowicki at
dglowicki@dg58.org
or
(630) 719-5850
.
Registration open for D58 Chinese immersion summer language program
For the third year in a row, Downers Grove Grade School District 58 has partnered with STARTALK to offer a 60-hour Chinese language immersion summer program for students.
STARTALK is a federally subsidized language program that provides a rigorous but fun Chinese language immersion program. The class is available to current fifth-, sixth- and seventh-grade students in District 58. Participants will learn about Chinese culture through a variety of cultural activities, as well as develop skills in reading, writing, speaking, listening and typing Chinese.
The program will run from June 10 through June 28 (Monday through Friday) from 8 a.m. until noon at Henry Puffer School, 2220 Haddow Ave. The registration fee is $50. Online registration will be available through May 28, and a maximum of 20 students will be accepted on a first-come, first-served basis.
School snapshots and stories


Check out some of the photo galleries and stories recently posted on our website!

Lester School Science Olympiad brings science to life
On March 12, the classrooms at Lester School were packed with students building marble roller coasters, investigating a "crime," digging for worms, and building bridges, barges, and marshmallow towers.
This was all part of the Lester School PTA's fourth annual Science Olympiad. More than 200 students participated in teams in a variety of hands-on activities designed to foster a sense of discovery and introduce new and exciting science concepts. More than 70 Lester parents and community volunteers served as guides and supervised events.
Click here for the full story and to view photos from the event!
Students take the lead in parent-teacher conferences at El Sierra School
At El Sierra School, the fourth, fifth and sixth grade students play a key role in their own parent-teacher conferences. To prepare, they sort their tests and writing pieces, then complete a reflection sheet for each subject. For example, in reading, they are asked to identify their favorite story of the year, what they are currently reading, and what challenges they have in reading. They also are asked to set goals for themselves, and outline the steps they will need to take to achieve those goals. They then create a presentation about their work, which they share with their teacher and parents during the evening conference.
Click here for photos from this year's student-led conference!
Belle Aire fourth-graders get bike safety tips from police
Fourth-graders at Belle Aire School learned about bicycle safety April 5 from Downers Grove Police Public Education Manager Mary Wennerstrom. She visited the class to talk with the children about how to stay safe while riding. She reviewed hand signals such as right, left and stop; reminded them of the importance of wearing a helmet; and encouraged them to lock up their bicycle so it doesn't get stolen.
Click here to view photos from the event!
Herrick P.E. Department, PTA partnering to raise funds for upgrades to school's Fitness Center
Herrick Middle School's Physical Education Department and Parent Teacher Association have partnered to raise funds to update the school's Student Fitness Center by purchasing a variety of equipment totaling approximately $50,000, and are seeking assistance from the community.
Click here to view the full story on our News From Our Schools page.
Click here to view the campaign brochure.
O'Neill student artwork featured in statewide mosaic for JDRF Illinois
Students in Alane Lezatte's art classes at O'Neill Middle School had the chance to be part of something very big this school year--a mosaic comprised of more than 2,500 unique works of art created for the Juvenile Diabetes Research Foundation's Color for a Cure project.
The mosaic, entitled "Imagine," was created by the Juvenile Diabetes Research Foundation in partnership with Project S.N.A.P. (Share-Nurture-Act-Preserve) and the Ford Motor Company Fund, and included works of art submitted by JDRF Illinois students and families, members of the JDRF Illinois community, and students from around the Chicago area.
Click here for the full story and photos!
PTA assembly at Pierce Downer spotlights female singers
Students at Pierce Downer School recently heard the music of a variety of 20th century female singers, including Mahalia Jackson and Diana Ross, during a PTA-funded Urban Gateways assembly.
Click here for the full story and photos!
Soldier visits Indian Trail classes
Cliff Dienberg, who is in training to be a U.S. Marine, visited with students in Jennifer Barriball's fourth-grade class and Mary French's fifth grade class at Indian Trail School on April 8. The classes had written letters to Dienberg during his training, and he thanked them for their
support and talked with them about his program.
Click here to view photos from the visit!
District 58 earns financial recognition for 11th year in a row
District 58's 2012 Financial Profile placed the district within the Illinois State Board of Education's Financial Recognition range again this year.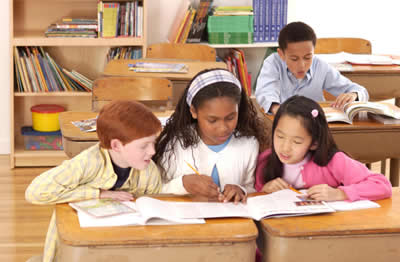 The district has achieved this designation every year for the past 11 years, when the ISBE began using the Financial Profile to evaluate districts. Financial Recognition is the highest obtainable category of financial strength, and a designation shared by 100 fewer districts this year.
The Illinois State Board of Education, which recently notified District 58 of the designation, said that "given the economic difficulties school districts are facing, the State Board realizes this is a significant accomplishment."
All Illinois school districts receive an annual rating from the ISBE, which takes into account financial indicators including fund balance to revenue ratio; expenditure to revenue ratio; days of cash on hand; percent of short-term borrowing ability remaining; and percentage of long-term debt margin remaining. The 2013 Financial Profile for all districts in Illinois can be found online at: http://www.isbe.net/sfms/P/profile.htm.
Rock Academy concert to feature D58 students, benefit D58 music programs

Students at Rock Academy in Downers Grove, including a number of young District 58 musicians, will present a concert for ages 13 and up from 7:30 to 10 p.m. Friday, April 12 at the Downers Grove Park District's Lincoln Center, 935 Maple Ave., Downers Grove. Admission is $5, and the business has decided to donate its proceeds to support music programs in District 58. Doors open at 7 p.m.
"Rock Academy understands the importance of music education in Downers Grove, and we are very excited to take part in a concert to help support the music programs of Downers Grove School District 58," said Rock Academy owner Al Wooldridge.
Downers Grove Park District, D58 partner again for Screen Free Week
Music and arts programs, rounds of miniature golf and a nature hike are among the free offerings available to students in Downers Grove Grade School District 58 during this year's Screen Free Week, thanks to a partnership with the Downers Grove Park District.
Students participating in the Challenge through their class or school, or on an individual basis, can choose from a variety of fun park district activities to try, free of charge, during the 2013 Screen Free Week, which runs from April 29 through May 5. Pre-registration is required for some classes by Friday, April 26. For more information, call (630) 963-1300 or visit the park district website,
www.dgparks.org.
Community e-flyers available for viewing

The mission of District 58, in partnership with parents and community, is to challenge and engage each child by providing quality educational programs and support services in a safe, nurturing, and child-centered environment in order to prepare all students to be lifelong learners and contributing members of a global society.
Communicate 58 is designed to share timely, relevant information about District 58 with parents, community members, and others who are interested in how we are living out our mission. If you have any questions/comments regarding Communicate 58, or have an article/photo idea for the publication, please contact Communications Coordinator Jennifer Waldorf at jwaldorf@dg58.org or (630) 719-5805.
Board Briefs

At its April 8 meeting, the Board of Education:
--Was led in the flag salute by Rachel's Challenge ambassadors from O'Neill Middle School
--Recognized students whose books were chosen to receive Illinois Young Authors' Awards, as well as students whose projects were chosen to advance to the state science fair
--Heard that the district had recently received all necessary approvals for its Life Safety projects, and anticipates coming to the board in July to issue $5 million in bonds to complete the work
--Viewed the curriculum ladder app that has been developed to support teachers in meeting students where they are with their learning
--Heard that administration is not recommending selling any portion of the land surrounding Longfellow until the board decides what it wants to do with the building long-term
--Approved subscribing to the Northwest Evaluation Association (NWEA) Measure of Academic Progress (MAP) for district-wide student achievement assessment at a cost of $62,500 for 2013-14
--Accepted insurance renewal proposals from Humana and Delta Dental
--Heard that staff plans to bring a teacher device refresh plan to the board at its April 22 budget workshop, and to bring a formal proposal for student devices to the board in May
Upcoming events

April 11



North side fifth and sixth grade band concert, 7 p.m., Herrick



April 13



Hillcrest variety show at Tivoli Theatre, 10 a.m.



April 15



North side fourth grade orchestra and Herrick Chamber Strings concert, 7 p.m., Herrick

Special Board meeting, 7 p.m., ASC



April 16



South side fifth and sixth grade orchestra concert, 7 p.m., O'Neill



April 17-19



Author Fest, various schools (see story at left)



April 17



Henry Puffer kindergarten roundup, 12:30 p.m.

Downers Grove Children's Choir concert at Lester, 12:45 and 1:45 p.m.

Legislative Committee meeting, 3:45 p.m.

South side fourth grade and O'Neill Chamber strings concert, 7 p.m., O'Neill



April 18



Henry Puffer kindergarten roundup, 9 a.m.

O'Neill Middle School sixth grade open house



April 22



Workshop regarding tentative 2013-14 budget, 7 p.m., Longfellow



April 23



Policy Committee Meeting, 7 a.m., ASC

South side fifth and sixth grade band concert, 7 p.m., O'Neill



April 24



Indian Trail kindergarten roundup, 9 a.m.

Downers Grove Children's Choir spring concert, 7 p.m., Herrick



April 25



Half day staff development day

Education Foundation Distinguished Service Awards for staff, 4:30 p.m., Ashyana Banquets



April 26



Highland kindergarten roundup, 9 a.m.

Herrick Chamber ensembles concert, 7 p.m., Herrick



April 30



Kingsley, Lester, Whittier open houses

Click here to view the 2012-13 calendar. You can use the buttons to customize your view, and the drop-down menus to skip ahead to different weeks/months!

Find District 58 on social media



Recent Tweets:
"
@DG58Tech
: "Best Homework Ever!" - 3rd Grader on his homework from the first night of learning lab with iPad Minis.
#dg58learns
" Awesome!
Getting some good press RT
@ilprincipals
: Shift to conceptual math is taking place in some Ill. districts
http://buff.ly/14V4g8d
#dg58learns
"
@RonSandack
: Going to
#poidogpondering
tonight
@TivoliTheatreIL
." Thanks for supporting the
@58Foundation
... hope you had a great time!!
MT "
@BHomel1
: COD tour: culinary arts, medical field, tech labs, homeland security, more! 8th graders looking to future." What a great day!