Board of Education discusses proposals for 1:1 device initiative

Technology is transforming how students learn, explore, and make connections, and
District 58 is excited to be
exploring a 1:1 initiative that would put a device into the hands of every student. On March 11, the Board of Education
reviewed and discussed proposals for funding and implementing a 1:1 initiative over the course of the next three years to continue supporting student learning and growth.
"Today's classroom is focused on ensuring that each student develops the ability to gather, comprehend, evaluate, synthesize, and report on information and ideas, as well as solve problems and work through an extensive range of challenges," said Director of Technology Scott Meech. "We have witnessed an exponential increase in excitement among teachers and students as they continue to improve their use of technology to help achieve these goals.
"
District 58 achieves top results with low per-pupil spending


The Chicago Tribune recently featured an analysis of operating expenditures per pupil in Chicago-area school districts. Out of nearly 60 K-8 districts listed, Downers Grove Grade School District 58's per-pupil expenditures of $11,885 were the fifth-lowest.

"District 58 continues to spend responsibly while at the same time achieving excellent results for its students," said District 58 Superintendent Kari Cremascoli.


D58 inspires, helps cause at DGS Shave Day for St. Baldrick's

District 58 students, staff and families played key roles in Downers Grove South's 2013 Shave Day for the St. Baldrick's Foundation March 15, which raised more than $60,000 for the charity that supports childhood cancer research.
An O'Neill Middle School staffer and several District 58 students -- one of whom will be honored in May with the 2013 Outstanding Youth in Philanthropy Award for his ongoing contributions -- had their heads shaved. In addition, third-grade cancer survivor Brenna Quirin performed an inspiring song to thank her supporters.
Click here to view a video of Brenna's performance!
Districts 58, 99 partner to prepare students for success in mathematics
District 58's Common Core Standards-aligned mathematics program is designed to prepare all students to be successful by fostering true concept mastery and development of key mathematical practices. On March 11, members of District 58's Mathematics Curriculum Committee shared with the Board of Education an update regarding the mathematics program, along with plans to further enhance the program for 2014-15.
The math department chairs from Community High School District 99 have participated in the math curriculum committee from its outset several years ago, and Districts 58 and 99 continue to
work in close partnership to build a continuum of teaching and learning in mathematics from kindergarten through twelfth grade. On March 11, Downers Grove South Mathematics Department Chair Paul Stevenson praised District 58 for having already aligned its math program to the Common Core Standards, setting District 58 students up for success in mathematics in high school.
The key, said Matt Rich, District 58 Assistant Superintendent for Curriculum and Instruction, is supporting staff in helping
all
students to grow in mathematics achievement. To that end, looking ahead to next year, District 58 is:
Working to ensure that assessments are connected to the curriculum ladder and resources; and

Preparing to implement middle school math pathways that are directly aligned with District 99's new scope and sequence.
District 58 on track to complete variety of capital projects
District 58 is on track to complete a variety of Life Safety projects, Operations and Maintenance projects and security upgrades at its 13
schools during summer 2013 and summer 2014. These projects are the result of years of careful planning and needs assessments, including a comprehensive facilities study conducted last winter by consultant Wight and Co.
Projects that are planned for the summers of 2013 and 2014 would provide much-needed upgrades, including carpet/tile replacement, asphalt projects, fire alarm and HVAC upgrades, and security upgrades to buildings throughout the district. These improvements will serve to refresh District 58 buildings and continue to support the outstanding teaching and learning that occurs within all of the schools.
On March 11, the Board of Education approved going out to bid for the prioritized Operations and Maintenance projects to be accomplished this summer, and approved working with Wight & Co. to develop specifications for the Phase 1 security upgrades to be completed this summer.
"I am very proud of the work that has been accomplished by our board and our community over the past several years with regards to facility planning and improvements that are both fiscally responsible and student-centered," said District 58 Superintendent Kari Cremascoli. "We are excited to be taking the next steps towards implementing our plans to upgrade our facilities. These improvements will help us continue to achieve our mission of providing top-quality services to our students in safe, nurturing and supportive learning environments."
Board of Education approves calendar for 2013-14 year


The District 58 School Board on March 11 approved the calendar for the 2013-14 school year. The first day of school, which will be a full attendance day, is set for August 26. The last day of school, if no emergency days are used, will be June 6, 2014.
On March 11 the Board also established Wednesday, June 5, as the last day of school for the 2012-13 school year, due to the fact that no emergency days were used.
D58 hosts 250+ students for 2013 SIT conference, Fairmount student designs winning 2014 logo


More than 250 students from 39 schools around the Chicago area attended the 2013 Students Involved in Technology (SIT) conference at
Herrick Middle School. The conference is unique in that it is entirely student-led.
Students attending the event on Feb. 23 heard a dynamic keynote speaker and participated in a variety of hands-on sessions and competitions. A total of 63 sessions were available for students to choose from, including photo and video editing, geocaching, digital art, robotics, programming, logo design, animation, game development, multi-media design and mobile apps.
Each year, one SIT session is dedicated to a contest to design the logo for next year's conference, and three winners from each local site are submitted to a state-wide competition. Fairmount School sixth-grade student Aubrey Vernon created this year's winning design, which will be used for the 2014 logo, website design, T-shirts and other materials.
New this year was a Minecraft competition, and this year's local site winner was O'Neill Middle School eighth-grader Ryan McGuire. To view his video, along with other submitted videos, visit http://www.dg58.org/domain/721!
Four student projects represent District 58 at regional science fair
Four student projects, two from O'Neill Middle School a
nd two from Herrick Middle School, represented District 58 at the Regi
onal Science Fair March 9, having earned top scores at the 32nd annual District 58 science fair Jan. 19.
Representing District 58 were:
Chandana Sooranahalli, eighth grade, O'Neill, "Can a parab

olic reflector be used to strengthen wireless systems?"

Kavisha Baxi, eighth grade, O'Neill, "How much water is absorbed by dried beans?"
Zachary Busch and John Cagney, seventh grade, Herrick, "Up in Flames: Which Fabric is Most Flammable?"

Angelo Marra, eighth grade, Herrick, "Which treatments affect radish seeds?"
More than 300 students participated in this year's District 58 Science Fair.
School snapshots and stories

Check out some of the photo galleries and stories recently posted on our website!

Schools support awareness campaign for World Rare Disease Day Feb. 28
Students and staff at several District 58 schools supported World Rare Disease Day February 28.
Necia Munro and Jennifer Van Houtan, both of whose families are living with a rare disease or condition, partnered with Global Genes Project to spearhead a World Rare Disease Day awareness campaign at Kingsley and Pierce Downer schools. Several other District 58 schools also supported their efforts. Global Genes Project is a leading global rare and genetic disease patient advocacy organization that works to build and unify a global rare and genetic disease community.
Click here for the full story!
Middle schools partner with Downers Grove Public Library for Speed Book Dating Bash
Recent Speed Book Dating Bashes at O'Neill and Herrick middle schools, hosted in partnership with the Downers Grove Public Library's Young Adult Committee Feb. 14 and 15, were a huge success. Hundreds of students and numerous staff members participated and hundreds of books were checked out.
Librarians from the schools and from the Downers Grove Public Library came together to gather genre-specific books for students to browse before selecting a final choice that was most appealing to them--speed dating, but with books. Different personality tables were set up and filled with titles: Adventurous, Funny, Gamer, Mysterious, Romantic, and Sporty. A "Blind Date" table, for the most daring students, featured wrapped books that were a surprise to the student upon checkout.
Click here for the full story and to view photos from the events at the two schools!
Objects become instruments in District 58 music classes
Water bottles, trash cans, milk jugs, spoons and spiral notebooks were among the items recently used by sixth-grade students in District 58 to create "found-sound" compositions, part of a new unit in the music curriculum this year.
Click here for the full story and to view photos of some student performances!
Successful Fun with Fitness program comes to elementary, intermediate DLP classes in District 58
Last year, a new initiative in District 58 gave middle school students in the district's Developmental Learning Program a chance to get fit and have fun. Now, students in the primary and intermediate Developmental Learning Program are enjoying the same opportunity.

Click here for the full story and to view photos from a recent class!
Whittier second-graders share books with special guests
On Valentine's Day, students in Deb Krygeris' second-grade class at Whittier School celebrated "I Love to Read" day. Parents and grandparents visited and read books aloud--three grandparents even read stories to students via Skype. District 58 Technology Director Scott Meech and Instructional Technology Coach Kristen Olsen shared books with the students, as well--iBooks, of course!
Civil rights marcher speaks to third-grade classes at Kingsley School
Third-grade students at Kingsley School recently heard compelling firsthand stories about the civil rights movement from a man who participated in the march in Selma, Alabama, in 1965.
The classes had been studying important figures in the civil rights movement. Rev. David Bebb Jones, the grandfather of two Kingsley students, visited the classes last month to talk about hearing Dr. Martin Luther King, Jr., speak; the events of the 1960s; de-segregation; and his own participation in the march when he was a pastor in Pekin, Illinois.
Click here for the full story and to view photos from Jones' visit!
#OMSTechKnow focused on digital citizenship, footprint and tools
During a day-long technology workshop earlier this month at O'Neill Middle School, dubbed #OMSTechKnow, students learned about digital footprints and digital citizenship, and participated in such interest-driven classes as photography, blogging, Minecraft, digital storytelling, stop motion videos, and screen casting.
Classes were taught by staff from O'Neill and across District 58, as well as Community High School District 99. The day opened and closed with keynote addresses by District 58 Director of Technology Scott Meech, who emphasized the importance of leaving a positive digital footprint, and by District 99 Instructional Technology Coordinator Jon Orech.
Click here to view photos from the day!
Seniors, students connect over literature at annual Herrick Read and Share Day
Students, grandparents and community seniors, as well as several representatives from the Downers Grove Public Library, gathered in the cafetorium at Herrick Middle School February 28 for the seventh annual Read and Share Day, formerly known as the Intergenerational Book Club.
Click here for the full story and to view photos from the event!
'Lemonade War' comes to Lester during school's first-ever One Book, One School program
Students, staff and families at Lester School have been participating in an all-school book club for the past month, courtesy of a grant received through the Education Foundation of Downers Grove District 58.
Click here for the full story and to view photos!
Indian Trail Code Green participants get hands-on watershed experience
Members of the Code Green Environmental Club at Indian Trail School learned about watersheds and stormwater in Downers Grove during a Feb. 25 visit from Kay McKeen of SCARCE (School and Community Assistance for Recycling and Composting Education).
McKeen brought an Enviroscape to give the students hands-on experience with the impact of stormwater and of various "pollutants," including oil, loose soil, fertilizer and pesticides, on the watershed.
Click here for the full story and to view photos from the activity!
Senior volunteers support learning at El Sierra School
A group of senior volunteers from the Oak Trace retirement community in Downers Grove travel regularly to El Sierra School to work with students. Approximately eight volunteers have been visiting for many years, providing whatever support the teachers request; this can include working on vocabulary, reading and math skills, tutoring, and mentoring.
Click here to view photos of the seniors and students working together!
Rockin' Science assembly comes to Fairmount
The PTA brought "Rockin Science" to Fairmount School recently. Scientist Steve wowed the students with a variety of scientific demonstrations that focus on the states of matter and chemical reactions.


Click here to view some photos from the assembly!
Belle Aire students learn with pig hearts
In their science class and with the help of a couple of parent doctors and teacher Patricia Miller, Belle Aire fifth and sixth graders recently had the unique opportunity to learn hands-on with real life pig hearts. They were amazed when you could actually see a bruise where one of the animals apparently suffered a fatal heart attack!
D58 hears from lawmakers at annual Legislative Breakfast
Unfunded mandates, social-emotional learning and pension reform were among the topics addressed by local state legislators during District 58's annual Legislative Breakfast Feb. 22.
Each year, the Legislative Breakfast gives District 58 staff, parents, community members and representatives from other local governments an opportunity to hear from local legislators about issues facing the state and its school districts, and to share with the lawmakers their questions and concerns.
Attending this year's breakfast at O'Neill Middle School were U.S. Rep. Bill Foster and Illinois Representatives Patricia Bellock and Ron Sandack.
Charity basketball game raises more than $10K for Education Foundation

On Feb. 17, the District 58 Education Foundation hosted the Harlem Wizards for an evening of basketball and comedy. During the event--held in the Downers Grove South High School gymnasium--the Wizards took on District 58 students,
parents, staff and administrators, as well as representatives from the Downers Grove community.
The sold-out event raised more than $10,000 for the District 58 Education Foundation, whose mission is to provide financial support to enhance education in District 58. Over its 10-year history, the foundation has given nearly $400,000 in support to District 58 schools, including nearly $35,000 in classroom grants in 2012 alone.
Several days prior to the game, Wizards players visited a number of District 58 schools to meet students and staff--and show off their skills.


Special Services Parent Group meeting April 9 will focus on sensory processing
The next meeting of the District 58 Special Services Parent Group will feature a presentation by District 58 staff members Deb Truskey and Kim McSherry regarding assistive technology and the special needs learner.
The meeting will take place from 5:30 to 6:30 p.m. Tuesday, April 9, at Indian Trail School, 6235 Stonewall Ave., Downers Grove. Pizza and pop will be served at 5:15 p.m. Please RSVP to Cindy Gilbert at (630) 719-5824 or cgilbert@dg58.org.
District 58's Special Services Parent Group, facilitated by the District 58 Office of Special Services, offers an opportunity to meet in an informal setting and hear from speakers, share special education information and learn about new resources.
REMINDER: D58 kindergarten roundups

District 58's kindergarten roundups provide an opportunity for parents of incoming kindergarten students to visit their school, meet the principal, and get their questions answered. Parents whose children will be five years old on or before September 1, 2013, are encouraged to call their neighborhood elementary school prior to their roundup for information about registration.
Click here for the kindergarten roundup dates and times for 2013.
Preschool registration now open
Applications for tuition-based enrollment in District 58's Grove Children's Preschool program, with its established, research-based educational curriculum, are now available at all District 58 schools and on the District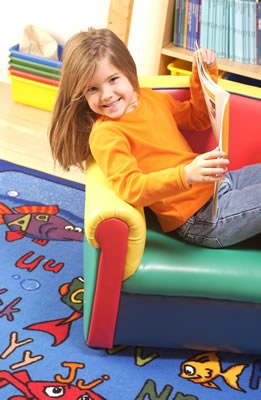 58 website at
www.dg58.org/preschool
. Enrollment is open to all District 58 children who will be 3 years old on or before Sept. 1, 2013, and tuition has decreased for 2013-14.
The goal of the Grove Children's Preschool program is to meet the developmental and individual needs of all children in a safe, inclusive and nurturing environment, while promoting educational success through engaging and collaborative learning experiences.Two-day and four-day options are available. Classes take place at Henry Puffer School, 2220 Haddow Ave., and Indian Trail School, 6235 Stonewall Ave.
Grove Children's Preschool is a blended program, meaning that tuition students, students identified as having special education needs, and students identified as being at risk for future academic difficulties due to cultural or socio-economic factors are taught in the same classroom.
For more information on Grove Children's Preschool, including registration information and tuition costs, call (630) 968-0454, or visit www.dg58.org/preschool.
What's new on 58 Doing Good?
58 Doing Good was created to spotlight for our community the many wonderful service projects completed by District 58's students, staff and schools. These not only make a big difference for those who receive the items and donations, they also cultivate a spirit of giving, civic responsibility, generosity and compassion in the next generation of leaders.


Lester students partner to make a difference for Sandy victims

Puffer third-grader donates books, supplies to benefit Jamaican children

Herrick vs. O'Neill dodgeball tournament raises funds for Ronald McDonald House

El Sierra raises $1,500 for American Heart Association

Belle Aire student council sponsors Hat Day for Make-A-Wish Foundation

Hillcrest's Jump Rope for Heart raises nearly $4,000 for American Heart Association

Whittier students brighten senior citizens' day with Valentines
Heard of a project or fundraiser we should feature? Share the information with Communications Coordinator Jennifer Waldorf by e-mailing jwaldorf@dg58.org or calling (630) 719-5805!
Community e-flyers available for viewing

The mission of District 58, in partnership with parents and community, is to challenge and engage each child by providing quality educational programs and support services in a safe, nurturing, and child-centered environment in order to prepare all students to be lifelong learners and contributing members of a global society.
Communicate 58 is designed to share timely, relevant information about District 58 with parents, community members, and others who are interested in how we are living out our mission. If you have any questions/comments regarding Communicate 58, or have an article/photo idea for the publication, please contact Communications Coordinator Jennifer Waldorf at jwaldorf@dg58.org or (630) 719-5805.
Board Briefs

At its March 11 meeting, the Board of Education:
--Was led in the flag salute by student council officers from Whittier School
--Formally recognized those students whose projects were chosen to represent the district at the Regional Science Fair March 9, and the students who earned top scores at Solo/Ensemble Days
--Heard updates and plans for next year regarding District 58's Common Core-aligned math curriculum
(see story at left for details)
--Heard from Superintendent Kari Cremascoli that third through eighth grade students had participated in the Illinois Standards Achievement Test (ISAT) the first two weeks in March
--Heard that everything is in order with the 2012-13 budget, and that the board will get a first look at the 2013-14 spending plan during a workshop in April
--Reviewed for first reading Policy 3318, which revises the dollar thresholds related to the bidding process to provide staff more flexibility with smaller purchases
--Discussed proposals for phasing in a 1:1 device initiative
(see story at left for details)
--Reviewed a proposal to move forward with a contract to administer Measures of Academic Progress (MAP) assessments at all District 58 schools in 2013-14
--Approved resolutions authorizing the transfer of funds from the Working Cash Fund to the Education Fund, Transportation Fund, and Debt Service Fund
--Approved student fees for 2013-14, which are unchanged from the 2012-13 fees
--Accepted Gaggle.net's proposal to host student e-mail
--Awarded bids for general supplies, paper and art supplies for 2013-14, as well as a bid for 65 flat-screen televisions to facilitate iPad/Apple TV use in small group learning spaces in the schools

--Accepted Illinois Century Network's (ICN) proposal for the purchase of 200 MB of additional external Internet bandwidth
--Approved proceeding with the bidding process for Operations and Maintenance and Life Safety projects planned to be accomplished this summer, and also authorize district staff to work with Wight & Co. to
develop specs for Phase 1 security projects (details in facilities story at left)
--Adopted resolutions regarding non-reemployment of part-time teachers and first-year probationary teachers, and honorable dismissal of educational support personnel employees
Upcoming events

March 18-19

O'Neill Middle School musical, 7 p.m.

March 25-29



Spring break--NO SCHOOL

April 5



D58 Education Foundation fundraiser--Poi Dog Pondering concert at Tivoli



April 8



Regular Board Meeting, 7 p.m.



April 9



North side fifth and sixth grade orchestra concert, 7 p.m., Herrick



April 11



North side fifth and sixth grade band concert, 7 p.m., Herrick

Click here to view the 2012-13 calendar. You can use the buttons to customize your view, and the drop-down menus to skip ahead to different weeks/months!

Find District 58 on social media



Recent Tweets:
A 2nd grade class at El Sierra School is learning about space by connecting directly with NASA on Twitter!!
@MrWhite2ndgrade
@NASAhistory
Students throughout D58 celebrated Pi Day today, 3.14...one 5th-grader at Indian Trail was able to recite pi to more than 70 digits!!
#PiDay