Check-out Great Offers from
Chamber Members
As a

new member

* you are entitled to one complimentary logo insert in the E-Newsletter.
Contact the office at 905-884-1961 ext. 25 for details.
*Joined in the past year
Proud Member of:
September is COURAGE Month!
I will stand up for my beliefs and principles and face challenges, fear and difficulty with fortitude.
Each month we will bring to you a character initiative that we hope you and your company will embrace, to build strong and compassionate employees with loyalty and respect.
RHYPE Casino Night

- Sept. 26
Upcoming Events in September 2013
September 5: Member Orientation
Time: 10:00am - 11:00 am
Location: RHCOC Offices, 376 Church Street South, Richmond Hill
September 11: Business@Breakfast
Time: 7:30am - 9:00am
Locatio
n:
Lone Sta
r
Texa
s Gri
ll, 93
01 Yonge Street, Richmond Hill
September 18: Business After 5
Time: 5:00pm - 7:00pm
Location:
9675 Yonge Street, 2nd Floor, Richmond Hill
September 26: RHYPE Casino Night
Time: 5:30pm - 8:30pm
Locatio
n: Cosmo Music, 10 Via Renzo Drive, Richmond Hill
Welcome 2013-14 Board of Directors!
Left to right: Marj Andre, Rick Fearman, Jonathan Greenbaum, Janine Purves, Michael Cleverdon, Jon Olinski, Mark Stolte, Gordon Klein (missing from picture - Hon. Bryon Wilfert, Michael Hergott & Andre La Rosa)
Grand Opening - Touro Churrascaria Steakhouse
New Members at Business@Breakfast
Left to right: Rick Fearman - Membership Services Committee;
Joanne Witt from
SNAP Richmond Hill; Karen Merk from Merk Photography
and
Leslie Whidden, CEO Richmond Hill Chamber of Commerce
Chamber Community Banner
We are updating our Community Banner for October 2013 to September 2014.
Be seen as a "Business for the Community"!
or Call David Bigelow at 905-884-1961 ext. 31
Energizing Ontario: OCC's Submission
The Government of Ontario is currently undertaking a review of the province's 2010 Long-Term Energy Plan and will be releasing an updated Plan in the fall.
Energizing Ontario is the OCC's contribution to that review.
What are the key issues for business regarding the electricity sector?
What are the needs of business with respect to energy?
What are some examples from other jurisdictions that Ontario can integrate into its long-term electricity planning?
Dr. Snider at Maccabiah Games
Congratulations to
Dr. Judy Snider of
Dr. Judy Snider took on the challenge of the Maccabiah Games in Israel this summer and came back with one gold, three silver and a bronze medal for her efforts.
Develop the Potential of Your Workforce
Date: September 19th 2013
Time: 7:15am - 10:30am
Location: Richmond Hill Country Club, 8905 Bathurst Street
This free event for employers offers practical information surrounding the business case for hiring people with disabilities, boosting your bottom line .....
Small Business Quarterlies - Sept. 17

The Small Business Big Ideas Show Presents....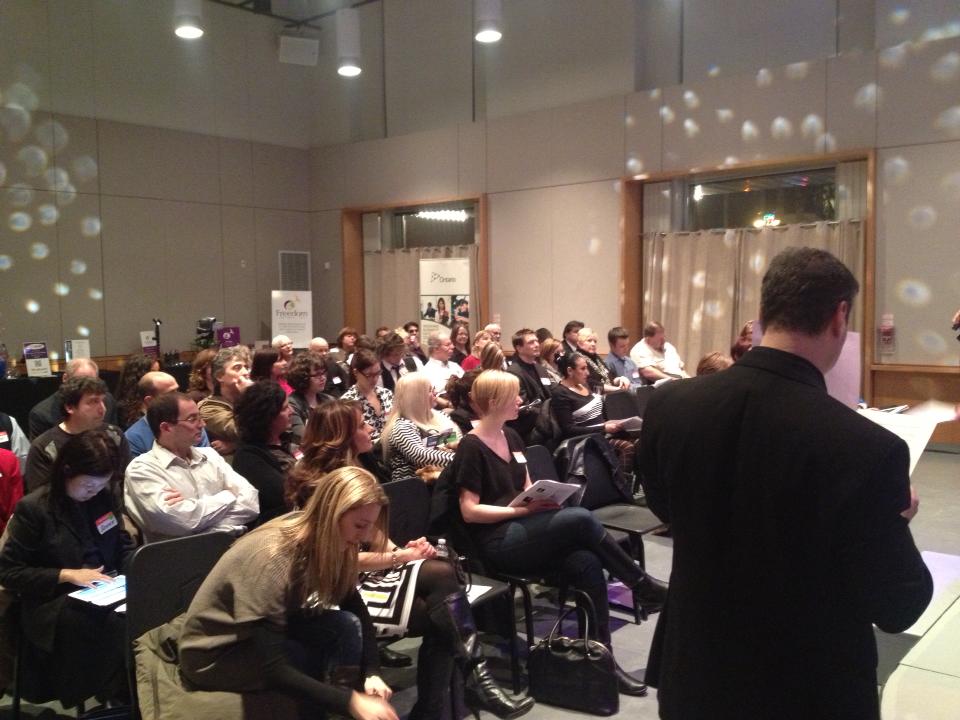 The Small Business Quarterlies RHCOC Edition -
Sales & Marketing - Lessons from the Trenches
Date: Tuesday, September 17, 2013
Time: 6:30 PM to 9:30 PM (EDT)
Click here for event details!
This show will air on
www.talk-radio.ca
on Monday Night at 9 pm on September 30th for you to tune into!
Are you a Smart Commuter?
Take the Smart Commute Week challenge for a chance to win in 3 easy steps:
1. Carpool, walk, cycle, carpool, telework, or use public transit during
the week of September 16 to 22.
2. Register or log in to your Carpool Zone account.
3. Click on the Trip Diary tab and enter your trip information.
Check-out Great Member Offers
Featured Members for September
Every month we will be featuring some of our members & their Saving Programs.
For Great Offers from fellow Chamber Members,
As a RHCOC member, if you want to offer discounts to other members, please contact Lucy Chen at 905-884-1961 ext. 25
2014 Business Awards Nomination
Recognize Excellence in Richmond Hill

A York Region Conference Series focusing on providing businesses access to ideas, insight and resources to help them adapt to the fast-changing marketplace.
Canada's #1 benefits plan for small firms!
For further information, click here OR contact our Chamber representative:
Rod Johnson, Johnson Financial Group
P. 905-750-0032 x 223 F. 905-750-0033 Email:rod@jfginc.com
Website: http://bit.ly/noc3HR
News from vivaNext
This is an exciting time for York Region, with the Highway 7 rapidway expansion under way. To support businesses within the limits of construction, Metrolinx-vivanext worked with the Richmond Hill Chamber of Commerce, to develop the Shop 7 business support program. To learn more and to get the scoop on construction, please visit the VivaNext website!
Young Professionals & Entrepreneurs
RHYPE
Richmond Hill Young Professionals & Entrepreneurs
A "40 & under" group that help in the engagement and retention of young professionals by organizing networking & professional development initiatives, more...
2013 Business Directory
Richmond Hill Chamber of Commerce's 2013 Business Directory is OUT!
Stay in the Loop!
Keep up with the latest news and events in and around Richmond Hill.