Council Leadership
Serving Branford, East Haven, Guiford, Madison, New Haven, North Branford
Serving Bridgeport, Easton, Fairfield, Monroe, Stratford, Trumbull, Weston, Westport
Powahay District
Serving Darien, New Canaan, Norwalk, Stamford and Wilton
Serving Bethel, Brookfield, Danbury, Georgetown, New Fairfield, Newtown, Redding, Ridgefield, Sandy Hook, and Sherman
Serving Hamden, Meriden, North Haven, Southington and Wallingford
Serving Bethany, Milford, Orange, West Haven and Woodbridge
Congratulations
to our newest
Eagle Scouts
Clay Baxter
Sean Driscoll
Robert Kimball Jr.
Erick Luise
Theodore Lynn
Michael Mitola
Joshua Nunemacher
Daniel Passarelli
Matthew Rahtelli
Ryan Ruggiano
Michael Sumpter
Daniel Wivagg.
Did You Know ...
89% of Senior class presidents were Scouts; 80% of junior class presidents were Scouts, and 85% of student council presidents were Scouts.
April is Youth Protection Month
Keeping Our Scouts Safe is Our Highest Responsibility.
In observance of Youth Protection Month, the Boy Scouts of America is working to raise awareness about the dangers and challenges facing youth, and to reiterate the BSA's own policies and procedures to protect youth. This year, our Council is focusing on two critical areas: the BSA requirement of 100% trained leaders and Internet safety.
Youth protection is - and has always been - of paramount importance to the BSA, and we continue to enhance our policies and procedures in line with the growing awareness of the dangers and challenges facing youth. Scouting's leadership works throughout the year to ensure we remain at the forefront of these important issues. Youth Protection Month provides an ideal opportunity for all of Scouting-including our volunteers and parents-to review important safety information with the children in our lives and to reaffirm our commitment to protect them.
As of December 31, 2012, 85% of registered leaders have completed youth protection training, including 100% of Scoutmasters and 92% of Cubmasters. Our goal of 100% is absolutely attainable by the end of the year.
BSA recently released guidelines for Scouts and Scouting's adult leaders on how to safely use social media. These guidelines are available at:
http://www.scouting.org/scoutsource/Marketing/Resources/SocialMedia.aspx
and are part of the BSA's continuing effort to enhance and expand its youth protection programs. Unit leaders are strongly encouraged to publicize these guidelines to the youth and adult members of their units. This is also an important topic for District roundtables.
Council Youth Protection Advocate Jay Lubin stated "The challenges and dangers facing today's youth continue to change and expand. At all levels of our organization, Scouting takes very seriously its responsibility to adapt to these evolving needs. The BSA simply refuses to compromise on the safety of youth, and I am proud to be part of this organization."
See you on the trail ...
BSA Sets Limit For Knife Blade Lengths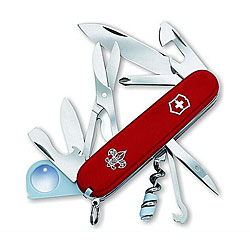 Knives. They may be the source of the most confusion within Scouting circles. Today, though, BSA Health and Safety team lead Richard Bourlon announced a new knife policy that changes things a bit. For the first time in the organization's history, the BSA is mandating a maximum blade length for knives used within Scouting.

The magic number: 60 inches. The policy is effective beginning today, April 1, 2013.
Cast Away for a Day at Fishing Derby
Usher in spring at the 27th annual Fishing Derby at Deer Lake in Killingworth. A hearty pancake breakfast followed by a morning of fishing in the freshly stocked lagoon is the perfect way to spend a Saturday in early April. Choose from April 6 ot 13, or both. Fishing Merit Badge is offered April 5-6, and Fly Fishing Merit Badge is offered April 12-14.
Get Your Marvel Jambo Collector's
CSP's Before They're Gone
Jambore Patches are for sale. Order your set of The Marvel 2013 Jamboree CSP's. Limited quantities are available, so order now while supplies last! Once they're gone, they're gone! All Orders must be in by June 1st!
13 CSP Troop Trader Set - $75
Backpatch - $25
4 CSP Special Set - $40

If you are a registered member of the Connecticut Yankee Council, contact your Jamboree Scoutmaster or email ccruson@bsamail.org to purchase these patches at special in-Council discount rate while supplies last.
Program Kickoff May 15 at Bridgeport Arena
The annual Program Kickoff is Wednesday, May 15, 6 p.m. at the Webster Bank Arena at Harbor Yard in Bridgeport. Well organized units do their annual planning over the summer and the program kickoff is designed to give you all the dates, details and programs to plan an outstanding program for your Scouts. Walk through the midway, network with other leaders, learn what's new in the Council and leave with an armload of information to bring back to your unit.
Don't miss this opportunity to join fellow Scout leaders from all over the Council in an informative evening of fun and fellowship!
Be a Messenger of Peace
Messengers of Peace is a global service project program carried out by Scouts throughout the world. The BSA challenges Scouts and leaders to demonstrate their service spirit to make a real impact on global peace and the quality of life in local communities. In spite of the magnitude of their work, each Scout is to be recognized as a "Messenger of Peace" for his contribution to creating a better world More information can be found at:
www.scouting.org/messengersofpeace
.
Eagle Scout Recognition Dinner - Save The Date
The Eagle Scout Recognition Dinner, recognizing the class of 2012/2013 is Sunday, June 9 in the Good Turn Dining Hall at Deer Lake Scout Reservation. Expect an invitation to go out shortly.
This dinner serves as a salute to the Scouts for their accomplishment, and also a way to recognize the parents and Scoutmasters too. We are finalizing the details on a special keynote speaker and will be sending out the invitations soon, so stay tuned.
Enjoy Coffee & Support Local Scouting
Do you enjoy a steaming cup of coffee in the morning? When you order your beans through locally-roasted SOLUDE coffee you can know that your cup is supporting Scouting programs right here in our Council. 20% of every purchase helps us provi
de programs and opportunities to thousands of young people each year. Visit www.soludecoffee.com/boyscouts and begin your orders today. With their incredible blends delivered to your doorstep, you won't look back. Share this link with friends.
Friends of Scouting 2013
When you maintain five properties, support over 4,600 volunteers and have over 14,000 young people enrolled, it takes a good amount of money to support it all. The Connecticut Yankee Council strives to be good stewards of our $4.6 million annual operating budget, and each year,
we ask our families to make a pledge, or investment in the development of the next generation through Scouting. The council invests $180 in each of our members, all of which is raised and spent locally.
A volunteer presenter will soon be visiting your unit to talk to you about Friends of Scouting and how your personal, tax-deductible contribution can make a huge difference.