Greek Life is constantly mistaken for a social organization. The fact is that social is only one component of the well rounded individuals that Greek Life seeks to evolve. Greek Life focuses on philanthropic endeavors, academic success, leadership development, and social aspects to aid in the development of members who will help mold society. Quincy University Greek life has held many service events including a bag's tournament for JDRF, Rock-a-thon for Juvenile Arthritis and the Arthritis Foundation, volunteering with Girl Scouts of Central America, helped with Special Olympics' Bowling and Trick or Treat for change to raise money for School and College Readiness, making it a fundamental part of the community. With the Academic requirements not below a 2.5, QU Greek Life sets an academic standard on campus as well. Not to mention the bond that is established throughout Greek Life as a whole. All of this makes QU Greek Life, not just a bunch of Clubs, but well established, important, family at Quincy University.
Delta Tau Delta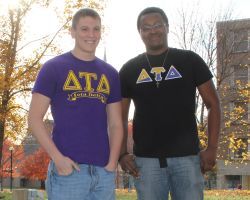 Delta Tau Delta is an international fraternity of more than 145,000 men. The mission of "Committed to Lives of Excellence" drives Delta Tau Delta's actions, programming and essence. Delta Tau Delta fulfills many purposes from honing its members' leadership skills, helping them grow personally and providing a nurturing environment to enjoy their collegiate and post-collegiate experience. Just shy of 150 years, Delta Tau Delta is an organization of both a great legacy and a great future. Iota Delta Chapter was chartered at Quincy University in 2000. Iota Delta does Philanthropy for Juvenile Diabetes Research Foundation, Humane Society, Red Cross and Salvation Army.
Phi Sigma Sigma

The women of Phi Sigma Sigma share a commitment of lifelong learning. They also value making a difference in the lives of others. Hence, they become leaders in their communities, their professions, and their sisterhood. Their mission is to create an environment that fosters the advancement of womanhood, and growth and development of each member through commitment to leadership, academic excellence, philanthropic service, good health, and citizenship. Their commitment to inclusiveness binds them, and results in stronger women who embrace individuality and share this philosophy with the world. Iota Beta Chapter was founded in 2001. Their service projects are School and College Readiness and The Special Olympics. The Iota Beta chapter has won numerous awards including Phi Sig of the Year, Outstanding New Program, Most Philanthropic, Most Academic, Most Spirited, and Numerous National Phi Sigma Sigma Awards.
Alpha Omicron Pi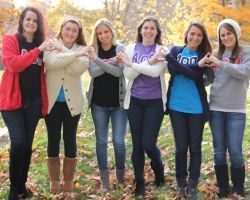 Alpha Omicron Pi was founded in 1889 with the goals to promote the values of simplicity, integrity, circumspection, tolerance, generosity, personal dignity, and love. The mission statement is simply "women enriched through lifelong Friendship". To achieve this, AOPi strive to encourage a spirit of Fraternity and love among its members; to stand at all times for character, dignity, scholarship, and college loyalty; to strive for, and support the best interest of the colleges and universities in which chapters are installed, and in no way to disregard, injure, or sacrifice those interests for the sake of prestige or advancement of the Fraternity or any of its chapters. Their values are Service, Scholarship, and Leadership. Epsilon Sigma was chartered at Quincy University in 1999. Their philanthropic events are in support of the Arthritis Foundation this year.
Greek Life Profile - Jacquelyn Diaz

"There isn't an easy way to explain what Greek Life is, but what is does is simple. It recruits members with potential for success, and gives them the opportunities to hone those skills for a lifetime of achievement. It builds a community of men and women who create a bond that is unlike any other friendship I've ever known. It is what has made my college experience a success at QU, in so many ways."

--Jacquelyn Diaz


Major:
Special Education
Hometown:
Mundelein, Illinois
Sorority:
Phi Sigma Sigma, Iota Beta Chapter
Accomplishments:
Panhellenic president, Phi Sigma Sigma president, Kappa Delta Pi Education Honors Society, Greek Woman of the year 2013, Phi Sigma Sigma Woman of the year 2013, recipient of the Michelle Stacey Friedman Memorial Scholarship for dedication to Phi Sigma Sigma and academic success.
Faculty Profile - Dr. Tiffany Nolan

"Be passionate and authentic about your leadership. You have to be all in with your belief in the organization or cause you are leading, in order to motivate others to share your goals"

--Dr. Tiffany Nolan


Title:
Vice President for Student Affairs
Background:
Started at QU in November 2009. Prior to QU I had worked at Clemson University in South Carolina and Briar Cliff University in Iowa. I was interested in coming to QU because it is a small Franciscan college that would allow me to continue to be student-centered in my career but was still an opportunity for professional growth and increased responsibility.
Achievements: expanded the services and resources provided to students through the Office of Student Affairs, including the Multicultural and Leadership Programs offices, textbook loan program, student emergency fund, the IMPACT mentor program, and continued expansion of our learning communities. Providing services and programs to students that leads to their academic success and graduation remains at the center of our mission in Student Affairs.
QU Involvement:
Serve as the advisor to Student Senate; lead the Co-curricular Assessment Committee; chair SWIFT (Student Welfare Intervention and Facilitation Team); serve on the Executive Team of the college; serve on the Retention Committee; lead the Learning Communities Committee
Ionic Style

By Nathan Denney
First things first, I know, no one gets the title. Don't worry, I'll explain. When I was trying to decide on a title for my column in the Greek Newsletter, I was struggling. So to spark my imagination, I typed in "Greek Column Titles" into Google, hoping it would lead me to a similar Fraternity and Sorority Newsletter. However it led me to some Ancient Greek History. Ancient Greek's created three different types of structural columns; the Doric, the Ionic and the Corinthian style and because Column is a Homonym, I decided that I would use an ancient Greek Column as my title. Now the Doric is very plain and the Corinthian is very fancy and has a lot going on, but the Ionic was just right. The ionic design is designed with two scrolls on the top. So naturally I figured that fit best, and as you know, if the shoe fits, you must wear it.
Next, what is this column? Whatever I want it to be, that's what! It's an editorial where I, your fearless leader, will be talking about whatever I want to. If I want to talk about how awesome Greek Life is then that's what I'll talk about. Since we are already on the topic of Fraternity and Sorority life being amazing, I will talk about that. "From the outside looking in you can never understand it. From the inside looking out you can never explain it". This absolutely explains Fraternity and Sorority Life. All I can say is that Fraternity and Sorority Life is by far the greatest investment I have made at college. At the beginning of my college career I was a confused, rambunctious, reckless freshman. When my neighbor, Mr. Jay Austin came over and invited me to rush week events. Not knowing a single thing about fraternity's, I accepted, thinking it would make Jay look good. I had no plan of joining the fraternity until I was surrounded with values and friendship that I had been missing prior to the first rush event. After joining I realized that rush week was the tip of the iceberg. After being accepted into the fraternity I was thrown into a new member education program, where I learned the values of the fraternity, what they stood for. Once I was considered an active I met friends who without the fraternity, I would have never met. I saw amazing examples of values and excellence that made me want to shape my life to be as successful and considerate as them. Fraternity and Sorority life is an absolutely amazing thing, considering that, it's just a group of people whose goal is to help everyone else, and end up helping themselves along the way.
Now go make the world proud,
Nathan
P.S. Please, complain if there's something you don't like, or something you want to see in here. Or if you want to tell me how awesome I'm doing, I don't mind hearing that either!
DID YOU KNOW?

71% of all fraternity and sorority member graduate, compared to only 50% of non-members.
Of the nation's 50 largest corporations, 43 are headed by fraternity or sorority members.
All but two Presidents since 1825 have been fraternity members.
Less than 2% of average college student expenses go towards membership dues.
Fraternity or sorority members volunteer approximately 10 million hours of community service annually.
85% of the Fortune 500 key executives are fraternity or sorority members.
Contact Us
Calvin Johnson


Director of Multicultural &
Leadership Programs


Marquez Brown


Graduate Assistant for Multicultural & Leadership Programs


Nathan Denney
Student Assistant for Fraternity & Sorority Life & Leadership Programs
dennena@quincy.edu