Last week I spoke about how today's traveler typically doesn't take much time off from work. Well the short travel vacation standard is actually coupled with the need to stay "connected" and work via the internet while on vacation. Not only is the American vacation shrinking for the working class it is now hard to differentiate work from vacation. Since so many of us are in the tech and services industries the traditional taking one or two weeks off at a time, without "checking in" is obsolete. I remember when I used to look forward to cruising as this was the only way I could "getaway" from the internet, this is not the case any longer. We choose to stay connected and hotels, cruise lines and private home owners have heard our call and, just about all have added high speed internet connections to their respective accommodations.
Now couple this with our already teeny tiny vacations (studies have found that weekend trips now make up 53% of all trips) and voila you have the picture of the basic traveler today. Next time you stay in a hotel check out all the cool tech gadgets most upscale major hotels are adding to entice travelers. The "work station" in most hotels is fully functional so that you can hop on your laptop and comfortably work in your hotel room, and then head out with the family to enjoy your mini vacation.
My company recently met with many of Hawaii's leisure sales managers for the top resorts and they all said the same thing, "today's travelers want to stay connected, they want to be able to work while on vacation."
The question is can we all really get rejuvenated, reconnect with family and be more productive if we never fully disconnect from work?
In this Issue
Wailua River Adventure with the Smith Family


In 1946 Walter Smith Jr began taking visitors up the Wailua River in a small rowboat to allow visitors a chance to witness the beautiful "Fern Grotto" or Mamaakualona to Hawaiians.
Four generations later the family tradition is still going strong. In fact the visitor experience is totally retro and a welcome relief in the midst of all high adrenaline activities offered in Hawaii.
Now's the time to...

Have a travel question? Ask Endora!
On a budget? Now is the time to go to Costa Rica - it is affordable and a fabulous destination for adventure!
Christmas! We are almost sold out on private homes but the hotels/resorts are still available!
Ask about River Cruising! It is a fabulous way to travel to Europe
Now is the time to start planning for spring vacations but space fills up quick for spring break!
Dear Endora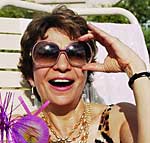 Dear Endora,
If I book a cruise and have the cruise line add the air, which carrier will I fly?
Brian - Michigan
Grilled Peaches with Pecorino and Prosciutto

This weekend my husband and I picked Italian plums from our orchard as well as peaches. Our trees don't produce what they used to, and we are constantly battling birds and deer for the fruit, but we were able to pick enough to make some fabulous homemade recipes - one of which I thought I would share with everyone.
Featured Property - Sheraton Maui


The Sheraton Maui is nestled on 23 beachfront acres on Kaanapali Beach.
The elevated grand lobby reveals a panorama of natural wonders: the cobalt blue Pacific, the golden sands of Kaanapali, neighboring islands in the distance, and a fantastic oceanfront swimming lagoon surrounded by lush tropical landscaping.
All of the rooms are appointed with tropical furnishings, Hawaiian artwork, and deluxe amenities. The nightly cliff-diving ceremony will captivate children of all ages.
A Journey to the American Southwest

Lately I have been traveling in one of the most awesome countries in the world - America. We have so many wonderful places to explore in the United States and often times we take advantage of what we have in this country and feel obliged to visit far off lands. Don't get me wrong I still travel at least once a year abroad, but now have an inkling to see and experience America.
Read and see more!