Greetings!

For all those wishing to explore Lanai and Molokai your time to visit these two magnificent islands might be a great option in the near future as interisland service is on the rise.

On March 8, 2013, Mokulele Airlines announced that it purchased two new Cessna Grand Caravan aircraft in order to keep up with the growing demand for interisland flights from visitors and residents alike. The demand is due to passenger loads doubling in the past year and one half. Mokulele's move came on the heels of a Feb. 26 announcement that Oracle founder and chief executive officer Larry Ellison - who recently purchased the island of Lanai - bought the interisland carrier Island Air, based in Honolulu. To its fleet, the airline has introduced a 64-seat ATR 72 aircraft featuring more seats and legroom than the 37-seat Dash 8s it has traditionally flown, and it is expected to add more ATRs in the future. Meanwhile, Honolulu-based Hawaiian Airlines' new interisland operation - dubbed Ohana by Hawaiian - is set to inaugurate service to Molokai and Lanai in summer 2013. It will carry passengers in twin-turboprop aircraft seating 44 and 50 travelers.
Cheers!
In this Issue
Now's the time to...

Have a travel question? Ask Endora!
Planning a family reunion or group cruise in 2014? We can establish a group for you at a better rate, you get more amenities and lower deposit is required! Email pat@incrediblejourney.net for more information!
December is just around the corner - at least for travel! Reserve your vacation for the Holidays NOW before space is gone!
Is Europe on your mind? We specialize in personalized vacations to Europe and can combine land options with cruises effortlessly!
Dear Endora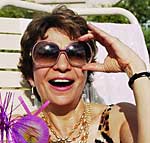 Dear Endora,
Help - I'm an adventure addict and my girlfriend is taking me for my first visit to Kauai. What is one adventure not to be missed?
First Time Visitor to Kauai

Exclusive National Park Tours

ESCORTED BUS TOUR from Las Vegas, Nevada to the Grand Canyon -Depart from Las Vegas. Experience four fun filled days with the most exciting Parks in the West! Start with the Grand Canyon - one of the Seven Natural Wonders. See Monument Valley - made famous by countless movie stars including John Wayne. See the carved spires that rise in brilliant colors of red yellow and orange from the amphitheaters at Bryce and finally the soaring cliffs of Zion National Park.
Lemon Meringue Bites

A great little dessert for those who have trouble with will power - oh, that is me (YIKES!!!). Everyone loves "teeny tiny" indulgences - thought I would share one of my favorites!
Featured Property - Paul Gauguin


The Paul Gauguin was designed specifically for sailing French Polynesia year-round. She offers an extension of the informal, relaxing environment of the islands, with Radisson Seven Seas' interpretation of six-star service, comfort and luxury. Spacious staterooms, a watersports marina, a choice of three single seating dining venues and an extensive spa are among her six-star attributes. The atmosphere aboard radiates warmth and informality. And her beloved troupe of Gauguines - part cruise staff, part entertainers, part storytellers, add the unique personality of French Polynesia to every cruise.
Among the Great Whales

My husband and I recently took a Lindblad/National Geographic Expedition Cruise to be "Among the Great Whales" in Magdalena Bay in Baja California. It was worth every penny. We were not only able to see many of the Gray Whale mothers and their new babies, but we were able to interact with them. We flew to La Paz, Mexico in Baja, California and were bused to Santa Rosa, Mexico on the Pacific side to board the ship, The Seabird. The expedition traveled around the Baja peninsula and ended up in La Paz at the airport for our return home.
Read more...