Greetings!
Well 2013 is off to an amazing start - travel to just about anywhere is on target to increase by 20% over last year!
Of course it helps that our client base is world wide as many of our distant neighbors have been experiencing massive growth and wonderful business opportunities.
There are still ways to capitalize on discounts tour operators are offering but they definitely will be on a limited basis, and subject to off season travel.
Off season this year will include end of April - mid May; for some locations September and October; after Thanksgiving and up 'til the 15th of December. These are the time periods to expect discounted rates to appear.
As always check with your travel agent first, it is incredible what a day or two date change can do to the bottom line!
I hope that many of you are planning some wonderful "Incredible Journeys." I am excited about hosting my very first cruise aboard Crystal as we sail off to the land of the Midnight sun and points beyond!
Stay safe, and keep traveling!
Joyce Craddock
In this Issue
Magical Maui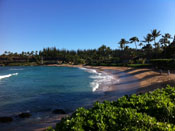 Just a few weeks ago my husband and I headed over to Maui to celebrate our 28th anniversary! Having sent so many clients to the one and only Napili Kai Beach Resort I was thrilled that this time I would be able to experience the resort for a full week, without working!
We left California when the weather was extremely cold and I could not wait to feel the warmth of the sun. The flight on Hawaiian was fabulous as always, new to the flight is a Mai Tai pre arrival toast (they use to do this 30+ years ago), and as many of you know Hawaiian is still the only carrier that offers meals at no charge.
Now's the time to...

Have a travel question? Ask Endora!
Join Joyce Craddock and Patricia Ellington on Crystal Symphony's Nautical Norway Voyage June 4, 2013 - June 15, 2013
Book your expedition cruise with the Great Whales Feb. 23 to March 2, 2013, The trip is a Lindblad/National Geographic Expedition!
Start planning 2013 weddings now as private homes/condos fill up quickly. Most of the summer beachfront homes are already sold out!!!
Dear Endora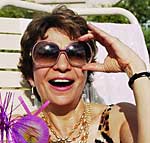 Dear Endora,
What is your favorite island to visit in Tahiti?
Sasha

Grilled Chicken Sandwiches with Sun-Dried Tomatoes and Goat Cheese

I have not personally tried this sandwich, but I am headed to the store to get the ingredients! Bon Apetit! Recipe courtesy of epicurious.com
Featured Property - Hotel Kia Ora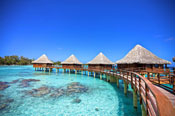 The Hotel Kia Ora Resort & Spa is located on the northwest part of the atoll of Rangiroa, between the passes of Tiputa and Avatoru. Nestled in the heart of a magnificent coconut plantation, bordered by a white sand beach and a turquoise lagoon, the hotel boasts an elegant and refined architecture in perfect harmony with its environment.
Since its complete renovation in 2011, the Hotel Kia Ora Resort & Spa includes 60 villas and bungalows with exceptional style, scattered throughout the coconut grove, on the beach and overlooking the lagoon. A spa with a rain shower and a fitness room complete the hotel facilities. On the waterfront, two restaurants including a gourmet one and a bar on stilts surround a swimming pool with Jacuzzi.
LANAI SAILING ADVENTURE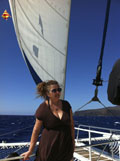 I recently returned from an incredible visit to Maui. My husband and I decided to do something we have never done before – sail to Lanai!
Since we were visiting the islands during whale season we thought this would be a wonderful way to sail, whale watch, snorkel in a pristine bay, and visit the town of Lanai.
I have visited Lanai many times before – I have taken the ferry and rented a Jeep, gone with tour guides etc. but this time I wanted to spend more time on the water sailing than on land – plus I wanted to relax and not have to drive myself or figure out where we wanted to dine!
Read more...